Envira Gallery Documentation
Documentation, Reference Materials and Tutorials for Envira Gallery
How to Install Envira Gallery on Multisite
Congratulations on purchasing Envira Gallery! Do you need help on how to install Envira Gallery on Multisite? We're going to walk you through how to install Envira Gallery on a Multisite.
---
Step 1: Download Envira Gallery
First, log into your Envira Gallery account.
From the account page you can click the Downloads tab to see all the downloads available with your Envira Gallery license.
You don't need to download any addons at this time. You can install your Envira addons later.
Just click the Download link for the main Envira Gallery plugin.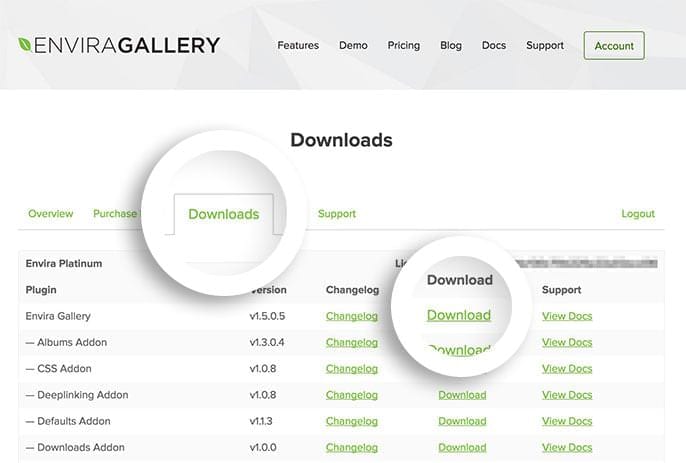 The Envira Gallery plugin will be downloaded as a .zip file. This is the file you'll be uploading into your WordPress.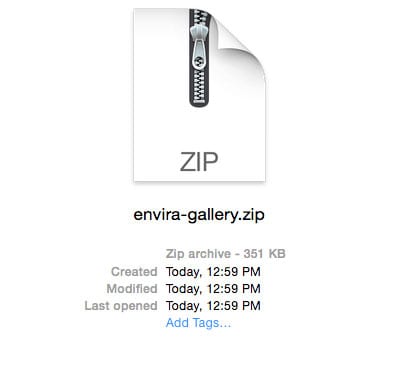 Some web browsers are configured to unzip files automatically when downloaded. If Envira Gallery appears as a folder in your downloads directory on your computer, please re-zip/compress the file. If you're not sure how to do this, see this guide:
http://www.wikihow.com/Zip-Files-Together
.
Step 2: Install the Envira Gallery Plugin
From the WordPress Network admin menu on the left, go to Plugins » Add New.
There you'll see a button on the top, click the Upload Plugin button: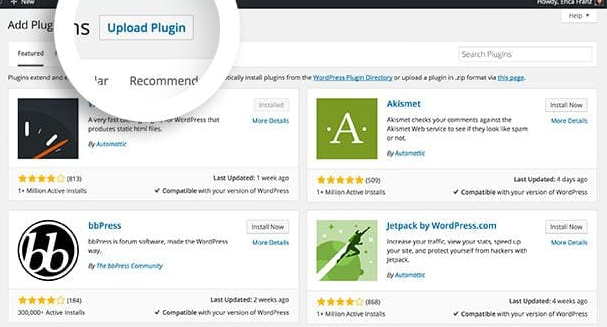 Drag and drop the envira-gallery.zip file to the Choose File button and select Install Now.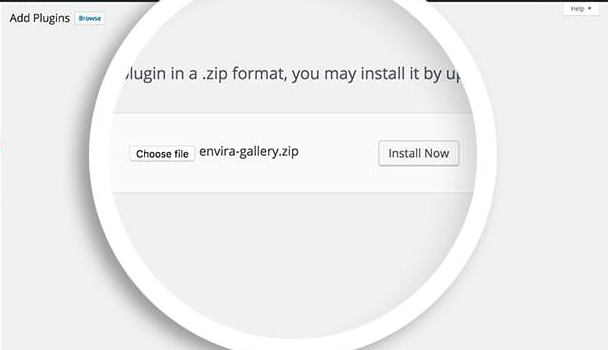 Step 3: Network Activate the Envira Gallery Plugin
To finish the install of Envira Gallery on multisite, select the Network Activate link that appears below the success message after installing Envira Gallery.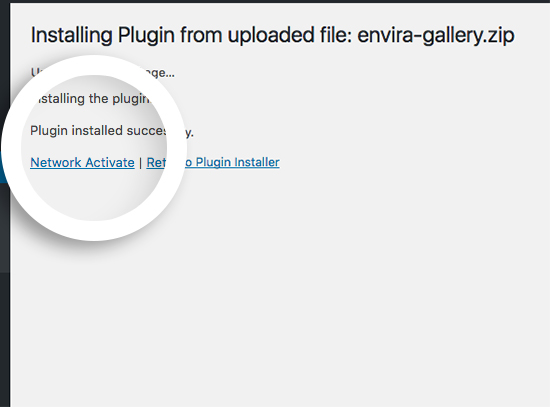 Once activated you'll see a success message in the WordPress » Plugins screen indicating Envira Gallery is now active on your site!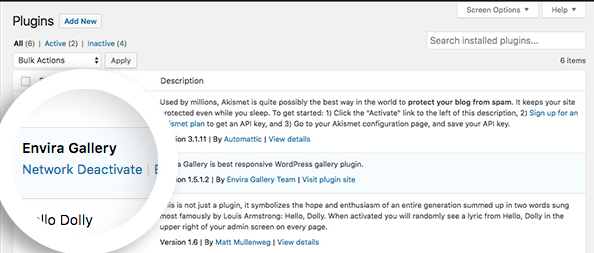 Step 4: Verify the License Key for Each Site
When each user logs on to their dashboard under the Network, they'll see the Envira Gallery plugin is already activated on their site and the message No valid license key has been entered. 
Each site will want to verify the license key individually.
To do this, follow the steps on how to verify your license key to receive automatic updates and install addons from each WordPress site.
---
FAQ
Can I install Envira Gallery via FTP instead?
Yes! To install Envira Gallery using your favorite FTP program, following these steps:
Download the Envira Gallery plugin as shown in Step 1 above.
Unzip the file on your computer so that you have the envira-gallery folder accessible.
Connect to your site using your favorite FTP program and navigate to the wp-content/plugins directory of your WordPress site.
Upload the envira-gallery folder to the wp-content/plugins directory.
Navigate to your site's WordPress Admin » Plugins screen.
Locate the Envira Gallery plugin and activate it.
Finish installing Envira by verifying your license key.
Install Addons (optional).
---
How do the addons work with other sites?
A:  Here's a basic example :
My New Site installs and activates an addon, for example, the Envira CSS Addon from their Envira Gallery » Addons screen.
My New Site will show the addon is installed and activated: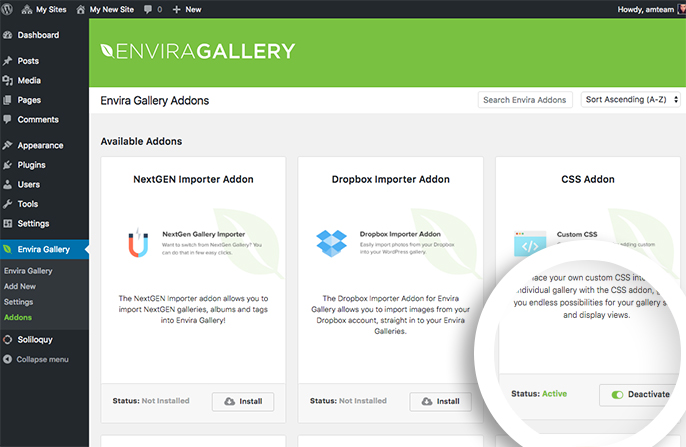 That same addon will show installed on all sites (even the network site) but will not show as activated.
That addon will remain deactivated until the Network Admin activates this addon from the Network Dashboard.  
---
Can I define the license key in my config.php file?
A: Yes! If you're running a multisite installation and don't want to input your license key on every site, you can add the following to your wp-config.php file:

define( 'ENVIRA_LICENSE_KEY', 'your_license_key' );

If the license key field in the WordPress Admin » Envira Gallery » Settings screen is left empty, Envira will check for the above wp-config.php constant.
---