Envira Gallery Documentation
Documentation, Reference Materials and Tutorials for Envira Gallery
How to Use an Envira Gallery License with WordPress.com Business Account
Most of our customers use the full WordPress.org software package on their own servers or hosted servers. However, many users don't know that Envira Gallery also works with WordPress.com!
WordPress.com accounts don't come with access to custom plugins out of the box, however. You'll need to upgrade your account to install third-party plugin support. That's why we want to show you how to install Envira Gallery in your WordPress.com Business account.
---
How to Install Envira Gallery in WordPress.com Business in the Dashboard
Installing a plugin in WordPress.com works a bit differently than in WordPress.org. You'll need to upgrade your WordPress.com to either a Business or eCommerce account. After you've upgraded, you'll notice that, before you install any plugins, you'll see a simplified Plugin browser page. This differs from WordPress.org's full installation page. The ability to search for plugins remains the same, however.
For a guide on how to install plugins in WordPress.com Business, check out WordPress.com's guide here.
When prompted, search for 'Envira Gallery' and click the Install Now button when presented with the Envira Gallery plugin.
How to Install Envira Gallery in WordPress.com Business by Uploading the Plugin
Alternatively, you can download the plugin from the Envira Gallery website and upload it directly to WordPress.com.
Step 1: Download Envira Gallery
Log in to your Envira Gallery account and click the Downloads tab. Then click the Download Envira Gallery button. This will download the most recent stable Envira Gallery release:

Step 2: Upload to WordPress.com
Click My Sites > Tools > Plugins > Upload Plugin: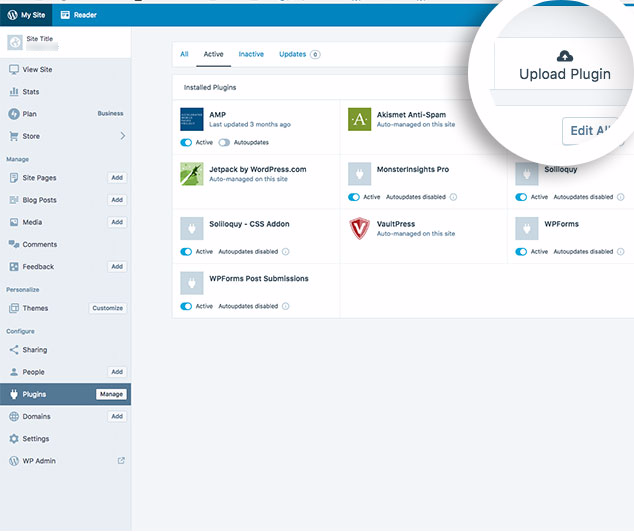 Click Choose File and upload the zip file downloaded from Envira Gallery. Then click Install Now.
Click Activate Plugin.
Now that you have installed the plugin, you can add a gallery by clicking the Add Gallery button on a Post or Page interface, or including shortcode in your pages.
Enabling Your Paid Envira Gallery Plugin
Once you've installed and activated the plugin, you need to activate your paid version.
To do this, navigate to your WordPress Dashboard. Click Envira Gallery » Settings to pull up the settings page. Then copy and paste your verification key into the Envira License Key box and click the Verify Key button: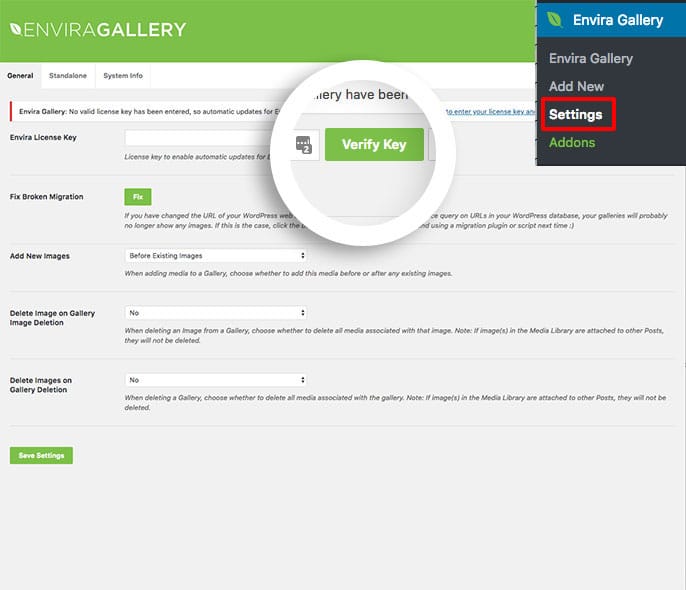 ---
Q: Can I Install Addons in WordPress.com?
A: WordPress.com disallows automatic updates, so pulling addons from the dashboard is impossible:
Instead, you'll have to manually install addons in order to equip them to your site.
---
Q: Where can I see my Add Gallery button?
A: When you click to create a new post or page from the WordPress.com dashboard, by default they will not add the Add Gallery or Add Album button. You'd need to go into the WP Admin and when you click Add New (for posts or pages), you would then see the Add Gallery or Add Album button.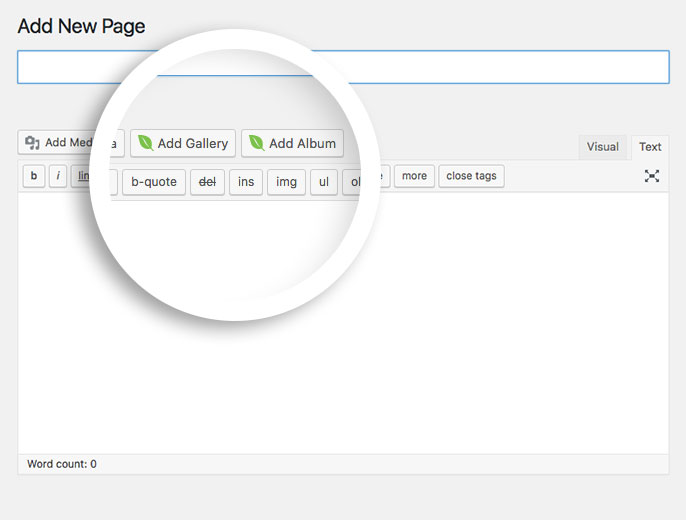 ---
Would you like to know how to create your first gallery? Check out our tutorial on Creating Your First Envira Gallery.