9 Best Cameras for Travel Photography
by James Maher on Sep 21, 2021
Camera-wise, there is no better time to be a travel photographer. Ten years ago, we were forced to carry a giant camera and lens with us, making travel more exhausting and packing a pain.
Now mirrorless cameras have changed the game. And while earlier versions were slow and sometimes buggy, the technology is peaking and quickly catching up to their SLR counterparts.
The cameras are lighter, easier to pack, less conspicuous, and overall a pleasure to use. They're easier for people to use, and many of these cameras can even slip into a small bag as you go about your travels. They take the idea of everyday photography to a new level.
But there are a lot of options now, so it can feel overwhelming to choose the right one.
Just keep in mind that ten years ago, I would have done anything to use any one of these models. They're all incredible in their own right.
As a street photography workshop teacher, I have been lucky to have had experience with each of these cameras listed and learned how all types of photographers can use and enjoy them (and handled their quirks).
There are a variety of price points, features, designs, and lenses to choose from, and while you can't go wrong with any of the cameras on the list, there are probably a few here that will stand out for you above the others.
Quick consideration – primes versus zooms
Before we get into the cameras and specifics, I wanted to write quickly about using primes versus zooms for travel photography as both have their advantages.
Zoom lenses obviously have the advantage of allowing you to be flexible when traveling. You can capture a wide range of views from grand landscapes to zoomed-in portraits. They are a luxury in this regard.
On the other hand, primes are more constrictive in what you can capture. Zooming with your feet is a great strategy but there is sometimes only so much you can do.
The benefits of prime lenses are that they help to focus you as a photographer. You get so used to the focal length that you become quicker and more spontaneous with the camera. Even though you might miss out on some shots that you would have gotten with a zoom, I feel that you will come back with the same amount of good photographs with the added focus on what you can capture.
In addition, they're lighter and way easier to travel with. Long days with a small prime over a large zoom make a big difference.
And these days when I travel, I only use 50mm and 35mm lenses. And that is the full-frame equivalent – so it would be approximately 23mm and 33mm on an APS-C system.
Fuji / Fujifilm
I am starting here with Fuji because, in my opinion, they make the best mirrorless cameras.
Fuji was one of the first to enter the mirrorless market, and they made a huge splash in 2011 with the Fuji X100. I now use a variety of Fuji cameras for my primary street and travel work. And their cameras just keep getting better and better.
Sony is another company whose cameras I recommend, but the major difference between Fuji and Sony is the idea of restraint.
While Fuji may not have the absolute best-in-class features, they have the best balance between features, image quality, ergonomics, details, and price. Their cameras feel like they were designed by photographers instead of tech people.
Even though the Fuji cameras listed below have APS-C sensors instead of Full Frame, you can blow the photographs up to huge sizes. The only situation where I would consider a Sony or other full-frame mirrorless camera is if my work was mostly portraits where having the extra shallow depth of field would make a consistent difference.
Fujifilm X100V
The Fuji X100 line (currently the X100V) is my workhorse camera for travel and street photography. I use it daily and have yet to find another camera that I prefer.
It is the perfect size for everyday use, the ergonomics are excellent, and the vintage design is a classic. Its viewfinder is second-to-none. Walking around with this camera is a joy – an experience that will make your travels that much more fun.
The pictures have a special quality. The look at high ISOs is wonderful, and I feel comfortable shooting up to 6400 at night.
The lenses are the potential drawback for this camera for those who don't like primes. The camera comes with a built-in 35mm equivalent lens and only 50mm and 28mm equivalent attachment lenses. Since I only use 35mm and 50mm myself, this is an advantage to the camera for me, but for others, it will be a drawback.
If you need zooms, I suggest considering the Fuji X-T line, which is similar to the X100 but allows you to use a wide range of lenses.
Pros: Image quality, ergonomics, size, high ISOs, colors (Fuji color profiles), design, silent shutter, autofocus, price-point for quality.
Cons: Limited lenses, battery life (although with three Fuji branded batteries, you will be fine), video.
Megapixels: 26
Sensor: APS-C
Fujifilm X-T4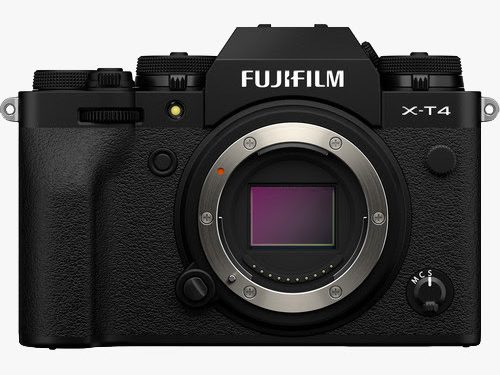 Nearly everything written for the X100V stands for the X-T4, with a few differences.
The main difference is that this camera allows you to use a range of Fuji's incredible lenses, from primes to zooms.
Even though you may prefer primes like I do, having the option to use a zoom for certain situations when traveling will put this camera over the top for many.
And the X-T4 is powerful. It includes a new battery with nearly double the capacity, in-body image stabilization, and a new flip screen.
The camera is more expensive than the X100 and slightly larger, but it is still a great size. While the size of the X100 makes it a little easier to take around and is perfect for the street, the X-T4 feels like the perfect size when shooting portraits or family photos.
Pros: Lens selection, image quality, ergonomics, medium size, high ISOs, colors (Fuji color profiles), battery life, autofocus, silent shutter, design, video, articulating screen.
Cons: Slightly larger and more expensive than the X100, particularly when the price of lenses is included.
Megapixels: 26.1
Sensor: APS-C
Sony
As you will be able to tell, I have a love/hate relationship with Sony cameras, although I definitely recommend them.
Sony exploded into the mirrorless space in 2013 with their full-frame mirrorless A7 and A7R cameras, and they've built a massive range of mirrorless camera and lens selections, giving them the biggest mirrorless market share.
While Fuji focuses on restraint, Sony pushes ahead with the state-of-the-art technology. They have full-frame sensors, incredible ISO sensitivity, and phenomenal autofocusing. If you are looking for a full-frame mirrorless, Sony is the way to go.
However, Sony does have some downsides. The colors are not quite as good as Fuji and the lenses are generally much larger (with some exceptions), offsetting the main advantage of mirrorless.
Sony a7III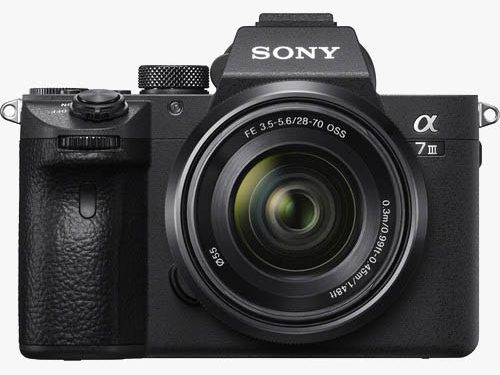 As one of the two flagship Sony cameras, I highly recommend the A7III. The other flagship is the A7R. While the A7R has some improved features, in the real world, the A7III is a more practical camera, and even more so when you consider the large price difference.
The 42 megapixels of the A7R versus the 24 of the A7III is the largest difference and I actually think this is an advantage for the A7III. 24 megapixels is all you need to create very large prints and this allows you to also not need as much memory or hard drive space when traveling.
This camera will cover all that you need. It's quick to use and has a small body size with great image quality. It has very good zoom and prime lenses, although since many of the lenses can be quite large, I suggest seeking out a smaller prime and considering slower lenses so that they are smaller and easier to take around. With the high ISO capabilities of the Sony cameras, you no longer need the fastest possible lenses.
However, I find the ergonomics and design of the Sony cameras to lag behind Fuji, and the buttons aren't quite as intuitive. But these are minor gripes.
Pros: Body size, top sensor and image quality, excellent ISO capability, full-frame, fast autofocus, silent shutter.
Cons: Lens sizes, usability, design.
Megapixels: 24.2
Sensor: Full Frame
Sony a6000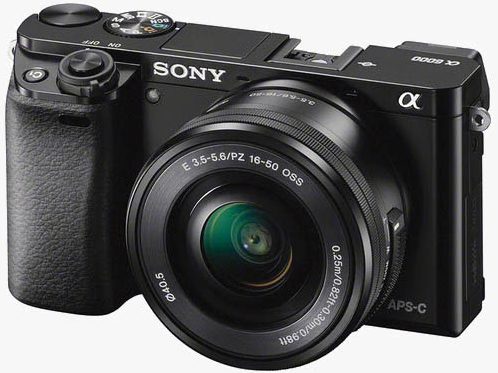 The affordable price and camera size are the main advantages of the Sony a6000. And they are big advantages. This is a fantastic and affordable travel camera.
While it's hard to quite compare the features of cameras that cost multiple times the price, this camera more than holds its own.
It is unobtrusive and easy to fit into a small bag. The ergonomics are excellent as is the autofocus and image quality, which is a huge win for a camera at this price. And the camera allows for Sony's interchangeable lenses. The sensor however is an APS-C, unlike the A7 III or A7R
Pros: Price, size, ISO capability, design, articulating screen, silent shutter autofocus, image quality for the price.
Cons: Large Sony Lenses, great specs, although ones that lag behind more expensive cameras.
Megapixels: 24.3
Sensor: APS-C
Ricoh GR III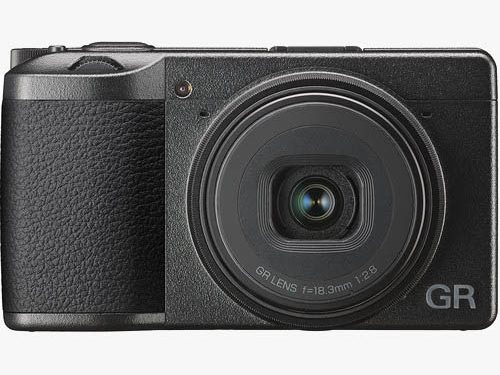 The Ricoh is a favorite of street photographer Daido Moriyama – and that says a ton on its own.
It was designed for street photography, and it has a devout following, but it is quirky, unique, and not for everyone.
The Ricoh GR III is very small and sleek. The camera is the easiest on this list to slip into a pocket or bag and it's very discreet.
It has excellent image quality and high ISO performance and the photos have a great look and quality to them.
But the quirks and trade-offs are there. The camera has a fixed 28mm equivalent lens. I don't use this camera because I find 28mm to be slightly too wide for my work, but a lot of people love the focal length, especially for busy city environments. You just have to make sure to get closer sometimes.
The autofocus can struggle sometimes in low light. And the camera does not come with a viewfinder, so you will either have to use the screen or purchase one for the hot shoe.
Pros: Pocket sized, image quality, colors, high ISOs, near-silent shutter, design.
Cons: Fixed 28mm lens, autofocus in low-light, no built-in viewfinder, battery life
Megapixels: 24.2
Sensor: APS-C
Leica Q2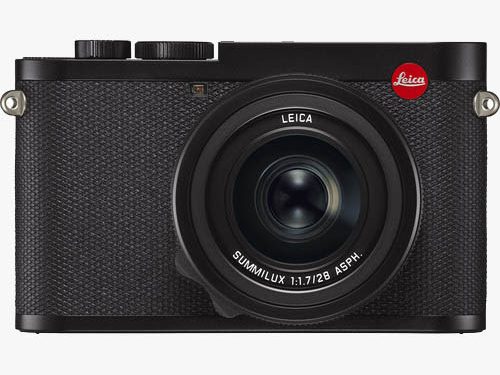 Because of its price, I'm leaving the Leica M off this list, but the Leica Q2 is a great option. This camera was built to compete with Fuji and Sony, and it does a great job at that, but on its own terms.
Similar to the Ricoh GR III, the Q2 has a built-in 28mm lens, which will be the determining factor for many. But the incredible sensor size will allow you to crop significantly when needed.
The design is wonderful and minimal, and the lens is typical of Leica lenses in both size and quality. The camera is both state-of-the-art and simple.
With a full-frame 47.3 megapixel sensor, you will need some hard drive space for the files that come out of the camera. But this sensor and lens also create a nearly unmatched image quality and color performance, in addition to working well at high ISOs.
The high price tag and fixed 28mm lens will be the determining factor for most, but for some of you, this will be the ideal camera.
Pros: Size, minimal design, image quality, colors, ISO, responsive camera, silent shutter.
Cons: Fixed 28mm lens, price.
Megapixels: 47.3
Sensor: Full Frame
Canon EOS RP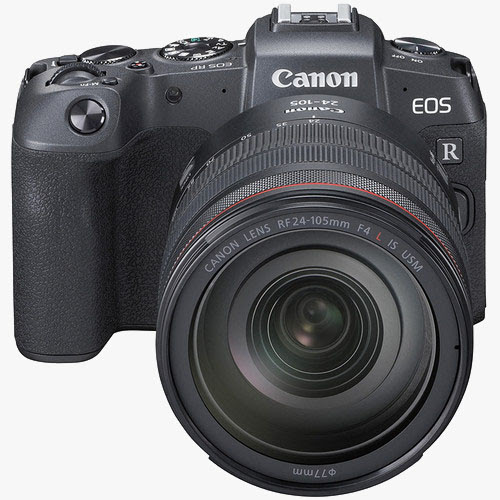 Released in 2019, the Canon EOS RP is one of the least expensive and lightest full-frame mirrorless cameras, although for $500 more you may want to consider the newer Canon EOS R6.
The ergonomics and size of this camera are exceptional, as are the image quality, low-light performance, and autofocus.
For those of you in the Canon space already, this will potentially be the right mirrorless move for you, but the benefit here is also a downside. The RP uses native RF lenses, which are different from the lenses used for the mirrored Canon cameras.
And while you can continue to use your regular lenses, you will need an adapter, making the lenses larger and offsetting the advantage of the mirrorless size.
Pros: Size, ergonomics, and design, image quality, color, price.
Cons: Need an adapter for Canon SLR lenses.
Megapixels: 26.2
Sensor: Full-Frame
Nikon Z6 II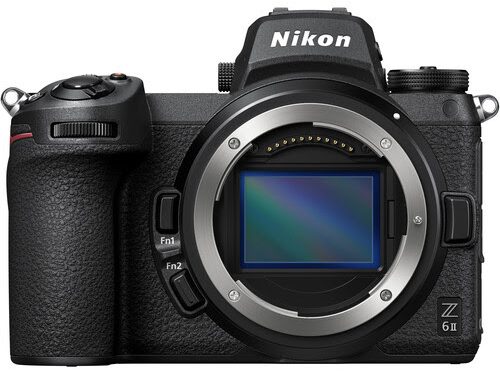 The Nikon Z6 II has very similar advantages and disadvantages to the Canon mirrorless cameras.
As Nikon's first full-frame mirrorless line, the Z6 II gives us both the good and bad that come with creating an entirely new camera system.
The size and ergonomics of the camera are fantastic, the image quality and colors are exceptional, and the high ISOs are great. The price is very fair as well for what you are getting.
The autofocus is much improved from the original Z6, and is ahead of its SLR counterparts. This will work well for travel photography, and other genres such as portrait, studio, and event photography. The camera is designed to perform well particularly in low light situations.
Many of the native lenses are large, similar to Sony in size, which somewhat defeats the purpose of the small mirrorless camera size.
And similar to Canon, an FTZ adapter will allow you to use Nikon F-Mount lenses, but it makes those lenses even larger. Although, autofocus is retained if the lenses are more modern F mount autofocus lenses.
Pros: Size, ergonomics, colors, image quality, high ISOs.
Cons: Large native lenses, adapter needed for F-Mount lenses.
Megapixels: 24.5
Sensor: Full Frame
Olympus OM-D E-M5 Mark III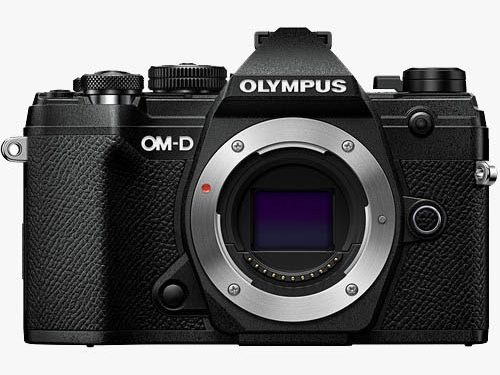 Last but certainly not least, Olympus is the heavy-weight of the micro-4/3rds category, and its flagship model, The OM-D E-M5 Mark III, is a beast.
Their cameras have widespread appeal and are particularly good for travel photography. The design and ergonomics of the camera rival Fuji and the camera and lenses are fantastic, small, and affordable.
It has in-camera stabilization and an articulating screen. The autofocus is excellent as well and the photos look great out of the camera.
This camera has it all – except for the sensor size. Micro-4/3rds is a bit small for my taste, but it works well for many. So if you are okay with this tradeoff, then there are not many better cameras on the market.
Pros: Size, ergonomics, colors, autofocus, lens sizes and selection, silent shutter.
Cons: Small sensor.
Megapixels: 20.4
Sensor: Micro 4/3rds
I hope that this has helped you discover what the camera is for your travels.
---
James Maher is a street photographer who also runs a headshot and portrait photography business in New York City. In addition to travel, he has also written about the best cameras for street photography. You can find more of his work on his website.
Using WordPress and want to get Envira Gallery free?
Envira Gallery helps photographers create beautiful photo and video galleries in just a few clicks so that they can showcase and sell their work.