How to Create a WordPress Video Gallery
by Brad Milligan on May 4, 2021
You may already know how to create an image gallery in WordPress, but what about creating a WordPress video gallery? Want to know the best WordPress video gallery plugin to use? In this article, we will show you how to create a responsive WordPress video gallery.
Whether your videos are uploaded on YouTube, Vimeo, Wistia, or inside your WordPress site, you can easily create a video gallery using a WordPress video gallery plugin.
While there are multiple plugins that can help you do this, we will show you the most comprehensive solution.
Adding a WordPress Video Gallery Using Plugins
Envira Gallery is a responsive WordPress gallery plugin that can help you create both an image gallery as well as a beautiful video gallery.
First thing you need to do is install and activate the Envira Gallery plugin.
Upon activating the plugin, you have to verify the license key from Envira Gallery » Settings. After the license verification, you need to go to the Addons tab to install and activate the Videos Addon.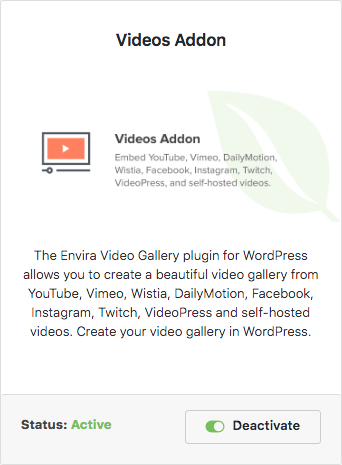 Once the Videos Addon is activated, go to Envira Gallery » Add New for creating a new video gallery.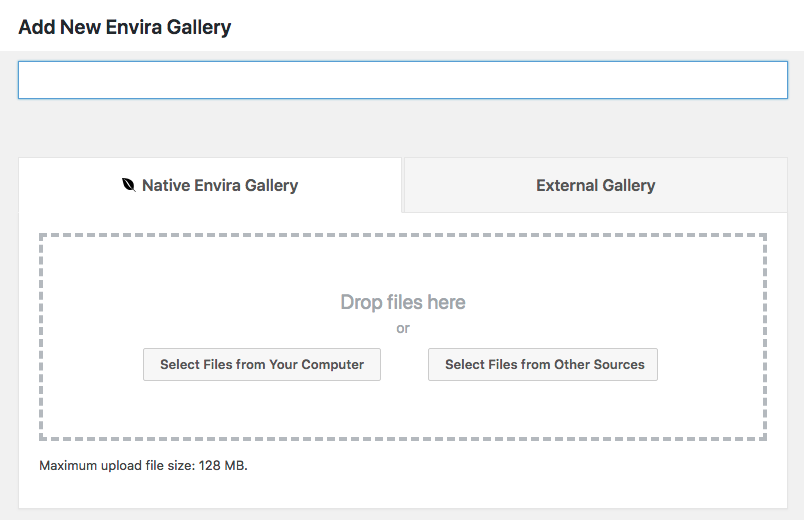 You can add the videos by clicking on the "Select Files from Other Sources" button and select Insert Videos in the popup.
Like an image gallery, you need to add your videos in this gallery. You can add the videos from YouTube, Vimeo, Wistia, Facebook, Instagram, Dailymotion, VideoPress, Twitch, or even self-hosted videos.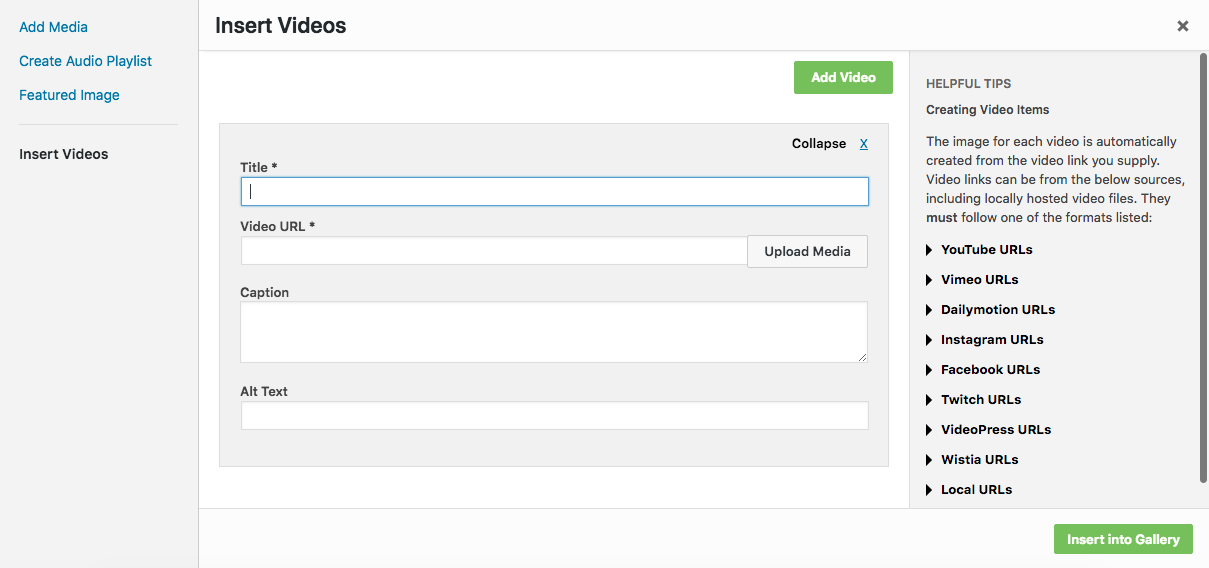 In the Video URL field, simply enter the URL of your video that you want to add in your video gallery. You can add multiple videos in the same window using the Add Video button.
After adding your videos, you need to click on Insert into Gallery button.
Envira Gallery will now automatically get the thumbnails of your videos to make your video gallery presentable.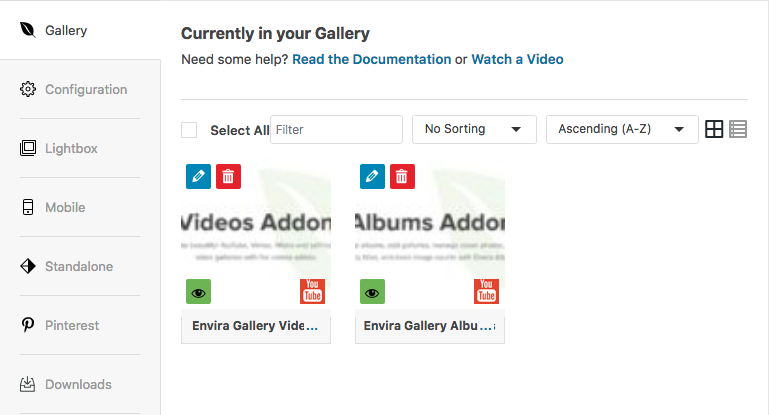 Your next step is to click on the Videos tab in the Envira Gallery Settings. From there, you can change the settings like autoplay videos, video controls, video time and more.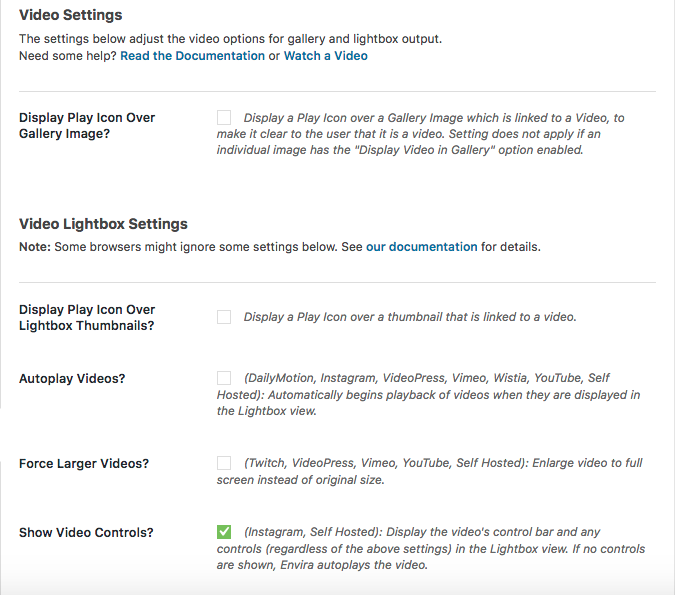 Once you are satisfied with all the settings, you can go ahead and press the Publish button.
Next, on the right side of the screen, you will see a shortcode menu for your video gallery. You need to copy this shortcode, so you can add it in a post or a page.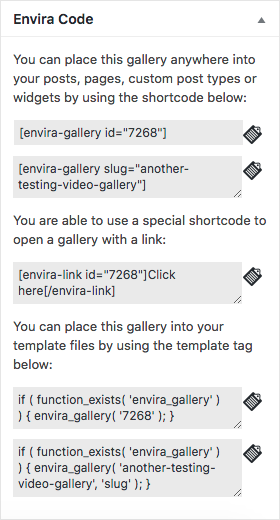 After creating the video gallery, simply go to the Posts » Add New or edit an existing post where you want to display your video gallery.
Next, paste the shortcode in the visual editor and click on the Publish button.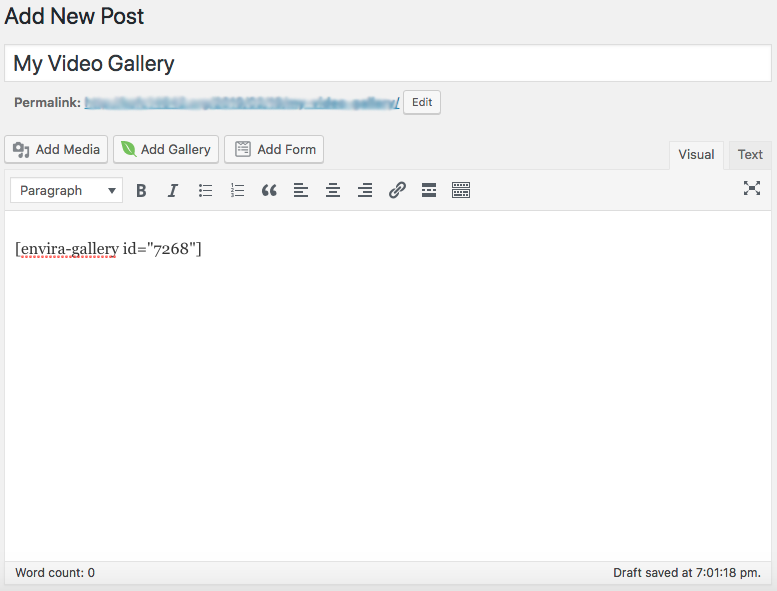 Now you can go to your website to check the WordPress video gallery with a thumbnail playlist in action.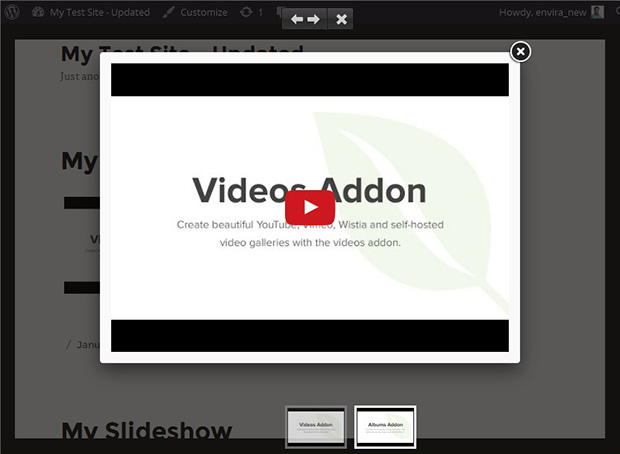 We hope this article helped you learn how to create a WordPress video gallery with a thumbnail playlist. You may also want to check out our guide on how to create WordPress slideshow with thumbnails.
If you like this article, then please follow us on Facebook and Twitter for more free WordPress tutorials.
Using WordPress and want to get Envira Gallery free?
Envira Gallery helps photographers create beautiful photo and video galleries in just a few clicks so that they can showcase and sell their work.