How to Add Image Deep Linking to WordPress Gallery Photos
by Southie Williamson on Jul 1, 2016
Do you want to use image deep linking on your WordPress site?
Using deep linking to create direct image links allows you to share photos much more easily. Plus, it's an important part of SEO since deep web links make your gallery images indexable by search engines.
In this article, we'll show you how to create deep link URLs for your WordPress gallery images, but before we dive in, let's go over how image deep linking works.
What Is Deeplinking?
Deep linking provides a direct shortcut to a unique page or specific content on a website or mobile app. It's a quick way to take someone straight to the information they're looking for, bypassing the homepage. It makes web navigation more efficient, allows easy sharing, and makes content indexable by search engines.
Creating deep links for your images can optimize your SEO and make your photos more likely to appear in Google image search. Plus, it improves the user experience and allows you to easily query an image in your gallery using hashes.
For example, your website's home page would look like (https://yourdomain.com/). A URL to a specific, indexable page might look like (https://yourdomain.com/blog/post/).
In a similar way, you can link to a photo gallery (https://yourdomain.com/gallery/) or a specific image within a gallery using deep links (https://yourdomain.com/gallery/photo/).
Now that you understand the structure of deep links, let's go over why deeplinking is so important.
Image Deep Linking for User Experience
You're probably already familiar with the idea of deeplinking when it comes to blog posts or product pages. For example, you might use a deep link to send users from social media straight to a specific product page during a sale. But what about when it comes to images?
If you wanted to send users to a specific image, you'd need a unique URL for that gallery image. For example, let's say you run a blog. You might want to link to an exact image for reference without embedding it in the current post.
Without deep links, you'd have to direct users to the page or gallery with the photo and let them sift through the page to find it, which isn't a great user experience. Luckily, deep links solve this problem by creating URLs for each gallery image. Plus, they make it much easier for users to share specific images.
Image Deep Linking for SEO
The second major reason to use deep web image links is for SEO (search engine optimization). Search engines like Google use URLs to crawl your website and discover pages, posts, and photos. When you use image deep linking, search engines have an easier time finding and indexing your photos in search results.
Now that you're familiar with gallery deep linking and why it's important, are you ready to learn how to do it?
How to Deep Link WordPress Gallery Images
Unfortunately, you can't create gallery deeplinks for a WordPress image gallery by default, but that doesn't mean it's a lost cause! We'll show you how to set up deep linking for your WordPress galleries and images in only a few clicks. Just follow the steps below.
Step 1: Install Envira Gallery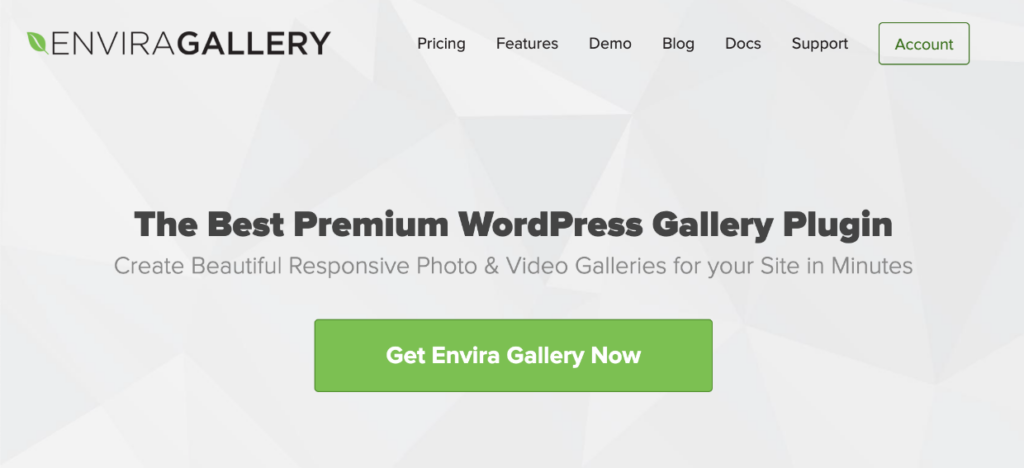 Envira Gallery is the best premium WordPress gallery plugin, allowing you to create beautiful image and video displays effortlessly, implement deep linking, and lots more! Check out a few more of our most popular features:
Drag-and-drop builder and multiple layouts, including slideshow, fullscreen, masonry, lightbox display, and more.
Filterable galleries and albums using tags.
Integration with Lightroom, eCommerce, and popular page builders like Elementor and Beaver Builder.
Dynamic galleries to display content from other sources like blog posts, testimonials, Instagram posts, and more.
Built-in image compression.
And lots more…
To get started, head to the Envira pricing page and grab the license that works best for you. To access deep linking, you'll need the Pro level or above.
After you've purchased the plugin, you'll need to install and activate it on your WordPress site. If you're unfamiliar with installing plugins, head to our step-by-step tutorial.
Next, you'll need to activate your license key. From your WordPress site, navigate to Envira Gallery » Settings. Paste your license key in the box (you find your license key in the Downloads tab of your Envira account area or in your purchase confirmation email). Press Verify Key.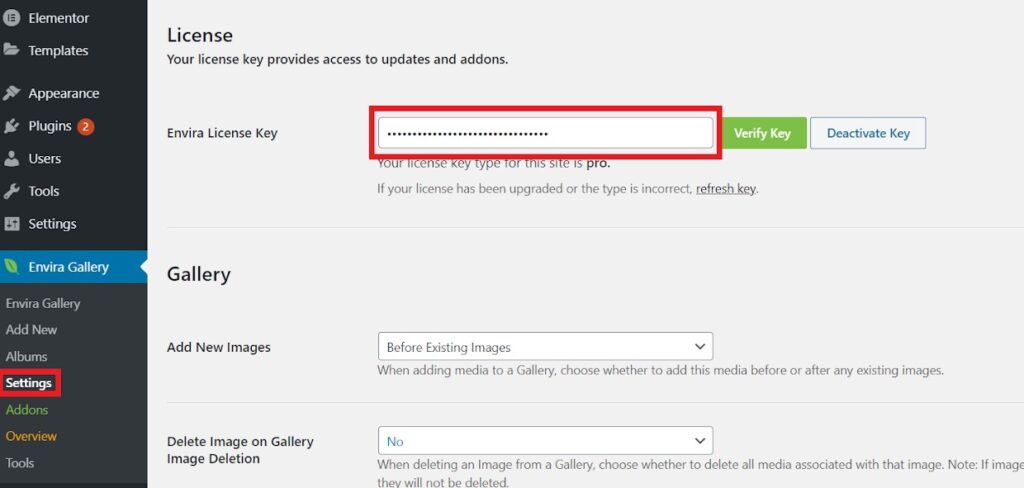 Envira Gallery is now ready for use! Next, we'll show you how to activate deeplinking.
Step 2: Activate Image Deep Linking
To enable image deep linking and generate deep link URLs for your WordPress gallery photos, you'll first need to install and activate Envira's Deeplinking Addon.
To access the addon, head to Envira » Addons from your admin menu. Scroll down until you see the one titled Deeplinking Addon. Press Install.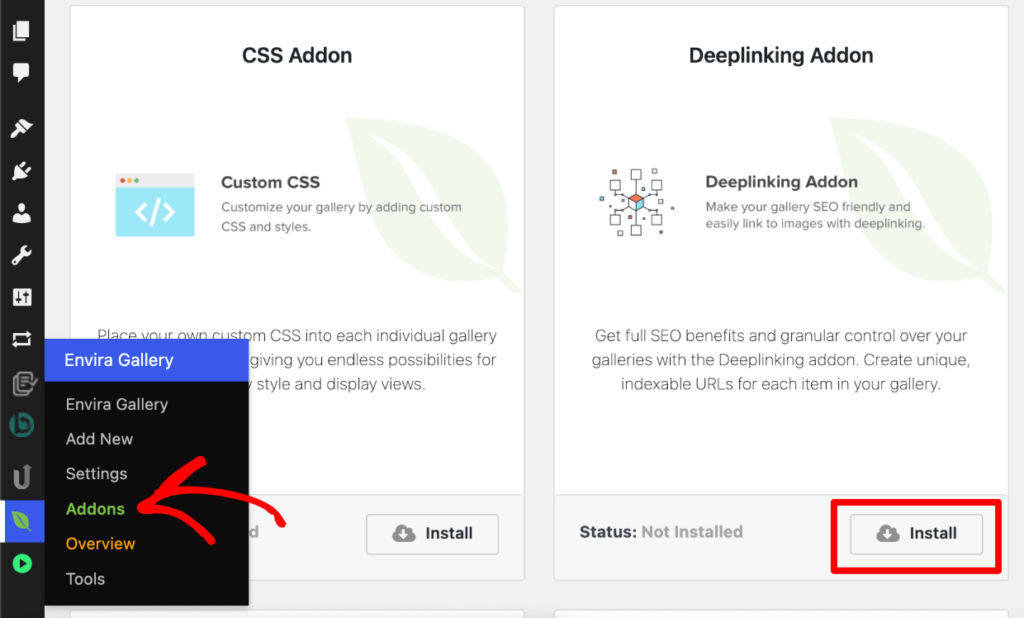 After a few seconds, the button will change to say Activate. Click it, and you should now see that the Deeplinking Addon is Active.
Step 3: Generate Image Deep Links
After activating the Deeplinking addon, you'll want to create a new gallery or edit an existing one. To learn more about creating your first gallery, head to our documentation.
From the editing area of any gallery, click the Lightbox tab from the left-side menu.

In the Lightbox Settings tab, scroll down to the option that says Enable deeplinking? and click the checkmark beside it to turn on image deep linking.

Once enabled, Envira will automatically generate deep links for your gallery images. All that's left is to Publish or Update your gallery.
Finally, check out your gallery images' new links! Click on any image from the page where your gallery is located to see the new deep link URL for each photo.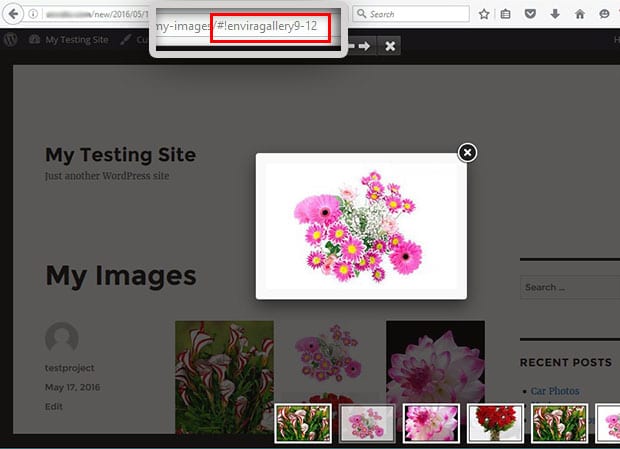 That's it! You've successfully learned how to use image deep linking in WordPress.
We hope this article has helped you to learn what deep links are, why they're a must-have for every WordPress gallery, and how to implement image deep linking on your own site. You can also check out our tutorial on How to Automatically Rename Images in WordPress Galleries.
Not using Envira Gallery yet? What are you waiting for?
If you enjoyed this article, check out our guide on How to Add Breadcrumb Links in WordPress Galleries and Albums.
Don't forget to follow us on Facebook and Twitter for the best photography tips and WordPress tutorials.
Using WordPress and want to get Envira Gallery free?
Envira Gallery helps photographers create beautiful photo and video galleries in just a few clicks so that they can showcase and sell their work.