What are Gallery Deeplinks and Why It's a Must Have for Every WordPress Gallery
by Waseem Abbas on Jul 1, 2016
Are you wondering about deeplinking your WordPress gallery? Deeplinking your photo galleries is important for SEO and getting your images found in the search engines. In this article, we will share what gallery deeplinks are, and how to create them for your galleries.
A deeplink is a link to a specific, indexable page on your website (e.g. http://yourdomain.com/path/page/), as opposed to your website's homepage (e.g. http://yourdomain.com/).
A gallery deeplink is a indexible URL that goes to a specific photo gallery (e.g. http://yourdomain.com/gallery/), or to a specific photo within a gallery (e.g. http://yourdomain.com/gallery/photo/).
The reason deeplinks are so important for SEO is because search engines use this information to crawl your website and discover your galleries and photos. When you use deeplinks, search engines have an easier time indexing your photos in the search results.
Also, deeplinking your galleries makes your website more user-friendly because it provides an easy way for your users to share a specific photo from your image gallery with a unique URL.
By default, you can't create gallery deeplinks in a WordPress image gallery. To do this, you'll need to use the Envira Gallery WordPress plugin.
Creating Gallery Deeplinks with Envira Gallery
First, you'll need Envira's Deeplinking Addon to create gallery deeplinks for your WordPress image gallery.
To access this addon, you must have Envira Pro or Ultimate license.
Go to Envira Gallery » Addons, and install and activate the Deeplinking Addon.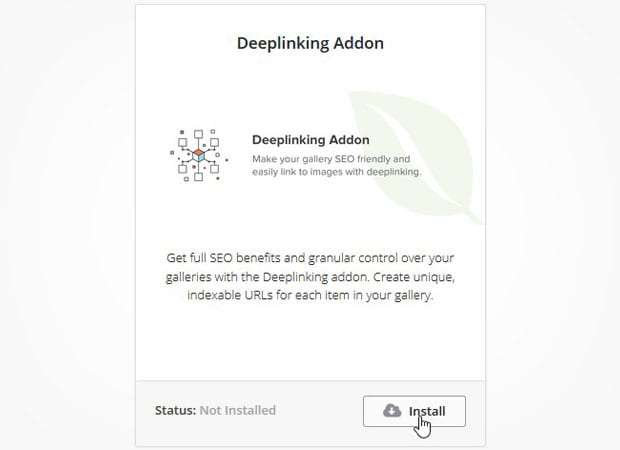 Upon activating the addon, go ahead and edit your image gallery. In the Lightbox settings, you need to check mark "Enable Deeplinking?".

Once enabled, it will automatically create the gallery deeplinks for your photos.
You can go to your website and click on each gallery images to see its deeplink URL. Here's an example: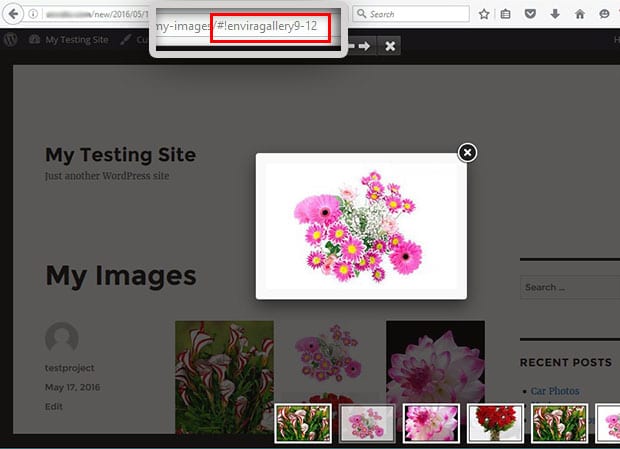 We hope this article has helped you to learn what gallery deeplinks are, and why they're a must-have for every WordPress gallery. You may also want to check out our guide on how to add breadcrumb links in WordPress galleries / albums.
If you like this article, then please follow us on Facebook and Twitter for more free WordPress tutorials.
Using WordPress and want to get Envira Gallery free?
Envira Gallery helps photographers create beautiful photo and video galleries in just a few clicks so that they can showcase and sell their work.