The 13 Best WordPress Gallery Plugins
by Alton Fletcher on Aug 3, 2021
Discover the best WordPress gallery plugins in this article.
Photographers who publish on WordPress face significant challenges. For one, you must attract viewers who will either buy you photos or hire you. Secondly, the learning curve for using a plugin may be discouraging. Thirdly, Google will not rank you high enough in search if you don't use SEO. And finally, how the heck do you keep all your darn media organized?
Fortunately, WordPress gallery plugins are your saving grace as a media publisher. The truth is, a great gallery plugin will help you tackle most of these issues with ease. In addition, it'll give you peace of mind and more time to handle other aspects of your business. With that said, let's take a look at the best WordPress gallery plugins available. Once you implement one of these great inventions, your online photo display will never be the same.

Envira Gallery
As a WordPress publisher, you need a plugin that offers both speed and convenience to build photo galleries. In addition, ease of use is essential to achieve the professional photo display you desire. Enter one of the best WordPress gallery plugins known as Envira Gallery, released in 2014. This powerful tool is very popular and has a large number of downloads to its credit. Furthermore, many web publishers use it for efficient gallery creation. First of all, you can drag and drop your content and quickly build a gallery with Envira Gallery. Secondly, create your own galleries with templates and fast functionality. Thirdly, Envira Gallery is helpful for printing and selling images used in its gallery. Finally, Envira Gallery will make your photo gallery fully responsive for viewing on the web. In other words, your pictures and videos appear correctly on a variety of viewing devices.

NextGEN Gallery
The popular NextGEN Gallery plugin dates back to 2007 and offers many valuable features. Above all, it is very reliable for photo organization and gallery creation. The amount of things you can accomplish from a photo management standpoint is pretty tremendous. For instance, save time as NextGEN Gallery uploads your images simultaneously. As you upload, it will extract important metadata from each photo. Integration with Yoast SEO Sitemaps means Google will see your images whenever you want. In addition, you have the option to edit and enhance your photos with the effects of NextGEN Gallery. Next, easily compile your images and metadata into a customizable album format. Once these steps are complete, finalize your presentation with a nice slideshow or set of thumbnails. For even more options, you can upgrade from the free to paid versions of this plugin. The free download of NextGEN is one of the best WordPress gallery plugins.
Modula Image Gallery
Modula Image Gallery stands out as one of the most modular gallery plugins available. To explain further, Modula provides a custom grid function to control image size and position. Simply drag-and-drop your images into your gallery, then resize each to your liking. If you don't have Photoshop or another imaging application, this is a nifty resizing tool. Control the size of your images with a click, then drag upon an image's corner. With other plugins, you may have to be more conscious about your image size before uploading them. However, with Modula Gallery, image size is less of a worry and controllable from within. Furthermore, it features CSS editing ability which allows customization of your gallery design.
Photo Gallery by 10Web
Control, ease of use, and simplicity are a large part of why Photo Gallery by 10Web is so useful. The truth is, a beautiful photo gallery is not much use if people browsing the internet can't find it. As a result, Photo Gallery by 10Web is a tool to make your gallery discoverable through SEO. For example, the built-in tagging and metadata features of this plugin enhance your photos with important information. With this special enhancement, your photos and galleries might receive a boost in rankings on Google. In addition, the design capabilities of Photo Gallery by 10Web make your posts attractive and easier to navigate. For this reason, the plugin is a useful tool to enhance your SEO by decreasing the bounce rate of your web pages.

FooGallery
Imaging enthusiasts who are also WordPress publishers have a major tool at their disposal with the FooGallery plugin. Furthermore, this tool is accountable for providing optimal functionality and performance. First of all, Foo contains a variety of gallery templates to accommodate your creative direction. In other words, numerous templates provide additional creative flexibility for publishing your galleries. Secondly, like others, FooGallery has a delayed loading feature called Lazy Load. With this feature, your galleries load efficiently for viewers on the web. Loading efficiency and speed is also evident in the smooth use of the other functions. For example, you can position the photos inside your gallery with ease. Also, navigate through your photos without a hassle with the infinite scroll feature. Download your free version of Foo today and try it out for yourself.

Jetpack
Jetpack is reputable enough to earn its name as one of the best WordPress plugins. Its built-in gallery creation tool packs enough power to support your photographs. Powerful tools within Jetpack include an array of options to shape your gallery's ideal design and functionality. To illustrate, Jetpack is a three-in-one gallery powerhouse. Firstly, you have the opportunity to create either a tiled gallery, gallery widget, or carousel. Each gallery displays on your website for your visitors to enjoy your photos.
Justified Image Grid
More editing options in a plugin result in more creative ways to prepare and assemble your images. For that reason, Justified Image Grid is a fantastic WordPress gallery plugin. Based on its advanced editing options, this plugin is best for photographers who need visual professionalism. At your disposal are dozens of valuable settings, presets, and visual solutions to choose. In addition, its shortcode editor allows customized design capability of your gallery.
Everest Gallery Lite
The WordPress plugin known as Everest Gallery Lite provides many options. Inside, select from a variety of gallery settings, 35 layouts, lightbox types, and more. An unlimited amount of gallery items are at your disposal. If that isn't enough, it also has hover effects, pagination, and lightbox themes. Not only is this tool rich with editing options, but also efficient in its functionality. Hence, Everest Gallery Lite is strong enough to work smoothly while using these great functions. You'll find that Everest Gallery has a feature set similar to NextGEN Gallery. With that said, this is a tool to create beautiful multi-page galleries. One of its best options is the ability to control how many photos display per page. Another is the variety of media options that Everest Gallery supports. For instance, video, audio, and images are compatible with your gallery. Just drag and drop whatever media type you want and display your gallery on the web.
Image Gallery by Robo
Robo Gallery is here to surprise you as a feature-heavy, mobile-friendly tool. Mobile web browsing has become a worldwide phenomenon and is only getting bigger with time. Half of all internet browsing is on a mobile device, according to a 2021 study. This plugin has mobile features and compatibility to help you get mobile-friendly. In addition, your Robo gallery will display correctly across multiple internet browsers. Hence, people will view it without a problem on Safari, Chrome, Edge, and other browsers. Robo offers the user complete customization of its interface and hover effects. A grid layout is available to help you make smart design decisions and place images. Furthermore, several visual effects allow you to control the appearance of your gallery. Included is a color selection palette along with shadowing, hover, and fade effects.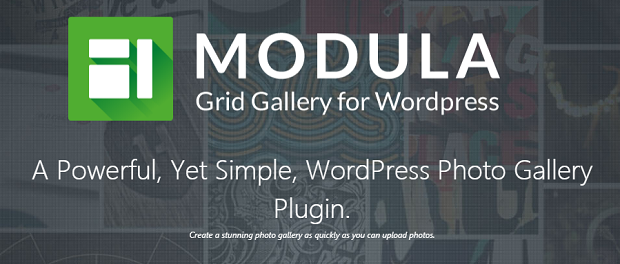 Meow Gallery
Enjoy Meow Gallery as a plugin that allows you to customize your gallery using CSS and JS. First of all, this tool is compatible with the key components of WordPress architecture. Because Meow is highly compatible with the WordPress block editor, you will experience smooth functionality. Secondly, this plugin combines responsive architecture with swift and optimized functionality. Along with these features is retina compatibility. Therefore, your users can view your gallery correctly whether or not they use a retina screen. One outstanding feature of this gallery plugin is its SEO-related options. For example, it provides metadata from each image to Google. To use Meow's advanced options, upgrade to the Pro version. Although you receive great features in the standard version, Pro offers much more.
Portfolio Gallery
As a photographer, you should have a portfolio-based mindset towards the presentation of your work. With this in mind, Portfolio Gallery presents a fantastic WordPress gallery plugin. Let your imagination run wild as you create galleries showcasing photos and videos. Rest assured, your viewers will enjoy your gallery no matter what device they see it on. Whether Mac, PC, mobile tablet, or cellphone, Portfolio Gallery is responsive and viewable. Responsive also means that your gallery and photos will display correctly regardless of screen size. For browsing, this plugin offers Lightbox functionality for your viewers. Although Portfolio Gallery isn't as SEO-driven as other plugins, it does offer a couple of options. For example, it will allow you to enter titles and descriptions for each gallery photo. As a result, you have the opportunity to provide Google with some important data for SEO.
Flagallery Photo Portfolio
Skins (or templates) to decorate your photo gallery are plentiful in the Flagallery Photo Portfolio plugin. Although Flagallery has many of the common features in plugins, its templates choices are abundant and unique. Choose from unique templates such as Horizon, Amron, Photomania, Paginator, and more. In addition, the pro upgrade of Flagallery contains even more attractive templates choices. In addition, this plugin will attract online traffic. As a result, you will not have to do much to gather the right online audience. Therefore, this plugin allows you to focus less on its technical aspects and more on the design elements. Similar to others, Flagallery is compatible with most browsers and free. Also, the galleries accept both photos and video, which are viewable on mobile devices. The Premium version is available for a one-time payment of twenty-nine dollars.
Gmedia Photo Gallery
In the Gmedia Photo Gallery plugin, you are the creator of elaborate galleries that accept various media. To start with, Gmedia not only accepts photos, but it also accepts video and audio! As if that weren't enough, it also is beneficial when it comes to tagging. For example, easily organize your media within Gmedia with tag assignments. Just place a tag on each media file based on your preferred description. As a result, you will maintain order and always have easy access to your media. Fortunately, it solves one of the fundamental problems publishers face, which is organization. Although other plugins on this list provide organization, Gmedia places a stronger emphasis on it. With its tag-based design, this tool is like none other in its ability to organize your media. Furthermore, slideshow design capability is available to create professional media galleries.
Using WordPress and want to get Envira Gallery free?
Envira Gallery helps photographers create beautiful photo and video galleries in just a few clicks so that they can showcase and sell their work.