57 Best Free Photography Themes for WordPress
by Alexandra Bateman on Sep 10, 2023
Looking for a WordPress theme for your photography website? Choosing the right theme can be intimidating with the thousands of WordPress themes out there. In this article, we will share the 57 best free photography themes for WordPress.
Before we dive into the free photography themes, let's briefly cover how to choose the best theme for your photography website.
How to Choose a Photography WordPress Theme
Photographers are artists. In the past, photographers would showcase their work in art galleries to limited audiences. But since the growth of the internet over the past two decades, now you can showcase your art to the entire world.
Your stunning photos deserve to be displayed in the most beautiful way possible. That's why choosing the best photography theme is crucial when building your photography website.
To choose the best WordPress theme for your photography website, it's important to keep the following questions in mind:
What are your goals for your photography website? Will you sell your photos online? Will you need a photography client booking form or a photography client login?
What is your brand? Are you elegant or fun? Feminine or masculine? Light or dark?
Who is your competition? How will you differentiate yourself?
What visitors will be coming to your website? (Who are your clients?)
How will those visitors flow through your site? What site structure will best support your client?
What's your budget? Are you interested in starting with a free or premium WordPress theme to create your WordPress photography site? We'll look at free themes in this list, but you'll find a premium WordPress theme available on many online sites for purchase.
With these goals in mind, let's take a look at the best free photography themes for WordPress…
Photography Themes for WordPress with Galleries
If you want to create a photography portfolio in WordPress, you'll need image galleries. This is a basic need for any photography website.
Unfortunately, not all free WordPress photography themes come with image galleries. And the themes that do have galleries are very limited in the features they offer. However, you can use the Envira Gallery plugin to add beautiful and powerful image galleries to any WordPress theme.
Envira Gallery integrates with free themes like those on this list, as well as with premium themes like those from Imagely and Photocrati. Both offer highly customizable, minimal photography WordPress themes that make sure your photography shines. You can see demos of Imagely themes and Photocrati themes on their websites.
That being said, here are the best free photography themes for WordPress with galleries…
1. Infinite Photography
Infinite Photography is a simple, clean, elegant and responsive WordPress theme. It has a variety of layouts, colors and styles that can change the complete look and feel of your WordPress photography site. This theme is great for photo bloggers, photographers, travelers and more.
2. Photo Perfect
Photo Perfect, a responsive WordPress photography theme, is a great fit for creative photographers and photo bloggers. And, the theme leaves plenty of room to customize the layout to reflect your personal photography brand.
3. IH Photographer
IH Photographer is a perfect theme for photographers looking to create stunning portfolios. It's a multipurpose theme for talented people who want to present their work beautifully on the internet. IH Photographer is fully responsive and translation ready, so it's simple and easy to use.
4. Lens
Lens theme has exciting features like a top menu, social share buttons, slider and background image, and a featured work option on the homepage. It offers different homepage layouts and options to add or remove features individually by choice. Lens is a responsive WordPress theme and work properly to all mobile devices.
5. Freak
Freak is an attractive WordPress theme with impressive features like multiple menu bars, fully responsive sliders, different posts on different pages and more. The splendid parallax header background helps this theme stand out.
Freak also helps you to display your featured work on the homepage. With it, you can create different pages for different categories of photography, too. Plus, this fully responsive theme has been tested multiple times on different mobile platforms, so you know its responsive design is verified.
6. BiancaA
BiancaA comes with a big slider to display current or featured stories. A perfect match for the photographers who want to keep their layout simple and peaceful! The white background of this WordPress photo theme presents a clean background for your images. And, this responsive theme offers multiple portfolio layouts and theme options.
7. Bold Photography
Bold Photography is a dark theme that's perfect for black and white photographers, film photographers and fashion photographers. The theme's minimal, sleek design will serve up your photography with a bold flare to your site visitors. Plus, you can load your multipurpose theme with special features to include Portfolio, Services and Testimonials tabs!
8. Seos Photography
Seos Photography is a responsive portfolio theme with a modern design that that can help you attract more visitors to your WordPress website. It has a fullwidth homepage with a customizable background image.
This theme is best for the photographers, photo publishers and more.
9. Eryn
Eryn is clean and simple website for photographers who want to show their personal work to the world. This responsive portfolio WordPress theme contains loads of customization options. Eryn simplifies and streamlines your site.
10. Gridsby
Gridsby is a album showcase theme for photographers that resembles Pinterest's layout. The fully-responsive theme has features to add images easily to the homepage gallery. The header displays social share icons on the right side, logo in the middle, and menu on the left side of the theme.
Gridsby really puts your creative photography front and center on your photography portfolio!
11. Swell Lite
Swell Lite is a simple WordPress theme with a customizable header space that allows you to easily display your photography business logo in the center. This multiple-purpose design promises fast load times for your images, which can help in your SEO rankings.
12. Thumbs Portfolio
Thumbs Portfolio is the perfect page builder for creating responsive photo grids. This professional theme displays your photo posts as portfolio items in beautiful and modern image grid. You can even add image and video galleries onto your site's homepage.
13. Hitchcock
Hitchcock is a gallery format portfolio theme that allows photographers to display their pictures on a responsive platform. This free theme includes multiple helpful features like social icons, background image options, infinite scroll, custom headers and more.
This free theme is so popular amongst photographers that it's active on over 10,000 WordPress portfolio websites!
14. Maker
Maker is a great free WordPress theme for anyone who creates art, be it photography, paintings, prints or otherwise. This simple and attractive WordPress photography theme compiles your photos into seamless grids with a modern homepage.
This theme can really help you develop your business story and showcase your featured photography. Plus, Maker works perfectly on screens of all resolutions!
15. Aperture
Aperture comes with a full-screen featured image slider so you can draw your readers' full attention to your best photos from their first click. With Aperture, you can customize text overlays to incorporate typography into your slider photos to give them context. The fully-responsive free WordPress photography theme also offers social share icons in the header space alongside a horizontal menu.
16. Jax Lite
Jax Lite offers a full-width header image area with room for a center-aligned logo and a menu at the right top corner. This photography theme for WordPress allows to showcase your art in a minimalist way on the homepage.
17. Harmonic
Harmonic is a perfect solution for the travel photographers to showcase their stunning urban and landscape photos. Another theme that puts your photos at the forefront, Harmonic offers a simple and minimal design with a responsive full-width homepage slider.
18. Inovate
Blog your photography with Inovate. This theme is perfect for photographers looking for a blog theme to pair their photographs with blog posts and blurbs.
The homepage features a flexible slider that's easy to customize, while the pages offer space for creating artistic and responsive photo galleries.
19. Fukasawa
Fukasawa theme's minimal masonry gallery grid layout can help you turn your catalogue of images into a curated collection. With block editor support, this theme is easy to use and configure for the best results.
The theme's homepage side bar to the left-hand of the gallery has plenty of room for your menu, widgets and select plugins like the WooCommerce plugin. Fukasawa's responsive and minimal design will attract visitors to your site again and again.
20. Hoffman
Hoffman is a simple custom color optioned theme with multiple layout options for pages. This theme supports galleries of different formats as well as a host of widgets and plugins.
Use Jetpack with the Hoffman theme for infinite scrolling, or create a custom widget. The page builder also offers two different page templates for ultimate customization abilities.
21. Professional
Professional is a diverse and powerful theme that supports sliders, animations, gallery areas and more. This theme is responsive and cross-browser compatible, with multiple layouts, footer widgets and menu options.
This theme is great for photographers with international audiences. Professional WordPress theme has been translated from English into three languages: Spanish, German and French!
22. Adventurous
It's no surprise that the Adventurous WordPress photography theme is perfect for adventure photographers. Its box-shaped, simple and attractive design is a great fit for adventure photo-bloggers whose larger-than-life images speak for themselves.
This multipurpose responsive theme comes with flexible customization to add menus, social icons and widgets.
23. PhotoBlogster
PhotoBlogster is a fully responsive, simple and modern photography WordPress theme. It is great for the photographers and photo bloggers looking to share their work online. The theme is already SEO optimized to help your photography site rank quickly in online searches.
PhotoBlogster also includes other amazing features like widgets, header images, portfolios and galleries.
While PhotoBlogster's built-in SEO is nice, you can always optimize your WordPress images for SEO in any theme.
24. Snowflakes
Snowflakes is a Christmas theme for photographers. It is a child theme of Fotografie, which means it inherits all the parent theme's features. The theme gives a festive look with sharp colors to captivate your readers. Of course, you can customize Snowflakes for colors and other features should you want a simplified version.
25. Snapshot
Snapshot's drag and drop page builder makes creating your custom photography website a breeze. With this theme, you can create customized top menus, sliders and grid layouts on the homepage. Plus, you'll enjoy free support on support forums.
26. GalleryPress
GalleryPress, a child theme of BasePress, has inherited all the beautiful theme's best features. This theme turns your homepage into a stunning photo gallery with a simple, clean design. And, because it's a responsive theme, you can rest assured that your photo gallery homepage will look perfect on any device.
27. Click
Click is the perfect theme for WordPress photo bloggers and photographers. Compatible with all major browsers, this responsive theme will display your photos perfectly across platforms and devices.
The theme itself offers multiple menu options, sliders, colors, pagination options and more. Plus, Click is search engine optimized, so it helps your photos rank higher in online searches.
Photography WordPress Themes with Featured Thumbnails
As a photographer, you may shoot weddings, birthdays, fashion shows and a number of other events. To attract a large audience to your website, you should publish these photos — and the stories behind them — on your blog.
You can showcase blog posts on your homepage by creating a featured content gallery using any WordPress theme alongside the Envira Gallery plugin.
That being said, here are the best free photography WordPress themes that support blog post thumbnails on the homepage and other pages.
28. Ashe
Consider equipping your portfolio website or photography blog with Ashe if you work with multiple authors and photographers. This theme allows you to publish and credit works from multiple authors on the same site. It also provides a neat and elegant design that pairs well with the WooCommerce plugin to create a virtual storefront.
Ashe pairs well with drag and drop page builders like Elementor, Beaver Builder, Visual Composer and Divi, too.
29. Premium Photography
Premium Photography is a simple and minimal theme with a responsive bootstrap design. It's the perfect theme for building a photography portfolio with accompanying blog articles. You can customize this theme, too, using Theme Options to change logos, favicons, social media links, copyright text and more.
30. ProtoPress
ProtoPress is loaded with features like multiple layouts, featured content areas, responsive 3D sliders, advanced menus, showcases, featured images and much more. The theme is responsive and works professionally on all devices. It is a smart choice for those looking for a premium WordPress photography theme for free.
31. Riba Lite
Riba Lite is a perfect WordPress theme for photographers, fixed with features like lazy loading, full-width featured images, alternate formatting for posts, unlimited customization and an amazing look. It is a fully responsive theme.
32. Minimalist Portfolio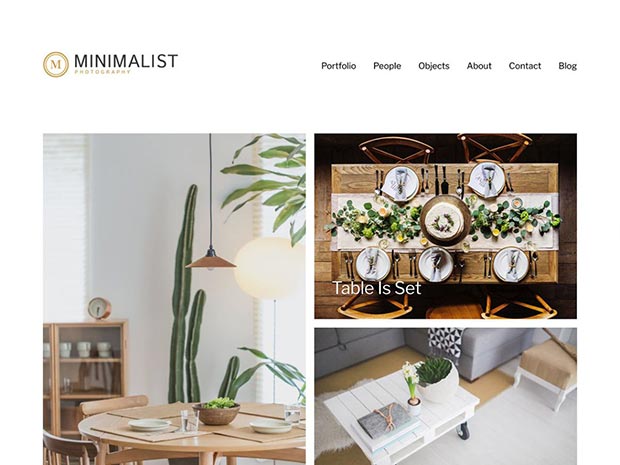 Minimalist Portfolio is an attractive portfolio theme for photographers with a design that puts the focus on your content. The theme integrates with plugins to create beautiful portfolios. Minimalist is a fully responsive and functions amazingly on any screen size and device.
33. Coherent
Coherent differs from other photography themes of WordPress with its sliding sidebar option. A fully responsive full-width slider on the homepage will showcase your most impressive photos. The theme itself is responsive and works elegantly on all devices.
34. Cubic
A child theme of the beloved Boardwalk, Cubic has inherited all its parent theme's best features. Cubic displays your featured images and posts in a cubic grid on the homepage. This fully responsive theme's minimalist design will impress your visitors and is simple to maintain.
35. Yuuta
Create your graphical diaries with Yuuta. This free theme comes with the quality of a premium theme and is a great choice for photographers who want to make stories from their clicks. It is a responsive theme with easy drag and drop options for any customization.
36. Photo Journal
Like Bold Photography, Photo Journal is a dark theme designed to give your photography portfolio some drama. This classy, minimal theme is well-suited for photographers, photo bloggers, graphic designers and other creatives.
With Photo Journal, you'll enjoy features like featured content and slider areas, customizable hero content fields and pre-built Portfolio, Testimonials and Services pages.
37. Boardwalk
Boardwalk is a simple theme that displays your content in a unique homepage vertical slider. It is fully responsive and caters the need of a photographer. Visitors can navigate through your site via a discrete menu at the right top corner of the page.
38. Fifteen
Fifteen is built pragmatically using modern technologies. It is a responsive photography WordPress theme that features custom widgets, a 3 grid layout for the homepage, featured images, multiple templates for inner pages and exciting animations.
39. Bose
Bose offers different blog layouts for photographers who love to give context to their photos with written posts. This multipurpose theme can be used for selling images online, or for showcasing photo stories.
Customize the homepage slider with your featured work, highlighted by a white background, with this responsive theme!
40. TheMoments
TheMoments is a multipurpose WordPress theme for photographers who prefer a simple and minimalist design. It has amazing features like homepage banner, featured slider and featured portfolio. The theme is great for the travel bloggers, photographers, photo bloggers, beginner photography agencies and more.
41. Panoply
Panoply is a Bootstrap responsive theme with parallax support and a clean and flat design. Its fullwidth background image space on the homepage displays a welcome message to your site visitors. The theme is multipurpose with one page design to show your portfolio, content and images.
Photography WordPress Themes with eCommerce
Do you plan to sell your photography online? If you are using the Envira Gallery plugin + WooCommerce, you can sell your photos in WordPress using any theme.
In case you don't have Envira, here are the best free photography WordPress themes with eCommerce ready…
42. Adventure Lite
Adventure Lite theme caters to outdoor and adventure photographers whose portfolio boasts exciting images like hiking, mountain climbing, hunting and more. The theme has a corporate look and can make your professional portfolio stand out from the competition. It can also integrate with WooCommerce and other plugins, so you can sell your photos online through WordPress.
43. Pinnacle
Pinnacle is a flat, responsive photography theme for WordPress. It's loaded with powerful features to help you make a creative website for your photography.
44. InstaBlog
InstaBlog is a photo blogging theme for travel photographers and bloggers. It's great for photographers whose primary image-posting medium is Instagram. The theme has a minimalist design and modern style.
If you love Instagram for posting photos and want to create a WordPress portfolio, check out this guide on how to import Instagram photos in WordPress image galleries.
45. Stained Glass
Stained Glass is loaded with custom options to make this theme really feel like your own. It has different layouts that vary from one-column to four-column designs. The theme supports multiple widgets and plugins to develop an artistic look on WordPress's tested, responsive platform.
46. Fotografie
Fotografie is an amazing WordPress theme with striking minimalist design. It has great features like header media, hero content, portfolio, color options and more. The theme is best for photographers looking to create a beautiful website for their stylized fashion photography. Plus, Fotografie is responsive so your content will be readable on any screen size.
47. SG Window
SG Window has tons of features including multiple layouts for homepage and inner pages, extensive custom widgets for body and footer areas, sidebars for the homepage and footer area and much more. It is a fully responsive theme for professional photographers.
48. Quest
Your quest for a reliable WordPress photography theme ends here — with Quest! Customize this theme easily with its drag and drop page builder and flexible customization options. It's developed on bootstrap framework which makes it a fully responsive theme.
49. Verge
Verge is a professionally built WordPress theme with a slider that displays your featured images and posts. Use it to sell photo prints, photograph albums or even designs.
50. Veal
Veal is a 100% transition-ready WordPress theme. It's loaded with tons of features including multiple layouts, custom widgets, footer widgets, ecommerce support, full-width pages, page templates and a sleek, responsive design. It will help you to present your work in a clean, corporate style so that you're competitive as a professional photographer.
51. Customizr
Take care of your large image displays with Customizr photography theme for WordPress. This theme displays high quality images on the homepage to attract visitors from their very first impression. This theme is also responsive for all mobile and other devices.
52. Market
Market supports selling your photography designs online with its cool features. This light weight theme has pioneer theme editing options to help you build a classic, sturdy website that you can grow with. Other features include animations, navigation bars, social sharing icons, multiple templates for pages and custom widgets.
53. Great
Great is a WordPress theme with multilingual support. A highly customizable theme, Great allows you to select a custom background, menu and slider. Plus, the footer has space enough for three widgets of your choosing!
54. Shopisle
Shopisle is a clean and elegant free WordPress theme for photography online stores. It is WooCommerce-ready and features a responsive design, a footer formatted for widgets, a video ribbon, social links and more.
55. Activello
Activello is a highly flexible and functional WordPress theme for photographers. It's minimalist and elegant, with tons of ready-made inner pages, as well as multiple color schemes and style choices. Activello is optimized to work with WooCommerce, so you're just a click away from selling your photos on WordPress.
56. Arcade Basic
Arcade Basic features a unique design with a theme customizer to add your own header image and customize page layout, site width and more. In addition to your photos, you can also post videos, statuses, audio, quotes and more. Like other themes in this list, Arcade Basic is also compatible with WooCommerce.
57. Vantage
Vantage is an advanced WordPress theme designed to work seamlessly alongside an array of third-party plugins, including WooCommerce. If your style is clean and minimal, then this is a great multi-functional photography theme for you.
That's it!
Are you ready to create your dream photography portfolio with WordPress? Go ahead and choose one of these themes to get your started.
Remember, you can change your theme at any time! And, because the themes on this list are free, you're not out anything if you decide to test drive a few.
Of course, there are some cases in which a free theme just won't cut it. If you're looking to upgrade to a premium theme, try one of Imagely's WordPress photography themes. Designed with an eye toward modern minimalism, these themes put your images at the forefront of their simple yet engaging designs. With plenty of options to choose from, you're sure to find one that fits your needs and aesthetic.
All Imagely themes are Genesis child themes, which means they're built on one of the most popular WordPress theme frameworks. Take a look at Imagely photography themes today.
You can make your money stretch even further by investing in a photography theme suite like Photocrati. Assembled into one powerful and seamless package, Photocrati offers limitless design possibilities. In fact, it's like having dozens of premium WordPress themes at once, all at your fingertips.
Unlock your photography website's potential with easily customizable theme settings and infinite designs. Check out Photocrati's theme suite here.
After you've chosen a theme for your new professional WordPress photography portfolio, check out our complete guide to create your photography website in WordPress.
If you like this guide, follow us on Twitter and Facebook for more exciting free photography, photo editing and WordPress resources.