10+ Best Places to Sell Photos Online & Make Money
by Southie Williamson on Nov 29, 2023
Are you looking for the best places to sell photos online? Maybe you're wondering which photo-selling websites are best for selling stock photos.
Photographers of all skill levels are in high demand for their work, and there are many ways to sell digital photos online. As a photographer, you can easily earn money on the side (or even start a new career!) once you know the best places to sell photos online.
However, with so many online marketplaces and websites claiming to be the best place to sell photography and stock videos, it can be hard to know where to begin. To help you out, we've compiled a list of the best ways to sell photos online so you can make money doing what you love.
How Much Money Can You Make Selling Photos Online?
The amount of money you can make selling photos online varies widely and depends on several factors. Firstly, the quality and uniqueness of your photos play a significant role. Exceptional, in-demand images tend to attract more buyers. And, the platform you choose matters – some marketplaces charge higher prices or offer better commissions.
Consistency and quantity can also contribute to earnings. Regularly uploading a range of appealing photos can increase your chances of making sales. Building a strong portfolio and engaging with your audience can lead to repeat customers and positive word-of-mouth, further boosting your income.
Ultimately, successfully selling pictures online requires dedication along with an understanding of your audience and market trends. While some photographers earn a modest supplementary income using a stock photography website, others turn online photo sales into a lucrative eCommerce business.
What Kind of Photos Sell the Most?
Large corporations, mom-and-pop shops, graphic designers, marketers, and more buy custom or stock photography for online use. Bloggers and website owners who run small to medium-sized businesses make up the largest buying base for stock images. Here are some of the types of photos they buy the most:
People: Pictures of people of all ages are very popular. Currently, photos that feature people from different countries and cultures, active elderly citizens, and models who have imperfections and look more like regular people are high sellers.
People working: These images are very popular with businesses. Folks working on laptops, writing, speaking at a meeting, etc. Just don't make them so generic that they become a meme.
Food: Various types of food photography, the stages of cooking, and even empty unwashed plates.
DIY & Tools: Photos of DIY artwork, crafts, and home projects are popular as well as images of tools such as gears, hammers, nuts, bolts, and screws, which can convey a lot of things for potential buyers.
Cities: Cityscapes, buildings, people commuting, and photos that show city motion and lights are very popular.
Nature: This is a no-brainer. The beautiful outdoors never gets old to shoot and never goes out of style with buyers. Check out our list of the 15 best places to sell nature photography online.
Travel: Landscape photos for sale and shots from around the world are always in high demand.
#1 Best Place to Sell Photos Online
Before we dive into our list of the best stock photo-selling sites, let's talk about the #1 best place to sell photos online: your own website! The biggest reason to sell photographs on your own site is that it puts YOU in control. You can set your own prices, no one else takes a cut, you have 100% control over how to display your photos, and you can set your own terms and conditions.
Don't have a website yet? It's not hard to start one. The majority of professional photography sites online are created on WordPress. Check this simple guide on how to create a photography website in WordPress to get started.
After creating your website, you need to showcase your photos beautifully to attract visitors and convince them to buy your images. You'll want to ensure that your images are displayed properly, your design is user-friendly, your photos are protected from theft, and your images are optimized for search engines. Plus, to make money selling photos, you'll need an excellent eCommerce system to process payments and provide digital downloads.
Thankfully, all of that is actually pretty easy with Envira Gallery!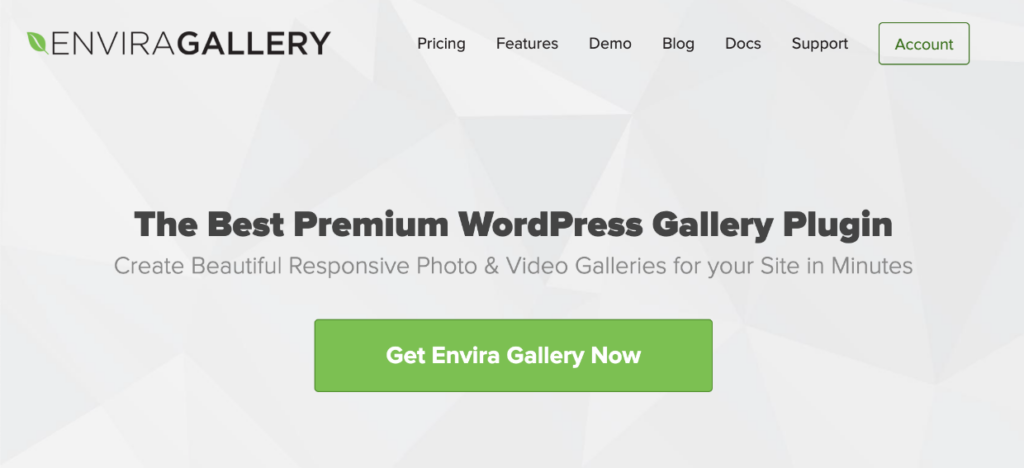 Envira Gallery is the best premium WordPress gallery plugin, allowing you to create beautiful image and video displays. A drag-and-drop builder and multiple layouts including including slideshow, fullscreen, masonry, lightbox display, and more make creating a stunning gallery effortless.
Plus, Envira Gallery provides native integration with Woo, which makes setting up eCommerce and selling your photos a breeze. You'll have complete control. The Digital Downloads Addon allows users to download photos easily, and you can even allow users to print images directly from your WordPress gallery with the Printing Addon.

Check out some more of our most popular features:
Client image proofing.
Social sharing buttons on images, galleries, and albums.
Filterable galleries and albums using tags.
Supports video galleries.
Deeplinking for SEO-friendly galleries.
Watermarking, image protection, and password-protected galleries.
Built-in image compression.
Adobe Lightroom integration.
Integration with popular page builders like Elementor and Beaver Builder.
And lots more…
Envira Gallery makes it easy to stand out from your competitors and create gorgeous, functional galleries without touching a single link of code. Head to our step-by-step tutorial and learn how to sell your photos on WordPress using Envira Gallery.
Get started with Envira Gallery today!
Want to learn more about creating your own site to sell pictures as stock images? Check out our articles on the Best WordPress Theme for Selling Photos and How to Sell Stock Photos with a WordPress Plugin or Theme.
Top 10 Photo Selling Websites
Although the best place to sell photos online is your own website, there are lots of other sites where you can list your photography for purchase. Let's dive into our list of the top 10.
1. Adobe Stock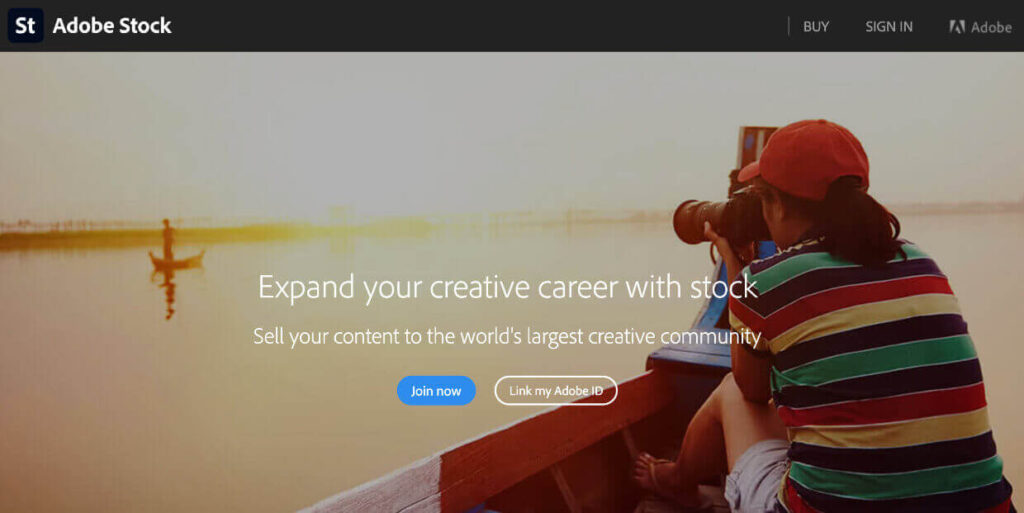 Adobe Stock is a stock photo site from the makers of the most popular photo editing software, including Photoshop and Lightroom. This photography eCommerce platform has been around for almost 20 years. It's known to be among the very first online photo-selling marketplaces and is still considered one of the best stock photo websites to sell images on.
Adobe Stock is integrated with the Adobe Cloud Platform, which makes it particularly popular among photographers since you can upload albums directly from Lightroom. Moreover, Adobe has numerous products that are widely used around the world, which means your uploaded images have the potential to be seen by quite a large audience.
Check out more of the features that make Adobe Stock one of the best ways to make money selling photos:
Supports a wide variety of assets including images, vector graphics, illustrations, and stock videos. 
Doesn't require exclusive rights to your images, so you can sell on other platforms at the same time.
Offers free access to Adobe Portfolio for contributors, which allows you to build a portfolio and showcase your best work.
All in all, Adobe Stock is an excellent choice for selling your photos online. It's easy to use, free to sign up, offers great workflow integration, and provides huge reach to millions of buyers.
Pricing / Payout: Free signup. Contributors receive a 33% royalty share on images.
Get started with Adobe Stock today!
2. Shutterstock

Similar to Adobe Stock, Shutterstock has been a popular website to sell photos on ever since these type of platforms were invented. They have over 600 million images, videos, and music tracks and around 200 million contributors. That means they also have millions of purchasing customers.
Signing up for Shutterstock is free, and once you become a site contributor, you'll start earning money every time someone purchases and downloads your content. Here are a few of the features that make it a great place to sell your stock images:
Supports a wide variety of files including images, vector graphics, illustrations, and video.
Doesn't require exclusive selling rights to your images, so you can sell on other platforms at the same time.
You can earn extra money by referring other photographers or artists to Shutterstock.
Provides a personalized portfolio page and the ability to track earnings.
One thing to note about Shutterstock is that the competition is steep. As one of the largest stock photo and video sites on the internet, buyers have millions of images to choose from, including royalty-free ones. That said, you can still sell photos on Shutterstock and make good money in the long run if you focus on uploading a lot of images.
Pricing / Payout: Free signup and 6 separate earnings levels, ranging from 15% to 40% of the purchase price. The more downloads you get, the more money you earn.
Get started with Shutterstock today!
3. Alamy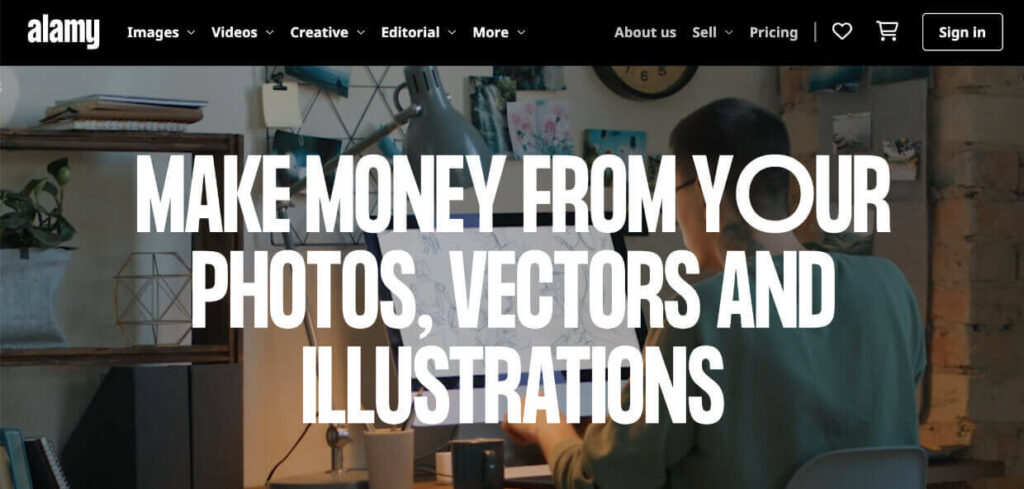 Alamy is a British photography site that's another great website to sell photos on. It offers fast and easy signup, an iPhone app (Stockimo) to capture and upload photos on the go, and competitive earnings – over $1 million paid to contributors every month.
Alamy handles all of the complicated licensing that comes with online selling and provides photographers with a straightforward contract. The platform doesn't edit submissions, so you can be sure you have complete control over your work.
Signing up with Alamy is free, and it's an especially great option for students. That's because students receive a special 100% commission rate for 2 years! Here are a few of the features that make it one of the best websites to sell photos online:
Supports a variety of assets including images, vector graphics, illustrations, and video.
Analytics tools to track sales and help you see what type of photos sell best.
Doesn't require exclusive selling rights to your images, so you can sell on other platforms at the same time.
Although this photo-selling site may not have as many buyers as Shutterstock or Adobe Stock, it's still a great contender for extra revenue. It's also an excellent choice for students due to its 100% commission rate for 2 years.
Pricing / Payout: Free signup and three commission levels. Most contributors receive 40%, which requires you to meet a threshold of $250 or more in gross sales every year. Contributors who earn more than $25k in gross sales earn 50% commission.
4. Etsy
Etsy is best known as a marketplace to buy and sell handmade goods, custom products, vintage clothes, and more. So, you may be surprised to see it on our list of the top photo-selling websites. But, Etsy boasts millions of users every month and many photographers use it to sell their work.
The great thing about Etsy is that they have a larger audience than most stock photography sites and a specific demographic that you can cater to. Sellers often make money from images that target crafty young females.
Another big plus is that Etsy operates as your own eCommerce shop. Of course, you can sell digital images, but you can also sell prints or other items featuring your photography such as mugs or blankets to expand your photography business! Check out the pros of making money selling photos on Etsy:
You can price your own photos and products, which provides high earnings potential.
Full control over how you display your photos to buyers.
Offers an Offsite Ads program where the platform will automatically advertise your products across the web (15% fee on sales for the service).
Just remember, if you're selling prints or other items, you'll have to handle manufacturing and factor in the cost of printing, packing, and shipping. If you want to create an online store to sell your photography but don't want to make your own site, Etsy could be a great fit.
Pricing / Payout: You can sign up for free or pay a monthly fee of $10 for more perks. Etsy charges a listing fee (the first 40 are free, then $0.20 each), a transaction fee (6.5% of the sale price), and a processing fee if you choose to receive payments through the platform (3% + $0.25).
5. SmugMug
SmugMug is a well-known photo storage platform that allows you to protect, store, and share digital photos. However, it also offers a sales platform where you can sell photo prints and digital downloads. They claim the setup process only takes 15 minutes!
One of the cool things about SmugMug is that they partner with various print labs, so you can sell traditional prints or products. Images can be printed on just about anything including metal, glass, and keepsakes. Check out more of SmugMug's features:
Private galleries and client-friendly tools for proofing.
Custom pricelists.
Unlimited photo storage including managing RAW files.
Pre-built website templates and personal event sites.
SmugMug is another reputable choice for photographers, and it's particularly well-suited to users who want to provide more extensive product prints without having to deal with all the manufacturing details themselves. It's also handy for photographers who need a robust storage solution.
Pricing / Payout: To access the selling features, plans start at $28 per month and contributors keep 85% of their profits.
Get started with SmugMug today!
6. 500px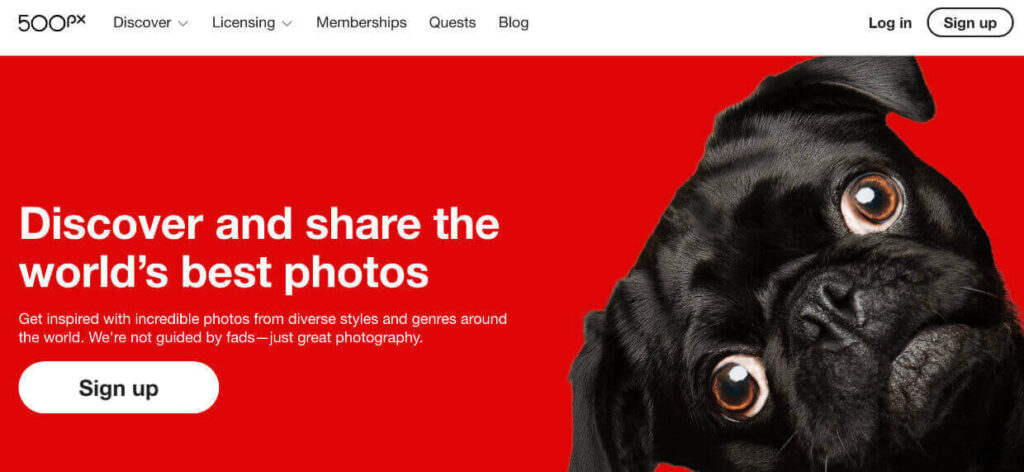 500px is a photography website that's targeted at professionals. It takes a different approach than many of the typical stock agencies. 500px is a community platform that allows you to host and share photos, connect with other creators, provide and receive feedback, and create a portfolio to sell photos online and earn money.
The main thing that sets 500px apart when it comes to selling photographs is its payment structure. Contributors pay a monthly subscription fee to access the platform's features and sell photos. As long as you have a paid subscription, you'll receive 100% commission on any sales (free plans receive 60%).
Check out the features that make 500px one of the best places to sell photos online:
Analytics features give you insight into where your photo views are coming from, which images are most popular, how your images fare compared to those of your competitors, and more.
Add your profile, portfolio, and resume to the available-for-hire directory and get discovered by potential clients (Pro plan).
"Pulse algorithm" increases your exposure by adding your new uploads to a discovery page.
Weekly photo challenges with prizes, called Quests.
500px puts a big emphasis on high-quality submissions. They review every photo and consider things like uniqueness, technical quality, overall aesthetic, production value, and commercial viability before approving your images and making them available for purchase.
If you're a professional photographer with a high skill level, it can be a great way to get your work seen and ensure you're not competing with lower-quality images in an oversaturated market. Plus, you'll earn 100% commission and connect with the photography community. However, it's not the most beginner-friendly option.
Pricing / Payout: Offers 3 membership plans ranging from free to $9.99 a month. Paid plans include unlimited photo uploads and 100% commission.
7. Snapped4u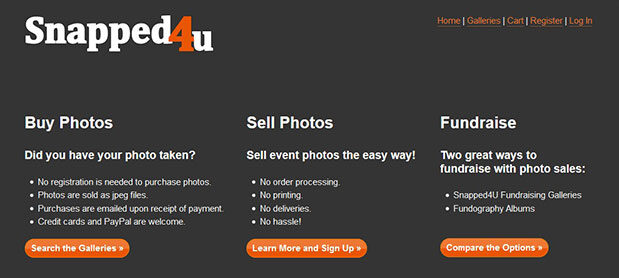 Snapped4u makes selling your event photos and portraits a piece of cake. If you shoot weddings, parties, engagements, or other events, Snapped4u was designed to make your life easier.
After shooting an event or portrait session, you can make a new gallery, upload the images in JPEG format, and set photo prices. After that, clients are able to buy the photos and Snapped4u will immediately email them the files.
Each Snapped4u seller has their own gallery page, so customers who book you for multiple events can always find your images in the same place. And, you can give your personalized URL to anyone who may want to purchase your photos, like other event guests.
Check out the details of selling event photos online with Snapped4u:
Set your own prices with a maximum photo price of $20.
Get paid for all purchased photos on the 1st of the month in your PayPal account.
Galleries are posted for 4 months, but they can be renewed after expiration.
Keep in mind, Snapped4u isn't designed for stock photography. It's solely for event and portrait photographers. It provides a simple, straightforward way for photographers to sell the images they took to the people who were photographed.
Pricing / Payout: There is a one-time $10 registration fee along with a commission fee. Snapped4u charges $0.50 on all photo sales under $5.00 and 10% on all others.
Get started with Snapped4u today!
8. PhotoShelter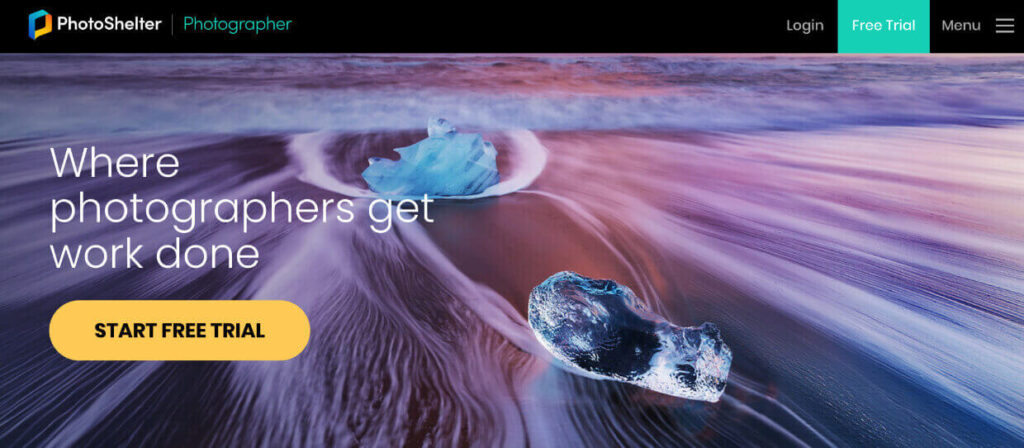 PhotoShelter is a digital asset management system that offers services for brands and organizations as well as photographers. For photographers, the platform helps with portfolio creation, gallery organization, client proofing, and selling digital downloads or prints.
PhotoShelter allows you to build a portfolio website quickly, create galleries, add eCommerce functionality, and deliver purchased orders to customers easily. Here are a few of the features that make it a great choice for photography websites:
Pre-built templates to build your photography site.
Built-in eCommerce features and partnerships with professional print labs.
Private galleries and client proofing.
Mobile app to upload, price, and view your archive of photos on the go.
PhotoShelter is a good choice if you're looking for an easy, hands-off way to create a photography site. The service is user-friendly and provides plenty of features for managing and selling photos online.
Pricing / Payout: 3 subscription plans are offered, which start at $10.00 per month. You'll also pay an 8%-10% transaction fee on each photo sale.
Get started with Photoshelter today!
9. Fotomoto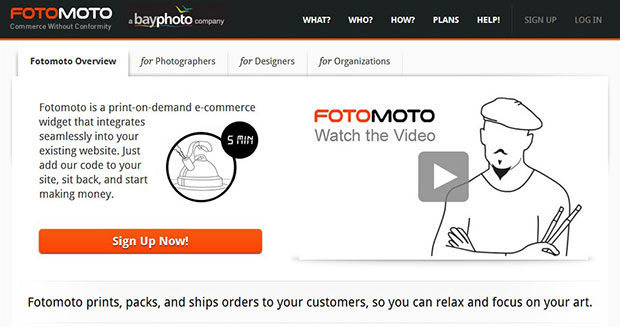 Unlike most of the websites on our list, Fotomoto isn't a marketplace to sell images online. Rather, it's a widget that integrates with your website to help you sell digital photos and offer print-on-demand services.
After you set up a Fotomoto account and add the shopping widget to your site, visitors will be able to purchase the images. If you're selling physical prints or canvases, you can fulfill orders yourself or let Fotomoto manage them. The service will handle the entire process including printing, packaging, and shipping.
Here are some of Fotomoto's top features for selling photographs:
Integrates with numerous platforms including WordPress, Joomla, Flickr, and Squarespace.
The widget itself is customizable. You can adjust the widget's settings to display your own branding and logo.
User-friendly dashboard for customization and tracking.
Whether you're a hobbyist photographer, a professional photographer, or a graphic designer, Fotomoto has some great features that will work seamlessly with your existing website. It's a solid option if you're looking for a simple way to sell physical prints online.
Pricing / Payout: Offers 3 subscription plans ranging from a free plan with a 22% transaction fee to $10 a month with a 10% transaction fee.
Get started with Fotomoto today!
10. TourPhotos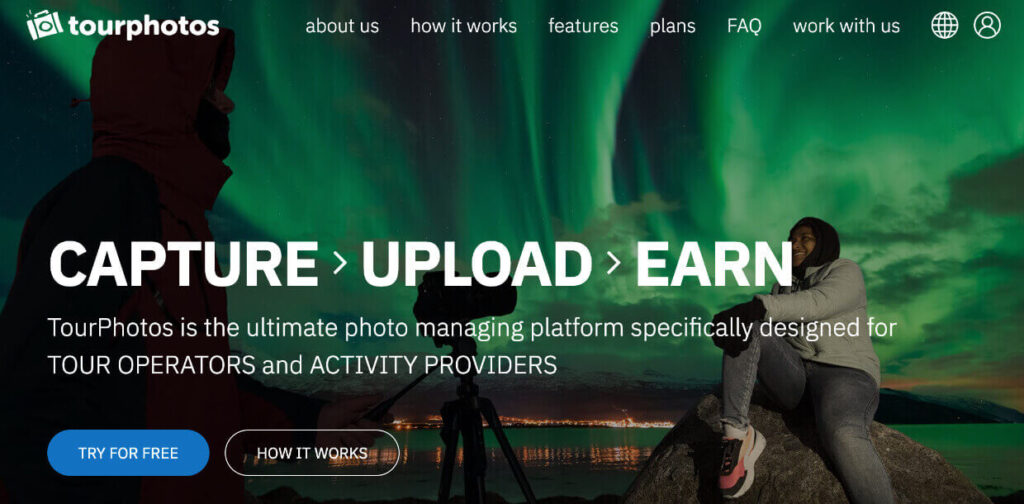 TourPhotos is a hub for tourists and activity photographers across the globe. In fact, many travel agencies and tour companies use it to upload photos of their adventure trips for attendees to purchase.
You can create galleries for each activity and upload high-resolution images or videos for clients to purchase. The platform uses a calendar-like store. That way, buyers can easily find their photos by clicking on the date of their activity. Check out more of TourPhotos standout features:
Set individual prices or bulk packages and generate discount codes.
Automatic branding will apply your logo to each photo.
Customers can share purchased photos directly to social media.
If you're an activity photographer who often shoots tours or other events, TourPhotos is a perfect solution for providing photos to your clients easily. Plus, the service includes staff management features where collaborators can upload photos and earn a % of sales.
Pricing / Payout: It offers a transaction-based plan where TourPhotos keeps a 20%-25% commission. Or, pay a monthly fee and use the service to provide free photos to clients.
Get started with TourPhotos today!
Which Website Is Best for Selling Photos?
The best site to sell photos online is your own website. It's easy to create your WordPress photography site and sell images with Envira Gallery, and you won't pay any commission fees. However, since most of the stock agency sites and platforms on our list don't require exclusive selling rights, you can have your own site while earning passive income from other photo-selling websites!
Adobe Stock and Shutterstock are both popular options that provide a huge audience reach and are also suitable for beginners. If you're a seasoned photographer with high-quality images, 500px is another excellent option.
Still looking for options? Here are a few more of the best image-selling websites that we didn't cover on our main list:
iStock Photo by Getty Images – Non-exclusive microstock site that pays 15%-45% royalties.
Dreamstime – Stock website that allows you to curate your galleries and pays 25%-45% commission for non-exclusive images.
Fine Art America – Print-on-demand service that handles all order aspects. They focus on fine art and pay a 35% commission, but you set your own prices.
Stocksy – Somewhat niche with a focus on artsy, high-quality photos. It requires selling exclusivity and pays contributors 50%-75% of the purchase price.
That's it for now! We hope this guide helped you find the best place to sell photos online so you can start making money with photography!
Not using Envira Gallery? Get started today!
If you enjoyed this article, be sure to check out our list of the 17 Best Photo Editing Software for Photographers.
Don't forget to follow us on Facebook and X (Twitter) for the best photography tips, resources, and WordPress tutorials.
Using WordPress and want to get Envira Gallery free?
Envira Gallery helps photographers create beautiful photo and video galleries in just a few clicks so that they can showcase and sell their work.