How to Sell Stock Photos with a WordPress Plugin or Theme
by Brenda Barron on Feb 12, 2019
Do you want to learn how to make money taking stock photos? There are many different ways that you can make money with your photography skills and selling your services to clients is just one option.  You can also increase your earnings by turning your website into a simple and effective source of high-quality stock photos.
Deciding to sell stock photos can be a great way to take your business to the next level. Of course, just like any other digital strategy, you'll need to figure out how to effectively build and promote your WordPress site to allow for stock photo sales.
The good news is that WordPress is packed full of themes and plugins that can enhance your photography brand. Whether you simply want to use a theme that can create galleries to integrate with eCommerce add-ons, or you prefer a plugin, this tutorial will show you how you can sell more photos online. We'll break it down like this:
Step 1. Sell stock photos with Envira Gallery
Step 2. Selling stock photos with eCommerce plugins
Step 3. Alternative plugins to sell stock photos
Step 4. Make sure you're ready for sales
For a list of places to sell your photos online checkout Top 12 Best Places to Sell Photos Online and Make Money and 15 Best Places to Sell Nature Photography Online.
We also have a great article on the 14 Best Photo Editing Software for Photographers
Ready? Let's get started!
Step 1: Sell Stock Photos with Envira Gallery
We might be biased, but we believe that the easiest way to sell stock photos online is through Envira Gallery. With our product, you can create a stunning WordPress website ideal for showing off your creative skills. Envira lets you create state-of-the-art media galleries in a matter of moments, using bulk upload tools and various customization options.
With Envira Gallery, you can share your photos in a style that suits your business, and browse through a selection of 25 add-ons that make selling your content a breeze. You'll need a full Envira subscription for add-ons, but extra features do include access to WooCommerce for stock photo sales.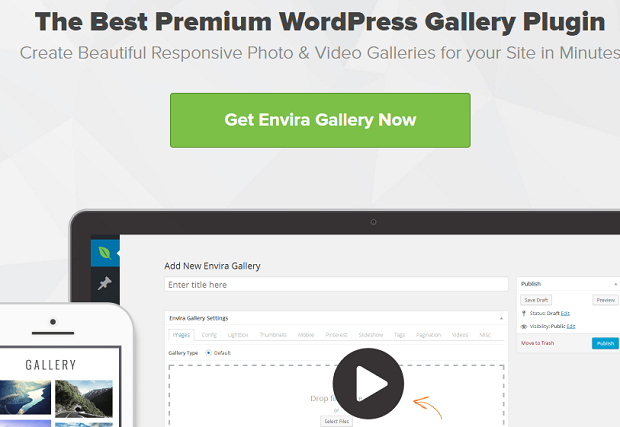 2. Selling Stock Photos with eCommerce Plugins
With the right theme like Envira Gallery, your eCommerce plugin is part of the package. Envira comes with a native WooCommerce integration, so you can sell your photos online, and display them in an attractive format too.
WooCommerce is a great plugin for selling stock photos because it comes with a specific "photography" tool. The photography version of WooCommerce makes it easier to upload and sell bulk collections of images. There's even a batch uploader tool to reduce the time it takes to get photos from your camera to your store.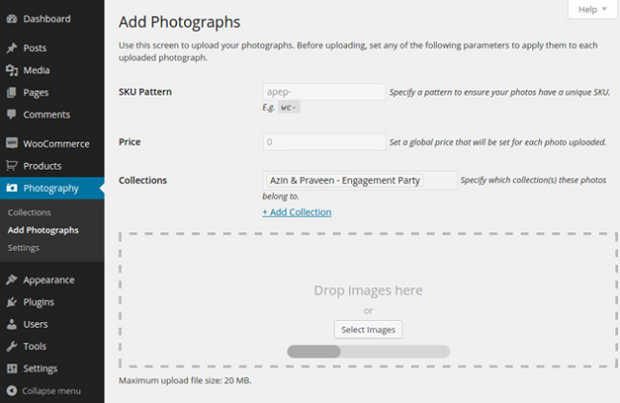 3. Alternative Plugins to Sell Stock Photos
WooCommerce isn't the only plugin available for selling your photos online. For instance, Easy Digital Downloads was specifically designed for selling digital files that you can upload to your WordPress website. Although it doesn't integrate with as many features as WooCommerce, it's a free and simple solution for when you need something basic.
The core plugin comes with enough functionality to ensure that learning how to sell stock photos online is simple and straightforward. There's also a growing library of add-ons available for EDD, allowing you to accomplish even more with your online store.

4. Make Sure You're Ready for Sales
Remember, being able to effectively sell stock photos online isn't just about having the right theme and plugins – although that is a big part of the process. You also need to advertise yourself and prepare your website to manage transactions.
Make sure to set up a content marketing strategy to drive traffic to your site, and consider engaging with potential customers on social media to improve your potential income. The more you interact with possible clients, the bigger your client base will become.
At the same time, remember that you'll need a system in place to manage the transactions you make online. A secure website is a good place to start, and WooCommerce offers plenty of add-ons that you can integrate into your WordPress system to help manage your checkout and simplify payment.

Selling stock photos on WordPress can be easier than you'd think. With the right theme and plugin, you'll be well on your way to success. Additionally, you don't have to worry about things like shipping and packaging when you're selling digital files!
How do you sell stock photos on your WordPress site? Let us know in the comments below, and remember to connect with us on Twitter or Facebook for more updates!
Using WordPress and want to get Envira Gallery free?
Envira Gallery helps photographers create beautiful photo and video galleries in just a few clicks so that they can showcase and sell their work.