17 Best Photo Editing Software for Photographers
by Alexandra Bateman on Mar 9, 2020
Do you want professional photo editing software on Mac or Windows so that you can perfect your photos? Whether your a beginner or a pro, editing your photos before uploading them to your photography website is essential. In this guide, we will share the best photo editing software for photographers.
The best photo editing software can help to bring focus to an image, highlight your key subjects and transform an average picture into something truly incredible.
But the question for most photographers is how to choose the right editing software to supplement their skills.
There are countless different options out there to choose from, from better-known systems like Adobe's Photoshop and Lightroom to simple but effective choices like Canva. There's even some great free options, too.
So, in today's post we're going to answer the question "What is the best photo editing software for photographers?" by looking at:
Top-rated software on the market (free and paid)
Features of each software
How you can use the software
Let's get started!
Why Should You Edit Your Photos?
Editing your photos not only brings out their beauty, but it also helps in reducing the file size. Smaller images files will help increase the speed of your WordPress site and improve your search engine rankings.
Having an intuitive and easy-to-use photo editing software can help you edit your photos quickly and take them to the next level.
So, let's take a look at some of the best photo editing software available online.
1. Adobe Lightroom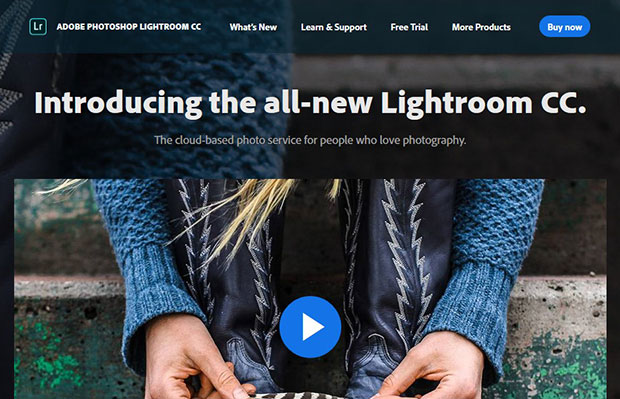 Adobe is truly the gold-standard when it comes to image editing software. If Photoshop comes off as too complex and cumbersome, then you're sure to love all the incredible effects you can accomplish with Adobe Lightroom. Lightroom allows you to edit your pics in a straightforward, intuitive interface with a host of fantastic features, including:
Face detection for photo organization
Camera and lens-based corrections
Brush and gradient adjustments
Fixing and blurring tools
Presets and professional filters
Customizable sliders
Multiple device support and sync
You can get Adobe Lightroom and Photoshop together here in Adobe's Creative Cloud Plan.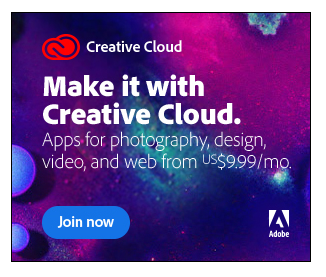 If you choose to edit in Lightroom, you'll be happy to know that Envira Gallery and our Adobe Lightroom to WordPress integration allow you to easily sync your Lightroom photo galleries with your website.
2. Skylum Luminar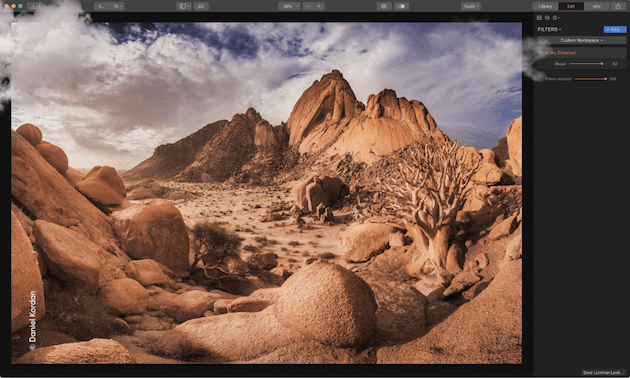 For many reasons, Luminar has quickly grown to become one of the the most popular editing tools for professional photographers around the world. For one, you pay a one time flat fee for the program. Unlike Adobe and other software companies, Skylum doesn't have monthly subscriptions.
Luminar is a one-stop shop for photo editing that can be used by itself or as a plugin in with Lightroom, Photoshop and even Apple Photos.
Also, Luminar has gained popularity for its AI slider, which does an automatic quick fix for everything from brightening, clarifying, toning and other basic adjustments. Overall, Luminar is a strong professional grade contender to Adobe's products.
Skylum Luminar features include:
AI Editor/Slider
Exclusive filters like Sunrays filter (which lets you add realistic looking sun rays to your images), top and bottom lighting filter and Orton filter (made famous by the Lord of the Rings and blurs parts of the image while focusing in on others)
Adjustment Layers
Image Layers
Dedicated presets for DJI drone photos
3. Adobe Photoshop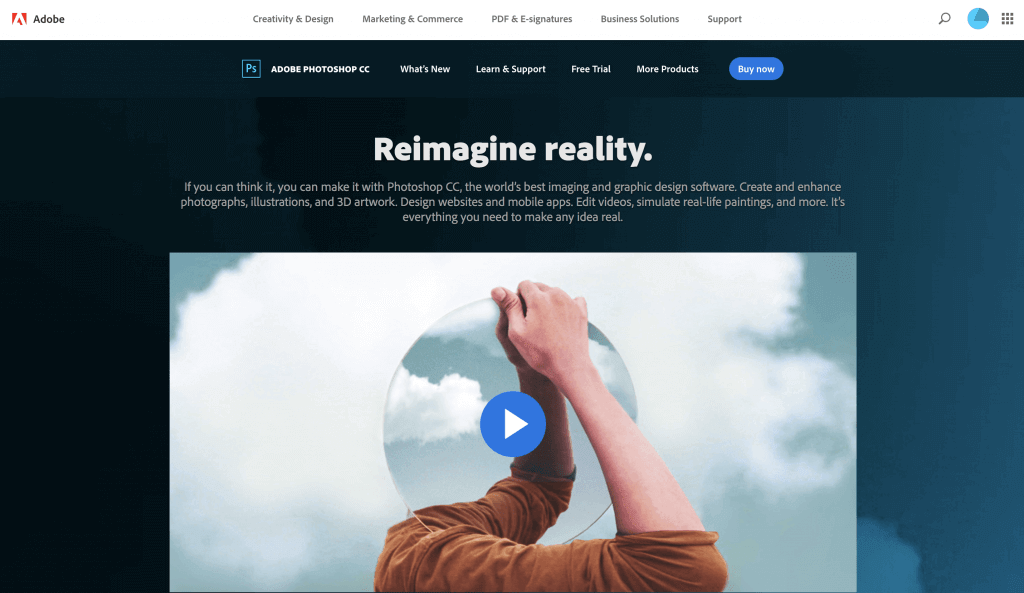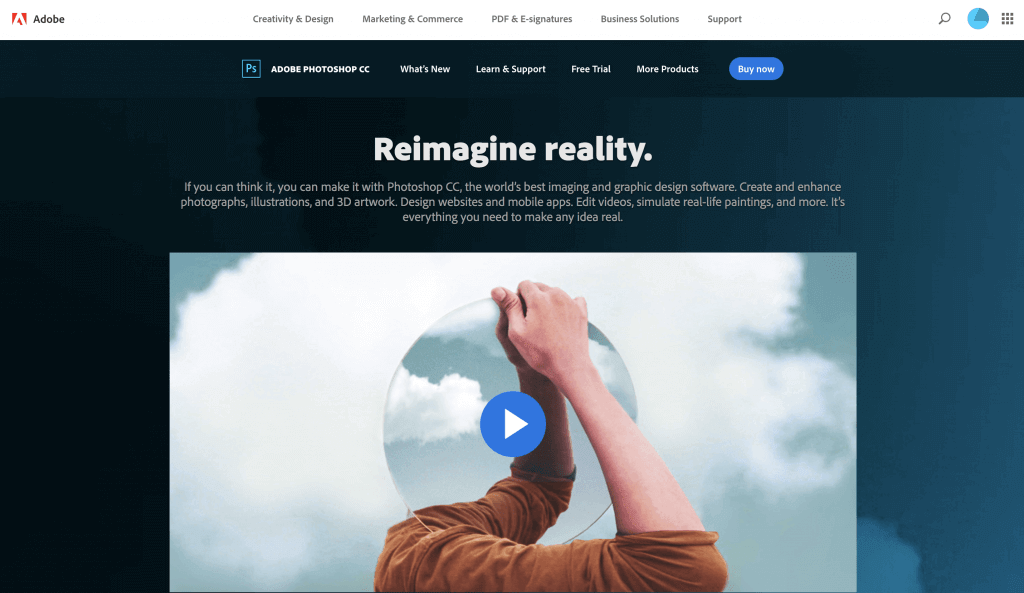 It's hard to write an article about the best photo editing software for photographers without giving Adobe Photoshop a well-deserved mention. For artists, illustrators, and designers around the world, Photoshop is their go-to editing tool.
Photoshop's masking, retouching and layering tools are still some of the most compelling on the market, though it's fair to say that this tool might not be best for the odd "basic" touchup, which would be best left for Lightroom. This program is designed for professionals that need all the bells and whistles.
Features include:
Sophisticated touch-up and retouching features
Extensive filters and brushes
Multi-layer editing
3D design functionality
Pro editing tools
Best-known photography software
You can get Adobe Lightroom and Photoshop together here in Adobe's Creative Cloud Plan.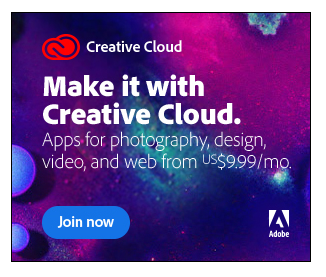 Don't know whether you need Photoshop or Lightroom? Check out our guide: Lightroom vs Photoshop: Which is the Best Solution
4. Capture One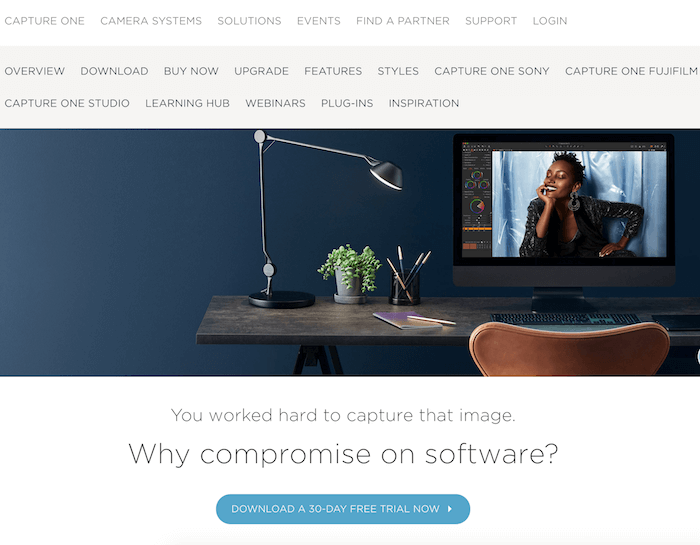 Capture One is a RAW image editor made by the camera company, Phase One. It is similar to the other software on this list, but with some solid distinctions.
With Capture One, you get:
Interface customizability – You can change the program's layout to your liking and even create and modify keyboard shortcuts.
Layers – Not all editing tools have layers, and some will start lagging with too many. Capture One doesn't exhibit this sluggishness despite offering many adjustments you can make on each layer.
Advanced Color Editing – Much more flexibility with sliders adjusting the granularity of color changes (even for the same colors).
Annotations – Make notes for your self or to streamline collaborations.
Speed – When handling large volumes of pictures over 20 megapixel RAW files, Capture one has shown to operate at a much better performance than the professional heavyweight contenders in this space.
Option to pay a one time flat fee – While there is a monthly plan, which is double the cost of Adobe Creative Cloud's Plan, you do have the option to flat out purchase Capture One for a one time cost.
5. ON1 Photo RAW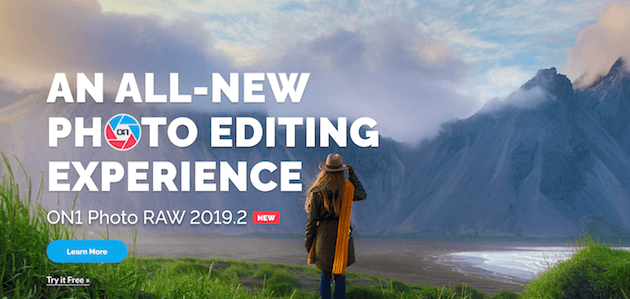 ON1 Photo RAW is a complete photo editing software that you can try for free.
Not only is Photo RAW easy to download and install, but it comes with literally hundreds of presets, stackable filters and other solutions that you can use to enhance your pictures in no time. Additionally, ON1 Effects can be used on any operating system.
You will get 170 effects with photo editing, brushes, and masking tools. There's even an add-on available for Lightroom, Aperture, and Photoshop too!
Features include:
Stackable filters
Custom presets
Textures and borders
Live adjustments and previews
Available to download on any device
Selectively apply effects option
6. Corel PaintShop Pro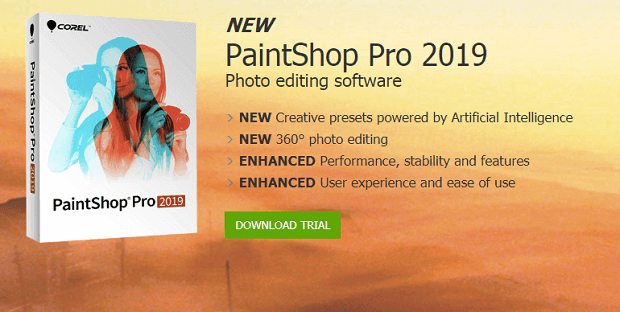 Corel PaintShop Pro is easily one of the most straightforward photo editing software options online for people who want a simple but effective approach to upgrading their images. Though it might not be the most advanced tool in the market at first glance, it comes with everything you need to take your images to the next level without breaking the bank.
Like some other software, it requires a flat one time fee, which starts around $60. For that price, you gain access to dozens of textures, backgrounds, and brushes to choose from. And, the app adds new features all the time.
Current features include:
AI enhanced presets
360-degree photo editing
Fantastic user experience
Graphic design templates
Photo editing options like blur and fix
Learning tutorials
7. ACDSee Photo Studio Ultimate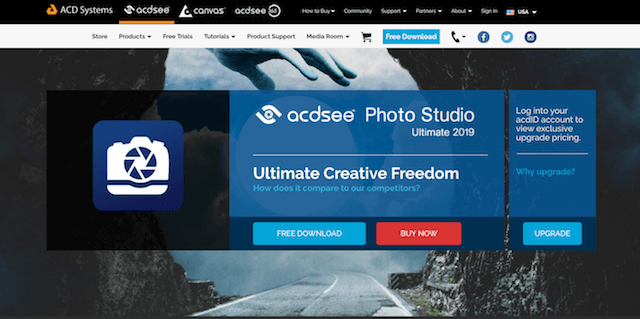 ACDSee Photo Studio Ultimate is a newer contender in the photo editing arena and hasn't been on most professionals' radars until recently. It's an all-in-one photography software solution that can do everything you need within a simplistic interface.
There are some strong noteworthy features worth mentioning over market competitors:
No Importing – Directly edit source files from your drives and bypass importing the files.
Facial Recognition – The name says it all. A solid method of organizing and indexing images.
One time purchase price and monthly options.
Get ACDSee Photo Studio Ultimate now.
8. Gimp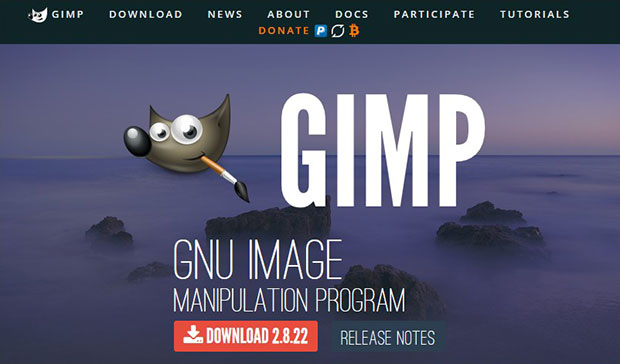 GIMP is a free professional photo editing software that's easy to download and install on your computer. It has multiple features which help you with retouching photos, photo composition and picture enhancement. It also includes a built-in file manager.
Even more, you can create image authority with GIMP. It works great on Windows, Mac, and Linux operating systems. And you can edit photos of all formats.
Because it comes with a range of features that help with things like photo composition and image retouching, many photographers consider GIMP to be a great entry-level alternative to Photoshop and Lightroom.
Features include:
Photo enhancements like corrective mode and vignette
File management and optimization modes
Digital Retouching
Clone and touch-up tools
Support for multiple plugins
9. Canva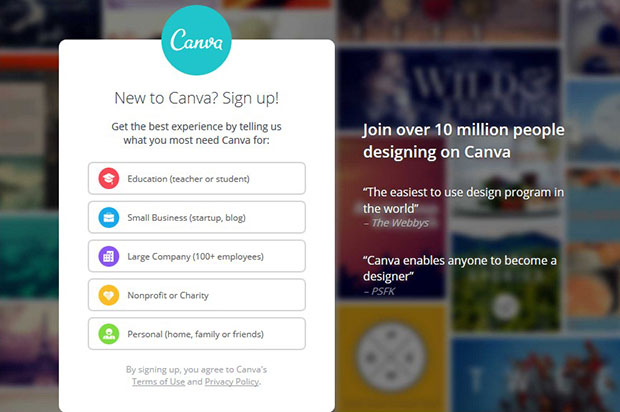 Canva is a simple graphic design software with a huge following. It operates on a freemium model and comes with multiple photo editing tools and products.
Unlike some other editing software, you can download Canva on your mobile phone and edit your photos instantly. The Canva Marketplace has tons of templates, photos, cards and icons that make your life easy in creating visual content for your site or blog.
Canva allows you to adjust various elements of your images with a simple drag-and-drop editor, as well as add fonts and templates to your pictures if you want to use them on your website.
Features include:
Over 8,000 templates
Photo blur and vignette
Image cropping and straightening
Image transparency tool
Design grids and photo frames
Stickers and badges
Add texture
Speech bubble maker
Photo enhancer
10. PicMonkey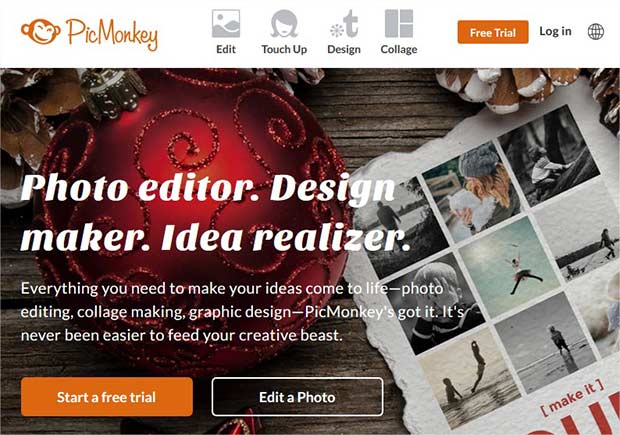 PicMonkey is a complete graphic design package that allows you to edit photos, make collages, touch up, crop and more. It will help you develop your design skills and bring out your creativity to easily edit your images.
With a free trial, you can test out all of PicMonkey's unique features before you make any purchases. Try using PicMonkey to edit your photos using specific templates or arrange your images into a college.
And, plans start at only $7.99/mo, which makes PicMonkey one of the cheapest photo editing options on the market.
Features include:
Basic Filters
Collage effects
Templates
Blank canvas design
Automatic sizing for social media
You can also print photos, cards, canvases and more from PicMonkey directly.
11. Pixlr Editor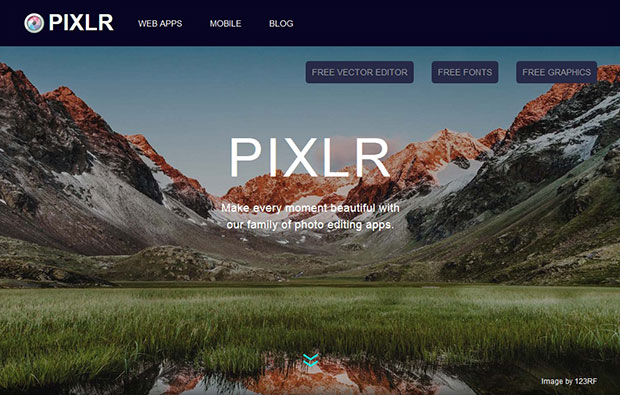 Although you can download a desktop or mobile app if you prefer, the Pixlr Editor is another great online photo editing software alternative. There's even the option to upgrade to "Pixlr X" if you're looking for a more advanced editing option.
Like Photoshop, Pixlr allows you to add images to blank canvases, create unique effects, and add filters on-the-go.
Features include:
Over 2 million free effects
Filters and overlays
Creative editing app
Mobile and desktop downloads or web interface
Various Pixlr versions to choose from
12. Snappa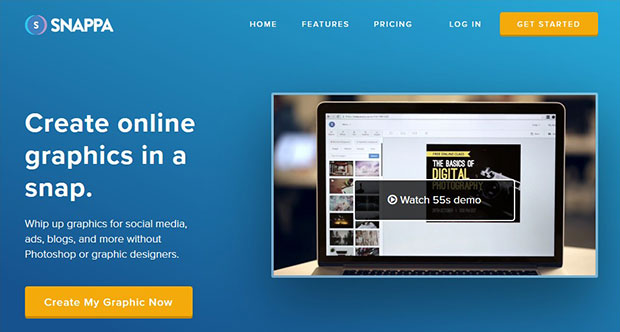 Snappa is an online graphics and design software available online for photographers who want to transform their images into something more.
Maybe you're looking to convert your pictures into social media banners, or photos for your blog. Snappa will help you to transform your images by adding new dimensions and effects with ease. And, you don't even have to download anything to get started.
Features include:
Drag and drop photo editing
Image dimension templates
Available stock photos
Add graphics and texts in seconds
Share graphics on social media
13. PortraitPro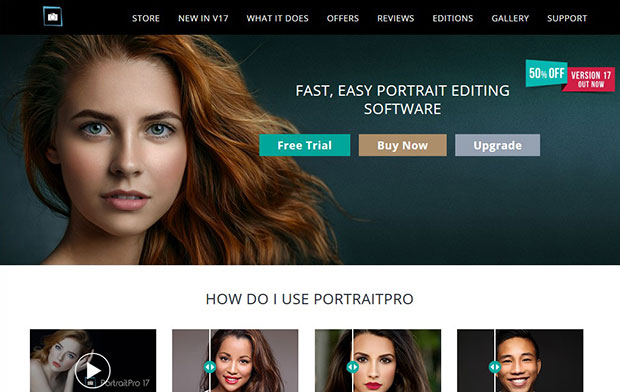 PortraitPro is a professional image editor designed for photographers who specialize in portraits.
The application includes everything you might need to edit skin tone, remove blemishes or wrinkles from your subject's face, add makeup and more. Also, it allows you to add effects to fix things like poor lighting or get rid of sagging cheeks.
Features include:
Advanced layering options
Skin smoothing
Wrinkle Remover
Makeup tools
Award-winning editing using sliders
14. Fotor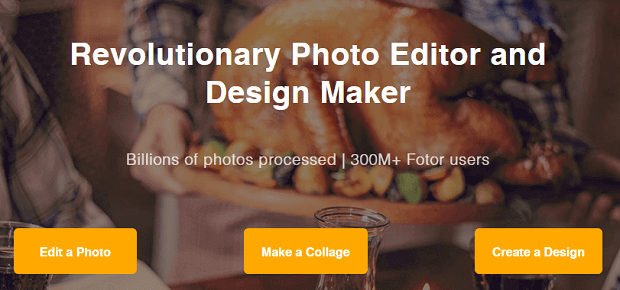 Fotor is a famous cloud-based photo editing software boasting over 300M users. You can use its free desktop version with the all the features that are available on its online photo editing version.
Also, you can check the effects on your photos with scalable editing option. It has a simple to use interface which allows you to open RAW files and combine images in layers.
The cloud-based software allows you to save the incomplete designs for future editing. That way, you can start from where you left the work. All you need to do is upload your images onto the website and you can start editing, creating designs and more.
Features include:
Photo editing suite
HDR effects
Filters and image touch-ups
Portrait Retouching
Design templates
Hundreds of fonts, stickers, and shapes to choose from
15. Inkscape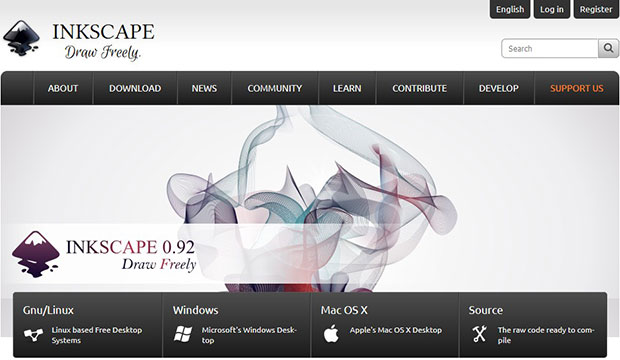 Inkscape is another 100% free piece of editing software perfect for budding photographers. You can download it on Windows or Mac, or you can access the source code if you want to put it into your own app.
Like Photoshop, Inkscape is designed to give you complete control over your images, whether you want to clone objects, manipulate the colors in your images or overlay text.
It has dozens of available features, including:
Color picker
Multiple text formats
Copy-paste object cloning
Calligraphy tools
Available extensions and add-ons
16. DxO Optics Pro 10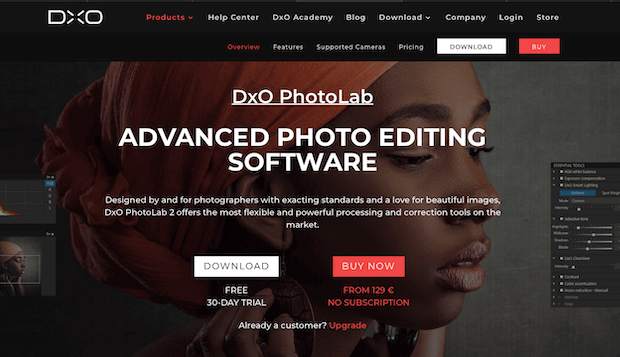 DxO PhotoLab is a solid alternative photo editor. It converts your RAW images to JPG very smoothly. And it works great with both Mac and Windows operating systems.
This program offers a suite of processing and correction tools that meet the needs of real photographers.
Some features include:
U Point local adjustment technology
Manual and automatic mode
Customized profiles
A multitude of optical corrections
Also, you can sign up for a free 30-day trial before committing to a subscription.
17. Serif Affinity Photo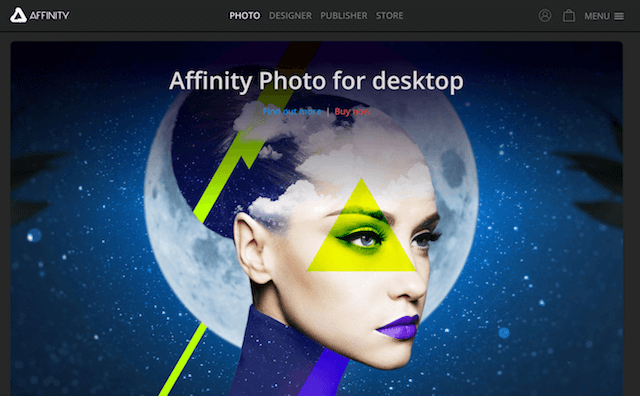 Serif Affinity Photo is becoming a strong contender against Adobe Lightroom and Photoshop. Although, it would be more fair to compare it only to Adobe Photoshop given their identical interfaces and similar capabilities. Affinity is a vector graphic design application, with a hybrid of vector and pixel art environments.
Certainly, Affinity's biggest feature is its:
Price – Affinity is one of the cheapest professional photo editing solutions on the market at $49.99, a one time fee.
Which Photo Editing Software is Right for You?
So, how do you know which photo editor is the best fit for your needs?
If your looking for a free simple editor then GIMP may fit the bill. However, for an easy to use industry standard, we recommend Adobe Lightroom, which comes with Adobe Photoshop in the CC Plan.
If you have a clear idea of how you'll need to edit your photos and which tools you'll use the most, consider that when choosing an editing software. While all of these editing software options can handle basic edits, more complex and specific techniques will be easier to achieve in some over others. What are your photo editing priorities, and how can the right editing software help you meet them?
Once you've got your pictures edited with one of our photo editing software picks from above, you'll need to display them on your website with an amazing online gallery. And, you'll want a gallery that can scale your images and won't bog down your site.
Luckily, Envira Gallery allows you to use pre-built layouts, sell your pictures, speeds up your WordPress website and has tons of other features photo pros need.
Envira Gallery is the best WordPress gallery plugin on the market. It's the highest ranked and recommended gallery plugin with over 2M downloads! With it, you can create beautiful gallery layouts that will convert visitors into customers.
We hope this guide has helped you to find the best photo editing software for photographers. Let us know your experience with these picks in the comments below!
And, be sure to check out our other top articles on photography and photo editing:
If you like this guide, then join our email list on the right side of this page and follow us on Facebook and Twitter for more free photography software and resources.
Using WordPress and want to get Envira Gallery free?
Envira Gallery helps photographers create beautiful photo and video galleries in just a few clicks so that they can showcase and sell their work.