Capture One vs. Adobe Lightroom
by [email protected] on Mar 14, 2020
Unsure about which photo editing software is better at conquering your editing needs? Or, which one is better for beginners to use? There are a lot of image editing programs out there, with prices ranging from free to very expensive. We can help you choose the right photo editor for you by helping you decide between Capture One Pro versus Adobe Lightroom.
Today, we'll look at the pros and cons of editing images in Phase One's Capture One Pro 20 and Adobe's Lightroom. Capture One Pro 20 is probably not as well known as Adobe Lightroom, but it's a well-loved piece of image editing software among many photographers and professional studios.
Each photo editor has its own strengths and weaknesses, range of editing tools, ease of use and price point. The topics we'll cover today include:
The main differences between Capture One Pro 20 and Adobe Lightroom
Types of projects each editing program works best for
Cost difference between Capture One Pro 20 and Adobe Lightroom
Pros and cons of Capture One Pro 20 and its unique features
Pros and cons of Adobe Lightroom and its unique features
User-friendliness of each program
What features professional photographers should look for in image editing software
How to decide between Capture One Pro 20 and Adobe Lightroom
Main Differences Between Capture One Pro 20 and Adobe Lightroom
Adobe Lightroom editing software has a broad appeal amongst hobbyists and professional photographers alike. It's fairly easy to use while being sophisticated enough to tackle professional photographers' editing needs. And, on top of its photo editing capabilities, it's a respected raw image converter, too.
Capture One Pro 20 is an editing software geared more toward professional photographers and image retouchers. Its mass of tools and features may take some time and practice to totally get the hang of.
Both image editors offer the benefit of tethered shooting. Simply attach your camera to a tethering cable that connects the device to a desktop or laptop computer. The photos you take then appear immediately on the capture screen in the software, allowing you to check composition, focus, exposure, color and more in real-time.
If you are looking for Photoshop alternatives, you'll find many more options than just these two photo editors. But, Capture One and Lightroom are both good starting points for your research.
Capture One Pro 20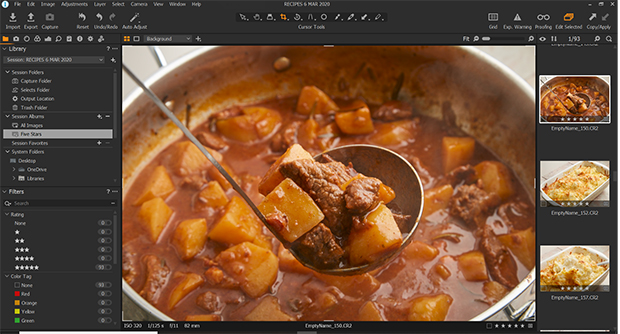 Capture One Pro 20 offers a range of advanced image editing tools, as well as RAW image conversion and keyboard shortcuts. One of the main reasons it's popular with professional photographers is due to its fast and reliable photo tethering tool.
Remember, tethering allows you to check the sharpness, exposure, color and focus of your image after you've shot it. You can also flag and rate your image, as well as adjust its noise reduction, white balance, color and exposure thanks to photo tethering.
So, with Capture One Pro's photo tethering feature, your images are available instantly for editing, which means there's no need to save money for large memory cards. Capture One also offers the Capture Pilot, which enables you to remotely view your photo shoots in real-time.
Capture Pilot-enabled devices let the viewer see their images as they take them and gives them the option to rate and flag the photos. Innovations like this make it easy for a client on one side of the world to be present at a photoshoot on the other.
Capture One Pro 20's sprawling and non-compartmentalized interface is what sets it apart from Lightroom. Capture One Pro also includes some very powerful photo editing and retouching tools that aren't available anywhere else.
The program offers features like advanced color editing and tools for color grading. Their High Dynamic Range (HDR) Tool is super-powerful, as is its Noise Reduction Tool. With Capture One Pro 20, you can even copy layers between different photos of varying formats and sizes!
Given the extent of its photo editing features, Capture One Pro 20 isn't a beginner's photo editor. The learning curve for this program is steep, and even those who use it regularly say that there are tools within the program they'll never use or find too complicated to handle.
Capture One Pro 20 Range
Capture One Pro comes in a variety of offerings, depending on your photo editing needs. There's Capture One Pro 20 — the software's latest version — and Capture One Pro 20 Enterprise for businesses who need several licenses. You can also purchase camera brand-specific versions of Capture One Pro 20, like Capture One Pro 20 for Sony 20 and Capture One Pro 20 for Fujifilm 20.
Capture One is best for:
Tethered shooting in a studio or on location
Complete workflow from shooting RAW to final image export
Professional photo editing. Capture One Pro 20 is a fantastic tool for eCommerce, fashion, food, and product image capture and editing.
Advanced retouching, such as color grading, skin tone adjustments, luma range adjustments and more.
Working with layers and masks
Superior noise reduction and sharpening tools
Lightroom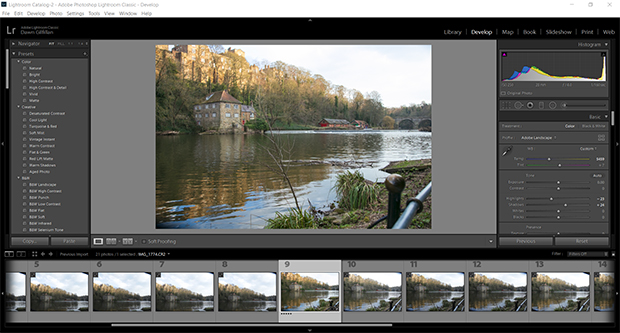 Lightroom aims to appeal to a wider audience than Capture One Pro 20. It's used by hobbyists as well as professionals and is also a photo organizer, RAW file converter and image editor.
Because it's an Adobe product, Lightroom integrates seamlessly with Photoshop so you can export or import photos between the two image editors. As you can see in the photo above, its interface appears more user-friendly than that of Capture One Pro 20.
Lightroom introduced its Tethered Capture Tool in an attempt to emulate Capture One, but most professional photographers prefer Capture One Pro 20 for this task. The Lightroom capture is notoriously unreliable, glitchy and slow. So, if tethered shooting is a must-have for you, it might be a dealbreaker.
One of Lightroom's primary selling points is its famous Lightroom presets, many of which can be downloaded for free on the internet. These presets revolutionized easy photo editing when Adobe first released Lightroom, and they're still well-loved today. You can now use a preset converter to add your Lightroom presets to Capture One Pro 20, so that's something to bear in mind!
Lightroom also has a wide range of adjustment tools like white balance, noise reduction, color/vibrance, clarity and more. It also has a variety of options to share your photos, including creating a web gallery, printing your images in a variety of formats and sizes and uploading images directly to your social media sites.
Lightroom, however, doesn't have adjustment layers. Instead, you should export your image to Photoshop or another image editor if you want to add layers or detailed masks. Capture One Pro 20, on the other hand, allows you to complete your whole edit in one program from start to finish.
Lightroom Range
There's currently only 2 versions of Lightroom you can get from Adobe: Lightroom Classic and Lightroom CC.
Lightroom Classic is Lightroom's desktop photo editor that comes with a file/folder system. Lightroom CC is the program's Creative Cloud version, which is designed for those who edit their images on a mobile device. With Lightroom CC, you can store your files in a digital cloud, so you save space on your devices.
Adobe Lightroom is best for:
Beginners and photographers of all levels
Organizing and cataloging your photo collection
Preset-based editing
Mobile-based and desktop photo editing
Quick adjustments and basic masking
Cost Differences Between Capture One and Lightroom
One of the biggest factors that may sway your purchasing decision could be the cost difference between these two programs! Bear in mind that Capture One Pro 20 gives you three licenses to use on three different computers, while Lightroom only gives you two.
Capture One Pro 20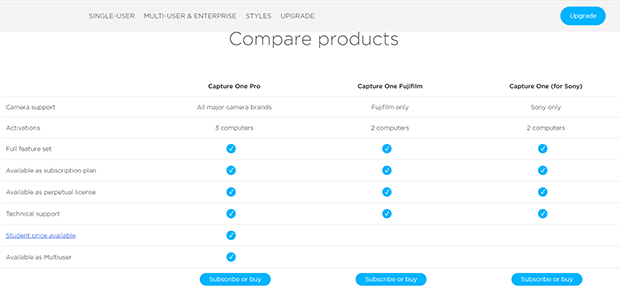 Perpetual license is available for $299
Upgrades from previous Capture One versions costs from $159
Capture One Pro 20 for Sony and Fujifilm costs $129
Subscriptions available at a cost of $15 per month for Capture One Pro 20
Monthly subscriptions for Capture One Pro 20 for Sony and Fuji cost $8
Lightroom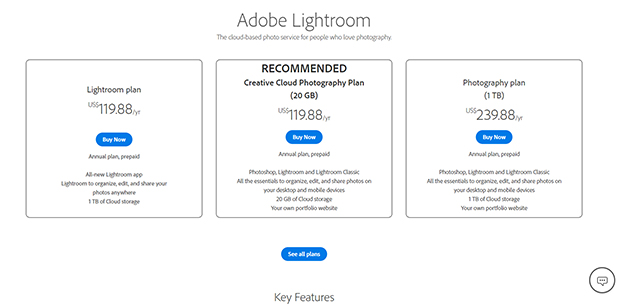 Adobe Lightroom available only on a monthly subscription plan as a standalone app or as part of a package
Lightroom Plan (1TB) costs $9.99 per month with 1TB of cloud storage included
The Photography Plan (1TB) costs $19.99 per month. This includes Lightroom, Photoshop for desktop and Photoshop for iPad as well as 1TB cloud storage
The Photography Plan (20GB) costs $9.99 per month, and includes all the software in the 1TB photography plan, but only offers 20GB of storage space.
Pros and Cons of Capture One Pro 20
Let's take a more in-depth look at the pros and cons of Capture One Pro 20:
Pros
Smooth RAW Processing
Capture One Pro 20 has a different RAW processing engine from Lightroom, and it is one of the fastest and most effective RAW conversion programs and RAW processors out there. It really beats Lightroom hands down for this, and the new version has improved support for DNG files.
New and Improved Crop Tool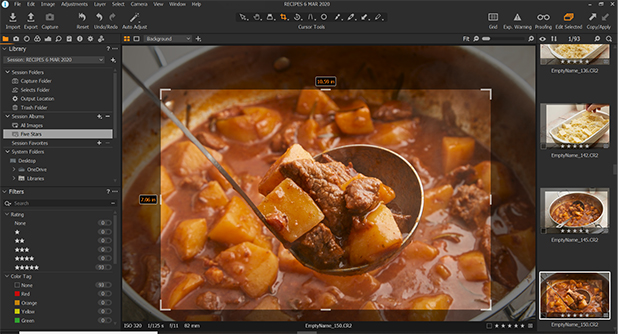 Like many Capture One Pro 20 users, I always disliked the program's Crop Tool compared to that of Lightroom or Photoshop. Previous versions of Capture One Pro didn't show markers at the edges or corners of the image, so locating the edge and the crop handle was always guesswork!
Now, a simple click of the Enter key will show you a preview of your crop. This much-overdue adjustment makes the Capture One Crop Tool one of my favorites.
Tethered Shooting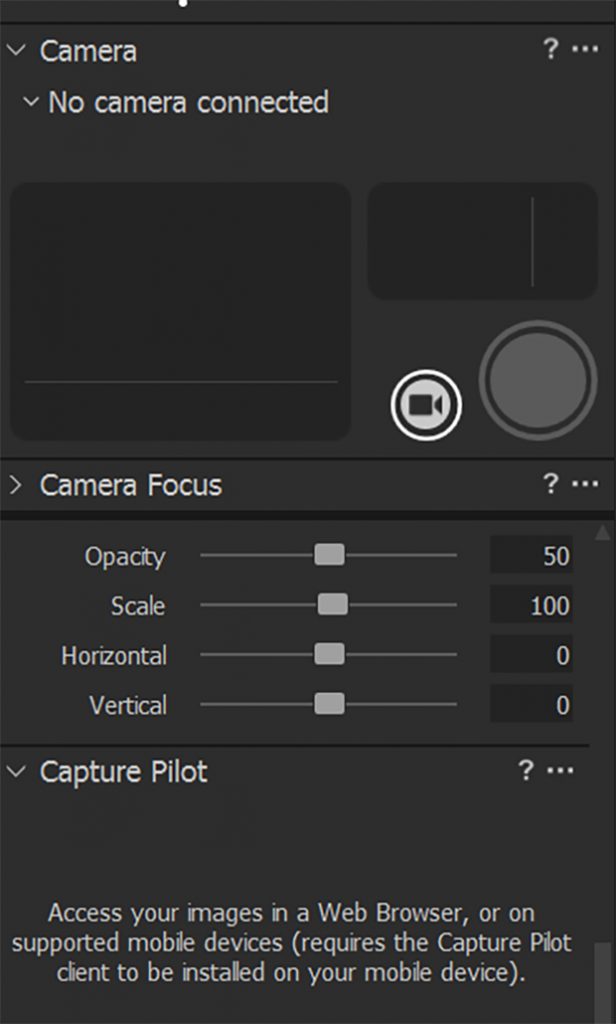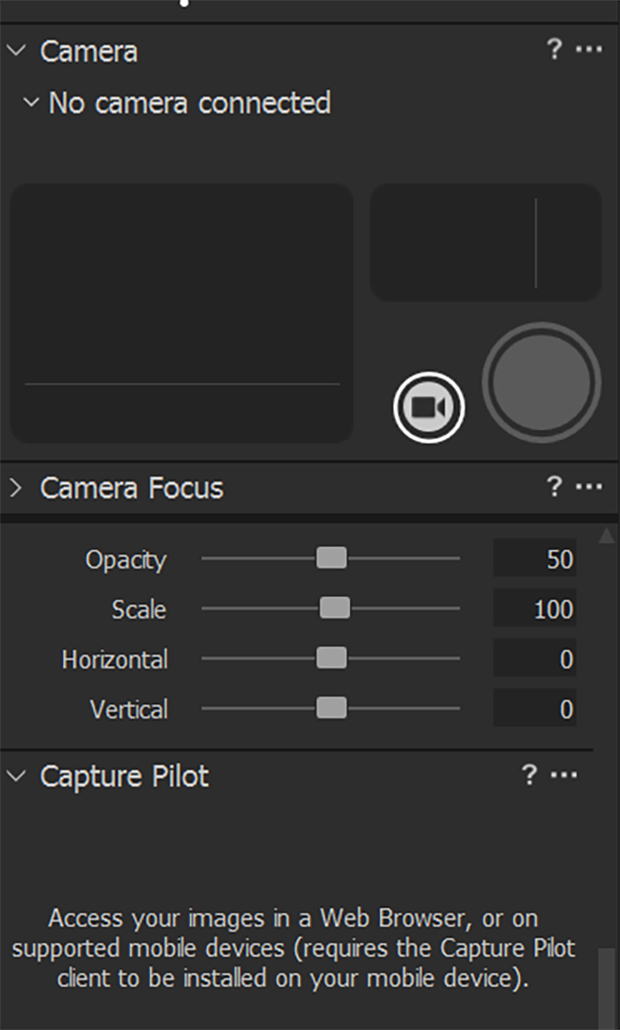 This is one of Capture One Pro 20's biggest strengths for professional photographers and serious amateurs. The tethered capture experience with this program is usually swift and reliable, and allows you to make edits as your images appear on your tethered device.
And, there's no lag time. In fact, even large RAW files come up on screen quickly.
The Capture window also gives you the option of using Capture Pilot to view your images in a web browser or on a Capture Pilot-enabled mobile device. This is great for allowing your clients to see the shoot in progress remotely, and it gives them the chance to rate and tag the images while you shoot.
High Dynamic Range
Capture One Pro has always had the edge over the competition in terms of shadow and highlight recovery on RAW files. The new High Dynamic Range Tool takes these capabilities even further with new Whites and Blacks as well as Highlights and Shadows adjusters.
The photo below shows a before-and-after split of an image that had blown-out highlights in the sky and dark areas in the trees. The before image is on top, the adjusted one below: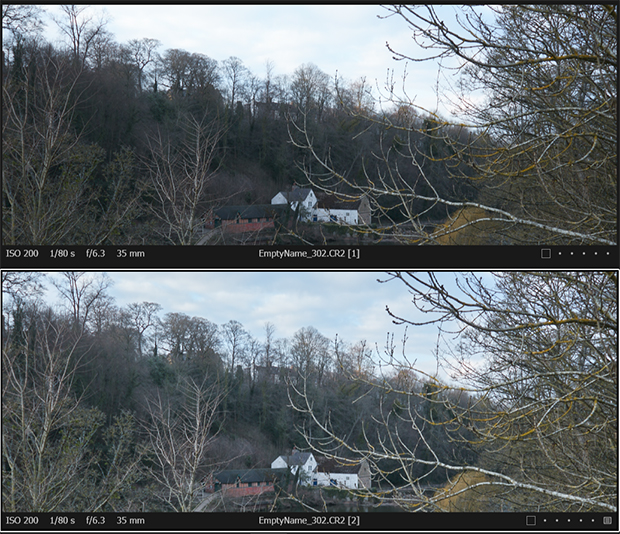 As you can see, the High Dynamic Range tool did a great job of recovering the highlights while keeping them natural.
Great Noise Reduction Tool
Another area where Capture One Pro 20 beats other photo editors is in the noise reduction area. The Noise Reduction Tool doesn't just have Luminance and Color noise sliders, it also gives you the option of Detail and Single Pixel Sliders.
The before-and-after split screenshot at 100% zoom shows how effective Capture One Pro is at noise reduction. The top image shows the original photograph, while the bottom has been adjusted for noise: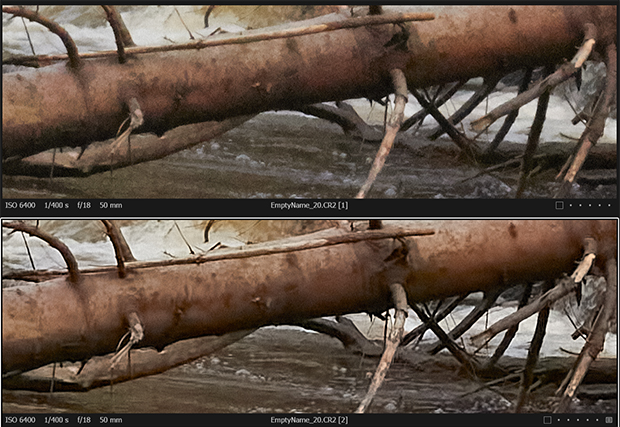 Updated Basic Color Editor
Capture One Pro 20 has an unbeatable advanced color editor for those who are serious about color grading and retouching. For those who are just beginners, it can all seem a little daunting with color wheels and Selected Color range options. Now, there's a Basic Color editing tool that is more along the lines of those in other photo editing software: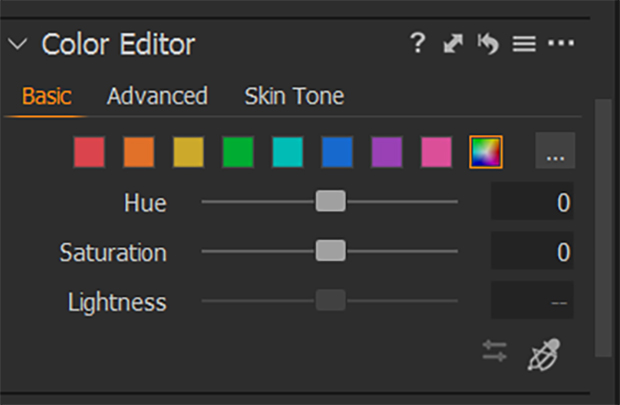 Cons
Every silver lining has to have its cloud, and Capture One Pro 20 does come with a few annoying snags that may or may not be deal breakers for you!
User Interface
The Capture One interface has to be one of its bigger irritations, although that certainly doesn't hold true for everyone. With such a sprawling interface with tabs containing different tools, drop-down menus on the top bar and an extra toolbar with cursor tools above the viewing window, it's easy to get lost in Capture One Pro 20's landscape.

Capture One Pro 20 uses a tab system for different tools categories (Capture, lens, exposure, color, etc). When you click a tab, the program opens a scroll-down module containing all the tools in that category.
It seems that Capture One has crammed so many great tools and features into the software that they have a hard time fitting them all in the workspace. Capture One Pro 20 has supposedly made the user interface more friendly, but it still retains the old tab structure.
Camera Profiles
Capture One used to be the leaders when it came to adding new camera and lens profiles – but Lightroom has more.
Upgrade Price
If you're looking to upgrade from Capture One 12 to 20, then it will cost you a cool $159 for what amounts to only incremental updates. While Capture One used to offer those who passed their Phase One Certified Professional exam a free upgrade with each new version, they've since discontinued that policy.
Pros and Cons of Adobe Lightroom
Adobe Lightroom is like an old friend and it's easy to catch up straight away if you haven't used it for a while. That being said, there are a few not-so-good things about it as well as the pleasing stuff.
Pros
Organizing and Cataloging Photos
Lightroom has always been ahead of the pack when it comes to photo organization and cataloging. You can keep tabs on thousands of photos very easily, and Lightroom also has advanced facial recognition which gives another quick way of finding photos you need.
Lightroom Interface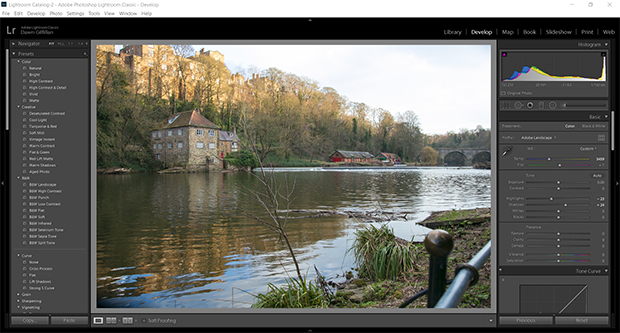 Lightroom Classic and Lightroom CC both have a very user-friendly modular interface. There are modules for Import, Develop, Map, Book, Slideshow, Print and Web. Simply click on the module you need, and all the tools appear, arranged on the right-hand and left-hand side of the screen.
Workflow Efficiency
Lightroom's importing, cataloging and RAW processing help to keep your workflow streamlined and quick as you move from the Import module through to the Develop module. Then, you can use the Print module to make a slideshow or share to Flickr or Facebook.
Presets
Lightroom presets — especially free Lightroom presets — have always been one of the most popular features of Lightroom CC and Classic.
You can find literally thousands of free and paid Lightroom presets on the internet, which is great for those looking to quickly edit their images or apply the same preset to hundreds of photos from the same shoot.
You can also see a before-and-after comparison screen with just one click — a capability missing from Capture One Pro 20.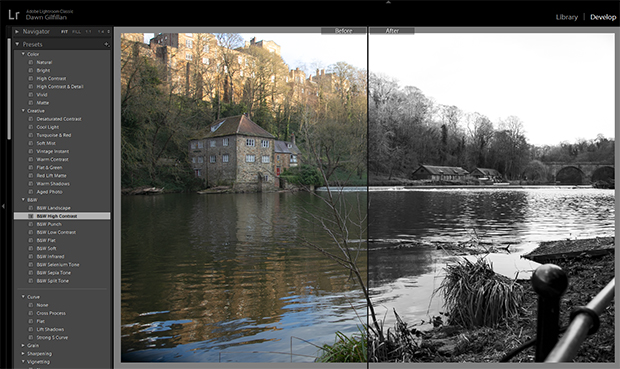 Yes, Capture One Pro 20 does have presets (called Styles), but there aren't as many available — either for free or for a fee.
HDR and Panorama Extensions
Lightroom offers a wide variety of extensions, and two of the most effective are for creating HDR and panoramas. With Lightroom, you can merge your images seamlessly to create great HDR and panoramas. And, if you have Photoshop too, you can stitch your images together in the program without exporting them from Lightroom.
Lightroom is compatible with many programs, so you can download plugins of other image editing software, like Luminar, and run them from within Lightroom. This makes it much easier to use several image editing programs at once for different tasks. You save time because you don't have to export your images and open them in a different program.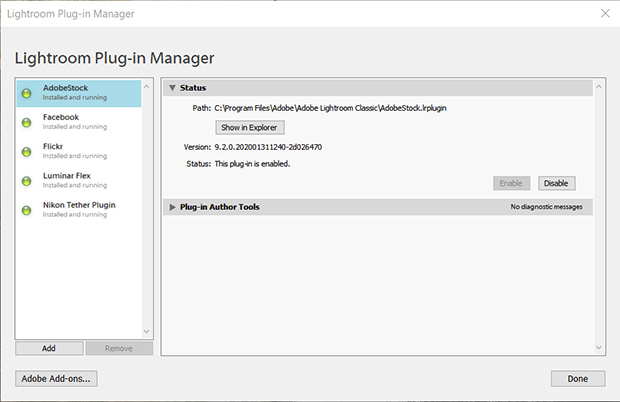 You can get extensions for Lightroom from Adobe's Creative Cloud app that include Flickr, Facebook, SmugMug and others.
Web Galleries
Lightroom has a Web module, which allows you to create web photo galleries to feature your photography. When you create a web gallery with Lightroom, your gallery will show thumbnail images that link to full-sized photos.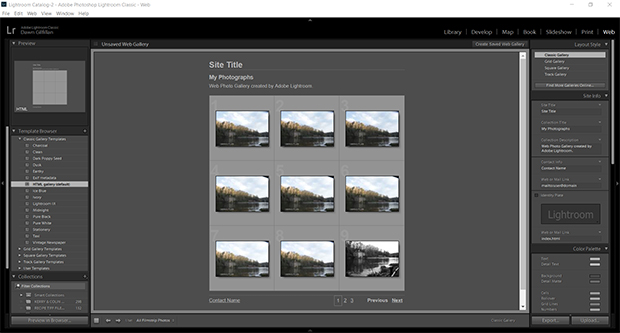 Print Module
Lightroom has a dedicated Print module, that allows you to create contact sheets, full-sized photos, picture packages and custom packages. This is great for those who want to create image prints directly from Lightroom.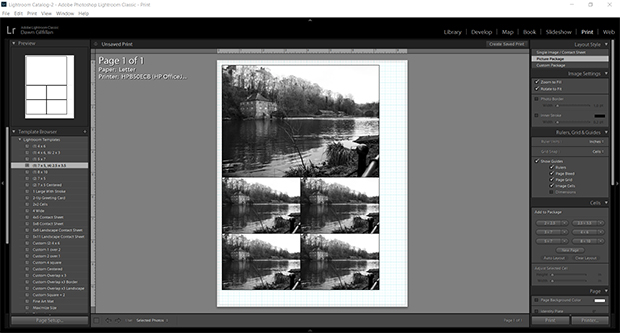 Cons
As with Capture One Pro 20, Lightroom has a few snags, too.
No Layers
Many use Lightroom because it's easier to learn than Photoshop, and that's true. But they aren't happy about the program's lack of adjustment layers. Lightroom and Photoshop were designed to be used together, so if you want to use layers, you have to open your image in Photoshop after you've finished with it in Lightroom.
Glitchy Tethered Shooting
Although Lightroom offers a tethered capture option, it's notoriously glitchy and slow when compared to Capture One Pro 20. For that reason, professional photographers tend to give it a miss when shooting tethered.
Limited Graphic Design Options
There are very few graphic design features in Lightroom. In fact, you can't even add text to a photograph with this image editor. But to be fair, Capture One Pro 20 doesn't offer graphic design features, either. Photoshop is a good choice for those who want to edit images and create graphic designs.
Few Advanced Editing Tools
Lightroom has the basic photo editing tools, but it's very minimalist compared to Capture One Pro 20! There are very few advanced options in Lightroom, and even its Cloning and Masking Tools aren't as accurate as they could be.
If the small details matter to you, Capture One Pro 20 is the better choice by far for intensive image editing and retouching.
Subscription Only Purchasing
Adobe's products are now only available to buy on their subscription plans. They no longer offer an option to buy any of their individual software outright.
How Photographers can Choose Between Capture One Pro 20 and Adobe Lightroom
Deciding between Capture One Pro 20 and Lightroom will come down to several factors:
Are you a beginner or more advanced photo editing software user? If you're a beginner, you may find Lightroom more intuitive and easier to learn. If you're a photo editing pro, then picking up the quirks of Capture One Pro 20 shouldn't be too hard.
What do you want to use your photo editing software for? If you want to edit photos for social media, create images for your portfolio, print your personal photos or keep your photo collection organized, Lightroom is the clear choice.
If you run a photography business or often do client shoots or high-end retouching, then the more advanced editing tools and capture options of Capture One Pro 20 will work well for you.
How much money are you able to spend on the software? If you're on a tight budget, then Adobe's Lightroom plan with 1TB of cloud storage may work best for you. However, you can get Capture One Pro 20 for $15.99 per month, which isn't really that much more. Also, you get 3 licenses for different computers with Capture One Pro, while with Lightroom you only get 2.
Conclusion
Ultimately, your circumstances and personal preferences will come into play when you decide whether Capture One Pro 20 or Adobe Lightroom are the best choice for you and your photography.
We've looked at each image editing program, their editing tools, their prices and their ideal uses. We've also gone into the pros and cons of each one to (hopefully) help make that decision a little easier for you. Now, it's up to you!
Choosing a photo editor shouldn't be a rushed decision. You should look at all the options available, read reliable reviews and think long and hard before signing up.
Of course, many photographers use a combination of programs, so remember that's an option, too! You can have a multi-software workflow that maximizes each program for certain tasks.
Check out these other helpful articles for photo editing tips in Capture One Pro and Adobe Lightroom:
What are your thoughts on the Lightroom vs. Capture One debate? Let us know in the comments! Remember to follow us on Facebook and Twitter for more tips and insights too!
Using WordPress and want to get Envira Gallery free?
Envira Gallery helps photographers create beautiful photo and video galleries in just a few clicks so that they can showcase and sell their work.