Your Quick Guide to the Capture One Interface
by Brenda Barron on Feb 14, 2019
When most photographers think about editing their images, their mind immediately goes to Adobe Photoshop or Lightroom. However, there is an alternative to the Adobe portfolio.
Capture One could be even better than the tools that you're used to using. If you're looking for something that can help you adjust the tiniest details in your photos – Capture One is perfect. Not only was it developed with ease of use in mind – but every tool gives you more in-depth control of the editing process.
So, what exactly can you do with the Capture One Interface? That's what we're here to find out. In this quick guide, you'll learn about:
Capture One workflow
Lens adjustment
Color management
Exposure Control
Details
The Capture One Workflow
For people used to working in Lightroom, the Capture One Interface is sure to be a surprise. Most of the work in Lightroom comes during the Develop module. However, as you'll see in this guide to Capture One, most of the work here happens in separate tabs. The default set-up puts your tabs in the left-hand side of the window. Tabs are available for everything from your library, to your Exposure, Details, and more.
While both Lightroom and Capture One deliver a navigation and image storage option in a catalog, your Capture One tool will also offer sessions. Sessions give you a portable and lightweight way to navigate the images in your collection.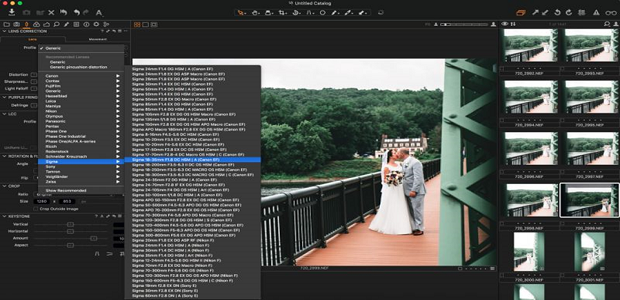 Lens Adjustment in the Capture One Interface
One of the great things you'll notice when you start using Capture One is how much control you have over every aspect of your photography. For instance, every lens has its flaws – no matter how expensive it might be. Fortunately, Capture One includes lens profiles that you can use to enhance your images instantly. If you don't have a profile that's right for your Lens on the tool, you can configure one manually by:
Clicking on the Lens tab
Selecting your Lens Profile
Using the sliders to correct vignette and distortion
Checking the box Chromatic Aberration to correct aberrations automatically
Color Management in Capture One
One of the main reasons that photographers choose Capture One over Adobe and Lightroom is that it's exceptional with color. This award-winning program comes with a powerful color editor that's perfect for professional editing. There are even color wheels specifically for mid-tones, shadows, and highlights.
As you work through this Guide to Capture One, while experimenting with the tool, you'll discover a range of solutions for top-of-the-line images. For instance, if you notice that the automatic white balance on your D750 camera wasn't up to scratch, you can:
Click on the Color tab
Select the right white balance from the drop-down menu
Dial in an appropriate color with the Kelvin slider or eyedropper tool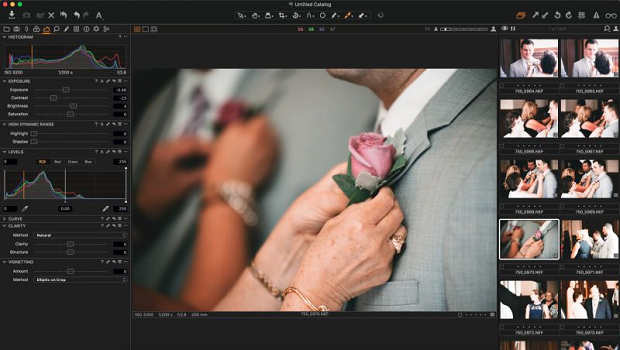 Exposure Control with Capture One
Whether you forgot to adjust your image to a different environment when taking your shots, or you've got an issue with the meter in your camera, exposure issues can happen. Fortunately, the Capture One interface can help you tackle these problems. Similar to the Lightroom module for tone management, Capture One has a system for adjusting exposure, saturation, brightness, and contrast.
Keep in mind that when you're working with exposure on Capture One, the Shadows and Highlights sliders will only move in one direction. Additionally, you'll find the vignette compensation tool in the exposure tool tab too.
Dealing with Details on Capture One
Finally, if you're new to the Capture One Interface, then you may find the "Details" element confusing. However, once you learn how to use it, you'll begin to see it's phenomenal benefits. Ultimately, the Details tab addresses the fact that anything from dust on the camera can alter your image quality. To eliminate dirt and spots, all you need to do is click on the Details tool tab and click on the spot until it's cleaned up.
Alternatively, if you have more severe problems with a smudge or blur on your lens, you can try the Spot brush. The spot brush is designed to intelligently repair parts of your image, incorporating additional elements and feathering.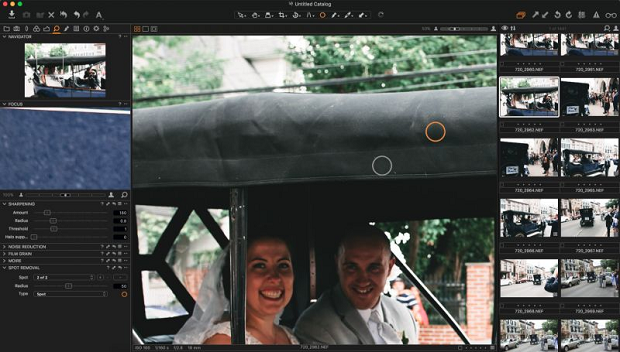 Capture One delivers a highly customizable and advanced UI, ideal for professional photographers. Hopefully, this quick Guide to the Capture One Interface has given you an initial insight into how useful this tool can be.
You can download Capture One here.
Remember, for more photography tips and support, follow us on Facebook and Twitter.
Using WordPress and want to get Envira Gallery free?
Envira Gallery helps photographers create beautiful photo and video galleries in just a few clicks so that they can showcase and sell their work.