How to Sell Your Photos in WordPress
by Alexandra Bateman on Jun 11, 2020
Do you want to sell your photography on your own WordPress site? As a professional photographer, you may want to sell photos from your greatest adventures online. In this article, we will share how to sell your photos in WordPress using Envira Gallery and WordPress' WooCommerce plugin.
Every independent photographer knows that, to be successful, you have to find a way to monetize your image catalogue. Believe it or not, your collection of amazing photos can earn you a substantial income! That's why it's important to post those photos for sale on your WordPress photography website using a few helpful tools.
Here's what you'll need to sell your photos in WordPress:
Step 1. Install and activate Envira Gallery plugin.
Step 2. Create an image gallery with Envira.
Step 3. Install and activate Envira's WooCommerce Addon.
Step 4. Enable WooCommerce in your image gallery configuration and lightbox settings.
Step 5. Add your image gallery to a post/page to start selling your photos.
By the end of this tutorial, you will have created a WordPress image gallery that allows users to purchase your photos via an "Add to Cart" button: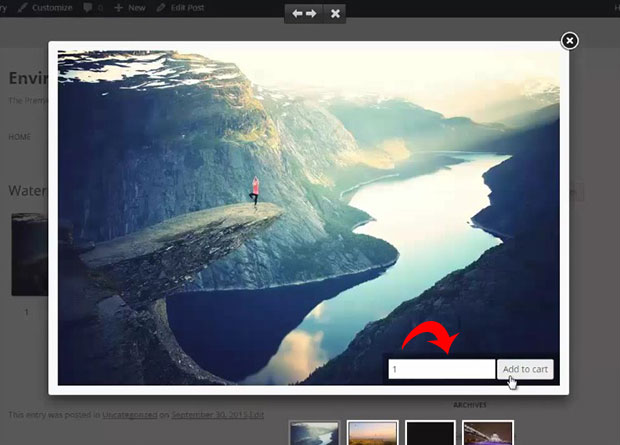 Selling your photography online with WordPress has never been easier! Ready to get started? Let's go!
Step 1: Install and Activate Envira Gallery Plugin
The first thing you need to do is install and activate the Envira Gallery plugin. This plugin will help you create customized image galleries that are perfectly tailored for your WordPress site. You'll need beautiful image galleries displaying your photos in order to draw in potential customers.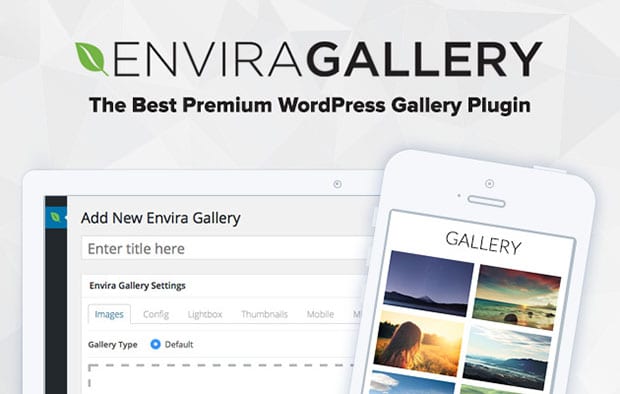 Read our guide to learn how to install Envira Gallery once you've downloaded it. After you've installed and activated Envira Gallery plugin, you can move on to the next step.
Step 2: Create an Image Gallery with Envira
Envira Gallery is a WordPress plugin so, to create an image gallery on your WordPress website, you'll have to log in to your WordPress admin dashboard.
Navigate to the vertical toolbar on the left-hand side of the page, and choose Envira Gallery » Add New to create a new Envira image gallery.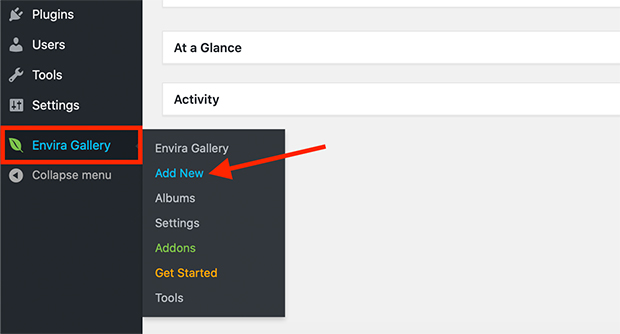 Next, give your new image gallery a unique title, then import photos from your computer or WordPress Media Library to populate the gallery. Use the options in the Native Envira Gallery tab to import your photos.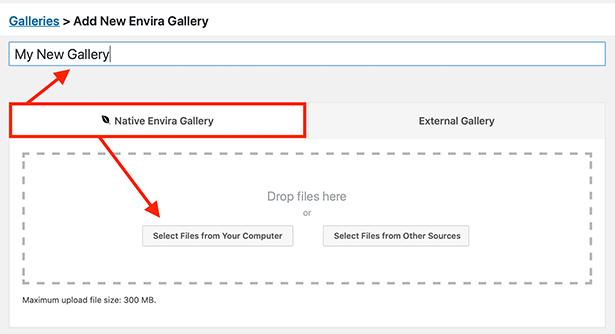 After you add your photos, simply click the Publish button to publish your new gallery.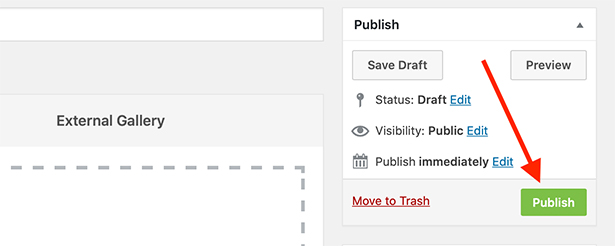 Once you've published your new gallery, you'll see a box containing Envira Gallery shortcodes directly underneath the box that contains the Publish button.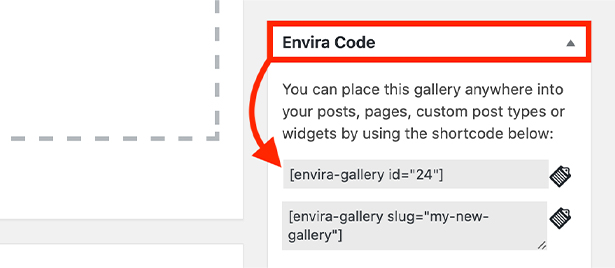 Copy the shortcode from Envira Gallery Code widget. You'll need this code for Step 5 below.
For more help with this step, check out our guide on how to create an image gallery with thumbnails in WordPress.
Step 3: Install and Activate WooCommerce Addon
Now that you've created an image gallery, you'll need to install Envira's WooCommerce Addon so you can start selling your photos online.
Envira's WooCommerce Addon comes with Envira Pro and Ultimate licenses. If you're using the Envira Gallery demo, you'll need to upgrade your license to access this feature. Learn more about how to upgrade your license in Envira here.
Once you've upgraded to Envira Pro or Ultimate, head to Envira Gallery » Addons in your WordPress dashboard. Then, find the WooCommerce Addon card and click Install, then Activate, to equip your site with the addon.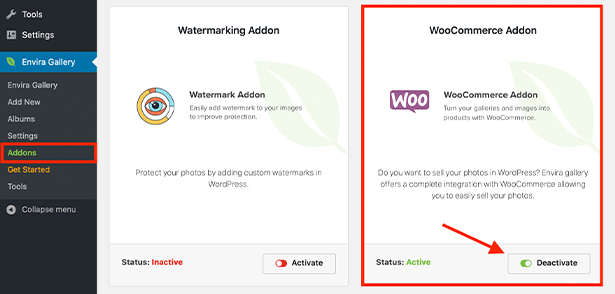 Step 4: Enable WooCommerce in Your Image Gallery Config and Lightbox Settings
Now, you'll need to enable the WooCommerce plugin to work on the image gallery you just created.
To do that, select Envira Gallery in the left-hand panel, then click to edit your most recent image gallery:

Scroll down the page to see the customization options for your newest image gallery. Now that you've activated the WooCommerce plugin, you'll see a WooCommerce tab in the list of customizations.
Check the box to Enable WooCommerce for both the Gallery and Lightbox options.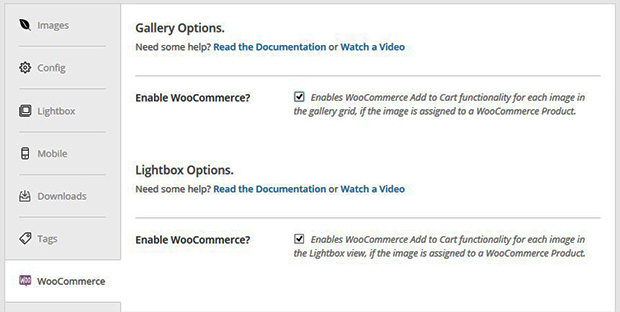 Now, navigate back to the Images tab of the customization options, and click the pencil icon to modify the meta information for each photo.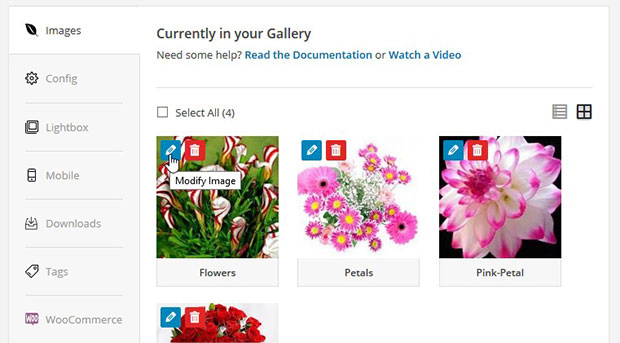 In the WooCommerce Product dropdown, select the product that corresponds to your image.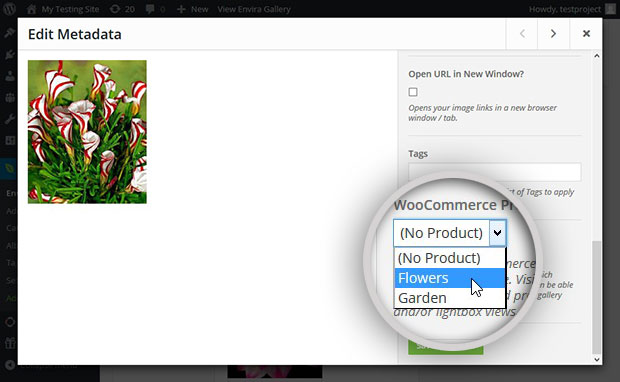 Once you're done, click on the Save Metadata button. Repeat this process for all the photos you want to sell.
Step 5: Add Your Image Gallery to a Post/Page to Sell Your Photos
To add your image gallery to your site, choose the post or page where you want your gallery to appear and choose Edit. Alternatively, you can place your gallery on a new page or blog post by selecting Post » Add New or Page » Add New.
Then, simply paste the shortcode that you copied in the step 2 into the visual editor.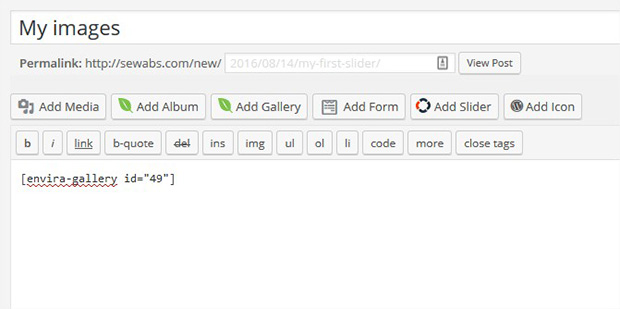 If you're using WordPress' new Gutenberg editor, you'll need to add a new shortcode block in order to paste your shortcode correctly.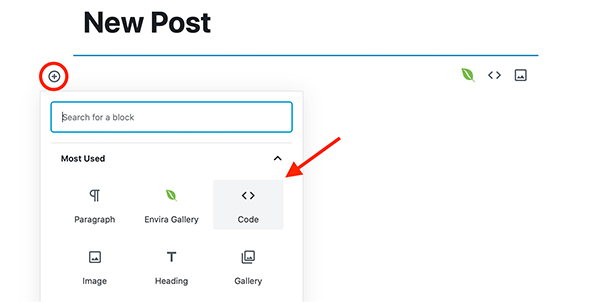 Then, update your post to publish your changes, and go to your website. You'll now see an Add to Cart button on images in the gallery and lightbox! Your customers will then find the image they want in their shopping cart, ready to purchase.
This method works for both print photos that you plan to mail and selling digital photos that your customers can print from home.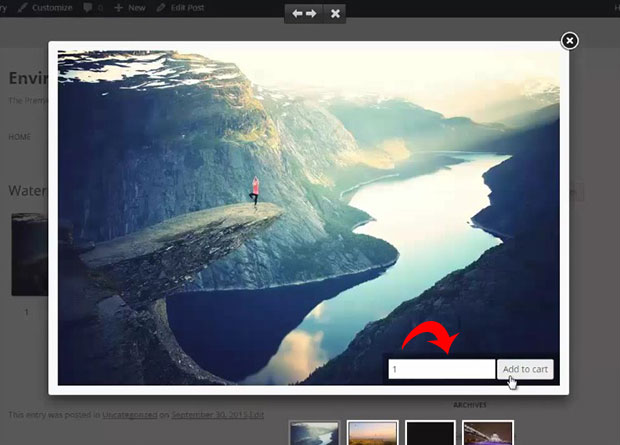 Please note: In order to link your photos to products, you'll need to have already created your products in WooCommerce. That means you should prioritize installing WooCommerce and setting up your WooCommerce store first before linking any photos in your WordPress online store using the WooCommerce plugin.
How to Add Multiple Product Options to the Same Photo Using WooCommerce
You may want to offer buyers several buying options on the same image. For example, you may want to offer customers the option to buy your printed image with either a matte or glossy finish, or order the photo as a print in different sizes. You can do this easily with Envira Gallery plugin and the WooCommerce Addon!
WooCommerce has a built-in variable product option, which allows you to offer multiple options on the same product. To do this, create a single WooCommerce product in your WooCommerce store, then add variables to that product.
Again, your variables could be image size, printed image finish or even image format! You can even set these product variables to have different prices if you choose.
Then, link the image in your Envira Gallery to the WooCommerce product page and its variables will appear.
Assigning Multiple Images to the Same Product
If you're a professional photographer, chances are that you have a large catalogue of photos that you might want to sell online. For so many images, it may seem daunting to have to create a WooCommerce product for each image in your collection.
Fortunately, you don't! With the WooCommerce Addon, you can set multiple images to pull from the same WooCommerce product. That way, you only have to create one or two product pages that link to all the photos in your gallery.
Really, it just depends on the structure you choose for your WooCommerce store!
Conclusion
That's all! We hope this article has helped you to learn how to sell your photos in WordPress.
Starting an online WordPress photography store can be a rewarding experience for both beginner and professional photo sellers. Having your own WordPress photography store from which customers can purchase photos directly means more money in your pocket and more eyes on your artwork.
To help you get started, you may also want to check out these guides to selling photos online:
If you like this article, follow us on Facebook and Twitter for more free WordPress tutorials!
Using WordPress and want to get Envira Gallery free?
Envira Gallery helps photographers create beautiful photo and video galleries in just a few clicks so that they can showcase and sell their work.