Best WordPress Theme for Selling Photos
by Gerald Jackson on Jun 4, 2020
You've been taking photos for a while, and you've gotten pretty good at it! Maybe a few of your friends have commented about your ability, and maybe someone has even offered to buy your photos.
That's great! It means that there's a market for your work. And, fortunately, there's a market online for photographs and images for nearly any use. From nature photography to stock images, there's a ton of demand.
But that doesn't mean that you can just throw photographs up and expect to start selling. You need a great, eCommerce-enabled site that looks beautiful and attracts attention from readers and search engines. You also need to serve the right images in the right ways so that people get high-quality photos when they pay — not before.
In this article, we'll tackle what it means to sell photos online using WordPress. More specifically, we'll cover the best WordPress themes for selling photos online.
But since this is such a large topic, we'll also be looking at all the aspects of online photography sales. We'll cover:
Why you should use WordPress to set up a portfolio and sell images
The tools you'll need to sell photos on WordPress
What eCommerce is, and how it pertains to selling photos online
How to pick themes for WordPress to sell photos
Best WordPress theme for photographers to sell photos with
Best plugins to use to sell photos in WordPress
Basics of file types and how they impact your site
Importance of SEO for a photography site
Some of the best tutorials to get you started selling photos on WordPress
There's a lot of ground to cover, but by the end of this article, we think you'll have a great grasp on the kind of themes and tools you need to turn your WordPress site into a photography business.
So what is the best WordPress Theme for selling photos? Let's find out!
Why Use WordPress to Sell Photographs?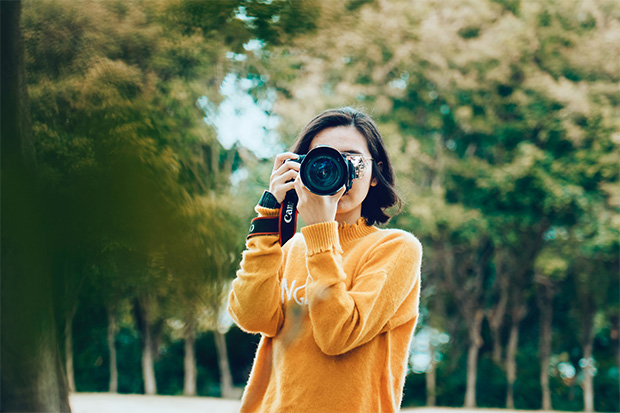 Whether you're an amateur or professional photographer with services or products to sell, WordPress is one of the best platforms you can use. There are a few reasons that WordPress can support a lucrative photography portfolio and eCommerce site:
WordPress makes updating and publishing content easy. You can push your images, image galleries, new product pages and other items daily, if you want. Everything you need to publish sellable images is already built into the platform.

You can leverage on-page SEO for more exposure. There are a ton of useful WordPress plugins and tools to maximize on-page SEO. That means that your images and your words can get your site ranked higher on Google search results. That, in turn, means more views and, hopefully, more sales.

Plugins help simplify complex site interfaces. Want to publish your images in a gallery or a grid? Need to optimize images before they're loaded on the page? With WordPress, you can usually find a plugin to help you build a site that's fast, responsive and attractive… all with little or no coding experience.

WordPress has a robust eCommerce infrastructure. Several eCommerce providers like Woo Commerce or ___ build plugins and other tools for users to directly sell items from their WordPress site. That means you don't have to worry about complex storefront software or security.
What Tools Do I Need to Sell Photos on WordPress?
WordPress is great for photography businesses, but that doesn't mean you'll want to use a basic stock WordPress installation to sell your photos. That being said, it is remarkably simple to get started with WordPress.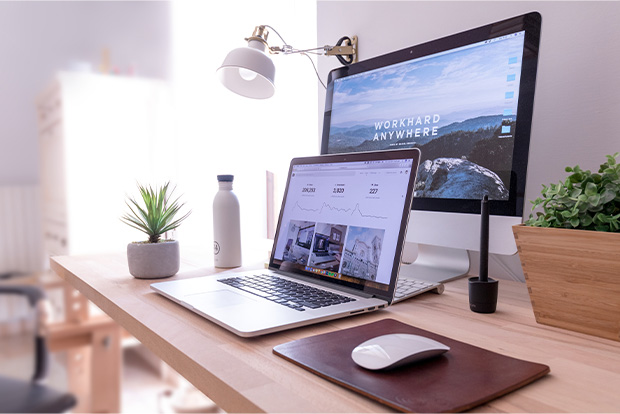 Consider these following tools when getting started:
Image Gallery Plugins: Image gallery plugins streamline the creation of photo presentation for your website. Many of these plugins include the basics to put up formatted galleries like grids for pages, Lightbox galleries or carousel sliders. More advanced plugins will also include SEO and image optimization tools.

Image Optimization Plugins: Image weight can impact your site's exposure, so you want to ensure that your page loads quickly. An image optimization plugin can lighten the load on your readers' browsers.

eCommerce Plugins and Themes: eCommerce plugins are purpose-built to help you set up an online shop for your photos. The features and complexity of eCommerce plugins and themes vary wildly, but typically these plugins offer several options for buying and selling.

A Theme Built for Photographers: A WordPress theme is just a theme, right? Wrong. Not all themes are created equal, but many themes do come with special features custom-built for photographers. These can include things like custom pages to feature images or robust portfolio pages for your work.
What is eCommerce on WordPress and How Can It Help Me Sell Photos?
eCommerce is a term that gets thrown around quite a bit. When we're talking about WordPress sites, it specifically means a plugin or theme that allows you to embed sellable elements on your site.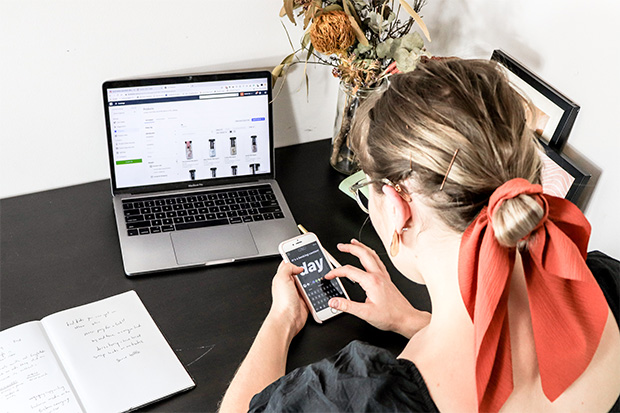 What does that entail? eCommerce tools usually come with a common set of functions based on whether you're using a theme or a plugin.
For example, eCommerce themes usually:
Includes tools to help you build shopping cart pages for products (photographs) that you sell.
Allows you to build custom product pages based around type, category or other criteria.
Offers functionality to cross-sell (selling items that are alike) or upselling (upgrading an item to the next purchase tier).
Provides responsive mobile design for users on phones or tablets.
Likewise, an eCommerce plugin usually:
Empowers your site to make transactions via different payment options.
Utilizes advanced payment security to protect user data.
Supports selling specialized items like photos, digital books or physical images.
Installs theme-agnostic inventory and shopping pages.
Some of the themes we'll talk about later in this article will work well with eCommerce plugins, and some of them will also include their own eCommerce support.
How the Right WordPress Themes Can Help You Sell Photos
You have amazing photos, your skills are unparalleled and you're producing content as you've never done before. But you just can't get anyone to visit your site… Or, if they get there, they don't buy anything.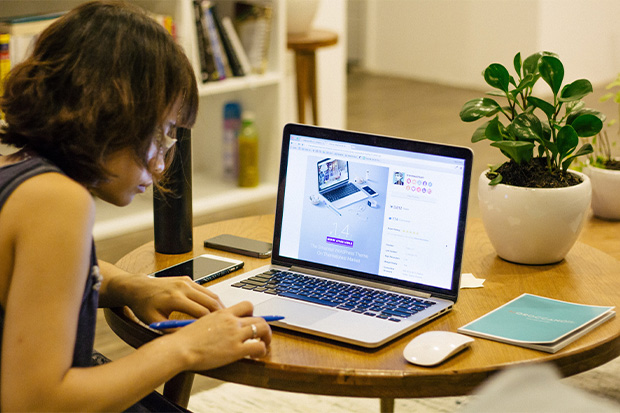 There are a few reasons why this might be the case, but one of the main reasons could be that your theme is not working for you.
How can something as simple as a WordPress theme impact how you sell photos? There are a few ways:
1. A Photography-Oriented WordPress Theme Can Sell
Not all themes foreground images. WordPress themes that emphasize large, high-resolution photos and attractive portfolio items will put your work at the forefront and help you sell.
2. Themes with Built-In eCommerce Functions Make Selling Easier
Anything you can do to streamline the buying process and make checking out easier for viewers will make it easier to sell photos.
3. A Theme with Attractive Portfolio Options Can Help Sell Photos
There are plugins that create portfolios and galleries for you, but themes with actual portfolio pages can help you position examples of your work in unique ways. These pages support your expertise without having to sell everything.
4. Themes with Responsive Design Help You Sell to Mobile Users
Responsive design is when a page is designed to adjust itself for both desktop and mobile users. That means that even if someone looks at your page with a phone or tablet, they still get a full experience.
Pick up a responsive theme so that you can show your goods to mobile users, who make up roughly 50% of all web traffic as of May 2020.
How to Use WordPress Themes to Sell Your Photos
There isn't a single path for selling your photos on WordPress, but there are several tools, tricks and best practices you can use to better your chances. More importantly, you'll ensure that you have an attractive WordPress website that you can use as a portfolio piece if you do any consulting work.
Here are some basics to prepping your WordPress and WordPress theme to sell photos online:
Use a Provider with a Fast Server
Studies have shown that Google SEO relies on page speed to gauge page rank, so slow-loading pages will rank lower. Likewise, your average reader will only spend a second on a page. If it loads slowly, they're likely to bounce.
Unfortunately, sites that serve photos will naturally carry more "weight" than others. In this case, "weight" simply means the bandwidth needed to load a page. If a page has to load a ton of images, it uses more bandwidth and loads slower.
If you have a provider with a fast server (especially if you can afford a dedicated server, rather than a shared one) then this can mitigate a lot of this issue.
Optimize all Your Images
All images are just composed of bits that store information about color. There are several optimization and compression tools available to reduce image file size and lower site weight without impacting image quality too severely.
Create Robust Portfolio Pages Based on the Theme
Having portfolio pages is all about providing a set of images with a context or theme. If you organize your images based on the type of image, you can create pages that focus on that theme without cross-referencing others.
Why is that important? Because if someone Google's "best nature photos" or "food pictures gallery", having a dedicated page with a dedicated portfolio can give your page much more visibility.
Get a Theme that Foregrounds Your Images on the Front Page
This is a must! If you have a page with your photography on it, the first thing a reader should see is a huge selection of your best work. This could be a large high-def hero banner, a slider or a series of smaller images.
Also consider a theme that allows you to create a static landing page as the home page. Most themes do give you this capability, but shop around for a theme that gives you a nice, image-focused static page that you can use to show off your work.
Use a Theme that Supports Multiple Gallery Options
Some WordPress themes include support for gallery pages with different organizational styles, which can make the gallery pages you do create stand out more.
Embed Purchasing Options Directly with Images
This is a critical step. If a user clicks on an image that they want to purchase, there should be some immediate way for them to either purchase it or add it to a digital shopping cart. Many themes and plugins support this kind of functionality, so make sure you are using one that does.
Best Photography WordPress Themes
Hitchcock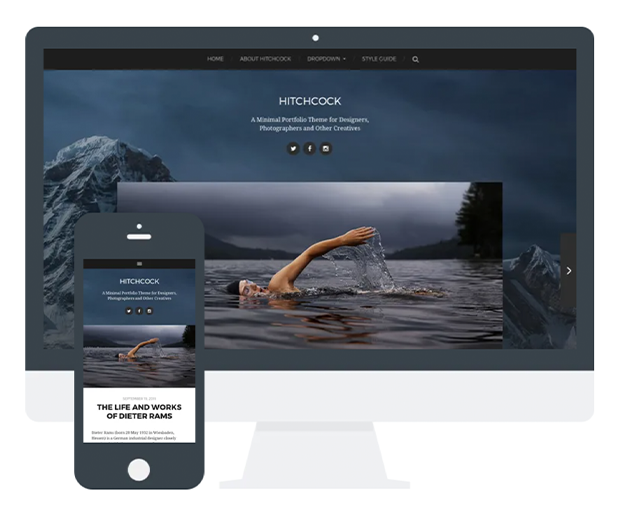 Hitchcock is a simple, minimalist design portfolio theme for WordPress. Its strengths lie in its clean aesthetic and optimization efforts for photographers, including lazy loading and grid-style galleries. It also allows you to do some personal blogging alongside your portfolio to increase SEO and connect with your customers.
Pros:
Simple Design
Grid-Style Portfolios
Blog Layout
Pixgraphy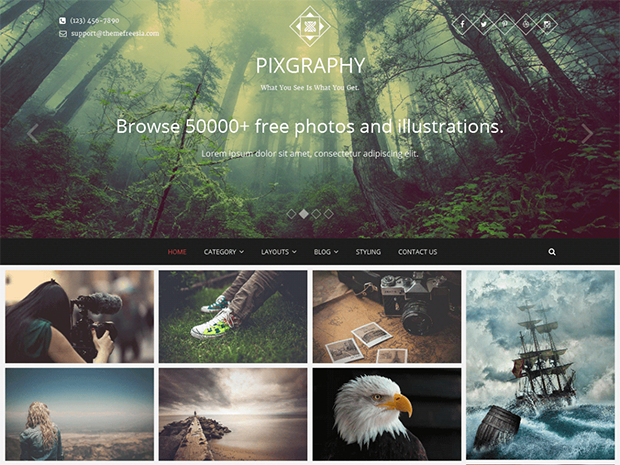 Pixgraphy was built by Theme Freesia to support several optimization plugins out of the box. Currently, the theme supports several plugins like Jetpack, Contact Form 7 and NavXT, as well as critical eCommerce plugins like WooCommerce. It also boasts a responsive design to serve desktop and mobile users alike.
Pros:
Grid Layouts
Extensive Plugin Compatibility, including eCommerce and Optimization
Very Customizable
Portfolio Gallery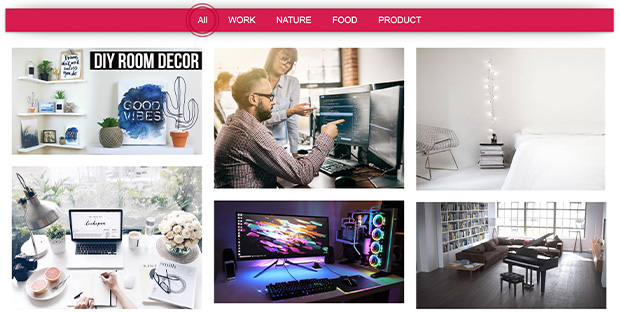 Portfolio Gallery is another customizable photography-focused theme for WordPress. It includes a ton of customization options on elements like buttons, titles, permalinks and CSS editing. It also comes with over 15 overlay effects for your images, including slide animations, direction-aware mouse movements and more.
Pros:
Extremely Customizable
15+ Image Overlay Options
35+ Image Hover Effects
ClickPic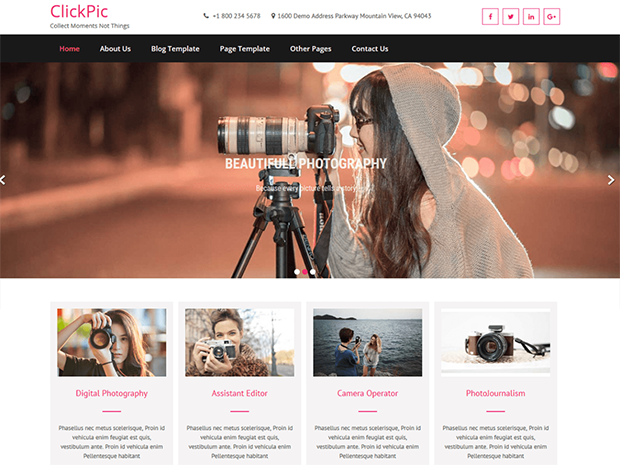 ClickPic describes itself as a classic photography theme that includes several must-haves for any serious photography blogger. It uses responsive design for mobile users and SEO optimization tools to help your photography site rank. It also has several additional features like social media menus, a banner slider and several gallery layouts.
Pros:
Classic and Clean Design
Social Menus
SEO-Optimized
Neve Photography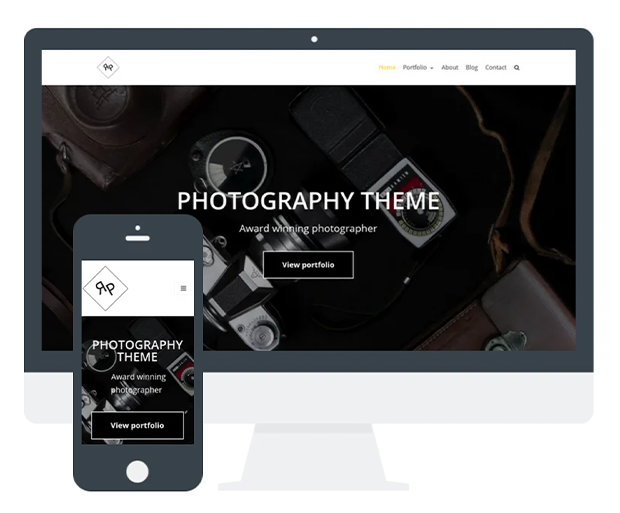 Neve Photography is an offshoot of Neve, a theme focused on serving artists and other creatives. One of the major selling points for this theme is that it is compatible with most page builders, including Elementor and Visual Composer, which makes building page layouts super easy. It's also SEO and speed optimized.
Pros:
Compatible with Page Builders
SEO Optimized
Speed Optimized
Divi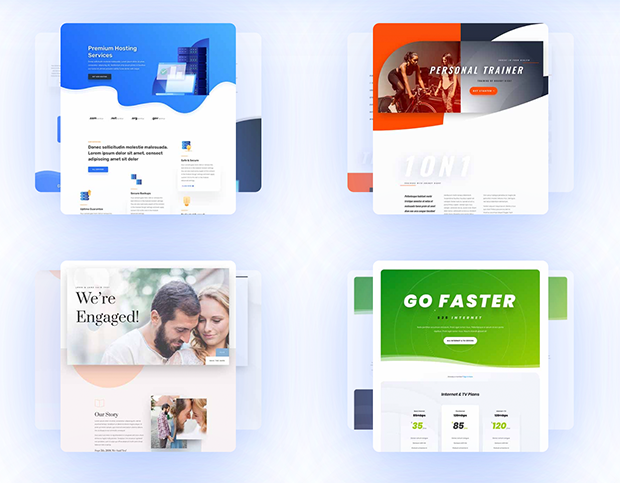 The Divi WordPress theme is well-known to WordPress power users who want to build custom sites. It has plenty of customization options and a compatible page builder. While the theme itself is not photography-focused, it is focused on showcasing images and other art with a few small tweaks.
If you want complete control over your pages and your galleries, then go with Divi.
Pros:
Included Page Builder
Highly Customizable
Large and Active Community Support
PhotoNote 2.0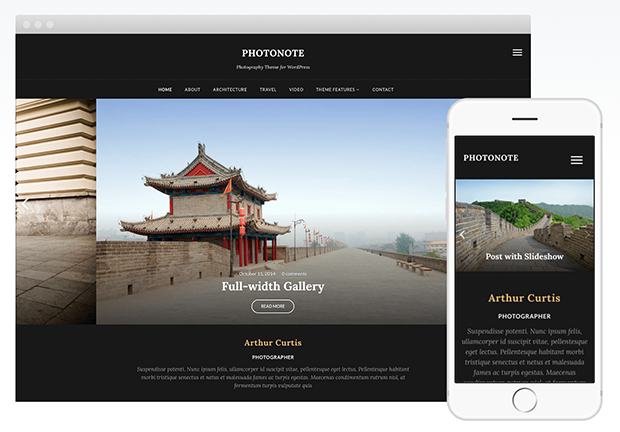 PhotoNote 2.0 is a dream for WordPress website designers who want to showcase their work on mobile devices. It includes touch-enabled slideshows and a home page layouts setting to support portrait and landscape images. It also allows you to select from dark or light skins to complement your work.
This is a great theme on its own, but the $69 price tag might scare some users away. If you are interested in the above-listed features, however, then this could be the theme to invest in.
Pros:
Purpose-Built for Mobile
Touch-Enabled Slideshows
Light and Dark Skins
Lens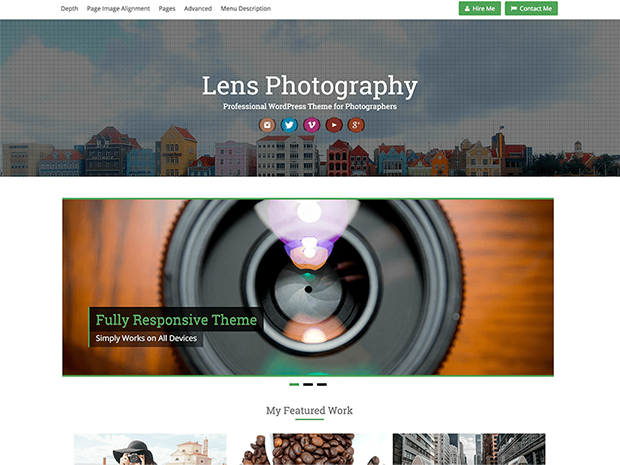 Lens is a straightforward photography theme useful for users who just want to have options for posting images. Perks include a beautiful gallery layout, multiple homepage layouts, and responsive slider features.
Pros:
Multiple Homepage Layouts
Custom Galleries
Responsive Slider
Core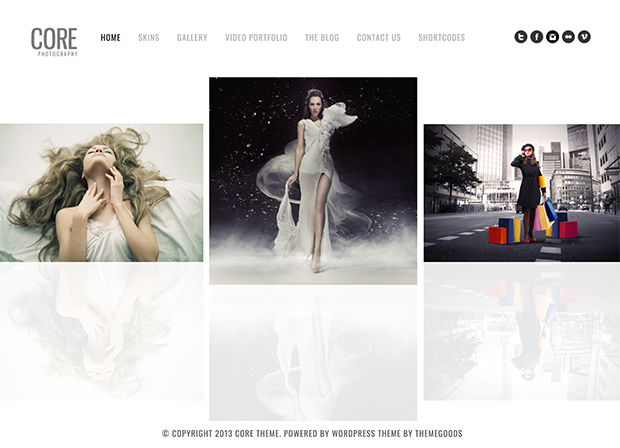 The Core WordPress theme is all about options. This theme includes several options to help your site support various galleries and even video portfolios. You can build gallery pages with multiple columns, Fullscreen images, customization options and password-protected content. It also includes light and dark skins to compliment your work.
Pros:
Light and Dark Skins
Several Gallery and Home Page Layouts
Oshine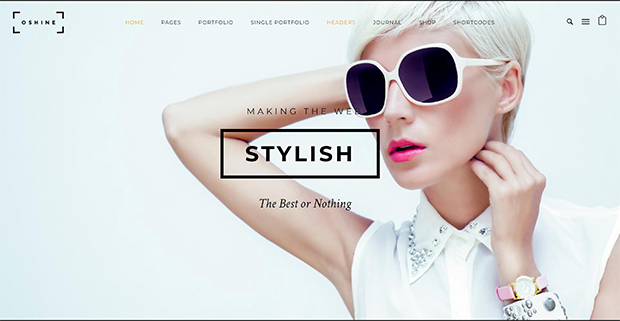 Oshine isn't just a theme: it's an entire suite of thematic options geared towards creatives who want to showcase their work. Photographers will find several classic and modern layouts they can use to build their portfolios, while those who want to combine photography effects with other marketing or business functions will be able to do so easily.
Oshine is $59 to purchase with another $18 for extended support. If you're someone who wants to dive into an extensive theme library to build a large site — or multiple sites — focused on photography, then look no further.
Pros:
Hosts a Family of Themes
Great Support
Tons of Flexibility
King Size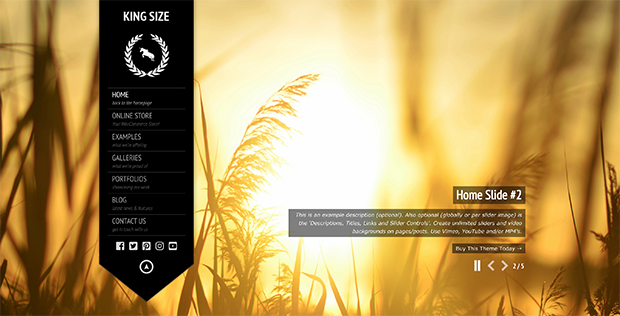 King Size is beautiful, modern and interactive. It hosts a full-screen homepage slider with attractive home navigation for your online store, galleries and portfolios.
While the premium theme itself costs $57, you're getting a lot for that price tag. That includes built-in shopping cart and eCommerce tools, a ton of customization options and overlays, and a beautiful blog system.
If you really want your portfolio to have a great look and feel to encourage buying, then check out King Size.
Pros:
Dozens of Customization Options
Several Interactive Gallery Layouts
Built-In Shopping and eCommerce Functions
Photosy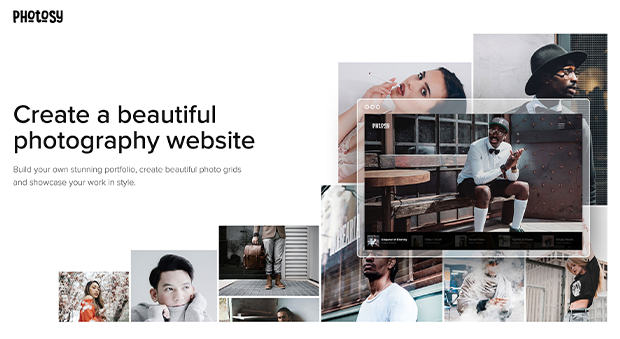 Another paid photography theme, Photosy is more focused on landing pages and single-page sale points. The theme includes several landing and home page layouts (including long-scroll pages), scrolling carousels for images and a handful of snappy and attractive gallery and image effects like zooms, full-screen view and slideshows.
It is $59 for the premium theme. If you want a clean and colorful alternative to King Size, then Photosy could be it.
Pros:
Simple and Colorful Design
Emphasis on Landing Pages
Plenty of Image Effects
Astra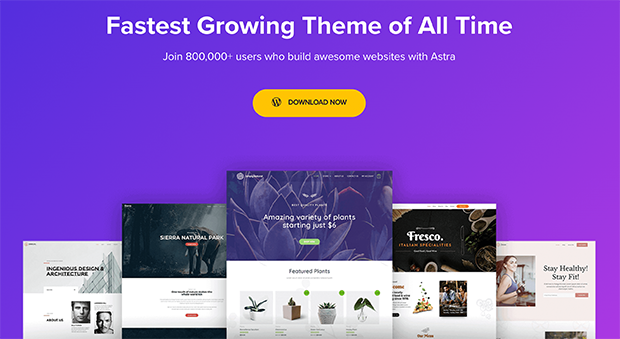 Astra is a premium photography WordPress theme with a big community that gives you almost complete control over the theme without sacrificing performance. This theme includes a page builder, included pre-built websites and templates and optimized code for better SEO results (critical for photography blogs).
The catch? Astra costs $41 PER MONTH for the basic Pro tier and up to $249 a month for agencies. If you are an individual user, you can pay a flat $249 and get a lifetime pass. With that price tag, Astra is probably the priciest theme on this list… but it is also one of the best.
Pros:
Page Builder Included
SEO Optimized
Pre-Built Page Templates
Orvis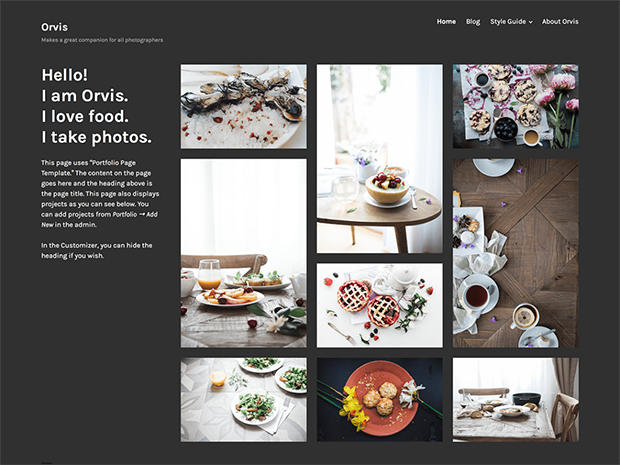 Orvis is free, simple, clean and beautiful. Marketing itself to food bloggers and photographers, its minimalist layout lets you focus on taking pictures and selling them with a clean photo gallery. Note that with Orvis, you'll have to supplement eCommerce and other features with plugins. This could be a small price to pay, however, for an easy and attractive photography WordPress theme that works out of the box.
Pros:
Simple Design
No Frills
Free and Easy to Use
Inspiro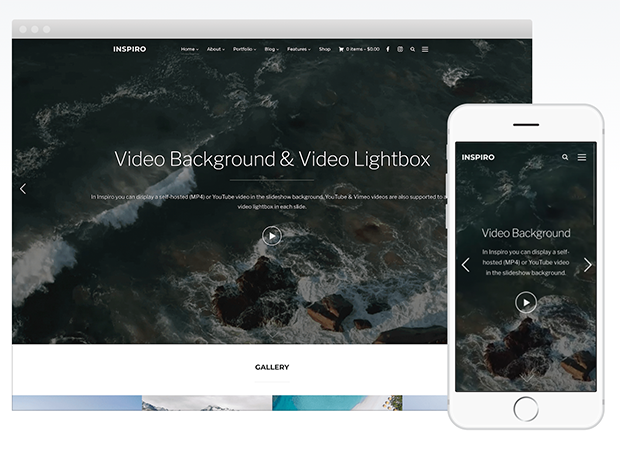 Inspiro describes itself as a "Photo and Video-focused theme with a modern design." What's modern about it? A full-screen slideshow for the main page that also includes support for embedded YouTube and Vimeo videos, for starters. It also plays well with page builders and includes its own photo gallery module.
It does have a $79 price tag and you don't get as much as you would from a theme like, say, King Size, but it definitely gets the job done.
Pros:
Fullscreen Slideshow
YouTube and Vimeo Slideshow Integration
Embed Videos in Background
Best Free WordPress Plugins for Selling Photos
Now that you have a theme, you'll need plugins that can help fill out the gaps in terms of functionality. More likely than not, these gaps are going to involve eCommerce or advanced gallery functions.
With that in mind, here are several plugins that we think can take your photography WordPress site to the next level:
Envira Gallery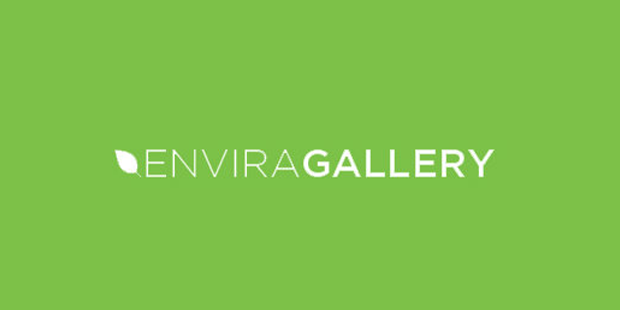 Envira Gallery has quickly become one of the most expansive image gallery plugins on the market. This is because the plugin has focused on developing a strong suite of image gallery optimization tools that focus on functional and attractive gallery design.
What does that mean for your average photography blog? Not much. But if you are a professional looking to sell photographs or photography services then the combination of SEO optimization, gallery optimization and extensive addon support make this a no-brainer.
Pros:
Gallery Options. Envira Gallery makes embedding galleries into a WordPress site easy. That leaves the user with the options to make the photo gallery itself as large or small, simple or complex as they want. Much of the interface is easily organized into menus or uses drag and drop organization.

Addons. While the Envira Gallery Lite plugin gives you plenty to work with in terms of options, paid tiers can include Addons that change how the plugin works. Modify Lightbox settings, connect with Instagram, or add watermarks… Everything you need is right in the plugin, managed through a simple interface in the WordPress dashboard.
WooCommerce Photography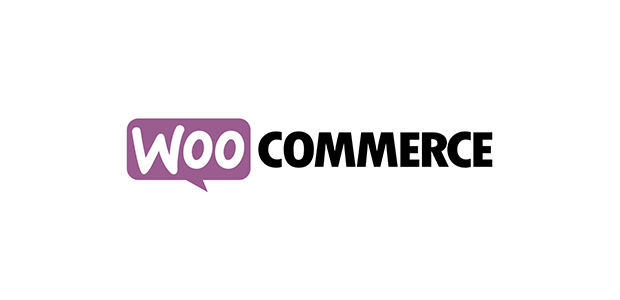 WooCommerce is one of the best-known eCommerce plugins available for WordPress. This open source plugin is renowned for its simplicity in installation and use, and also covers several hundred specific themes to maximize the functionality of the plugin more generally.
It also includes several levels of extensibility, with addons and extensions that add things like setting appointments and providing membership services.
WooCommerce Photography is an extension of the WooCommerce plugin that emphasizes selling artwork or images from a WordPress website. With WooCommerce Photography, you can create a storefront interface with several controls to help your audience browse, buy and share your images.
Pros:
Established technology with a huge community. WooCommerce is probably the most established eCommerce plugin available, which means that if you have an issue with the product or need help configuring it, there will most likely be someone to help.

Compatibility. WooCommerce is compatible with most themes for WordPress, so it's that much easier to pick a theme and get your photography website launched.

Ease of use. This plugin is simple to use. While more advanced features might take a little more work to get set up, you should have no problem configuring an online storefront for your images right away.
Symbiostock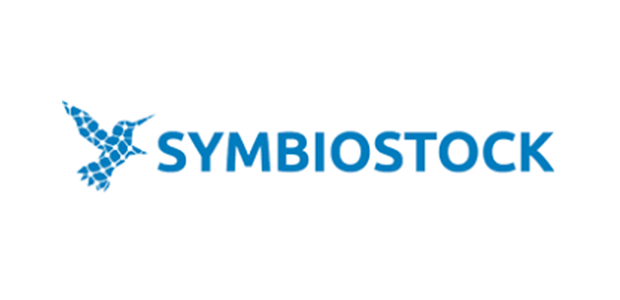 Speaking of WooCommerce, Symbiostock is a plugin closely related to WooCommerce with a focus on selling high-res images. Symbiostock Lite is a WooCommerce extension that works alongside WooCommerce to help watermark and upload JPEGs to your site to sell.
Symbiostock Pro is an upgrade to Lite means to offer capabilities for image manipulation, vector uploads, agency, distribution, and more.
Pros:
Cost. Both Symbiostock Lite and Pro are completely free.

WooCommerce compatibility. The Lite version is simply a WooCommerce addon, which means that you can use this software easily with an existing WooCommerce installation.

Flexibility. Since you don't need to pay for the Lite or Pro versions, you can do a lot with this plugin without dropping any money. If you want to extend Symbiostock with more features, then you can use the Pro version to install proprietary addons that fit your needs.
Photo Seller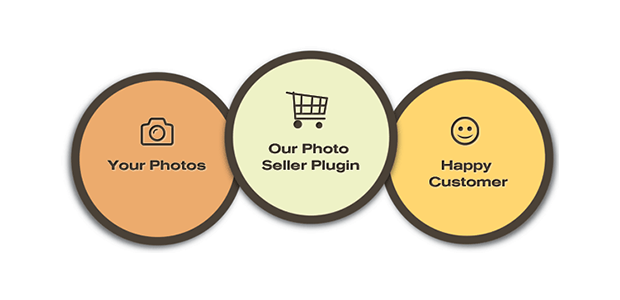 Photo Seller is like its name suggests: a straightforward plugin that helps you sell photos. With Photo Seller you get an easy-to-install plugin to sell digital photos, physical prints, and other images securely and easily. Control image dimensions sell multiple versions of the same photo in different resolutions and add custom watermarks to your photos to keep people from stealing them.
Pros:
Easy installation. This plugin is easy to install, easy to use, and easy to use customization options.

PayPal integration. Sell images with PayPal to make accepting digital and credit payments incredibly easy.
Best Image Plugins to Help You Sell Photos on WordPress
Envira Gallery: Yes, we're mentioning this twice. Envira Gallery is more than just an image gallery plugin. It has been built and expanded to include image optimization, Lightbox support, responsive design and more.
While Envira isn't going to help you set up an online shop, it is going to help you present your pictures in the best quality possible while keeping your site SEO friendly.
EWWW Image Optimizer: Page weight and speed are critical for solid SEO results. If you're selling images on your website, chances are you will have a lot of media on it, which makes it slower than other pages.
The EWWW Optimizer helps with this by optimizing image size to reduce page load. It can do this for all the images you upload, so by the time you have a few images and thumbnails on your site, you'll be saving enough size to keep your site fast.
Soliloquy: Soliloquy is one of the best-rated responsive slider plugins available. That's a bit of a mouthful, so let's break that down: Soliloquy provides you with the tools you need to create image sliders that cycle through images. These tools are simple to use, and the company boasts that you can make your first slider within 60 seconds.
Better still, your Soliloquy sliders will be responsive and arrange their own sizes around mobile or desktop devices.
W3 Total Cache: Staying on the topic of SEO, the W3 Total Cache plugin helps speed up the performance of your website by reducing load times through strategic caching and Content Delivery Network (CDN) integration.
W3TC works with any web host so long as you're using a WordPress installation for your site.
The Importance of SEO to Sell Photos
We've talked about SEO quite a bit throughout this article, but it bears repeating that even with the best WordPress theme and plugin you won't sell a single image if people don't find your site.
So how do you draw traffic? Search Engine Optimization.
SEO is a bit trickier for photographers who want to sell online because images can have a huge impact on SEO. Google likes content with images, but it doesn't like slow-loading pages. Likewise, Google likes content and not just page after page of photos.
It's a challenging balance. Here are a few tips to help you maximize your SEO:
1. Optimize all Your Images
We've covered several optimization plugins here, and having one is essential. Remember, all your images should be optimized. An "optimized" image is one that has been compressed in order to reduce size without compromising quality.
If you've started your photography website, you're probably aware that a photography site is going to have hundreds if not thousands, of photographs. Small optimizations to all those photos will make your site move faster.
2. Choose Your Theme Wisely
Some themes have all the bells and whistles, which is great when you need them. But a bloated theme with too many features and functions will bog your pages down. Sometimes smaller is better.
3. Choose the Right Image File Types
Not all images are created equal, so a photography website full of bloated GIFs will have a hard time pushing the needle when it comes to visitors. Make sure that you put the right file types up where they will get maximum exposure and serve high-res images only when and where it's necessary.
4. Write Content Alongside Your Images
Written content, like image descriptions or a full blog, will help signal to Google that your site is providing something useful outside of just selling something. Likewise, having written content helps you pull viewers for other reasons… They might be searching for a related topic, for example, which leads them to a blog post you wrote, which leads them to your gallery.
The smart approach is to write about something related to your site, whether it's photography in general or the type of photography that you do. Using your blog can also expose your photography website to readers who will see you as an expert in your area and help your site rank higher on Google, which means more exposure for the site overall.
5. Market Your Site
Word of mouth is a great way to get business. The Internet changes how that works a little bit. On the one hand, directly participating in photography forums and discussion boards can make you a known professional, and people might then look up your WordPress site.
On the other hand, writing blogs and sharing them can give your site plenty of attention. More importantly, it can get you backlinks, where someone links from your site to theirs. Once you start developing backlinks, you'll find that Google will rank your site higher because it sees it as authoritative.
What Kind of Image Files Should You Sell?
If you're hosting digital downloads of images to sell online, then the question of file formats will inevitably arise.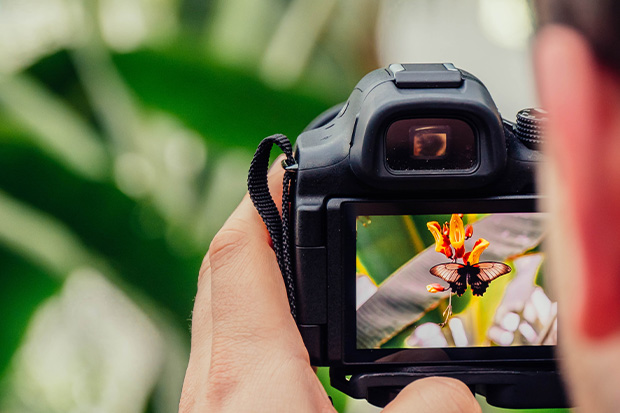 For photography sites, this is a critical question primarily because file formats impact how big your images are and how good they look.
There are two primary types of image files:
Raster images use pixels to create an image. Pixels are like blocks of data that contain information about the color and shade of a specific section in the image. Most common file types on the web are raster images.

Vector images use formulas rather than pixels. These files are typically better for images that need to resize while keeping their resolution and work great for logos.
Image File Types for Web
Typical websites use one of the following file formats:
JPEG – The most common file format used for pictures and other images with a lot of colors.

PNG – Primarily used for sharp icons or logos. Basically, anything that isn't a photograph.

GIF – Good for animated images and certain logos. Quietly being displaced by PNG.

TIFF – This is the "Tagged Image File" format that is useful because it is a form of "lossless" compression, meaning that it doesn't degrade due to copying or saving.
If you're selling images from your website, the file format you use will depend on what the purpose of the image is:
If you sold an image as a print image, then TIFF is a good choice. TIFF files maintain a high quality even when printed.

If you are selling a web image, then PNG or JPEG both work well.
In the second case, the type of file will depend on whether you want to push an image with more color depth, in which case you'd use PNG. If you're more interested in maintaining a reasonable size, then you'll want to use JPEG.
Resolution and Aspect Ratio
Between JPEGs and PNGs, however, there are other specific things you need to track when selling images: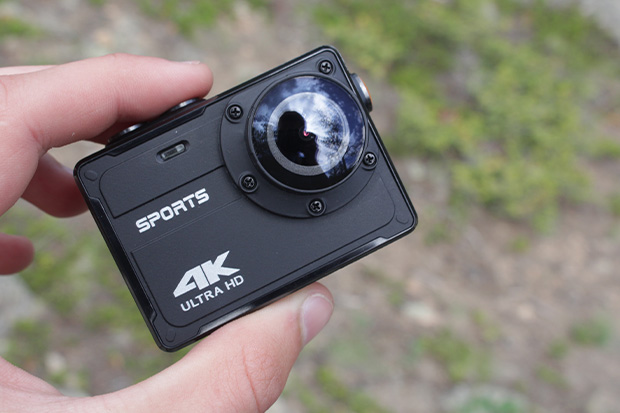 Aspect Ratio. An image will not be the same quality at multiple sizes, so you will have to adjust the image into common shapes and sizes and sell them that way. For example, you could have a photograph that you've taken at 680×680, but you also include a file size of 500×450 (or whatever size you want) for buyers who want different sizes.

Resolution. Two terms that you may have come across while working with digital images is Pixels per Inch (or Dots per Inch). These measure the density of pixels in an image: the more pixels per inch (PPI) the denser the image is.

There's a trade-off here. A higher PPI means that you have more information in your image, which means it has a higher resolution and a better look. A lower PPI means that the image quality will be lower overall, but it will be much smaller in size.

For print images, you probably shouldn't go lower than 300dpi. For images used for websites, no less than 72ppi is advised.
A good practice is to offer lower resolution files as samples (watermarked for security) and then let users get digital downloads of higher-res photos that they buy. That way, you aren't constantly serving high-res photos for people who aren't paying.
As a rule of thumb, make sure that you never sell raw image data. Raw images are the files that come directly from a camera without any compression. These files are large and great for editing and transforming into one of the above formats, but for little else.
What are the Best Types of Photos to Sell Online?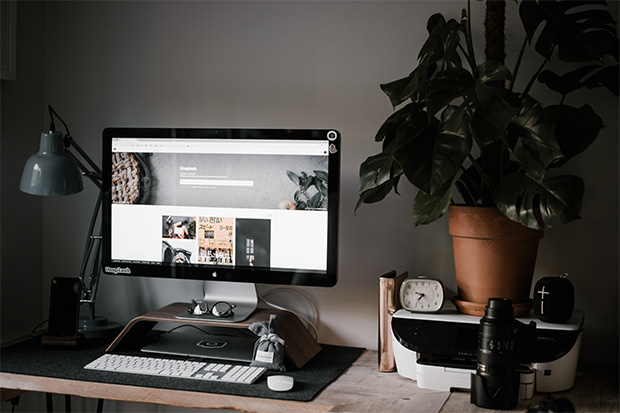 With everything we've covered, it's also important to know the market for photography online. We've noticed a few trends that tend to come up every year:
1. Abstract Art
Abstract art isn't photography per se, but photographs can serve as the foundation for abstract images. Download trends have shown that many people like to collect high-resolution, abstract art for things like desktop wallpapers. If you've got some skills with Photoshop and other programs, then you could turn your photography into a lucrative art business.
2. Seasonal Trends
People like to grab images that correspond with the season. This might be for desktop wallpaper, for prints or for banners and images for events. If you can take great photos for, say, fall leaves and Halloween images, then you may find that they sell wonderfully in September through November. Same with holidays like Christmas and Easter.
3. Animals and Nature
Nature images have always been a great seller for prints and wall-hangings, and this is true for digital images as well. If you are an expert in taking exciting natural photos, then you could have a great niche to step into here.
4. Food
People love to see food. Stock food photography sells, and restaurants and cookbooks always need great food images.
5. Stock
Of course, there is always a market for stock photography. Stock photography includes images related to specific categories, like computers, businesspeople, laptops, or other images. Oftentimes these images are composed in a way that makes them editable, so companies or individuals can buy them and then add text for presentations.
Always make sure, no matter what kind of photos you sell, that you also sell photography services. Local businesses and individuals will pay top dollar for good pictures, and it can prove to be an additional line of revenue for you.
Best Tutorials for Creating WordPress Sites That Sell Photos
Once you've got the basics of selling photos using WordPress and a WordPress theme, you'll most likely want to dive into the specifics related to your niche and interests.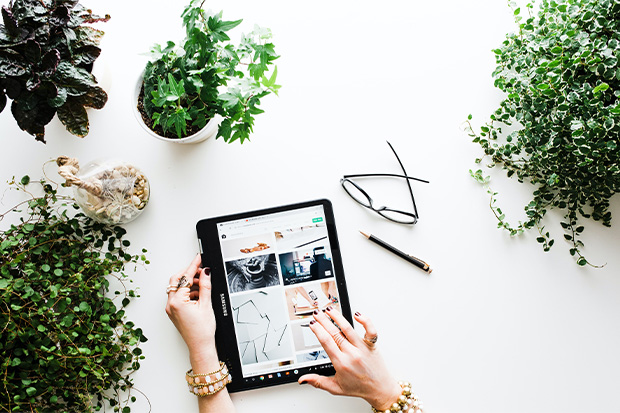 Luckily, there are several tutorials and guides to help you expand your selling capabilities and level-up your online photography store:
Conclusion
Selling photos online can prove to be a lucrative business if you can set up a great site and maintain it across multiple important categories.
The primary thing to remember is that while your skills as a photographer might be top-notch, it doesn't matter if no one sees your work. That's why maintaining a site with great content, great SEO, and a good photography WordPress theme is useful.
Selling photos with WordPress themes means the following;
Pick a theme that highlights your photography.
Use a theme that can support eCommerce functionality, like a web store (not all themes can do this).
Choose a lightweight theme that does what you want and not a hundred different things.
Pick a theme that speaks to your aesthetic and your tastes.
Once you've got the best WordPress theme for selling photos, then you can worry about plugins, content, setting it up and so on. The theme is only the start of the process, not the end. It is a critical part of that process, but not the end-all-be-all.
As a final note: don't compromise your voice for anything discussed in this article. Start with your own vision of what you want your work to be, and then fit everything else into that vision.
It isn't that difficult to set up a theme and plugins to sell photos on WordPress. In fact, hundreds of people are doing it right now. But what makes your work stand out is your vision.
So, do all the technical work. Optimize, get a good theme, write content, etc. But make sure that your photos speak to what you want them to. Then, you can't ever go wrong!
If you enjoyed this article on the best WordPress themes for selling photos, check out our other WordPress guides, and follow us on Facebook and Twitter. You don't want to miss another helpful WordPress tutorial!
Using WordPress and want to get Envira Gallery free?
Envira Gallery helps photographers create beautiful photo and video galleries in just a few clicks so that they can showcase and sell their work.