5 Best Free Wedding Photography Contract Templates
by [email protected] on Sep 10, 2023
Are you looking for a photography contract template for your next wedding shoot? Having a written agreement with your client ensures that both parties know what expect throughout the photography process. So, to avoid misunderstandings, it's a good idea to have a contract with your clients. In this article, we will share the best free wedding photography contract templates that you can use to create a written agreement with your clients.
Why Every Wedding Photographer Needs a Contract
Smart photographers protect themselves from liability with a written agreement. Unless the expectations for both yourself and your clients are clearly laid out, there are bound to be misunderstandings about payment, timelines and more.
A well thought out contract will set both you and your clients at ease, making the entire process a more pleasant experience for everyone involved!
A basic wedding photography contract usually includes the following:
Names and contact information for both the bride and groom
Detailed description of the service rendered — photographs, in this case
Breakdown of fees (including deposit) and payment schedule
Date, time and location of the ceremony and reception
Rights and usage information that stipulates who has rights to the photos you take. Will you give your clients the rights to all the photos, or will you give them proofs only and keep the printing rights? How are they allowed to use the photos?
Model release information that grants you permission to use the photos you take in your portfolio or for advertising
Signatures of both parties
You could create your own wedding photography contract, but to save you time, here are 5 templates that you can use to get started. Use these templates as-is, or let them inspire you to create your own.
1. PetaPixel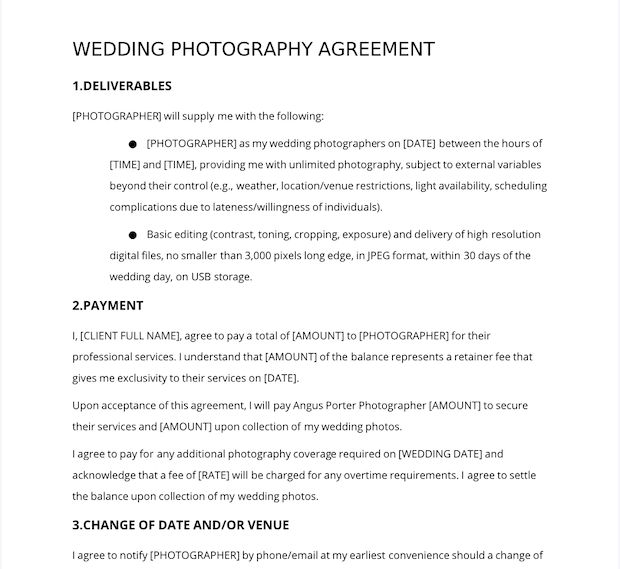 Click here to download the Word Document.
Rather than using the word "contract", which can have negative connotations, this template is more tactfully named a "Wedding Photography Agreement." This template by PetaPixel does a great job of explaining the entire process to the client, so the expectations are clearly laid out and there are no surprises. It also includes a clause discussing breaks and meals for the photographer, as well as a copyright release clause.
2. Abby Photography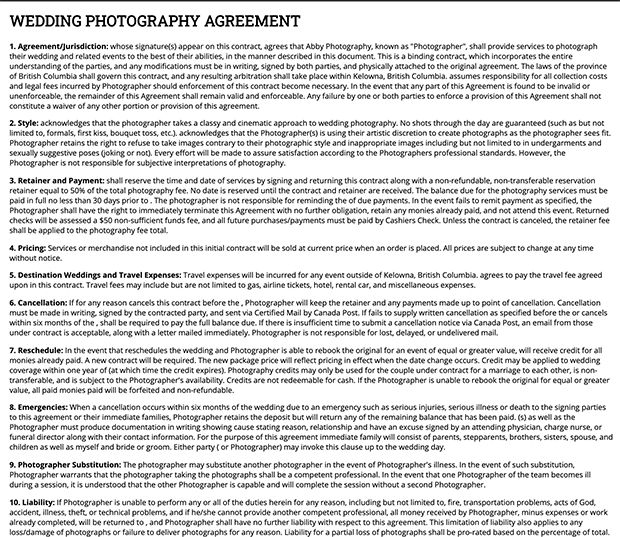 Click here to view this template.
This template by Abby Photography is as professional as it gets. The document uses language you'd expect to find in a legally-binding contract, and even stipulates the style of photographs the photographer will produce. It also includes a Timeline and Package Proofing portion that allows the photographer to outline their services and deadlines at different stages of the wedding preparation.
3. Sharon Horton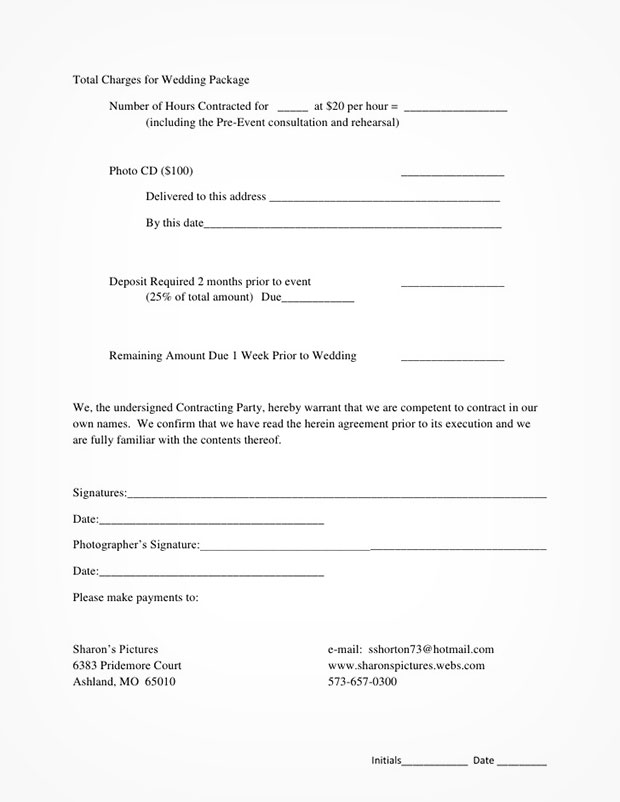 Click here to view and download this template.
This template is more generic with fill-in-the-blanks rather than an individualized proposal. It includes space for the bride and groom to choose when and where they want you to be, both before and after the wedding. It also includes your standard rates per hour, and per photo CD delivered.
4. Lucid Eyes Photography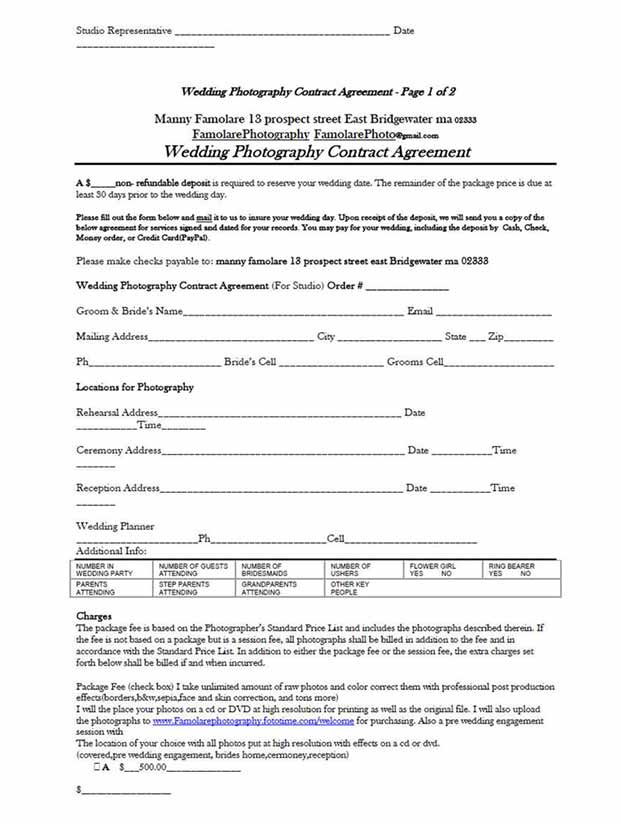 Click here to view and download this template.
This fill-in-the-blank template gets straight to the point. All you have to do is fill out the contact information, the location and the charges. If you are looking for a very simple contract, this is the one for you.
5. Online Form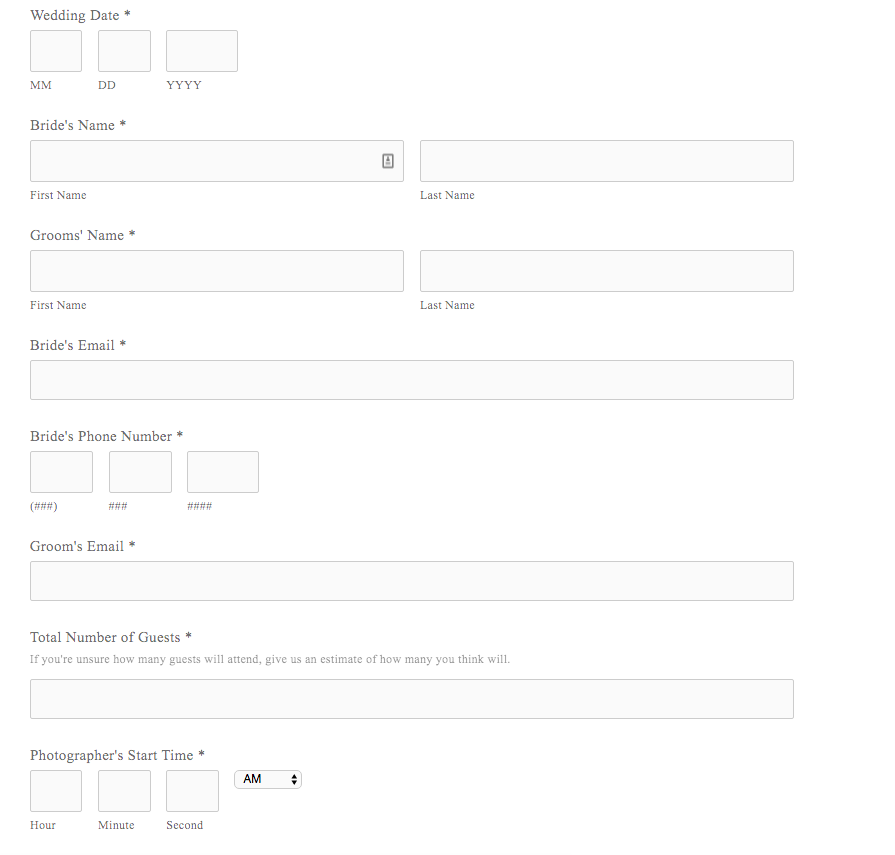 Click here to view this template.
Finally, you may want to consider doing away with paper altogether and using a convenient online form for your wedding photography contract. The above form is a great example: it includes form fields for all relevant contacts and venue details, as well as a timeline for before and after the ceremony, and more.
To create an online wedding photography contract/booking form like this, all you need is a WordPress site and the WPForms plugin.
If you don't have WordPress you can also try DocuSign or Hellosign to create form fields and signing boxes.
To learn how, first check out our complete guide to creating a photography site in WordPress. Then, develop your own online contract following our step-by-step tutorial on how to add a photography client booking form in WordPress.
That's it! We hope this article has helped you to find the 5 best free wedding photography contract templates.
You may also want to check out our other wedding photography guides on:
If you like this article, then follow us on Facebook and Twitter for more free photography resources. Don't forget to sign up for our email newsletter so you never miss another post!
Using WordPress and want to get Envira Gallery free?
Envira Gallery helps photographers create beautiful photo and video galleries in just a few clicks so that they can showcase and sell their work.