5 Best Free Product Photography Contract Templates
by [email protected] on May 18, 2020
Are you a product photographer looking for the right contract template to use with your future clients? Using contracts is key to being a professional product photographer, since they protect both you and your clients throughout the planning, shooting and post-production process.
If you're not yet convinced you need a formal arrangement with your product photography clients, this article will show you just how important a written contract can be. Then, we'll help you find some great, free product photography contract templates to get you started.
Why Every Product Photographer Needs a Contract
A contract is a written agreement that ensures both parties, the photographer and the client, receive a fair deal throughout the course of the product photography project. Essentially, a photography contract spells out each step of the process, including what deliverables you plan to turn over, how you plan to deliver them, and how much post-processing you'll do to the photos.
Having this information spelled out in writing is much better than a verbal or text message agreement. These alternative methods offer little to no real legal protection.
A well written and well-thought contract will make sure that both you and your clients feel the work you've done is worth the price. Thus, a written contract or agreement is your chance to finalize your clients' expectations about deliverables, time frame and more before you begin working.
You'll likely find that, though it's more work up-front, having a written photography contract cuts down on communicatory problems down the road.
Components of a Product Photography Agreement
A basic product photography contract should establish the following:
General Information
Clients need to know several things about you, the photographer they plan to pay to create their product photography deliverables, including:
Your name, and/or the name of your photography company
Business address
Your business contact information
You'll also need, for legal purposes, to supply the client's information:
Individual or corporate client's name
Clients' address
Contact information for the client or company
Make sure that you date the agreement with the day, month and year. It's not a bad idea, either, to include the place where you made the agreement in City, State format.
Description of Work
Of course, your product photography agreement should specify what work you will complete for the client, including the exact services you'll render in your photography studio, the date by which you'll complete the project and any major deadlines you'll meet throughout the project.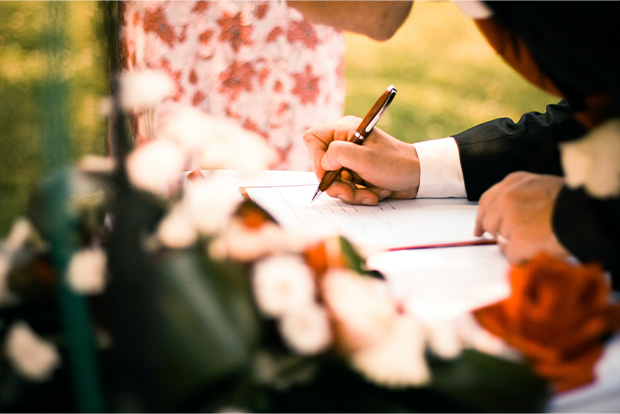 This section should also include a description of the post-production services you intend to provide, including photo editing. Specify whether the editing process will be collaborative with the client's input and the number of drafts you'll produce.
Other items this section can include are:
Equipment you'll use and who will provide it
Products you'll shoot, who will provide them, and how you'll receive them
Props or models you'll use, as specified by the clients
Payment
If there's one thing you want to clarify as a photographer, it's how you'll be paid for your services. Any product photography agreement should include a section on payment that specifies the:
Your total service fee
Method of payment
Any deposits your client should pay ahead of starting the project
Payment plan that outlines whether the client will pay according to major milestones, or upon completion of the project as a whole
Cancellation and Rescheduling Terms
Cancellations do happen. People get busy, deadlines get pushed back. You want to be prepared in case your client should need to cancel or reschedule.
Including information about your cancellation and rescheduling terms in your product photography contract ensures that both you and your client understand how you'll handle a cancelled or rescheduled shoot.
Consider outlining these items in this section:
Date by which the client can cancel and receive their full deposit back
Date by which the client can cancel to receive a partial deposit return
How long the client can wait to cancel before they don't receive a deposit return
How long the client has to reschedule the shoot without paying additional fees
Name any additional fees the client will face by rescheduling or cancelling and where those fees are allocated (e.g. from their deposit, form the client, etc.)
You'll also want to include a refund statement that specifies:
What conditions should be met in order to the client to receive a refund
A detailed explanation of the conditions to receive a partial vs. full refund
Your policy for a refund in case of damages or loss
Release of Images
Maybe the most important thing a product photography agreement could specify for clients is how they can expect to receive their final images. After all, that's what they're paying you for!
Your agreement should include a section that explains everything about image release to your client:
What images your client will receive and how many
The file type of the images you'll send
Whether you'll send RAW files, only final images, etc.
How the client can use the images without paying royalties or crediting you as the photographer
What images the client can use with royalties paid to the photographer
Think about embedding a photo release form inside this section, or including it as an additional attachment in the contract. Having a photo release form on file may come in handy.
Typically, you'd need a release form to display images that contain recognizable faces. Your product photography may require you show a model's face, so a release form is necessary in this instance.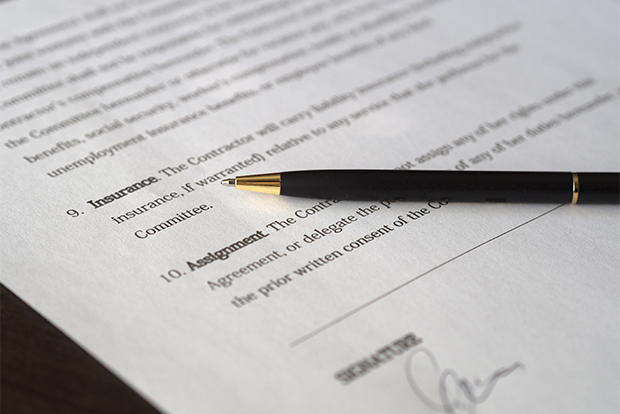 Also, be sure to reach an agreement in this section about whether you will continue to use the images from the shoot past the completion of the contract, perhaps in your portfolio or otherwise.
Finally, you should also specify the date by which you'll release the images to the client. That way, you've both established a firm timeline.
Description of Risks
Although it may not seem like it, there are risks involved in being a product photographer under contract with a client. You want to have procedures in place should things go awry:
Image or image storage corruption: What happens in the case of the loss of images?
How you'll handle a timeline extension should you need one
Full Agreement and Signatures
Finally, you should have space at the end of the document for both you and the client to sign and date the contract.
How Product Photography Contract Templates Can Help
This is quite a large amount of information to include in a contract, and it's easy to feel overwhelmed. Creating a massive document like this on your own, especially for the first time, can seem impossible.
It's important to note that not all of the components described above will be necessary for your contract. What you include and don't include will be specific to each client and each job. But, it's best to include as much as possible in a master contract that you can amend per client.
Remember, as the service provider, the burden falls on you to make sure the contract is as clear as possible for both you and your client.
So, how can product photography contract templates help you?
While you could collate all these contract sections yourself, it would be time consuming, and you could accidentally omit some important details. A contract template, one specifically written for product photography, gives you a good base agreement that already includes the major items you should specify.
Of course, once you have chosen a template, you should modify it so that it matches your branding, your business and the needs of your client. Modifying a photography contract template this way will save you time in drafting contracts in the future. Clients will love if you can product a contract almost immediately after agreeing to take their project on!
Selecting an original product photography contract template to start from can be hard, especially if you don't know what to look for. So, we've found 5 product photography contract templates that can help.
Take a look!
1. SLR Lounge's Annually Updated Photography Contract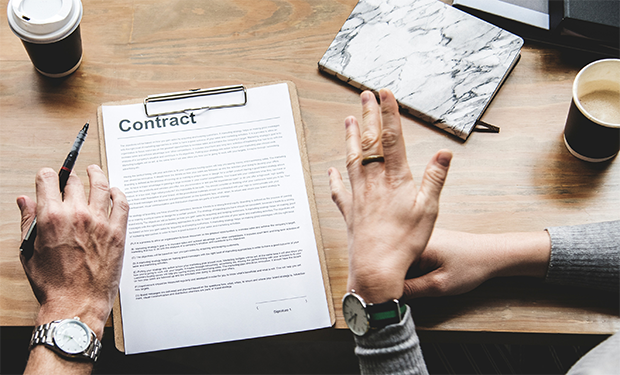 This template from SLR Lounge is one of the best free photography contract templates on the web. They use paid legal services to ensure their contracts are of the highest quality. Plus, you can adapt this general photography contract to almost any genre of photography, including product photos!
This contract template is the way to go if you want to really customize your own agreement. From the draft they provide, you can fill in all your permanent information, and then create sample paragraphs that you can edit in the future.
No matter what work you are doing, and whether the work is commercial or not, this contract template will work. Just customize it to fit your job, and send it off to clients!
Click here to view this photography contract template.
2. Product Photography Template from JotForm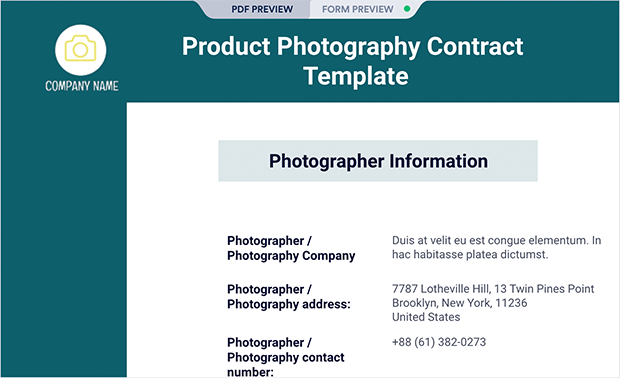 If you want a simple starting point that allows you to input the basics, this JotForm template is a quick, easy, and reliable option.
This template makes it easy to see where you can include details and items specific to product photography. You'll likely have to customize any product photography template you find online, and this one is easily amendable.
This template does not translate well to other types of photography straight out of the box. If you do choose to use JotForm's product photography contract template as your basic photography agreement, make sure to tweak it to fit the job and the genre.
Because a lot of product photography happens without in person meetings, we recommend making sure that you export this file as an editable PDF so that you and your client can provide electronic signatures when necessary.
Although this template provides good details, it isn't the most professional in appearance. We also recommend reformatting it with your business logo so that it looks more official.
Find JotForm's product photography contract here.
3. BestTemplates Free Commercial Photography Contract Template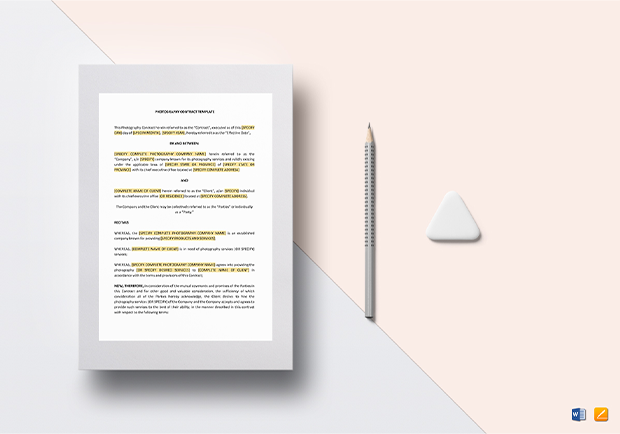 While these templates are not product photography specific, commercial photography templates enumerate many of the same items you'll need.
This template also appears in a list by Template.net of great photography contract template agreements. We recommend looking at some of the other templates in this list, because they include pre-written sections on shooting video for clients alongside photographs.
Many online retailers like to include videos of the products they sell in product listings. Offering to include video services in the project might give you a leg up over your fellow product photographers.
Creating short videos for products you are also photographing can be an easy way to expand your business, especially as more clients request video work.
See BestTemplate's commercial photography contract here.
4. PandaDoc's Simple to Use Commercial Photography Contract Generator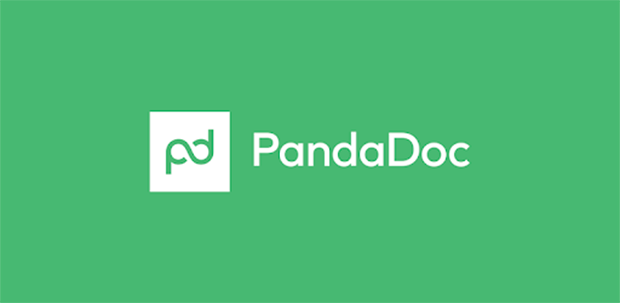 This commercial photography generator is perfect for product photographers employed to take fine art photography images. If you're commissioned to photograph a statue, an artifact, or something intended to be displayed in a museum, this agreement template generator can help.
PandaDoc's generator allows you to create pricing based on prints, which is especially useful if you don't intend to provide digital files.
You can include digital file options in the payment list, so that the client knows what they're paying for.
Click here to use PandaDoc's commercial photography contract generator.
5. eForm's Sample Photography Contract Templates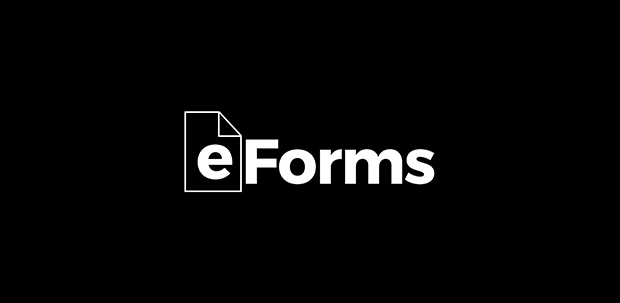 Lastly, these samples from eForms provide a solid base contract that spells out what you need in a good photography contract and what items you can add to personalize it to your job. In particular, these eForms agreements are a great alternative to the SLR Lounge contract we mentioned at the top of this list.
See eForms' photography contracts to find one that works for your needs.
Conclusion
Having a standard photography contract that you can tailor to fit your clients' needs is a must as you grow your photography business. Photography agreements take the stress out of negotiating for both you and your clients, because they spell out the expectations for both parties.
That way, your clients feel like they can trust you to really deliver on the promises you make in the agreement. And, you can expect your clients to submit payment on time.
We hope that you've found one of these 5 best free product photography contract templates helpful. If you did, check out these other articles on product photography:
Follow us on Facebook and Twitter for more free photography resources. Don't forget to sign up for our email newsletter so you never miss another post!
Using WordPress and want to get Envira Gallery free?
Envira Gallery helps photographers create beautiful photo and video galleries in just a few clicks so that they can showcase and sell their work.