How to Set Up a Home Photography Studio
by [email protected] on May 4, 2020
Taking profession photos from the comfort of your own home doesn't have to be difficult. In fact, it's both easy and inexpensive to set up a home studio for product photography. This studio space can help you create high quality images of products like clothing, jewelry, electronic gadgets and more.
Businesses today need freelance photographers with a clean studio space to shoot their product photos. Who's to say that clean studio space can't be a corner of your living room?
Want to know how to set up a photography home studio? This guide will break down:
What is a home photography studio
What pieces of gear you need to outfit a studio with for product photography
How to set up that gear to get your best product photos yet!
If you missed it, check out our guide on how to get started as a product photographer for all the basics on starting a product photo photography business from home.
Product photography lends itself particularly well to home studio shoots for several reasons. One, the majority of product photos require a plain white background, which is inexpensive and easy to set up at home.
Additionally, since most products you'll be asked to photograph are consumer goods like t-shirts and electronics, you don't have to devote a ton of space to your studio. In fact, your photography studio equipment fits easily into a closet so you can convert your space back into living space outside of work hours!
That begs the question: What is a home photography studio, and what equipment do you need to create one? Read on to find out!
What Is a Home Photography Studio?
Having a home photography studio allows you to take professional-grade photographs from without ever leaving your home. Every home professional photographer has their own home studio setup, but there are some key elements you'll need to have to be successful, including:
External Lighting
Backdrops and hanging equipment
Tripod
Computer for photo editing
Photography Studio Lighting
Nothing is more important than lighting when it comes to shooting high quality product photos. Having a well-lit scene means that your photographs will capture product colors and details more accurately, which is exactly what potential buyers look for when shopping online. So what kinds of studio light do you need in your photo studio?
If you're new to product photography and need some practice before taking larger jobs, try starting with a basic reflector and natural window light. Learning how to bounce natural light around your shot will help you get a better understanding of the importance of proper lighting.
Of course, for paid work, you'll want more consistent, high-powered lighting. For these commercial jobs, consider purchasing some inexpensive strobes, speedlights or continuous lights.
Strobe Lights
Strobes are basically larger, more expensive and more powerful versions of your camera's built-in flash. You've probably seen these lights used in portrait studio photography or at events like weddings.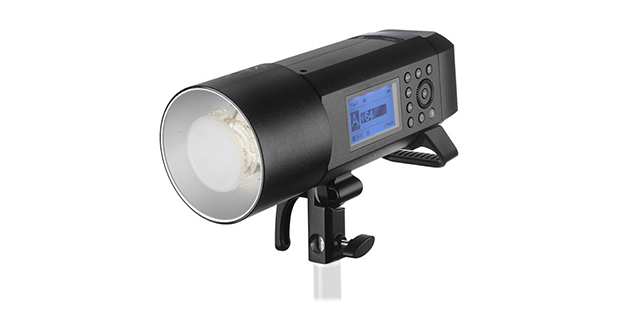 Strobe lights like this Godox AD400Pro, which puts out 400w/s of power and is compatible with several camera's TTL systems, making metering easy. They offer plenty of power and work with a wide range of light shaping tools like softboxes.
You can purchase battery-powered strobes that work with large power packs. These strobes offer a couple hundred flashes before they need to be recharged. Other strobes plug directly into your power outlets.
Speedlights and Flashes
Speedlights, or flashes, are smaller, battery powered flash lights. These typically mount to your camera via the small metal connector at the top of the camera body, called a "hotshoe". You can likely find flashes made by you camera's manufacturer or by third-party companies.
Compared to a strobe light, speed lights offer less power but much more portability. If you shoot other types of photography, like events, weddings, or field portraiture, you can use your home speedlights to pull double duty.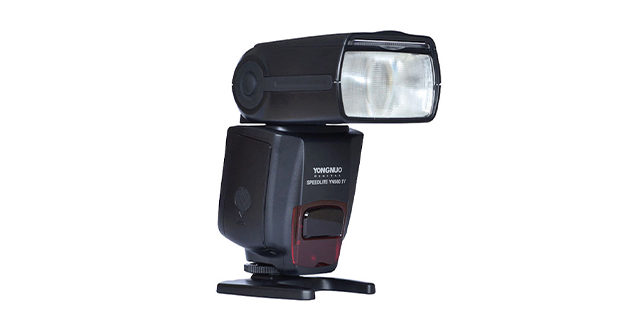 Speedlights like this Yongnuo YN560 are great budget-friendly options.
Continuous Lights
Continuous lights for photography are a newer development, though they've been around for a while in video. Videographers use continuous lighting because they provide consistent lighting rather than bursts of light, like a flash.
Previously, the lack of intensity provided by continuous lights proved a problem for photographers. However, as cameras have gotten more sensitive and lighting technology has gotten better, they've become a usable choice. Continuous lighting produces more heat than other kinds of lights.
But, they're probably the easiest lights to get started with because you can see instantly how the light they provide interacts with your subject. Plus, you don't have to worry about syncing the light to the shutter as you do with speedlights.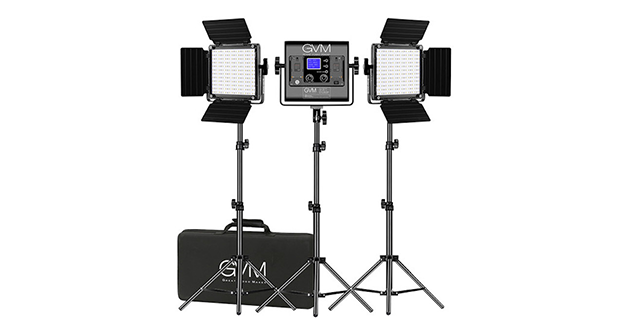 For an entire continuous lighting kit, check out the GVM 800D. These lights even feature RGB so you can change their color — a potentially useful feature for shooting more creative product photos.
Choosing a Photo Studio Lighting Setup
How you choose between these three lighting varieties depends on the camera you use and what the physical space of your studio looks like. Make sure to take your budget into consideration first, though!
If your lighting budget falls somewhere less than $200, speedlights are your best option. You can purchase two inexpensive third-party speedlights and some basic triggers for this price, which will allow you to shoot basic product photos, especially for smaller items.
If you anticipate needing more modification options, strobes are a better choice. While they take up more space, you don't have to worry about going through dozens of AA batteries, jury rigging a lighting modifier or turning up your ISO when shooting a dark product to get proper exposure.
Strobes are also great to use if you have a larger studio space, as you can leave them set up and configured. That way, you can shoot the same look over multiple sessions without having to take down and recreate your lighting environment.
Continuous lights are a good option if you need one light for both photo and video. Having a single light that can do both jobs will save you money on additional gear. It'll save you time, as well, since you don't have to set up a new lighting environment when switching from photo to video.
Also, continuous lights require the least practice to set up. While flashed lighting isn't difficult to learn, especially for basic product shots, it's one less thing to figure out in your first few shoots.
Whichever lights you get, make sure you get some durable light stands. Some kits will come with them, but standalone speedlights and strobes may not. Light Stands let you move the light into position vertically, as well as easily reposition it across the floor. Impact makes a relatively inexpensive light stand that reaches up to 8ft high.
Backdrops
If your head was spinning from all the lighting choices, don't worry! Backdrops are a lot simpler. For your basic product photos, all you'll need is a plain, white backdrop. Whether you want to use fabric like a muslin backdrop, paper or plastic depends on the final look you're going for, as well as what type of product you're shooting.
If you just want an easy option to get started with, a roll of white background paper is the cheapest, easiest choice. It comes in a variety of widths and lengths. Just choose one wide enough to cover the largest product you plan on shooting, plus some extra inches to provide a margin. Don't go too small, or you'll have to spend valuable time adding that edge space back into the photo with Photoshop in post-production.
There's plenty of types of paper available, but Savage's widetone seamless is many photographers' #1 choice. This paper isn't highly reflective, nor does it have a heavy patterned finish, so it disappears cleanly around your product.
Arranging Your Backdrop
Arranging a paper backdrop is easy. Just roll it out over a table or clamp it to the top of a chair back. You can also choose to use a backdrop stand if you have one. Your primary goal in arranging the backdrop is to have it cover the area both above and below the product.
If you're looking for a more dedicated solution, you can find a variety of mounts for seamless paper online. These mounts are effectively a crossbar and two stands, which lets you roll the paper backdrop down from the top and then along the floor.
One version is Impact's background stand, but if you're handy, these are easy to create out of some basic hardware store materials.
Tripod
One last component your home photography studio needs is a tripod with a head. While you won't use particularly slow shutter speeds to take your images thanks to your external lights, having the ability to lock your camera in a certain position makes it easier to get consistent shots.
Use your tripod to keep the distance between the camera and the backdrop and the camera and the product the same. That way, you can lock your focus and other camera settings, which makes shooting easier and faster for you.
For home studio use, almost any tripod and head will work. A basic ballhead and set of legs is fine. Having the ability to adjust the angle of the tripod's center column is a bonus, as it will help you achieve additional, creative angles for things like layflat shots.
Manfrotto's Befree Advanced tripod is a great example of a perfect home studio tripod. Specialty heads like 3 way heads or geared heads won't be necessary for basic product photos. But, if you already own a good head and set of legs, it'll work great.
Accessories
Depending on the lights you picked, you may want to pick up some sort of remote trigger. While some options may work with your camera's flash in an optical slave mode, having a dedicated trigger is a much more reliable option.
A TTL based trigger isn't necessary, as your subject won't be moving around, which would make setting an exposure challenging.
How to Set Up a Home Photography Studio
Once you've gotten all your gear, it's time to actually set up your home studio and start shooting! Fortunately, setup is pretty quick and easy.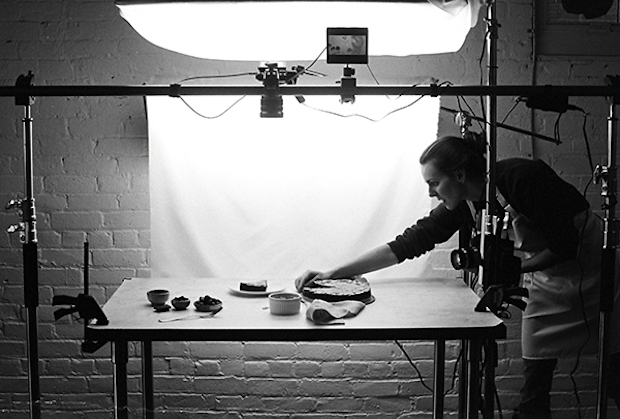 Start by grabbing a chair, table, or other surface to use as the base for your product. While you can use the floor as the surface for your work, you may find that this makes capturing the best angles trickier. Choose an object that puts your object at the optimal height for your camera.
Placing the Backdrop
Next, drape your backdrop (fabric, paper, plastic, etc.) over the chair or table you're using as your photographing surface so that it makes an L shape. The lower part of the L should rest along the top of your selected surface, while the backdrop should extend at least a couple inches higher than your tallest product.
Try to avoid putting heavy creases into the backdrop — especially if you've chosen to work with paper — at this time. While you can always Photoshop them out, it's unnecessary work compared to just keeping the backdrop clean.
The same goes for scuffs, tears, and marks. If you see some damage on the paper backdrop, just cut it off and roll out some more. Ideally, you'll have a smooth curve where the base of the paper transitions into the vertical part of the backdrop.
Positioning Your Lights
Next, set up your lighting. Unfold your light stands, and make sure to tighten down any knobs once you've positioned it. Then, mount your lights and aim them at the middle of the paper at a 45-degree angle. This setup ensures you'll have even, natural lighting across a range of subjects.
The white paper even acts as a great fill light to prevent heavy shadowing. The paper works by bouncing some of the light from the lamps up to parts of the subject that need it.
Adjusting Your Camera Settings
Lastly, get your camera and tripod into position. The type of product you're shooting and the style of photo you want will determine how you place your camera. You might choose to set your camera up so that it faces the product head-on. Or, you may want to raise your camera slightly above the product for a more dynamic view.
Having a tripod with an adjustable center column is the easiest way to switch between these two positions. Just be careful that you don't make your setup too top-heavy by overextending the center column. This could make the whole rig tip over onto your product scene!
You'll want to begin your shoot with your camera in Manual shooting mode and manual ISO. Set your shutter speed to 1/60th of a second. This speed is fast enough to avoid any camera shake, but not so fast that you'll trigger flash sync speed issues.
An aperture of f/8 or f/11, depending on your lens will offer plenty of sharpness and sufficient depth of field to keep all of the product in focus.
For ISO, start with your camera's base ISO value. For some cameras this may be ISO 64, while others may need ISO 100 or ISO 200.
Once you've gotten your camera setup, take a test exposure. Without the flash, this image may appear pretty dark.
Next comes the magic! Turn on your flashes and set them to something like 1/4th power. You may need to adjust this quite a bit depending on the power range of your studio lighting. If you find that you're setting a 1/2 strength or full power flash, you can try raising your ISO a couple notches instead. The slight increase in noise should be unnoticeable, while the time savings in quicker flash recycling will be worth it.
Just make sure to keep your flashes balanced. If you have one flash set to 1/8th power, the other should be set to the same value. Once you've gotten some experience working with your lights under your belt, you can change the ratio for a more creative effect. Still, for most product photography, clients prefer a clean and standard look.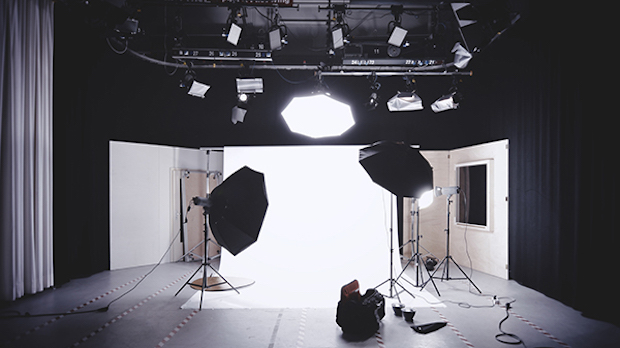 Conclusion
Your home photo studio is ready for you! Now you can start shooting with your new photography studio setup. Try out your setup with a variety of household objects and experiment with different camera angles until you get something you're happy with. Then, simply swap out the product!
If you enjoyed this article, check out these other helpful guides:
Make sure to follow us on Twitter and Facebook for more guides on photography and photo editing. Sign up for our email list so you don't miss the next installment on product photography.
Using WordPress and want to get Envira Gallery free?
Envira Gallery helps photographers create beautiful photo and video galleries in just a few clicks so that they can showcase and sell their work.