How to Replace Your Photos and Media Files in WordPress
by Waseem Abbas on Sep 10, 2023
Do you want to replace an image that you previously uploaded in WordPress? Sometimes you may upload an image to your site, and then you want to re-upload it with few tweaks. Instead of uploading a new file every time, you can simply replace it. In this article, we will show you how to replace your photos and media files in WordPress.
By default, WordPress does not allow you to replace photos or media files. To update previously uploaded files, you'll need to use a plugin like Enable Media Replace.
To replace photos and media files in WordPress, you'll need to follow these 4 steps:
Step 1. Install and activate Enable Media Replace plugin
Step 2. Go to WordPress Media Library and set it to list-view
Step 3. Click on the Replace Media option under the filename
Step 4. Choose your new file from computer and upload it
Ready to get started? Let's go!
Step 1: Install and Activate Enable Media Replace Plugin
First thing you need to do is to install and activate the Enable Media Replace plugin to your WordPress site.
To install this plugin, you should go to Plugins » Add New from your WordPress backend. In the search bar, you should write Enable Media Replace, and the plugin will be displayed below.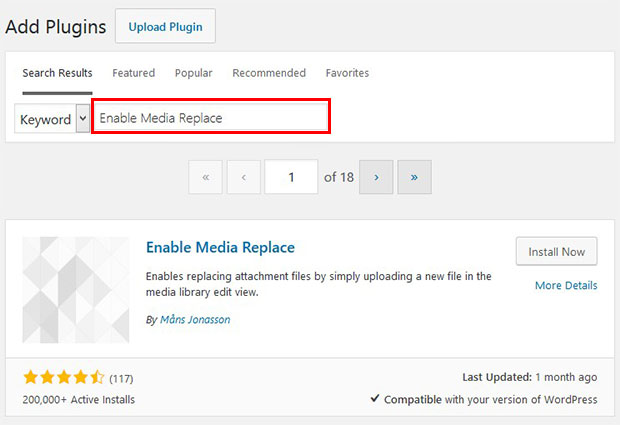 Click on the Install Now button for the plugin, and then hit the blue Activate button.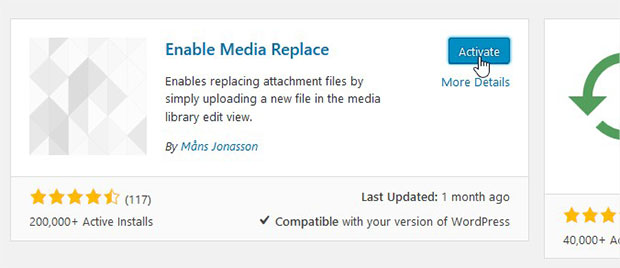 Step 2: Go to WordPress Media Library and Set it to List-view
Upon activating the plugin, you can go to Media » Library from your WordPress admin.
By default, the photos are in grid-view. Go ahead and change it to list-view.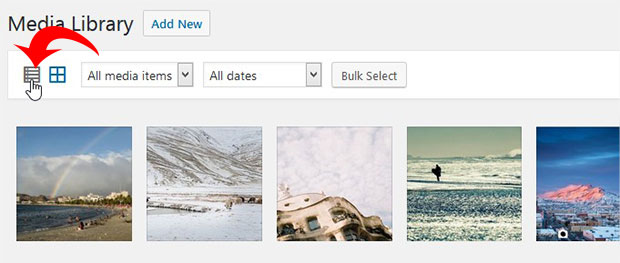 Step 3: Click on the Replace Media Option Under the Filename
Hover over the image or media file you want to replace, and you'll see the Replace Media option. Simply click on it to replace that media file.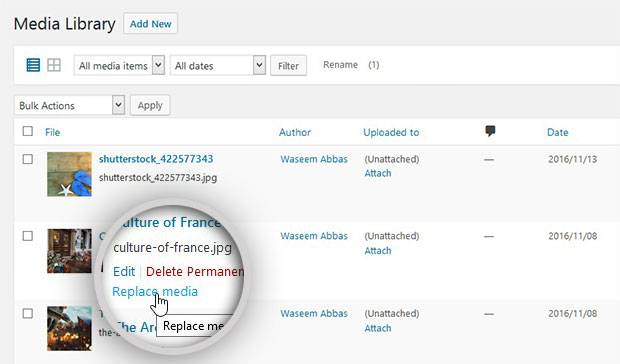 Step 4: Choose Your New File From Computer and Upload It
You will see a new page with the option to browse to a new media file to replace with an old one. Click on the Browse button, and select the new file from your computer.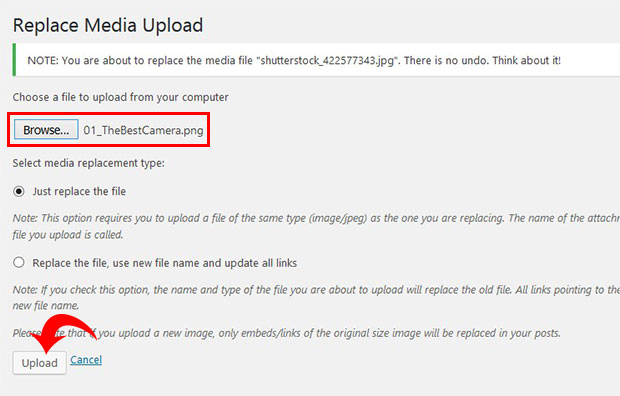 You will also see two options. You can choose to just replace the file, or you can replace the file, use new file name, and update all links. Select your preferred option from these two radio buttons.
Then, simply click on the Upload button. It will replace the image for you.
That's all. We hope this article has helped you to learn how to replace your photos and media files in WordPress. You may also want to check out our guide on how to sort image galleries in WordPress albums.
If you like this article, then please follow us on Facebook and Twitter for more free WordPress tutorials.
Using WordPress and want to get Envira Gallery free?
Envira Gallery helps photographers create beautiful photo and video galleries in just a few clicks so that they can showcase and sell their work.