How to Add Styles and Presets to Capture One
by [email protected] on Jun 25, 2020
Interested in using Styles and Presets on Capture One? Then you've come to the right place! We'll give you the lowdown on all you need to know about Styles and Presets in Capture One.
Capture One is an excellent piece of photo editing software, ideal for taking your images to the next level.
Used by professionals and amateurs alike, this tool can enhance the quality of your pictures by eliminating blemishes, improving color balance and even adjusting brightness. One particularly beneficial feature of the Capture One application is the ability to add Styles and Presets to your images.
Styles and Presets are filters that change the way that your images look without hours of editing work. With one click of a button, you can adjust a whole portfolio of photos.
So, how do you add new styles and presets to Capture One?
Here what we'll look at:
Differences between Styles and Presets
Finding Styles and Presets
Adding a Style to Capture One
Adding a Preset to Capture One
Using Styles and Presets
The Difference Between Styles and Presets
Before you add styles or presets to Capture One, it's important to note that these features are actually two different things.
If you're a current Lightroom user, you may be familiar with the term "presets". Unlike in Lightroom, Presets in Capture One are generally saved single-tool adjustments like a user-created sharpening preset.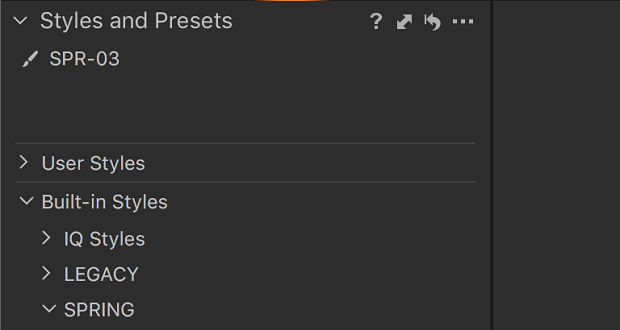 A Style in Capture One is a set of pre-made alterations that you can apply to a single image or a collection of photos with a single click. These are more analogous to Presets in Lightroom or Looks in Luminar. Capture One Styles use a wide variety of tools to create different image looks, including:
Film Grain
Structure and Clarity
Shadow and Highlights
Color Balance
Levels and Curves
Presets are also pre-designed adjustments for your photos in Capture One. However, they're intended for a single tool.
For instance, if you wanted to create a unique film grain preset, you would add it to the Film Grain Tool. You can stack your styles and presets to create more unique edits for your images without spending hours adjusting each one manually.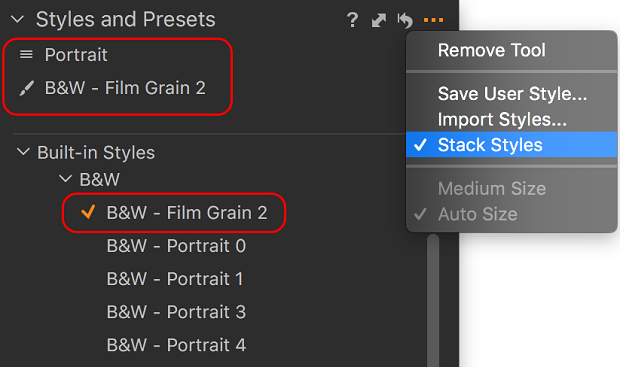 How to Find Styles and Presets in Capture One
Capture one is a fabulous editing tool, but with so many features, it can take a while to find your way around! You can find Styles and Presets by selecting Adjustments on the top menu bar and following the drop-down to Styles: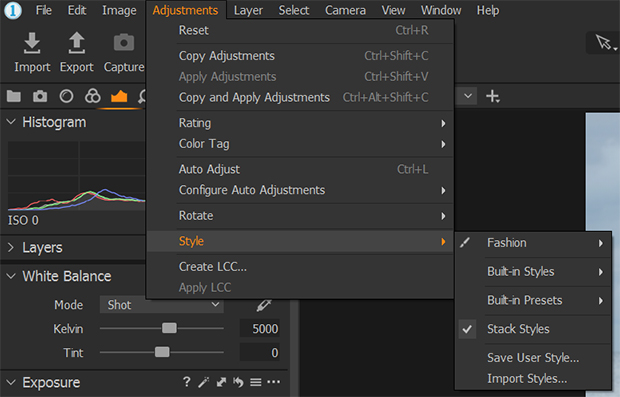 Here, you'll see options to use Capture One's Built-In Styles, or add a Style Pack from the Capture One website. First, we'll look at using the program's Built-in Styles. Depending on your version of Capture One, you'll see various Built-ins, including IQ Styles, Legacy and Spring.
Using a built-in Style is as simple as hovering your mouse over the style name and previewing its effect on your image. If you like the change, click on the style to apply it, and voila!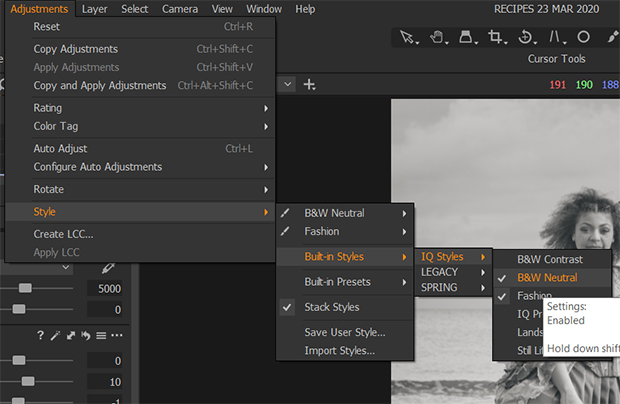 You can always stack Styles in Capture One to create your own unique Styles. But, keep in mind that when you do this, each Style you add partially or fully override another style you've added. This will happen unless you create a separate layer for each Style, but more on this later.
You'll find Capture One's Presets in the same Adjustment menu, this time under Styles. Underneath the Built-In Styles, you'll find the Built-In Presets. As we mentioned earlier, Capture One's Presets are ready-made adjustments for individual editing tools, like Curves or Color Balance.
When you mouse over a Preset group, your image will change to show you a preview of that preset applied to the photo. Choose the one you like and click on it to apply it to the image: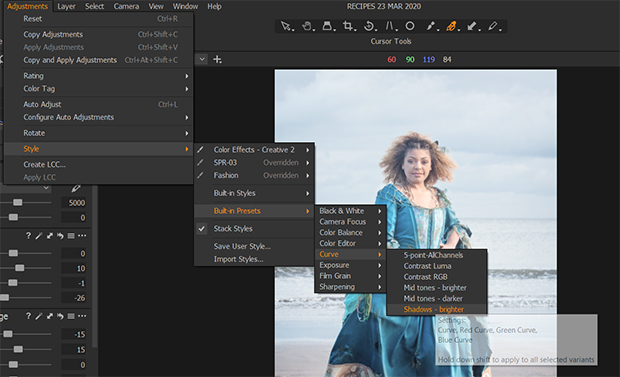 When to Use Styles in Capture One
As you now know, Capture One Styles are a group of editing adjustments (or filters) packaged together that work to give your image a certain look or feel. For instance, you may choose a Fashion, Still Life, or Landscape Style to give your image a polished look without needing to spend ages fiddling with sliders to get the look you want.
Retro film styles like Kodak Portra, Ektachrome 1970, Fuji Neopan 1600 and many others are popular photo edits these days. Rather than creating these vintage film looks yourself, you can find and apply a Style that will give your image the same filmic appearance.
All filters in image editing software work basically like Instagram filters, whether you're working with Capture One Styles, Lightroom Presets or Luminar Looks.
You will find Capture One Styles useful to quickly apply global filters to multiple photos in a set. That way, the entire batch has a consistent look and feel.
When to Use Presets in Capture One
Presets in Capture One are a set of adjustments made using only one editing tool.
As you can see in the screenshot above, we used the Curves preset tool to choose one of a range of Curves adjustments. In this case, we used Brighten Shadows, but there are other Curves Preset choices.
All Capture One Presets come with a variety of options. If you chose Film Grain, for instance, you can select from a range of Presets created with the Film Grain tools, including Extreme, Smooth, Silver and more.
You will find Presets helpful when you want to brighten shadows, sharpen your image or fix exposure without messing with tricky sliders.
Capture One Presets help to fix problems, while Styles are more about adding finishing touches and creating consistency across several images.
How to Add a Style to Capture One
Capture One comes with a number of impressive Styles already built-in. However, you'll also find additional styles for download online.
Go to the Capture One website, and choose the style pack you want to download. Unlike looking for a free Lightroom preset (they are everywhere!), you'll discover that Capture One doesn't do free Style packs: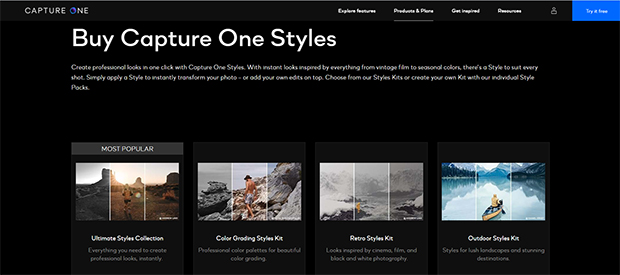 It's worth searching around the web to find free or paid-for Style packs for Capture One, though.
When you find a Style pack you like, download it. It will probably be in your downloads as a zipped file, so make sure you extract all the files first:

The easiest option for adding styles involves going into Adjustments > Styles > Import on the Capture One tool. Then, select the files from the folder containing the unzipped style file, and import them all at once:

You can find your newly-imported files by going to Adjustment/Style/User Styles. They should appear in the User Styles folder. If you don't see them at first, try quitting and relaunching Capture One.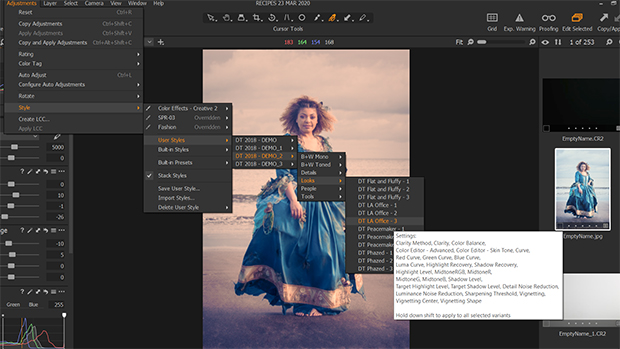 If you want to create a submenu for your new styles, you'll need to copy the folder for your new styles, then go to Library/Application Support/ Capture One/ Styles on your Mac and paste the correct content into the folder. On a PC, go to C:\Users\yourname\AppData\Local\CaptureOne\Styles50.
You can also save the adjustments you make to a specific image as a style. Simply click on the Adjustments Clipboard on the ellipses tab "…". Then choose Save as Style.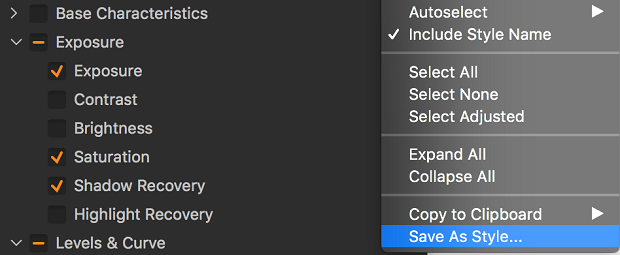 How to Add a Preset to Capture One
When it comes to adding styles and presets to Capture One, presets are a little more complicated.
Download your presets of choice and unzip any folders first. You will need to quit Capture One to install presets, then locate the file of presets you just downloaded, and copy all of the internal content.
It's a good idea to follow the instructions for downloading and installing presets from the website you got them from.

On a Mac, go to: /Library/Application Support/ Capture One and paste your preset content in this folder. You might need to create a new folder if you don't see one named Presets60.
On a PC, go to C:\Users\yourname\AppData\Local\CaptureOne\ and paste your files into Presets60. It helps to create an additional folder within the directory with a name for your Presets so that they're easier to find inside Capture One.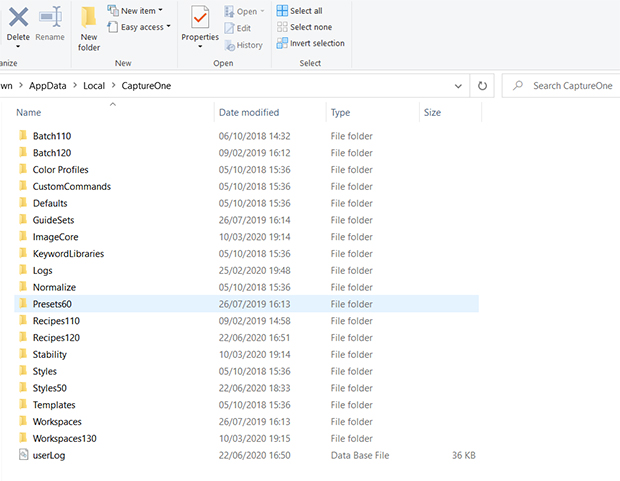 You can also create new User Presets on Capture One, by clicking on the Manage Preset menu, and selecting Save User Preset when you're finishing choosing the edits you want to make to an image.
A save dialog box will appear, where you can enter a title for your new Preset. You can then go back in at any time and apply your saved preset to another image.

Using Styles and Presets
Once you know how to add styles and presets to Capture One, you can make the most of your effects. The good news is that it's easy to get started.
Select the photo (or photos) you want to make adjustments to, and go to the Style and Presets panel. You'll find this panel under the Adjustments tab, signified by a clipboard with a tick icon: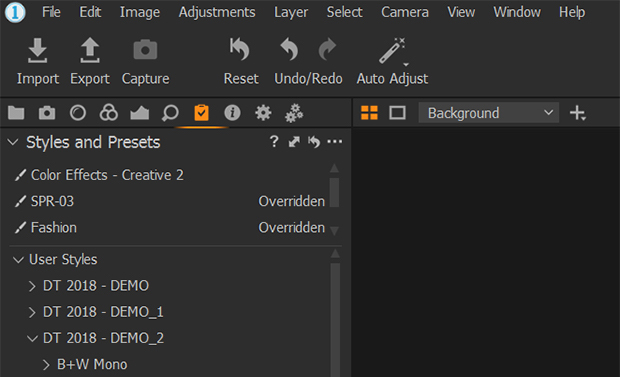 On this panel, you should be able to see all of the Styles and Presets that are available to use. Alternatively, you could go to Adjustments/Styles as we did earlier from the top menu bar.
When you apply a style or preset to a layer, the layer name will automatically change to the title you've use for your effect. Remember, though it's possible to stack styles and presets, you can't add more than one style to the same layer. To stack presets, you'll need to create a new layer by going to Layer/Add New Adjustment Layer: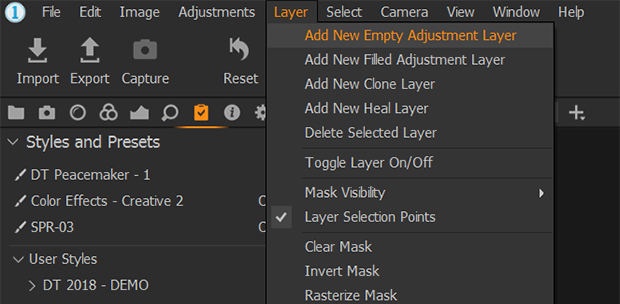 Once you've added a new layer, go to the Styles menu from Adjustments, and click on the Stack Presets option. Add the Style or Preset you want to the new layer.
For each new Style or Preset, you will have to create an extra layer and add the style to it, but you can build up some creative and unique looks this way: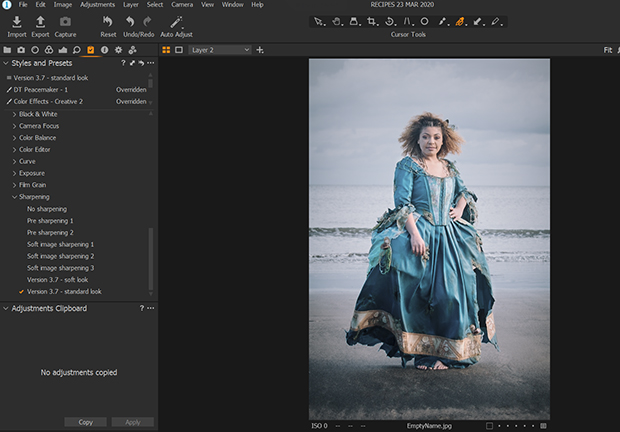 Are Styles like LUTs?
You may be familiar with the 3D LUTs found in Luminar, and you may be wondering if Styles are similar. The answer is no. A style and a 3D LUT both change the look of a photo, but they do it in different ways.
A Style, as we have seen, can change a lot about an image's appearance, including exposure and other basic adjustments. A 3D LUT, or Look Up Table, is a mathematic way of shifting the color and hue of an image. LUTs can change color, but they won't fix exposure or make any other image adjustments.
LUTs are generally used for color grading images or movies to give a certain color combination that reflects the mood of the photo or film. You've likely seen LUTs in action to create teal and orange tinted photos, which is a popular modern editing combination.
Where Can I Learn More About Capture One Styles and Presets?
Capture One's website has a whole range of tutorials and resources about Styles and Presets, along with how they can help you add some extra edge to your images.
As well as looking on the internet for more information, the best way to learn how Styles and Presets affect your photos is to do some experimenting yourself.
Capture One editing is non-destructive, so you won't lose your original image if you make a mistake. Create some layers with different Styles and Presets for unique User Styles that you can save to use again, or add some subtle changes with film grain or contrast Presets.
Conclusion
Hopefully, you have a better idea of what Styles and Presets in Capture One are, and how to get the best out of using them.
You don't need to spend a fortune on Capture One Style Packs — there are lots of reputable websites where you can download some pretty good free Styles to get you started.
We hope we've inspired you to delve deeper into Capture One Styles and Presets. They can bring a whole new dimension to your work, and all you need is a little practice to find out what looks best.
For more Capture One help, check out these guides:
Did this guide help you learn how to add styles and presets to capture one? Follow us on Facebook and Twitter for more guidance!
Using WordPress and want to get Envira Gallery free?
Envira Gallery helps photographers create beautiful photo and video galleries in just a few clicks so that they can showcase and sell their work.