How to Adjust Colors in Capture One: The Basics
by Brenda Barron on Mar 25, 2019
Have you ever wished that you could change the color in one part of your photo, without affecting the rest of the image? Playing with color can give you some amazing results from your photography – whether you're colorizing a black and white photo or bringing focus to a certain point in your picture. All you need is the right tools.
The Capture One photo editing software is some of the most compelling on the market – in part, thanks to its excellent color control. There are 3 different levels of color-based editing available in Capture One, so the options for adjustment are practically limitless.
So, how do you adjust colors in Capture One? Here, we'll discuss:
The Capture One Color Editor
Basic Color Adjustments
Advanced Editing
Skin tone changes
Let's begin!
The Capture One Color Editor
If you're looking for a tool that's perfect for making color adjustments, then you can't go wrong with Capture One. As mentioned above, the color editor comes with 3 different settings, and they each allow you to select hues in your photo individually and make edits without affecting the rest of the image. The granular nature of the Capture One color editor makes it excellent for enhancing and subduing colors selectively.
You can use Capture One to fix tones produced under artificial light, blend and enhance skin tones, and even drastically change the shades of different items in certain shots. Located in the "Color Inspector" tab, the Color Editor's abilities can be broken down by its 3 sections:
All three options come with an easy-to-use color picker tool and a 2D color wheel.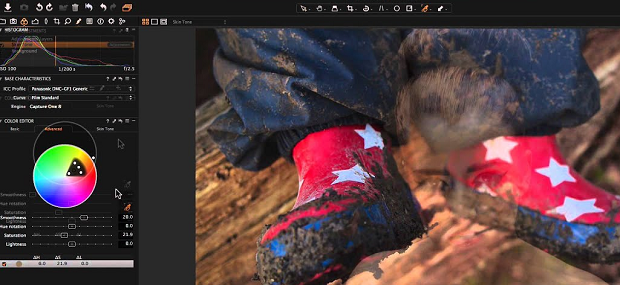 Making Basic Color Adjustments
Figuring out how to adjust colors in Capture One is simple – particularly if you only want to make basic changes. The "Basic" tab covers all the adjustments you might need to make to enhance your photography, including the ability to change your Hue, Saturation, and Light balance.
The basic color adjustment panel is very similar to those you'd see on Photoshop or Lightroom. As such, you probably won't have much trouble working with it. The major difference between Capture One and other photo editing software is that some photographers can get more depth out of their colors in Capture One.
Additionally, the "Luminance" feature you may be used to in Lightroom is named "Lightness" here.
Advanced Color Editing
If you want to learn how to adjust colors in Capture One on a more dramatic level, then you'll need to become familiar with the advanced tab.
The Advanced tab is similar in format to the Basic tab, with a few key differences. For instance, you can use the Color Picker to choose the exact color you want and make some very specific adjustments to a much smaller selection of shades. You'll be able to do precise color corrections here, unlike with the basic tool that only offers support for 6 colors.
The advanced color editing feature also allows you to select specific portions of your photos so you can change the color of a red flower to an orange one, and so on. There's also some extra options like "Invert Slice" and "Expand Full Saturation" range to explore. What's more, the Advanced Editor has the biggest range of slider adjustments available. The Lightness slider expands from -100 to +100.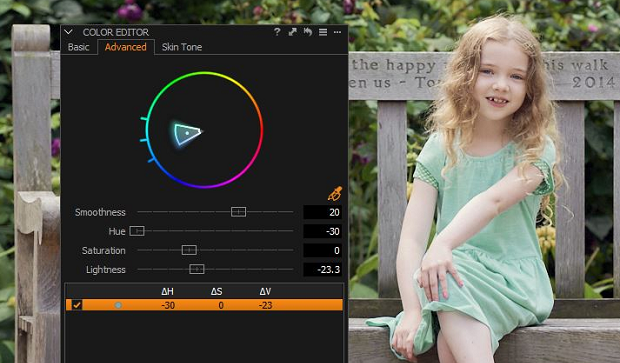 The Skin Tone Color Editor
Finally, perhaps you want to know how to adjust colors in Capture One so you can improve the appearance of your wedding or portrait photography. If so, you'll need to familiarize yourself with the Skin Tone color editor. This feature works similarly to the Advanced editor, although the color wheel remains black until you select a color. The skin tone editor is unique because it provides adjustment options for "Uniformity". This means you can smooth out skin issues like blemishes and red spots with ease.
Unfortunately, there is a drawback to the features offered by the Skin Tone Editor. You can only edit one sample at a time. Once you create a new sample, the previous will be replaced, but the adjustments stay the same.
Ultimately, retouching is a complicated art in the photography world. The good news is that the Capture One Color Editor makes managing your adjustments easier. Learning how to adjust colors in Capture One will give you more control over your portfolio.
What do you think about the color editing options in Capture One? Let us know in the comments below, and remember to follow us on Facebook and Twitter for more insights.
Using WordPress and want to get Envira Gallery free?
Envira Gallery helps photographers create beautiful photo and video galleries in just a few clicks so that they can showcase and sell their work.