An Ultimate Guide to the Best WordPress Social Media Plugins
by Alexandra Bateman on Oct 16, 2020
Discover the top 8 social share plugins for WordPress. Learn about the types of social plugins, why they boost digital growth, and how you can pick one.
Social media sharing plugins, as the name suggests, allow you to easily share your WordPress website content to your social media channels. Like WordPress itself, these plugins are lines of code that don't require any technical knowledge to run. You can easily access them via the Administration Panel and configure their features.
The overwhelming number of plugins can make selecting the right plugin for your WordPress website a daunting task. To help you make the informed choice, we've compiled a list of the 8 best social media sharing plugins for WordPress.
In this guide, you'll learn about the:
Types of social media plugins for WordPress
Benefits of social media share buttons
How to choose a social media sharing plugin
Best social media sharing plugins
How to Choose a Social Media Sharing Plugin for WordPress
Before diving into our curated list of social media sharing plugins, let's discuss what you need to know when looking for social media sharing plugins for WordPress.
Functionality
Social media share plugins for WordPress come with a range of functions. Some focus only on a handful of social media channels, while others support more platforms than we can name. Some specialize in follow buttons, while others cover multiple social media widgets.
Which social networks do your site visitors use? For photography, fashion, and lifestyle websites, Instagram and Pinterest are probably the most important. Likewise, if you offer B2B marketing services, LinkedIn can do wonders. Choosing the right social media plugin largely depends on your target audience.
Page Speed
A Google analysis on page speed shows that more than half of site visitors are likely to leave a website if it takes more than three seconds to load. Page speed not only plays an important role in attracting and retaining visitors but also in SEO.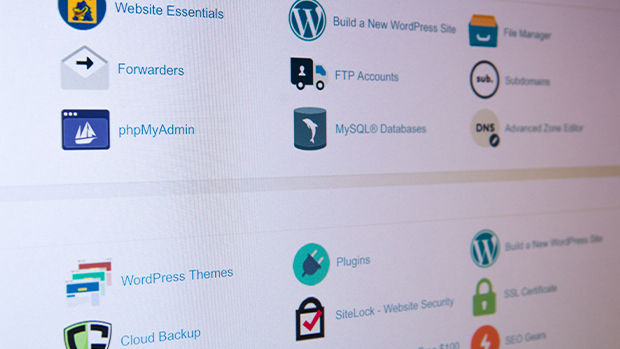 Due to additional scripts and stylesheets, WordPress plugins add a load to your website. Before choosing a social sharing plugin for WordPress, make sure that it doesn't affect page speed significantly. Adding fancy buttons with 50+ features that offer few real benefits will only degrade the user experience.
Want to know how to check the loading time of a plugin? Use a page speed analyzing tool to measure the page speed of your website before installing the plugin. Run it again after installing the plugin, and note the difference.
Repeat the process multiple times and calculate the average for the most accurate idea of how the plugin will impact your page speed. Usually, you can feel safe using the plugin if your speed difference is less than 100ms.
Design and Customization
Customization allows you to fine-tune your social share plugins to suit your theme and needs. Minimalist plugins are easier to configure but have limited customization options. More complex plugins offer a control panel that allows you to modify and set different features to determine how the buttons act and display on your website.
Features
At first glance, most social sharing plugins look the same. But when you look closer, you'll see that each has different features that meet different needs.
For example, many plugins allow you to hide the like and share count until you've reached a minimum threshold. Likewise, several plugins help you track social media traffic via their dashboard or through Google Analytics. You can then use that data to optimize your social media campaigns.
Some plugins are more feature-rich than others, but usually, they are also more expensive and may add more bloat. When choosing a plugin, ask yourself if you need all the features you're getting and whether it's worth the price.
Mobile compatibility
As more people turn to mobile browsing, the responsiveness of plugins is as essential as responsive websites. Although most top-rated social sharing plugins for WordPress are mobile-friendly, ask these questions before committing to one: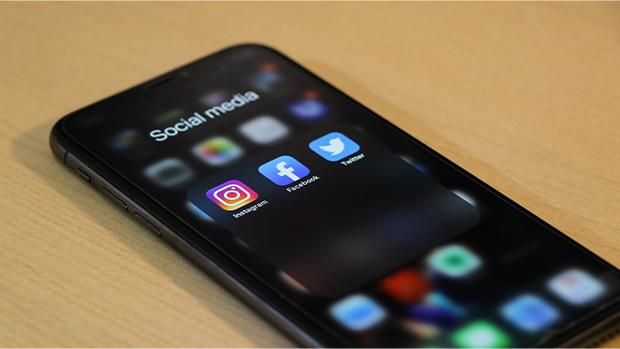 Do social sharing buttons appropriately resize themselves on each device? You don't want the buttons to take up a large space on smartphone displays.
Can you set the button placement on all devices?
Can you configure certain buttons to appear only on certain devices. For example, can you show a "Send on WhatsApp" button only on mobile devices?
Pricing
WordPress plugins have three pricing options: free, paid, and freemium. Most popular social sharing plugins have a freemium pricing model. As a result, you get limited features for free and have to pay for more advanced features, like analytics and customization. If a free plan fulfills your requirements, go for it.
Now that we have mentioned what you should look for in a social sharing plugin, let's look at some of the best choices in the market.
Best Social Media Sharing Plugins for WordPress
1. Monarch Social Sharing Plugin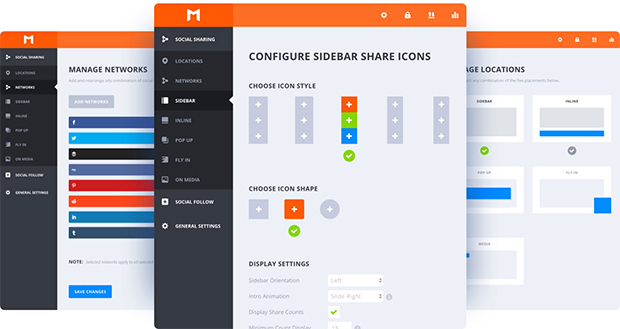 Monarch is developed by Elegant Themes, which also built the popular Divi Themes. It supports more than 35 social media networks, which is more than enough for most businesses.
With Monarch, you can even share images and other media files — a feature absent in many social sharing plugins. This is particularly useful for photographers and designers who post media-rich content.
Customization is one of the main selling points of Monarch. Not only can you change the buttons visually to match your theme, but you can also place them flexibly. You have the option to display the buttons above or below the post, and on images, videos, sidebars, pop-ups, and fly-ins.
To purchase this plugin, you first need to purchase an Elegant Themes membership. This makes it relatively expensive, but there's a brighter side. Apart from Monarch, you also get access to list building plugins, page builder plugins, and tons of attractive WordPress themes.
| | |
| --- | --- |
| Pros | Cons |
| Wide range of social media networks and features | Pricier, if you don't use or plan to use Elegant Themes |
| Easy to install and use | Share count can be inconsistent at times |
| Image sharing plugin | |
| Responsive | |
| 5 different placement options, including fly-ins and pop-ups | |
2. Novashare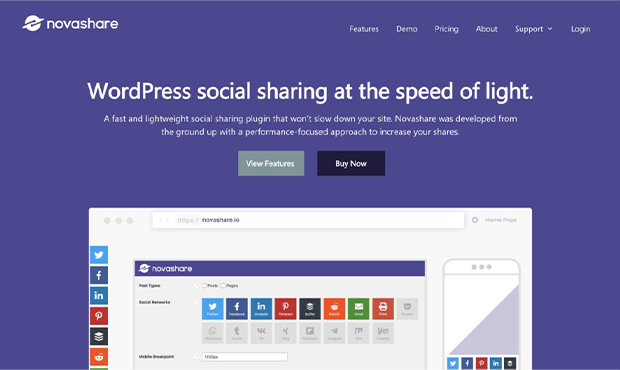 Novashare blends high-performance with exciting features. This explains why it has taken a sizable chunk of the social media plugin market share since its launch in May 2020.
Instead of third-party libraries, Novashare uses SVG media icons and has only two front-end requests. So, it adds a mere 6kb load to your website, making it faster than many competing plugins.
If you're used to working on WordPress, you will find Novashare's interface familiar right from the beginning thanks to its native WordPress style. That makes it easy to customize the shape, size, alignment, color, and placement of buttons, even if you're not tech-savvy.
If you're data-driven, you have more reasons to choose Novashare. With it, you can use Google Analytics and configure UTM parameters to analyze traffic from different social media sources. It also offers share count recovery, which shows your combined share count from all domains. This is particularly useful if you've migrated to a new domain or changed protocols or permalinks.
| | |
| --- | --- |
| Pros | Cons |
| Light and fast | No free plan. Paid option is one of the priciest |
| Supports 15+ social media platforms | |
| User-friendly | |
| Custom design options to match your branding | |
| Share Count Recovery feature | |
| No cookies or trackers | |
3. Easy Social Share Buttons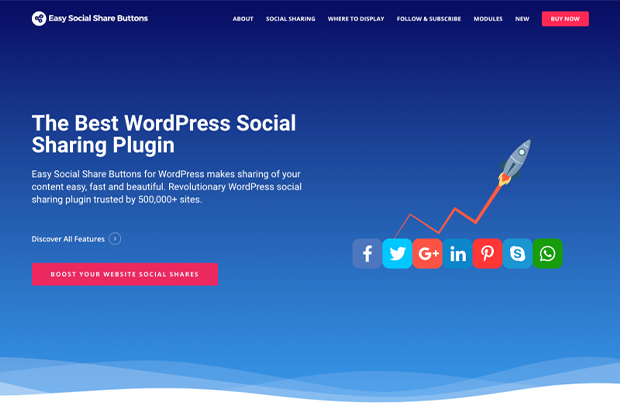 Easy Social Share Buttons (ESSB) is the number one selling social media plugin for WordPress. It contains enormous design options and one of the largest selections of social networks. The 55 ready-to-use templates allow you to match the appearance of buttons to almost any design. In addition to the traditional static buttons, ESSP also boasts more than 30 animations.
The use-cases of ESSP extend to social buttons in pop-up windows, widgets, and integration into various elements of the site. You can take advantage of split testing to determine the most effective block design. The plugin is compatible with any mainstream theme and offers more detailed customization with its Visual Composer.
Despite being loaded with tons of features, the buttons are programmed in a way that doesn't slow the page down. ESSB is not free, but if you're a power-user, it might be worth the investment.
| | |
| --- | --- |
| Pros | Cons |
| A wide range of features and customization options | Takes some time to get used to all the functions |
| Extensive design and animation elements | Excessive features for someone with simpler needs |
| GDPR compliant | |
| Like and share count | |
| Avoids negative social proof | |
| Built-in social metrics | |
4. Social Locker for WordPress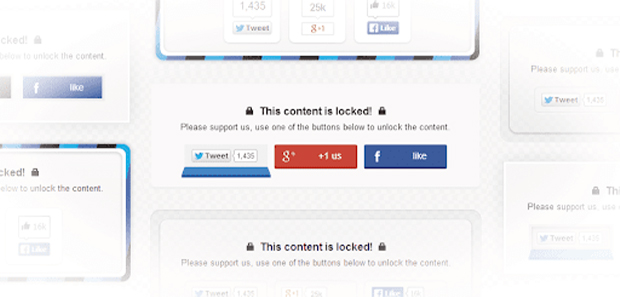 Social Locker is a plugin that works on the principles of quid pro quo. With Social Locker, you can hide valuable parts of your site content behind social sharing buttons that unlock when the user likes, shares, or tweet it. Using this plugin helps boost your engagement rate and social media following because it essentially forces your users to take action.
Social Locker supports major social networks such as Facebook, Google, Twitter, LinkedIn, and Youtube and lets you customize your button with either blur, transparency or hidden overlays.
If you choose to use Social Locker, we recommend offering multiple social media options to unlock your content along the page, because everyone's favorite social media is different.
Additional features of Social Locker include sign-in options to unlock restricted content and built-in analytics to measure user behavior. Use it to lock:
Valuable sections of blog posts
Free trials
Video tutorials
Cheatsheets
Ebooks
Coupons and promotional codes
Although content lockers could be the best performing social share plugins when it comes to click-through rates, they are also more likely to backfire. A roadblock in your content breaks the users' attention and might drive them away from your website. It usually happens when they don't feel the hidden value is worth their like or share, so use this plugin cautiously.
| | |
| --- | --- |
| Pros | Cons |
| Faster social media follower growth | Might drive away website visitors |
| Higher social media engagement and extended organic reach | Seems pushy |
| Lead generation through the sign-in option | |
| Relatively easy to use and configure | |
5. Revive Old Posts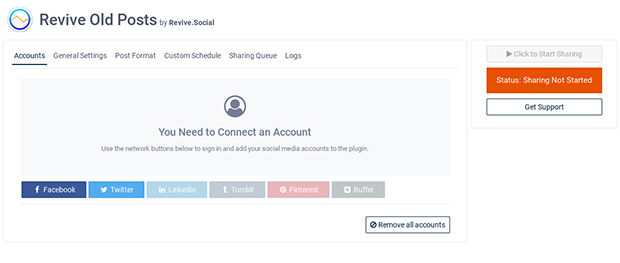 Revive Old Posts does exactly what its name says — it takes old posts published on your website and automatically shares them to your social media channels. Often, your newer posts overshadow the older ones, which get buried and receive fewer and fewer views. This plugin allows you to use repackage your existing content with new hashtags, mentions, and custom texts, and share them as fresh posts.
Even if you shared a post earlier, you can take advantage of people's short digital memories. Revive Old Posts comes in handy when you create an account on a new social media platform and want to share all your posts from the beginning. Currently, it supports Facebook, LinkedIn, Tumblr, and Twitter.
Usually, traffic dries up a short period after you share a post. Sharing old posts to your social media network brings back the traffic, giving it a new life. Your content may even get more exposure than the time it was first published. The best thing about this plugin is you can set it up on autopilot right from the WordPress dashboard.
| | |
| --- | --- |
| Pros | Cons |
| Use existing content on social media more than once | No share buttons |
| Traffic to older posts | |
| Automated process | |
| Google Analytics integration | |
6. Better Click to Tweet

Click to Tweet is a simple yet effective plugin, which enables you to add interesting quotes, sayings, or short news to your content. With this plugin, you can create visual spots that catch the eye and allow your visitors to tweet your content with one click.
This plugin works wonders if your target audience uses Twitter extensively. Additional features include URL shortening, changing anchor text, making links nofollow, changing Twitter usernames, and more.
Installation Click to Tweet is simple. The plugin inserts tweet boxes via a shortcode or directly via the WordPress text editor. You can define a short sentence that will represent the content of the tweet. Then the plugin will automatically add your Twitter name and the link to the blog post.
Although the free option works perfectly well, you can purchase the premium styles for more design options.
Tip: Include hashtags directly in the sentence or append them to the sentence. Hashtags can provide more attention and reach on Twitter.
| | |
| --- | --- |
| Pros | Cons |
| Creates share-worthy tweets | Requires separate plugin to share to social networks other than Twitter |
| Simple, clean, and efficient | |
| Core functions are free | |
7. Social Warfare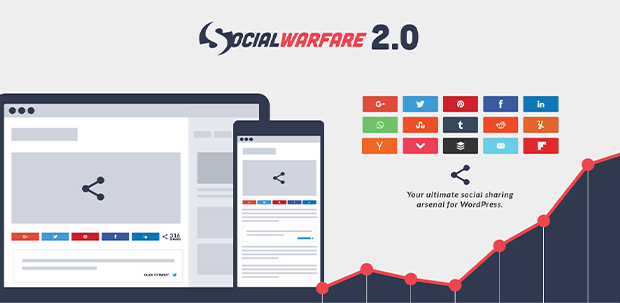 With over 100,000 downloads, Social Warfare offers elegant and responsive social media buttons with minimal effect on your page speed.
An easy-to-use dashboard allows you to add the buttons above or below the posts or via shortcodes, floating bars, and counters. The premium option, which costs $29 per year, offers more networks, hover pin buttons for Pinterest, click-to-tweet Twitter cards, and customizable social media templates.
Like Novashare, Social Warfare also supports share count recovery and UTM tracking to analyze social media data. Frame Buster is a feature unique to Social Warfare that stops third-party applications from sharing your content with their call-to-actions. Also, you can use a social media widget to feature your most popular social posts on your website.
| | |
| --- | --- |
| Pros | Cons |
| Visually impressive buttons | Paid plan requires recurring payments |
| 5000+ style combinations | |
| Click-to-tweet cards and direct image share to Pinterest | |
| Avoids negative social proof | |
| Share Count Recovery feature | |
| Google Analytics integration, in-built link shortener, and UTM tracking | |
8. Jetpack
Unlike other plugins we mentioned above, Jetpack not only allows social sharing but offers more than 30 features that you can individually turn on and off.
Website statistics function provides a simple overview of the page views, most popular posts, clicked links, and keywords that draw visitors to the website. Although the data is not as detailed as what you'll find in Google Analytics, you can view it directly from the WordPress dashboard.
With the Similar Posts function, you can keep your visitors on the website longer by displaying previews of additional content at the end of your posts. After reaching the end of the post, many readers might get attracted by another topic and continue reading.
Jetpack not only allows you to use beautiful, customizable buttons, also automatically shares new posts on social networks such as Facebook, Twitter, LinkedIn, and Tumblr. Its security feature blocks IP addresses that use automated processes to attempt to crack passwords.
If you plan to use its other features as well, you can replace multiple plugins with one, giving you even more reasons to download and install it.
| | |
| --- | --- |
| Pros | Cons |
| All-in-one plugin eliminating the need for multiple tools | Additional features might slow down your site |
| Custom social sharing buttons support all major social networks | Relatively difficult to navigate for a newbie due to numerous menus and submenus |
| Brute-force protection, backup solutions, and website uptime monitor | Privacy concerns since it shares data with WordPress.com |
| Video hosting and lazy loading images | |
| Regular updates and patches | |
Types of social sharing buttons and plugins for WordPress
Different social media sharing buttons on your WordPress site allow you to achieve different goals. Here are some of the most common purposes social media plugins serve:
Sharing content from your website to social media accounts
Sharing social feed to your website
Linking your social media pages to your website to increase followers
Commenting through a social comment box and connecting the comment section of your website with social media
Signing in to your website through social login
Automating posting of website content to your social media
Locking certain parts of your content and unlocking these through social like, share, or follow
Let's go deeper into the types of social media buttons for Facebook, Twitter, and Pinterest.
Facebook Buttons and Plugins for WordPress
Facebook "like" button: Users can approve your website content through Facebook seamlessly without visiting Facebook. The liked content appears on their timeline, and their friends' news feeds.
Facebook "share" button: Visitors can share web content not only to their timelines but also to groups and direct messages. They can also add a comment with the link, which is not possible with the like button.
Facebook page plugin: You can add a snippet of your Facebook page to your website. It occupies a larger space and can accommodate both the like and share button.
Facebook comments plugin: It's cumbersome for users to sign up just to add a comment on your blog post. Facebook comments plugin reduces friction and encourages users to engage more.
Besides, Facebook pages get over five billion comments each month. People love engaging on Facebook, and they are more likely to comment through a Facebook comment box than by other means.
Facebook quote plugin: Unlike the share button, which shares a whole post or page, the Facebook quote plugin allows users to share a specific part of your blog post to their timeline.
Twitter Buttons for WordPress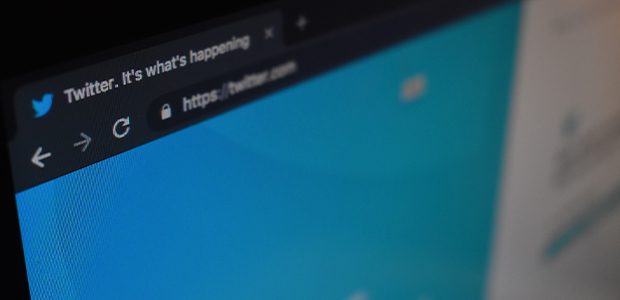 Twitter follow button: Users can follow you on Twitter through your WordPress website with one click. If you have decent traffic to your website, this is one of the best ways to increase your Twitter followers.
Tweet button: Similar to the Facebook share button, the Tweet button allows users to share your blog posts and pages to their Twitter account.
Twitter hashtag button: It is particularly useful when you're running an event, offer, contest, or a social media campaign.
Twitter mention button: Many people prefer reaching out to businesses via Twitter rather than the website contact form. With the Twitter mention button, they are just a click away from communicating with you. Place the button next to the contact information on your WordPress website.
Twitter message button: The message button has the same use-case as the mention button, except that the message is delivered in the private inbox rather than as a tweet.
Pinterest Buttons for WordPress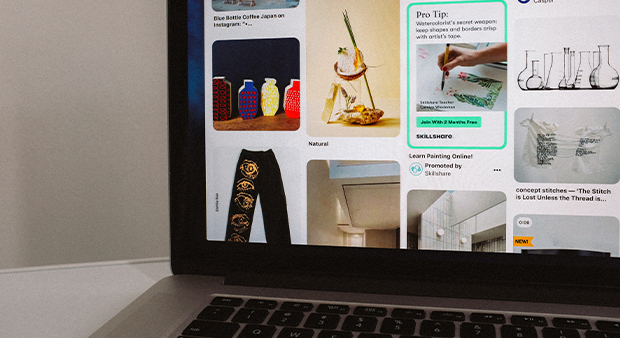 Pin it button: "Pin it" button is one of the most used social media sharing buttons on WordPress. Pinterest is based upon the idea of finding interesting pieces of content from all over the internet and saving (or pinning) them to their designated boards.
Pinterest is primarily a visual content platform, so include the button near each visual content on your website, such as photos, infographics, and animations. You can also add a "Pin it" button on the featured image of your blog posts.
Pinterest follow button: Like other social media sites, Pinterest follow button allows users to quickly and easily follow you on Pinterest.
How many social plugins should you use in WordPress?
This question has no definite answer. Each plugin adds lines of code to your webpage, which increases the loading time. Usually, this difference is marginal.
However, poorly coded plugins can make the reduced page speed more noticeable. So it's likely that 40 well-coded plugins won't affect your WordPress website much, while one poorly-coded plugin will. The number of social plugins doesn't matter much, but the sizes of the plugins do.
When opting for social sharing plugins for WordPress, try to limit the plugins to a minimum. For example, instead of installing two separate plugins to click-to-tweet and share on Facebook, install one that includes both features.
Benefits of social media sharing plugins for WordPress
How can social media plugins help your WordPress website and social media channels grow? How does it benefit you in the long run? Let's find out.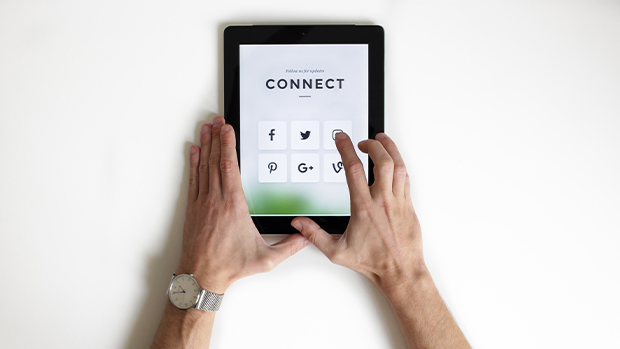 Users share your content more often
Social share plugins lower the barrier for users to share your content on their social networks. With less friction, more users are likely to share your content and indirectly recommend your product, service, or blog.
Social media sharing buttons also reminds the users that your content is worth sharing.
More followers on your social media
Social media follow buttons help you direct your website visitors to your social media channels. This way, you don't lose touch with one-time visitors. Through consistent social media content, you can nurture your visitors and turn them into your fans or customers.
We recommend putting the "follow buttons" on your footer, sidebar, and "About Us" and "Contact" pages.
Increased traffic to your website
Social media share buttons give your WordPress website visibility when someone shares your content with their social media connections.
If people share your content extensively, it would get more impressions on social media. More impressions would likely result in more visitors to your website. And the cycle continues.
With highly-relevant content and the right social media strategy, you can reach new audiences using social media share plugins. Ideally, you should include the share buttons under each piece of content.
Improved search results
As you attract more visitors to your website through social media, you will increase traffic and improve your website's SEO metrics.
Search engines now factor links from social media to your website in their algorithms to rank web pages. So, the more your website content is shared, liked, pinned, and tweeted on social media, the higher your chances to climb up in search rankings.
Builds authority and trust
You can't underestimate the psychological impact of numbers and the power of social proof. Most plugins have the option to show the number of times a piece of content is liked, shared, or tweeted.
Suppose an article has 100 likes. Confirmation bias and herd mentality kick in, and many readers find it more interesting and useful because their peers have shared it repeatedly.
Remember, social proof also works the other way around. So if you've just published a post, hide the numbers until you have more sizable metrics.
Better user experience
Modern websites keep their users at the forefront, which means making navigation as simple as possible. Social share buttons enable cross-platform interactions and make it easy for users to share your website content.
How do you add social media links to WordPress without plugins?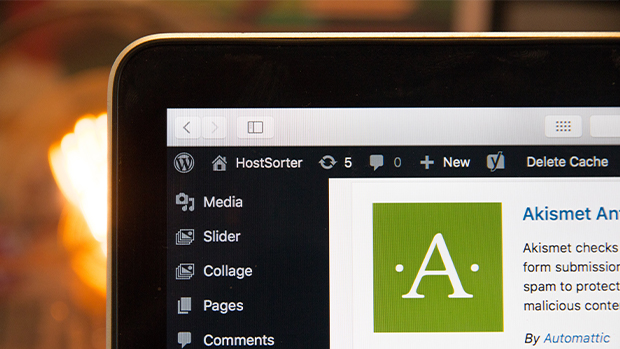 Some people don't favor using social media plugins on their websites. It's understandable, because many people run websites that are already equipped with a bunch of plugins. They worry that more plugins will slow down their site or introduce security issues.
If that sounds like you, try connecting your social media networks with your WordPress website using one of these three methods:
Anchor text or linked icons: You can link text or social share icons to your respective social media platforms, and place these throughout your site. Although it is probably the simplest way to direct your visitors to your social media network, it's not the most versatile. You miss out on many functions such as the like and share count, automated sharing, and Google Analytics integration.

Generate codes: Social networks allow you to generate specific codes on their developer page. For example, you can visit https://publish.twitter.com/# and https://developers.facebook.com/docs/plugins to choose the button you want to configure. Just generate the code by entering your website URL, and specify your design preferences. Then copy the code and paste it to place the button onto your website.

Third-party external scripts: Several tools such as AddToAny allows you to choose the buttons you want to add, customize their design, and generate the code. You can then paste that shortcode to your website. However, this method has several downsides: You're dependent on an external script, and you get fewer design and customization options than with social sharing plugins.
Conclusion
Social sharing plugins might not be the most important thing on your website, but it's a cog in the wheel of your business that can help steadily grow your online presence. Over the long-run, these smaller steps can have a compounding effect.
We hope that this article on the best social share plugins for WordPress helped you choose the one that's the right fit for you. Now you know what to look for in a social share plugin so that you can narrow down your choices.
If you find this article helpful, follow us on Facebook and Twitter for more WordPress guides.
Using WordPress and want to get Envira Gallery free?
Envira Gallery helps photographers create beautiful photo and video galleries in just a few clicks so that they can showcase and sell their work.