9 Tools to Create Better Images for Blog Posts & Social Media
by [email protected] on Jul 18, 2020
Do you want to create stunning images for your blog and social media posts? Using the right images for your blogs and social media posts is crucial to cultivating an online community. And the great part is, you don't have to be a designer to create beautiful images in a matter of minutes. In this article, we'll share tools you can use to get better images on your blog posts and social media accounts.
You may be able to find a stock photo that works alright as-is for your blog or social media posts, but it will rarely be as good as a custom-made graphic. In some cases, you might not be able to find any stock photos at all!
Making custom graphics for your website makes this process less problematic. Rather than sorting through tons of free stock photos or having to pay for a decent one, you can be in control of these situations with these tools.
There are several great professional image editing tools, like Adobe Photoshop or GIMP, but these tools have a pretty steep learning curve. If you aren't a designer but you want to create quality, customized images in just a few minutes, you'll need a simpler tool.
It's not a cop out to use a simpler software than Photoshop. You need something that can handle your editing job quickly, so don't pour hours into Photoshop when other tools have similar results.
Lets take a look at nine simple, easy and fast image creation tools.
1. Visage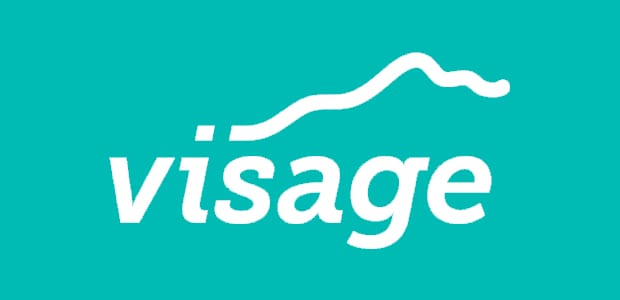 Visage is the best free design tool for creating images for your articles, social media and more.
They provide a large library of free images for you to start with, and you can even input data to create infographics with this tool. All you have to do to get started with Visage is enter your email to set up a free account and start creating striking images.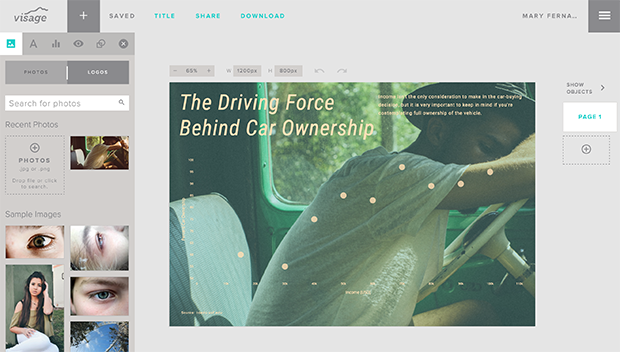 Additionally, Visage has a lot of the tools you'll need to create landing and home page graphics for your website.
2. Canva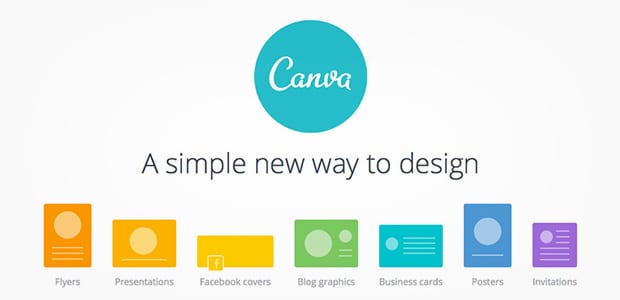 Canva has some great features for creating social media and website images including built-in templates, size selection for multiple social media channels, stylish fonts, and more. Simply select from one of their design types, or select "Use custom dimensions" to start from scratch.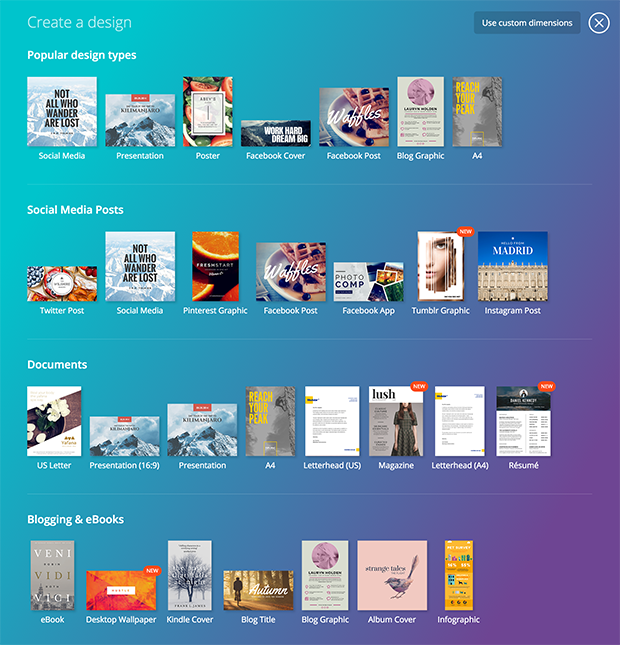 A lot of websites use Canva's designs, so look for inspiration in how others use them. But, be careful not to copy another website's style, especially one in your domain. Be creative and yourself, and make full use of all the customization available from Canva.
3. Pablo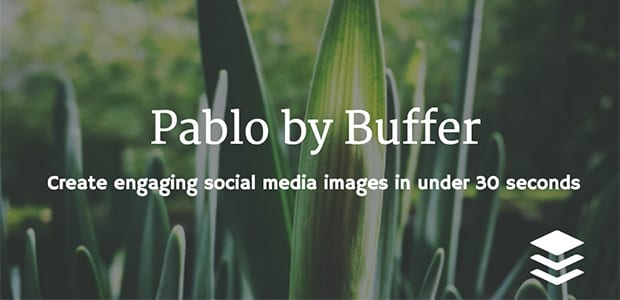 Pablo has a searchable library of over 50,000 royalty-free photos and an amazing font selection to choose from for your images. You can upload your own assets, like background images, logos or graphics, and you can even add quotes from their library in a single click.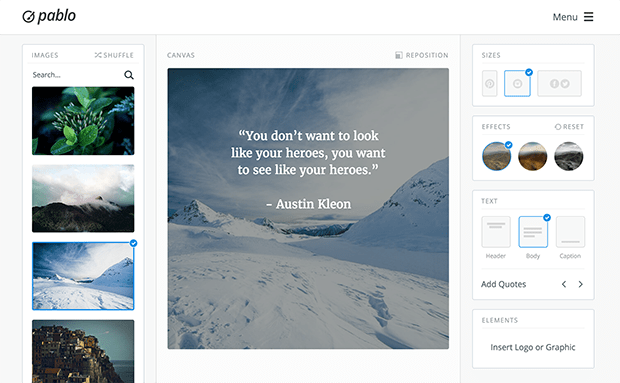 With a little bit of know-how, you can even use other fonts that aren't available on Pablo by using vector files. This means that you have basically an unlimited ability to add on top of the impressive selection of images that Buffer provides in Pablo.
4. Piktochart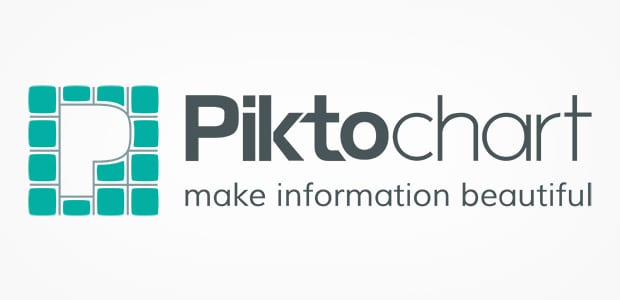 Piktochart can create beautiful infographics, presentations, posters, and reports.
Simply select one from the many pre-built templates or create your own and add charts, texts, icons, and more to your images.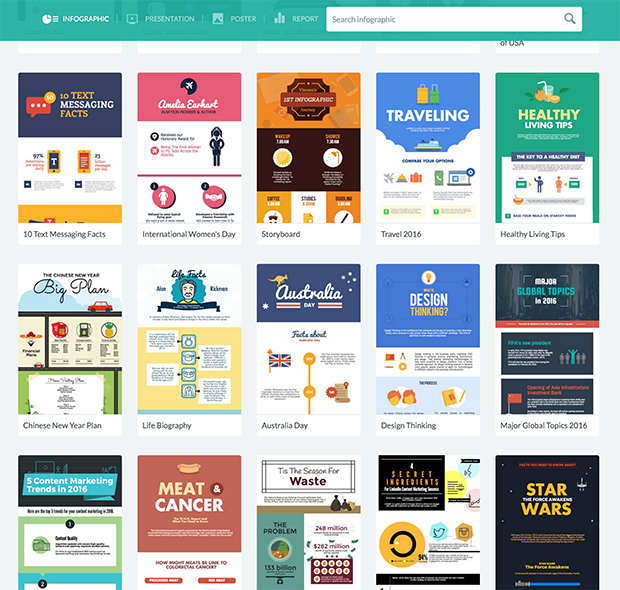 Piktochart is especially useful for those looking to add in a certain amount of professionalism to some areas of the website. While many of the graphics they offer are more fun or creative, they have added a lot of modern, minimalist, or professional designs. Use those for a sleeker, cooler appearance on your website and social media pages.
5. Skitch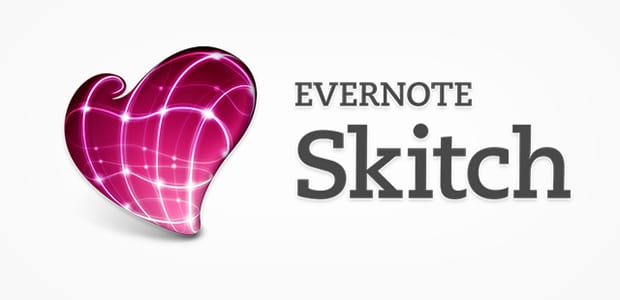 Skitch is a quick and easy way to edit and add notes to your photos. You can add an arrow, blur an area in your photo, add text and highlights, crop, and more. You can even take screenshots using Skitch and quickly edit them for your articles.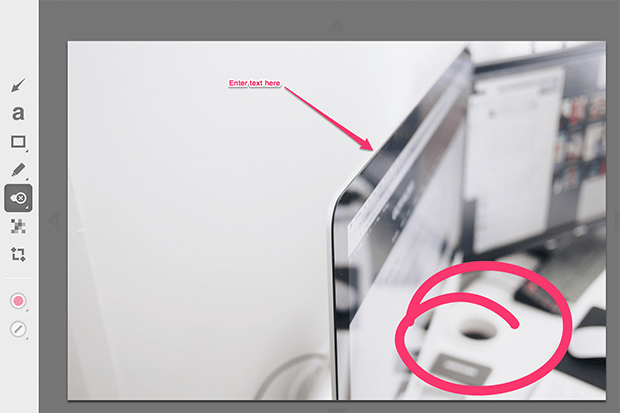 Evernote's Skitch also allows you to make quick graphics that are perfect for blog posts. If you find your website tends to work in a shorter and more frequent article format, Skitch might be the right solution for you.
6. Infogr.am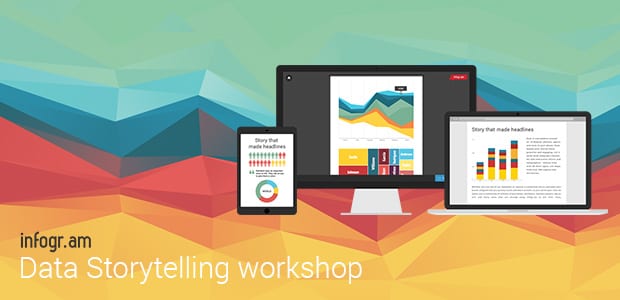 Infogr.am is the best tool for quickly creating complex infographics with multiple features. You can create interactive visualizations to make your graphics even more engaging. They're responsive too, so they'll display beautifully across all devices.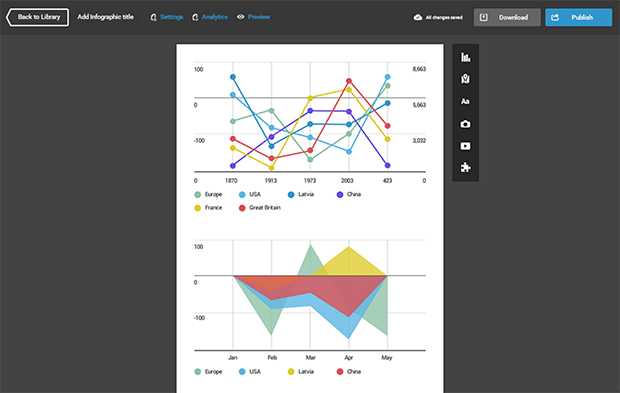 You can even connect live sources of data, so your infographics are updated in real time.
7. Pixteller's Graphic Maker
Pixteller's Graphic Maker allows you to easily design graphics for use on social media.
While they primarily cater to people creating graphics for websites like Facebook and Twitter and for marketing material, Pixteller's Graphic Maker can also help you create images for your website. Custom sharecards are a must, as are high quality vertical graphics.
As mobile website views continue to rise in popularity, vertical images can be particularly striking. Take advantage of that with some of the great modern graphics you can create on Pixteller's Graphic Maker.
8. Pixlr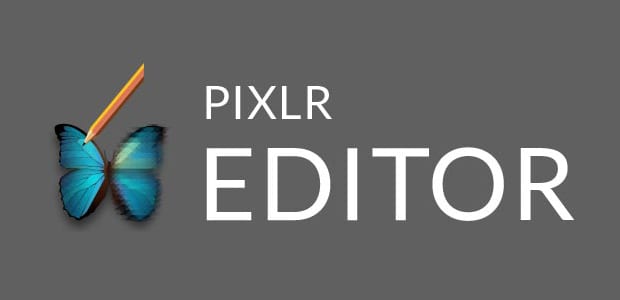 Pixlr is a robust online image editing tool that works as a basic version of Photoshop. Because it lacks some of Photoshop's more professional features, it's much easier to use and just as powerful for creating simple web and social media images.
Some of the features include brushes and tools, layers, adjustments, filters, borders, fonts, shapes, and more. Pixlr is extremely versatile, and completely free to use.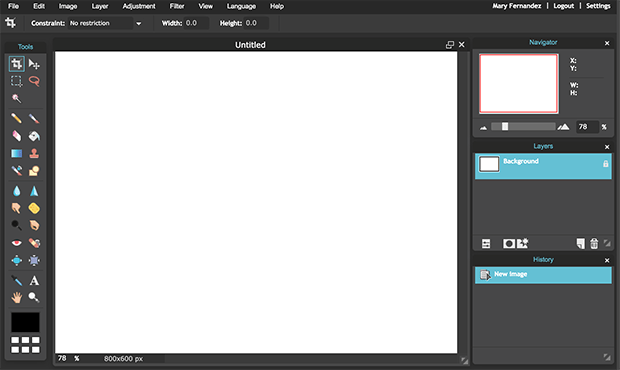 Additionally, you can find plenty of online resources to help you navigate Pixlr, should you need any assistance.
If you're convinced that you need to create all-out custom graphics for your website, load up some photos and work some Pixlr magic.
9. Smush.it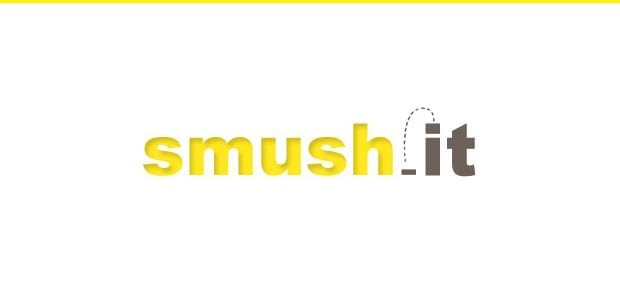 Smush.it is a high-quality image compression tool that helps you optimize your photos for the web so you can increase your website's loading speed.
This tool maintains the quality of your image, and it won't change the dimensions of the photo. That's why Smush.it is a great tool for optimizing your blog post and social media images.
Because most visitors to your social media or web pages won't have the ability to load lots of images quickly, you want your image files to be as small as possible, without losing quality.
If your website tends to have a lot of images or graphics per page, consider using Smush.it to apply some minor compression with almost no impact on image quality. This will make your customers, and their internet, much happier!
We hope this article has helped you to find some amazing tools for creating better images for blog posts & social media. You may also want to check out our guide on 9 best free image optimization tools for image compression.
If you liked this article, then follow us on Facebook and Twitter for more free photography tips.
Using WordPress and want to get Envira Gallery free?
Envira Gallery helps photographers create beautiful photo and video galleries in just a few clicks so that they can showcase and sell their work.