9 Best Free Image Optimization Tools for Image Compression
by Jonathan John on Oct 14, 2015
If there's one way to slow down your site, it's by uploading all images to your galleries without compressing them.
You see, most gallery images tend to be very sizeable prior to compression. As a result, whenever you insert a gallery into a page, the size of the page will increase significantly, which in turn will cause load times to balloon.
And that is definitely not good. In fact, research shows that for every additional second a website takes to load, the site will see a 7% decrease in conversions. Furthermore, 47% of web users expect a site to load in just two seconds, and 40% won't wait more than three seconds for a page to load; they'll just abandon it altogether (Akamai).
So clearly, fast website speeds are crucial to any website. Start increasing your load speed today by using any one of the below 9 tools to optimize your images.
1. Tiny PNG
Tiny PNG is my go-to image optimization tool of choice. Despite the name, Tiny PNG will support compression of both .jpeg and .png image files.
You can bulk upload images with drag and drop (up to 20 at a time, 5 MB max each). Each image can be downloaded straight to your computer or saved to a Dropbox account.
Results: 660 KB to 236 KB (minus 64%)
2. Compressor.io
Compressor.io is another one of my favorite image size optimization tools for one very good reason: it allows you to choose between lossy (picture quality reduction) and lossless (same picture quality) compression. Lossless compression, however, is limited to JPG and PNG images, and the file savings are also typically very small.
Still, the option is available should you want it, and it's one that none of the other tools offer, save one. So if you often have to use both lossy and lossless compression then Compressor.io is probably the way to go.
It doesn't allow you to bulk upload images, though, and the single file sizes are limited to 10 MB.
Results (lossy): 660 KB to 370 KB (minus 44%)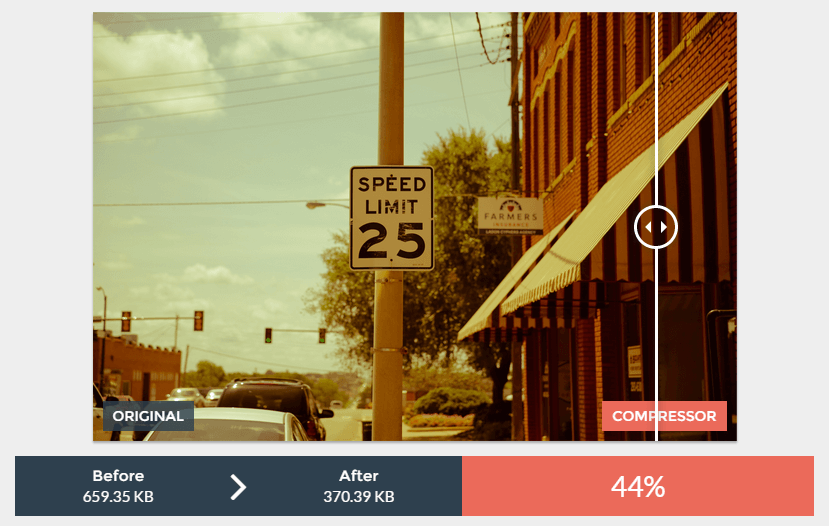 Results (lossless): 3.38 MB to 3.35 MB (minus 1%)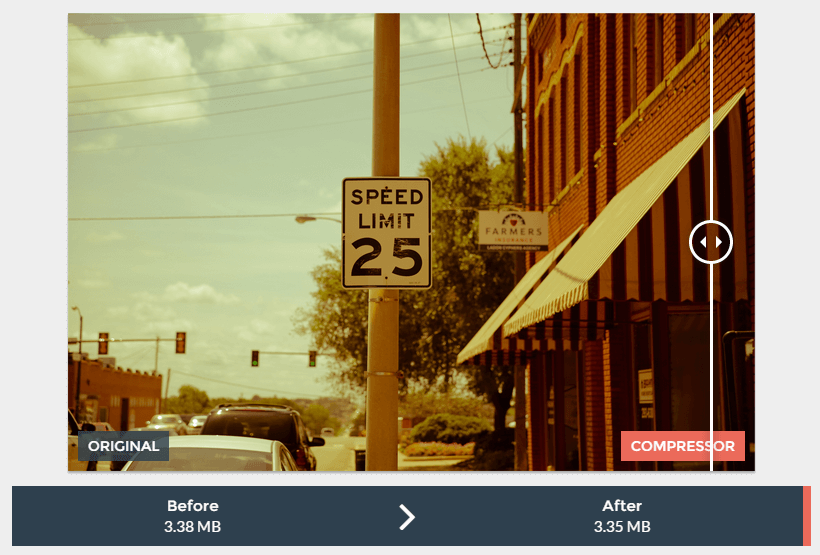 3. JPEG Optimizer
JPEG Optimizer does really well at decreasing file size, but unfortunately the compressed image's quality is noticeably lower than the original's. Furthermore, the interface only allows you to upload and compress one image at a time, which makes it unfeasible for bulk image compression.
Result: 644 KB to 16.7 KB (minus 97.4%)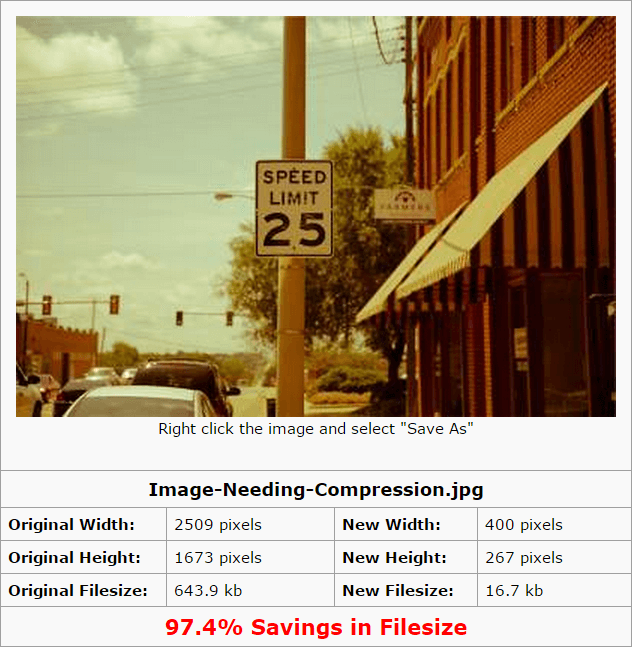 4. Optimizilla
Optimizilla is a cool image compression tool that allows you to quickly and easily compress .jpeg and .png image files.
Bulk compression is possible, as you can upload up to 20 images at a time. Furthermore, once the images have been compressed, you can choose to download them either separately, or together in a ZIP archive.
Result: : 644 KB to 424 KB (minus 34%)

One of Optimizilla's coolest features is its ability to control the quality reduction. You can use a convenient slider to indicate how much you want the quality to be reduced by on a scale of 1-100. The slider will also preview the compressed image for you in real-time so you can judge whether or not it has enough quality.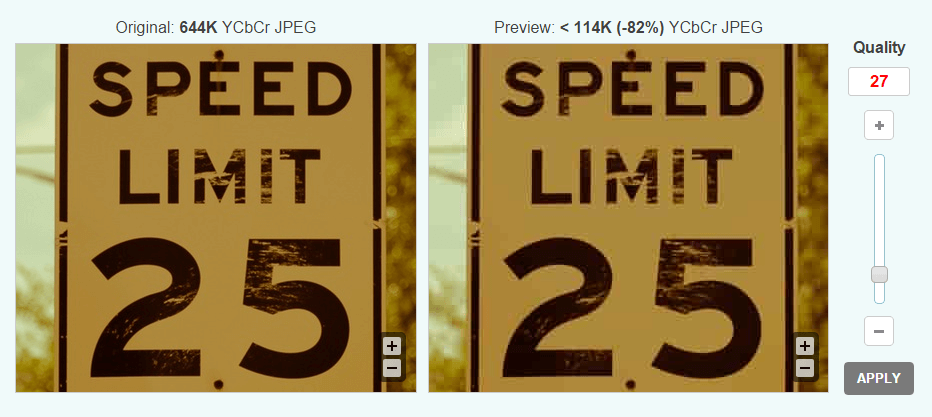 5. Kraken.io
Kraken is another convenient image optimization tool. It comes with a feature similar to Compressor.io — it allows you to choose between lossy and lossless compression.
You can upload an unlimited number of images, although each image file must be 1 MB or less in size. Kraken also has a pro option for heavy-duty users, which unlocks image resizing, multiple image sources, save to dropbox, and unlimited image file sizes.
Like Optimizilla, you have a bulk upload option and you can also choose to download each compressed image separately or in a ZIP archive.
Result (lossy): 644 KB to 580 KB (minus 10%)
Result (lossless): 644 KB to 647 KB (minus 1%)

6. Ranking Easy Online Image Optimizer
Ranking Easy is a unique image optimizer; even though the interface is a little unpleasant and the site layout doesn't look very nice, it comes with a unique feature.
You see, as soon as you upload an image, Ranking Easy will compress the image at seven different qualities from a scale of 1-100 (it compresses to 70, 60, 50, 40, 30, 20, and 10).
Thus, for each quality level you can see what the image looks like and what your file size savings are, allowing you to make a better choice for whatever fits your gallery. Unfortunately, the tool also inserts each image directly on the page at whatever its original size may be. So if you have an image that's wider than your screen, you'll have to zoom out to get a good idea of the quality.
Result (quality at 70): 644 KB to 300 KB (minus 55%)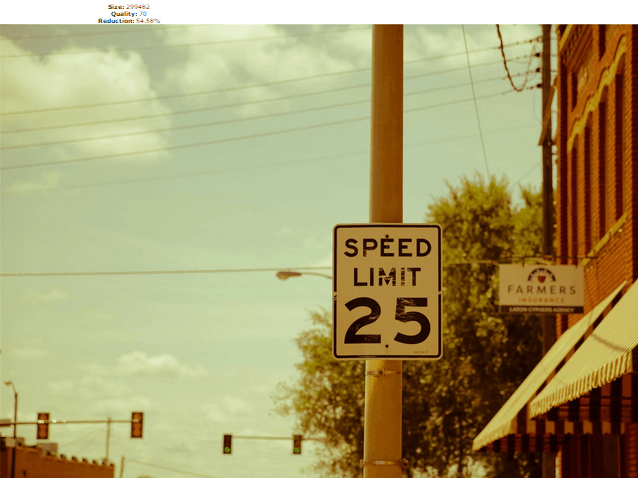 7. Resize Photos
Resize Photos is a well-featured image compression tool that allows for some pretty remarkable file size savings.
Before compressing, you can set the width of the optimized image and select the desired quality level from 1-100, in increments of 5.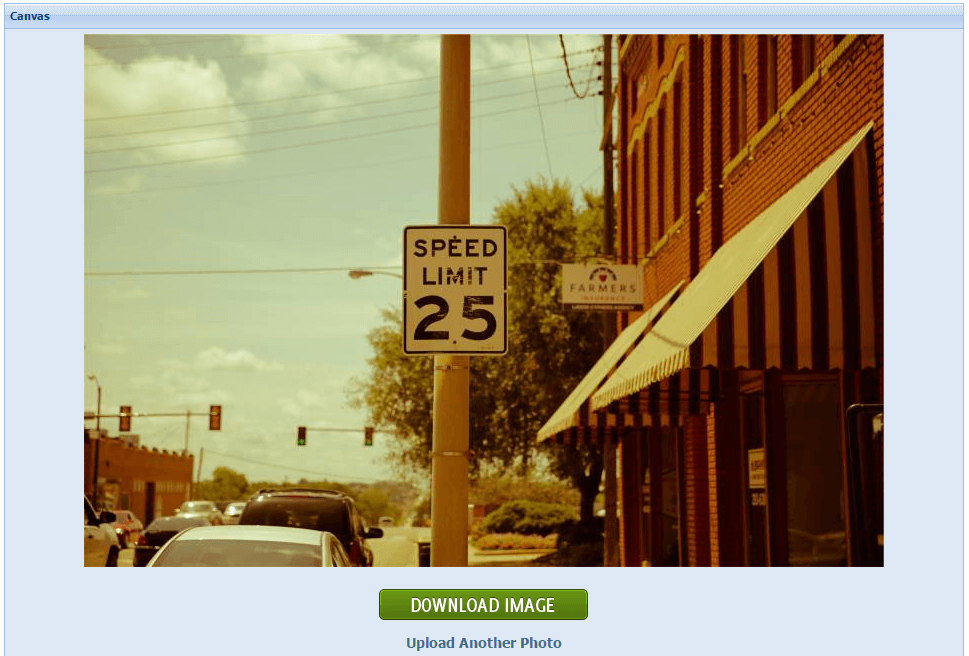 Result (quality at 70): 644 KB to 54 KB (minus 92%)

8. Compress Photos
Compress Photos is a very simple tool that optimizes your images very well. Although you don't have any extra features like custom width or quality control, you can bulk upload and compress an unlimited number of .jpeg or .png at once.
Result: 3.2 MB to 330 KB (minus 90%)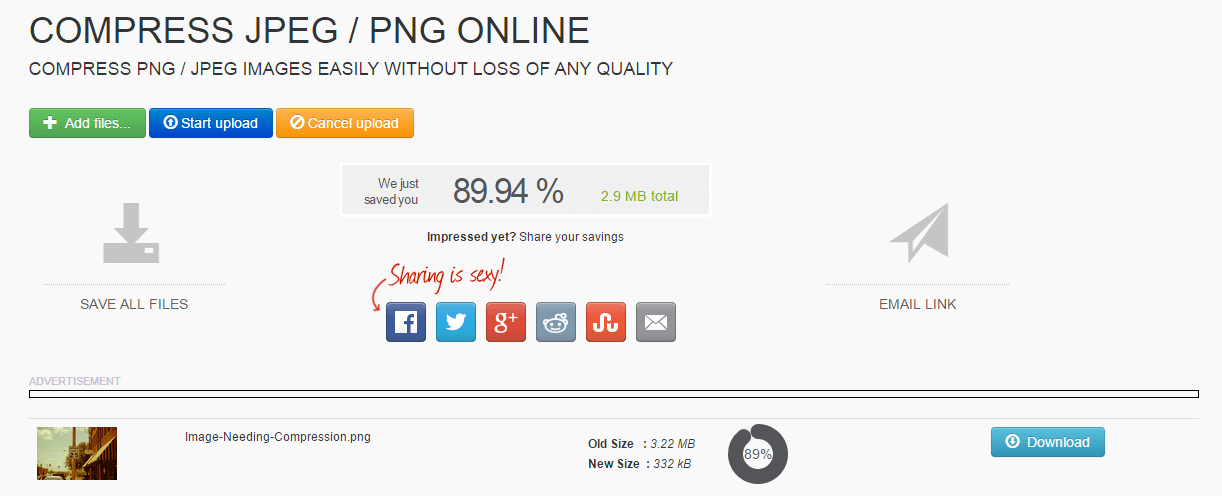 9. Convert Image
Convert Image is a highly functional .jpeg compressor with a very simple, step-by-step process. Just upload your image, choose your compression level (anywhere from 1-100 — you can preview a quality level before compressing to it), and download.
You can even convert your JPG image to a BMP, GIF, ICO, PCX, PDF, PNG, PSD, or TIF while you're at it. My only real complaint is that the UI for this tool looks quite cluttered.
Result: 644 KB to 324 KB (minus 50%)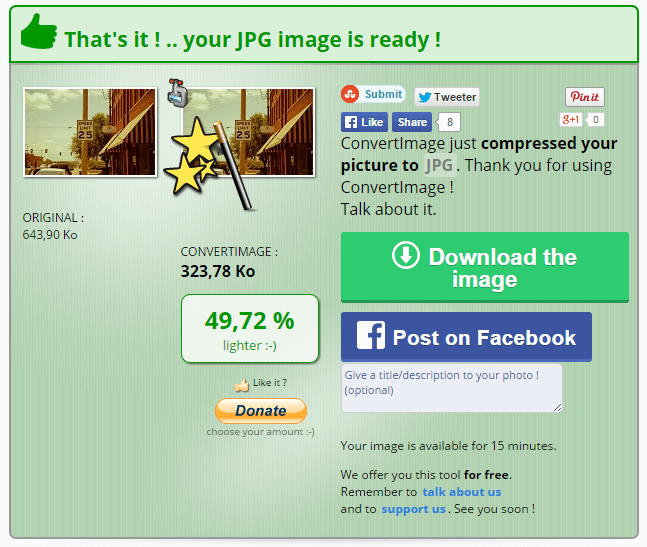 Over to You
Of the tools mentioned above, my personal favorite is TinyPNG. I love its combination of convenience and sizeable savings. It was the tool I used to compress the file sizes of each of the images in this very post.
However, your needs may be different from mine. Which of these tools do you plan to use to optimize the images in your galleries? Let us know in the comments below!