How to Paint Your Walls in Photoshop
by Waseem Abbas on Dec 20, 2018
Do you want to try out different colors on your walls, without touching a can of paint? Using Photoshop to virtually color your walls can help you to plan out your next remodel. In this article, we will show you how to paint your walls in Photoshop.
If you don't have it yet, you can get Photoshop from Adobe's site here.
Paint Your Walls Using Photoshop
First thing you need to do is open your image in Photoshop.
Next, make a selection on the walls from corner to corner. To create the selection, you can use any selection tool from the toolbar at the left side of your Photoshop screen. (We chose the Magic Wand Tool.)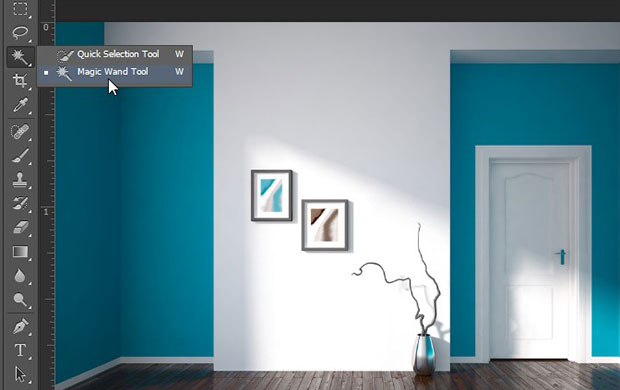 You may need to make a few adjustments to your selection until it is really accurate. With the Magic Wand Tool, we had to click again on the corners and around the edges of the blue colored portions of the wall until it was fully selected.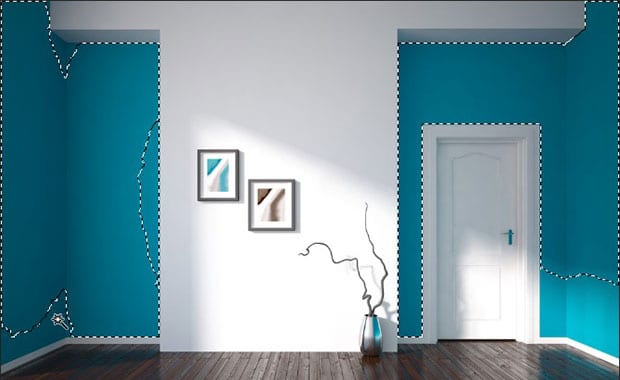 After creating the selection, simply go to Layer » New Adjustment Layer » Hue / Saturation to change the color of the walls.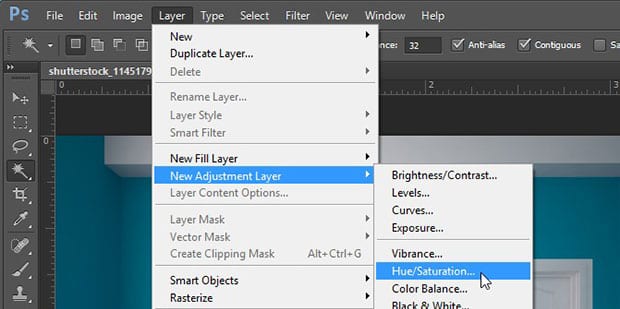 You'll need to move the sliders for Hue, Saturation, and Lightness, until you find the color you want. (Or, if you already know the color you want, select it first as your foreground color, and then check the "Colorize" box inside the Hue/Saturation window to match the color you selected.)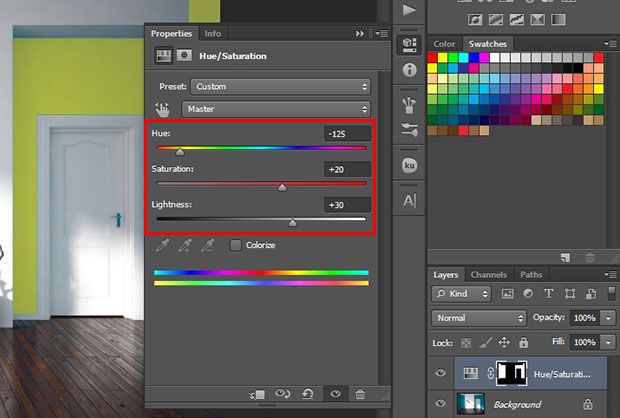 We chose a Yellow theme for the walls, so our Hue is set to -125. The Saturation is set to +20, and Lightness is set to +30.
That's all. Check out this before and after image below:

In this image, you can still see a shadow of Blue on the flower vase, the edges of the floor, and the edges of some of the white walls…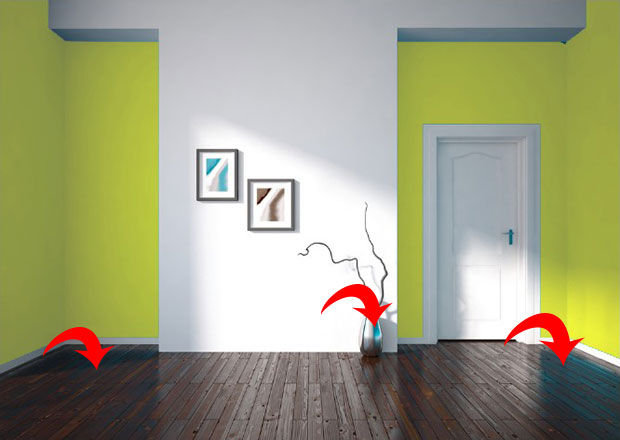 If you are working for a client and you need the result to look perfect, then you can select the areas where you see the shadow reflection of the color and repeat the same steps above to apply the Hue / Saturation settings you used on the wall.
We hope this article helped you to learn how to paint your walls in Photoshop. You may also want to check out our guide on how to make a portrait look like a paiting in Photoshop.
If you like this article, then please follow us on Facebook and Twitter for more free photo editing tutorials.
Using WordPress and want to get Envira Gallery free?
Envira Gallery helps photographers create beautiful photo and video galleries in just a few clicks so that they can showcase and sell their work.