Best WordPress Design Plugins for Photographers
by Gerald Jackson on Feb 12, 2021
There are thousands of WordPress website plugins available to help you perfect and customize the functionality and design of your WordPress website.
One of the latest and greatest forms of the plugin is the design plugin. These have been available for a while now, but as more WordPress users look to improve their site, plugin developers are expanding design elements to make WordPress customization easy.
Note, however, that "design" is a broad category. Design plugins can include actual page design, SEO optimization, image gallery design and optimization, and more.
In this article, we'll talk about the best WordPress design plugins available. That means the latest and greatest plugins covering page builders, SEO optimization, and image optimization — plus some!
That means that we will cover topics like:
What WordPress design plugins are, and what they do
The types of design plugins available
What the best design plugins are based on type
The pros and cons of using WordPress design plugins
What it means to use a responsive design plugin
What Does a WordPress Design Plugin Do?
WordPress design plugins, as the name implies, add functionality to a WordPress website to help you better design your site.
WordPress itself is made to work out of the box. The idea is that you can install a free theme and some accessories, and start writing and designing right away. For most users, this is totally sufficient.
If you are building a site to work as a portfolio or professional landing page, however, then you'll probably want to have more control over how your site and its pages look. That's where design plugins come in.
A WordPress website gains a lot of its functionality from plugins. Plugins help modify or extend how WordPress works. Whether that means giving you more control over the backend or providing widgets and other elements on the frontend, a plugin typically adds something that wasn't there before.
Take the Envira Gallery plugin. WordPress does provide some functionality for image galleries, but that functionality is limited in what it can do. A plugin like Envira Gallery extends that by adding even more tools to build galleries. From built-in Lightbox support to shortcode insertion and social media linking, it takes care of complex tasks to make it easy for users to simply build the site they want.
Likewise, design plugins give you control over your pages and your WordPress site so that you can add or remove the things that you want, when you want, without having to know code or scripting.
Types of WordPress Design Plugins
Design plugins don't just handle aesthetic site elements (although they do that as well). They can take over critical functions in your site to help you better design each page to your needs. That's because web design can cover a lot of territory in terms of how a site functions as a portfolio, interface, and so on.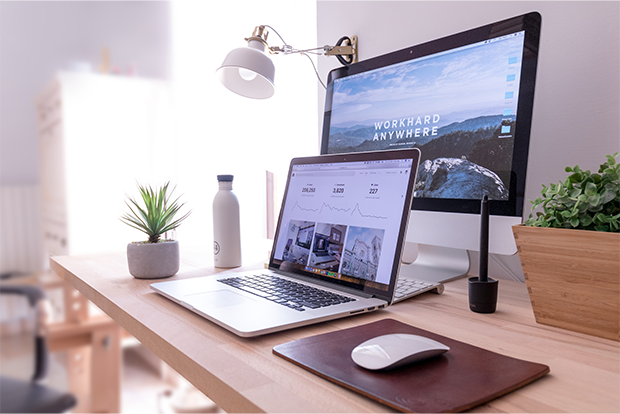 Accordingly, there are several different types of design plugins out there:
Contact Forms
Some of the simplest and most popular design plugins add customizable contact forms. Contact forms give you a way to gather information from your readers and use it as an intermediary when they contact you. That way, you don't have to publish email information.
WordPress offers this functionality out of the box, but with special plugins, you can extend how these forms look, what kind of data you can gather, and in what ways you can store that data.
Page Builders and Web Design Plugins
WordPress themes typically handle page design. But, while themes can give you a ton of customization options, those options are typically filtered through the aesthetic of the theme itself. Anyone who has purchased a theme only to find that the pages don't look like they expected will attest to this fact.
A page builder plugin, on the other hand, will give you additional options to drag and drop elements and control their attributes, often with a visual tool. This makes designing WordPress pages much simpler than having to know PHP code and WordPress infrastructure.
One of the more well-known plugins in this category is Elementor, which we'll discuss below.
Page Optimization
Outside of the aesthetics of a page, you'll probably want to develop the SEO properties as well. SEO design plugins help you do just that. Instead of manipulating visual elements, however, these plugins will help you audit, control, and optimize SEO elements like content, images, metadata, and other page aspects.
Perhaps the most notorious plugin in this category is the Yoast SEO tool for content auditing. Another popular optimization plugin, Jetpack, has been around for years.
Social Media
Social media plugins let you control the layout and functionality of Social Media sharing buttons on your pages and posts. Depending on the plugin, you'll be able to link your content to nearly any social media network available.
They also give you more control over how you share, by providing support for things like timed social sharing and re-designed social icons, and providing commenting privileges through users' social media login.
Image Editing Plugins
Images can be optimized just as much as textual content, so managing image optimization is necessary. Image editing plugins can give you the power to annotate images, add watermarks, or edit images to create visual artifacts like infographics.
Image Galleries
WordPress offers several layers of image controls and tools to make your posts and pages look great. But sometimes you just need a little more control and functionality to get your site looking how you need it. This is true when you are a professional, or even amateur, photographer looking to set up a WordPress portfolio.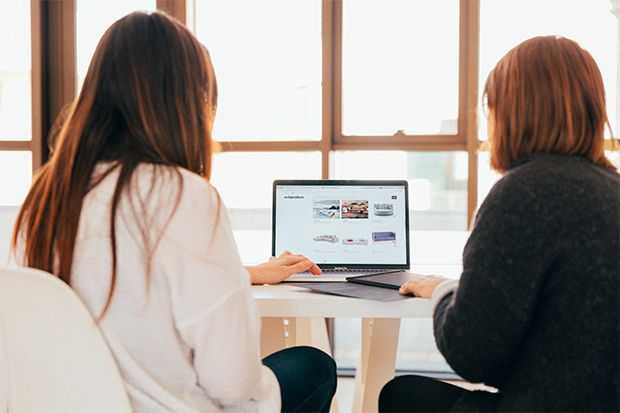 Design plugins for images run the gamut from image optimization, gallery creation, and more. Many do everything all at the same time. The Envira Gallery plugin, for example, gives you the tools you need to not only make engaging image galleries, but to also optimize images, link to social media, and embed galleries using shortcodes.
Slider Plugins
Slideshows have become popular parts of websites, especially ones that are focused on high-res images or videos. Slider plugins give you the power to insert sliders into your page with more-or-less control of the images or videos, depending on the plugin or your needs.
Video Plugins
Just like images, you probably want to optimize any videos that you place on your site. Video plugins support additional SEO features, thumbnail customization, and video galleries.
Design plugins aren't limited to these categories, however, and many plugins may straddle two or more categories. Envira Gallery, for example, includes several features that would classify it as a video plugin, image optimization plugin, gallery plugin, and effects and design plugin.
Pros and Cons of Using Design Plugins for WordPress
Considering that there are so many different kinds of design plugins available for WordPress, it's hard to nail down the exact pros and cons of using them.
Pros of Using WordPress Design Plugins
Generally, there are several pros for using WordPress plugins in general:
Plugins don't require coding knowledge. WordPress is known for its extensibility, but to take full advantage of it you need to know some code. Properly developed plugins, however, give you a select suite of tools without needing to know any code. This makes building a more robust site easier and accessible for regular users.
Plugins simplify complex customization. WordPress themes are great, but if you aren't happy with a single aspect of a theme you can't just change it on the fly. Likewise, if a theme doesn't have what you are looking for, it can be difficult to implement a feature. Plugins short-circuit that by offering (usually) theme-agnostic functions that work in nearly any WordPress site.
Plugins are reliable when built properly. WordPress plugins built by reputable developers of companies are typically well-supported and well-tested. If you have a plugin from a good source, chances are it will work right. But, if it doesn't, you can get real-time support.
Cons of Using WordPress Design Plugins
Likewise, there are several cons to using WordPress plugins:
They can introduce security issues. WordPress plugins are external code, which means that they may introduce security issues that aren't in the core WordPress platform. Furthermore, since WordPress doesn't vet plugins for security, you have to trust the reputation of the company or individual that released it.
Multiple plugins can conflict with each other. Simple enough. If multiple plugins are trying to do something similar, or if one throws an error that affects how WordPress works, it can cause issues with how other plugins work. This isn't an issue of quality, either, since having multiple plugins running can cause errors with even the best engineering in place.
Too many plugins can bog a site down. Loading times are important for your SEO rankings and your site readability. Having a ton of plugins trying to do a ton of things at the same time can slow down page loads and negatively impact how search engines and your audience get to your content.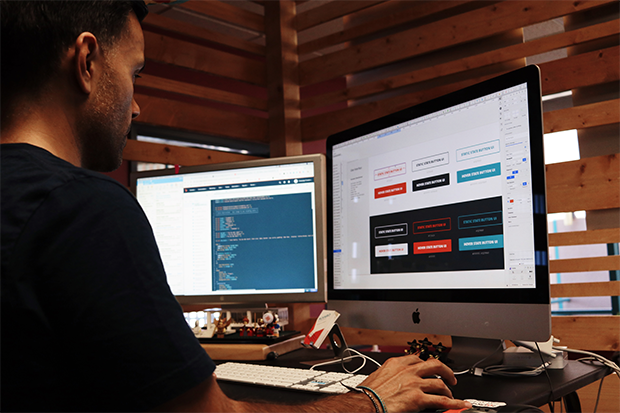 With that being said, certain types of design plugins will have different pros and cons based on what they are intended to do.
Pros and Cons of WordPress Page Builder Plugins
Pro: Simple drag and drop design. If you ever wanted to just build a WordPress page with your browser, these are great. Those of you who are familiar with services like Wix or Squarespace will recognize how intuitive these kinds of tools can be. Depending on the plugin, you can have a ton of control. 
Pro: Beautiful and customizable layouts. Page builder plugins can give you more control over the look of your pages with unique layouts that can add new dimensions to your existing site theme. 
Con: Potential lock-in to a single plugin. If you start to design your pages with a page builder plugin, it could be difficult to leverage a new plugin, feature, or built-in WordPress theme function that doesn't play well with others. 
Con: Slower loading times. Page builders add new elements to your existing pages, which can add load times to the PHP backend for your WordPress website. 
Pros and Cons of Gallery Plugins
Pro: Simple image and gallery organization. WordPress includes some baked-in gallery functions, but gallery plugins can give you real control over your galleries without much knowledge overhead.
Pro: Added image optimization features. On top of gallery building, many plugins will allow you to optimize images metadata and size at the same time.
Con: Conflicting with other image galleries. Image galleries don't often play nice with each other due to how they render things like thumbnails. If you are in deep with one gallery plugin, it can be hard to switch to another without redoing all the work of putting the galleries together again.
Pros and Cons of SEO Optimization Plugins
Pro: Accessible and user-friendly. Plugins like Yoast make optimizing content super simple. Built-in highlighting and readability assessment means that you can edit your content in real-time and get immediate feedback on how well search engines and readers will respond.
Pro: Can teach best practices and make editing easier. Using SEO plugins will train you to notice styles and trends in high-performance blog posts. After a time, you'll start to internalize these best practices and work them into all your content, minimizing the need for big edits.
Con: Can infringe on your writing style. Writing for the web is all well and good, but sometimes you want to have your voice heard. We've all read blogs that look like they were run through an SEO filter: no voice, no perspective, and very vanilla compared to non-blog writing. If you stick too close to SEO best practices, you may find yourself constrained.
Con: Optimization relies on an external organization. The optimization cues from an SEO plugin are based on how the builder of that plugin understands current search engine trends and readability. Some of these factors stay relatively stable (like the Flesch-Kincaid test for readability) while others change over time, and often without warning (like Google algorithms). In both cases, you rely on the maker of that plugin to stay up to date on those changes and implement them into the plugin.
While this list isn't comprehensive, it gives you an idea about how WordPress design plugins can be a trade-off between functionality and performance.
What are the Best Design Plugins for WordPress?
Describing the "best" design plugins for WordPress can be difficult, considering how many they are and how varied the categories are.
Here, we've picked some of our favorites based on a few broad categories. We focused more explicitly on web design plugins like page builders, but we also included our favorite optimization plugins and others that we think can help WordPress users get the most out of their site.
Page Builders and Designers
1. Visual Composer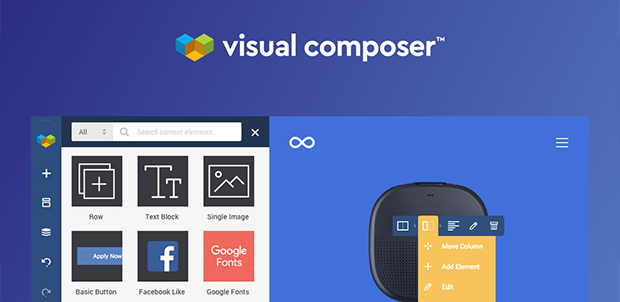 Visual Composer for WordPress is a plugin that gives users an extensive drag and drop interface to create their own page designs. The easy design features are worthwhile for building landing pages if nothing else, but with Visual Composer, you can give all your pages a unique feel. Best of all, it requires no coding knowledge and no design experience to build very attractive pages.
Pros:
Drag and Drop
Great for Single Landing Pages
No Design or Coding Experience Needed
Cons:
Can Make Your Site Sluggish.
Addons and Features Sold Individually
2. Elementor Page Builder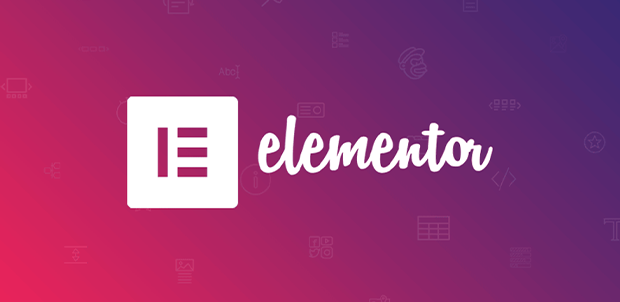 Elementor Page Builder is another WordPress page builder plugin with a ton of functionality. Built by and for professionals, Elementor was intended to streamline the production of professional sites, it also gives beginners plenty of ways to customize pages. It also includes tools to build page features like popups, widgets, and third-party integrations. You can even build out your own themes.
Pros:
Drag and Drop
Great for Site-Wide Themes
Focus on DIY Page Building
Cons:
Custom Styling is Not Always Reliable
Editing Blocks Can Get Confusing in Complex layouts
3. SiteOrigin Page Builder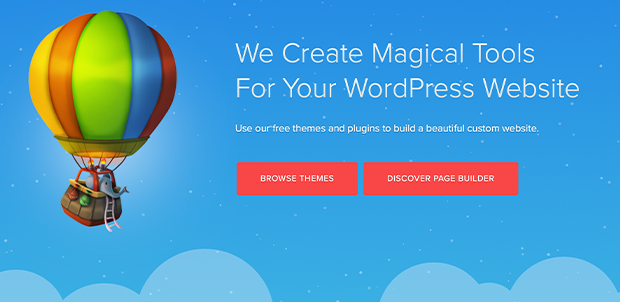 SiteOrigin is another drag and drop WordPress page builder that boasts that it works with your existing themes with little or no problems. It also includes popular features like live content editing, version control, and custom CSS controls.
When you sign up for SiteOrigin, you can also access their other plugins that play well with Page Builder, including SiteOrigin CSS and their widgets bundle.
Pros:
Drag and Drop
Simple Widget Layouts
Live Editor
Cons:
Live Editor is Not Always Reliable
Live Editor is Not as Robust as Other Comparable Plugins
4. Divi Builder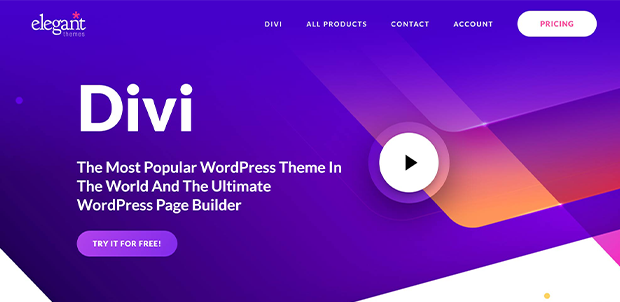 Advertising itself as the "Ultimate WordPress Theme and Page Builder", Divi is a drag and drop editor with real-time editing and custom CSS control. Divi also builds in responsive page editing so that you provide an equally satisfying experience for desktop and mobile users.
Perhaps its most popular feature is the global elements and styles, where you can create page elements that apply to pages across your site. This makes it incredibly easy to produce coherent site-wide designs.
Pros:
Drag and Drop
Live Editor
Global Element Building
Cons:
No Popups
Doesn't Handle Longer Pages Well
Security and Optimization
1. Wordfence Security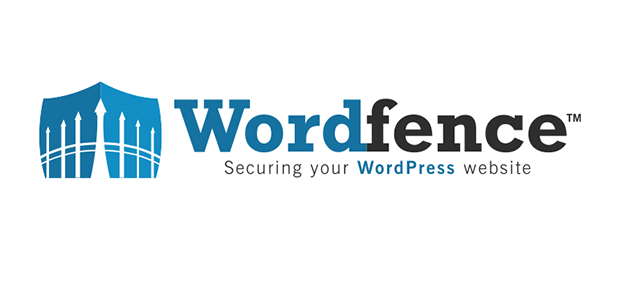 Wordfence Security is a plugin for WordPress that provides endpoint firewalls and malware functions for WordPress sites. What does that mean for you? It means that your site will have constant protection and monitoring up to protect against malicious users, database attacks, unauthorized access, and more.
You also get file scanning, where the plugin actually scans your WordPress files and directories for malicious code.
Let's be real. If you are running a WordPress site, you probably face security problems every day. Wordfence Security can help protect you from them.
Pros:
Free Version Comes With Great Features
Shows Attempted Hacks and Other Data
Don't Need Security Knowledge
Cons:
Security Features not as Advanced as Other Plugins
Slows Down Websites
2. Security Ninja
This 9-year old plugin is one of the top performers in the security space for WordPress. It boasts the ability to perform a 50+ item security check and includes options for preventative security measures. This includes your site and your database. It also includes a brute-force test of your site's passwords to ensure you aren't vulnerable in the most likely of places.
All in all, this is one of the more advanced security checkers out there, and it has the experience to back it up. However, you won't get all that security unless you pay for it in one of the paid tiers. But if your site is a business site or hosts sensitive information, it's probably worth it.
Pros:
Free Version Comes With Great Features
Brute Force Password Checker
Events Logger and Scheduled Scans
Cons:
Advanced Features Require Paid Tier
3. Jetpack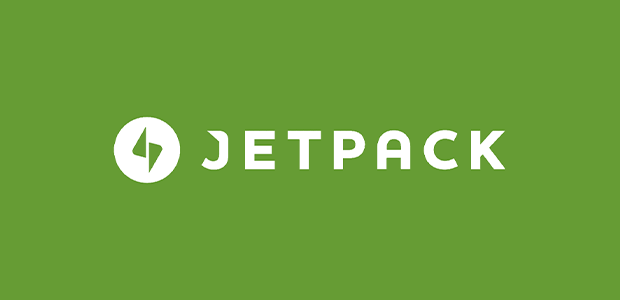 The Jetpack plugin is something of a mainstay in the WordPress community. This plugin is purpose-built to help users better design SEO-compliant and optimized WordPress sites. First, Jetpack provides several functions to optimize your WordPress site, including CDN support, site acceleration, and site-wide lazy loading. You'll also get several basic (and useful) security including site monitoring and protection.
Jetpack is built to be a foundational solution for many WordPress users. It comes with a free version and a series of priced tiers that include more extensive functions across all their categories, including design and optimization.
Pros:
Tons of Features in a Single Plugin
Optimize Content, Images, and Videos
Includes Tons of Data and Analytics
Cons:
Can Slow Down Websites
Requires a Connection to a WordPress.com Account
4. Yoast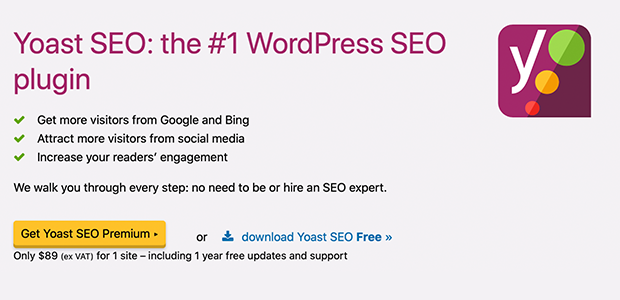 Yoast is one of the more legendary plugins for content developers using WordPress. This content checker looks at your blog posts and, based on the keywords you provide, ranks your content's SEO value. This includes tools for keyword density, section density, title and section keyword usage, and more. It will also help you write effective metadata for each individual blog page based on your keywords.
It doesn't just check your written content, however. Yoast will also give you pointers in terms of your image usage, including image metadata. It also runs basic checks on outbound linking to determine if you are effectively linking inside and outside your site.
Finally, it runs your content through the Flesch-Kincaid readability checker to determine how accessible your content is.
Pros:
Comprehensive SEO Tool
Teaches Good SEO Practices
Helps Build Effective Page Metadata
Cons:
Can Frustrate You Over Small Writing Style Issues
Doesn't Understand Intent Like Google Search Algorithms
Images and Video
1. Envira Gallery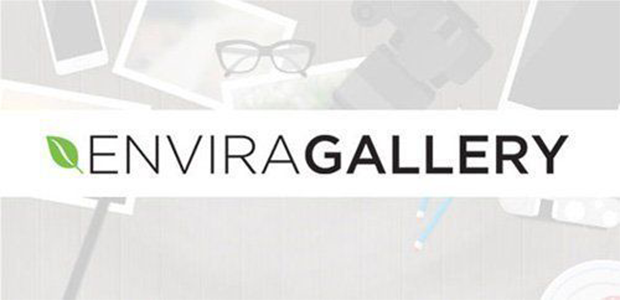 The Envira Gallery plugin is a comprehensive image gallery design plugin that gives you the capacity to create and embed image galleries on any page or post on your site. Envira Gallery, however, takes this a step further by including several important customization features, like image metadata management, image optimization, social media integration, and other useful features.
Envira Gallery is one of several gallery and image optimization plugins, but it is one of the few that utilizes both design and optimization to provide a comprehensive experience
2. Soliloquy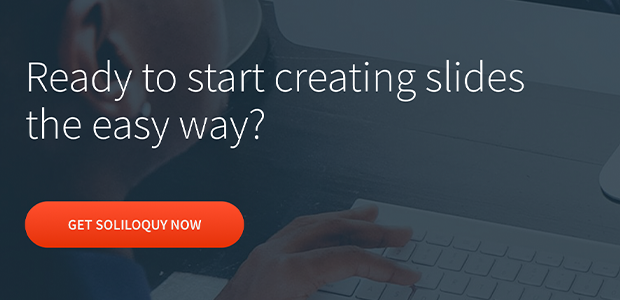 Soliloquy is a slider plugin that does exactly what it says: creates sliders based on your large-scale images. It is user friendly and plays nicely with WordPress and your Media Library. It also creates mobile-friendly responsive galleries that work well across desktop and mobile devices.
Pros:
Simple Gallery Building
Tons of Customization
Library of Addons to Support Advanced Galleries
Cons:
Addons Only Available for Paid Tier Accounts
Custom Options Can Intimidate New Users
3. WP Smush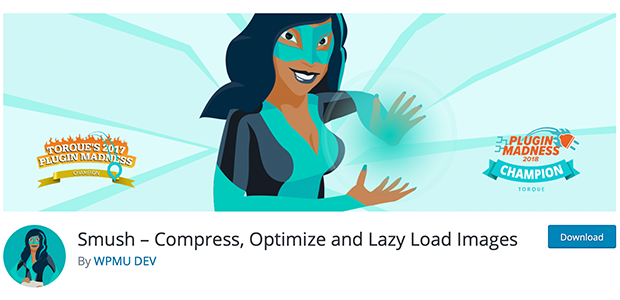 WP Smush is all about image optimization. And it does it well. This plugin optimizes all images uploaded to your Media Library, and you can optimize already-existing images as a batch operation or one at a time. It's simple, easy, and does exactly what it says.
This is hardly the only design plugin available for WordPress. Each of these examples has at least one, of not multiple, competitors in their particular niche. This fact exemplifies how many design plugins actually exist.
Pros:
Simple and Effective
Offers Control Over What Images to Optimize
Cons:
Not the Most Effective Optimization Algorithm, Depending on Your Needs
Forms and Interfaces
1. Everest Forms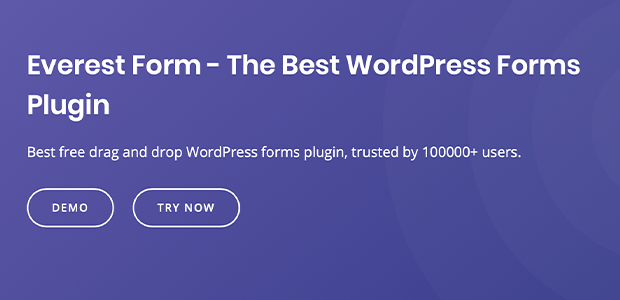 Everest Forms plugin helps you take the functionality of the built-in forms of WordPress and take it to the next level. This plugin includes drag and drop contact form building features with one- and two-column support. Everest forms can include reCaptcha forms, translation features, shortcode embedding, and responsive design for desktop and mobile users.
Pros:
Drag and Drop
Two-Column Forms
reCaptcha Integration
Cons:
Requires Paid Tier for Integrations and Additional Features
2. WPForms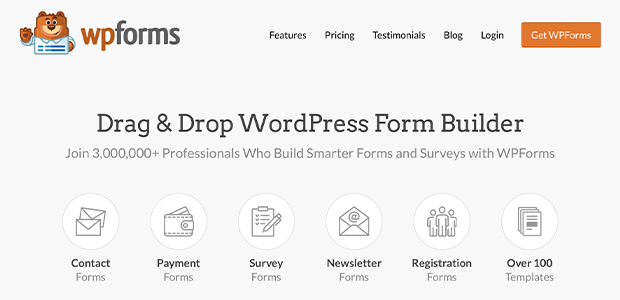 The WPForms plugin is specifically built for newcomers and beginners. With this plugin, you can drag and drop contact form elements into a simple form creator, embed it in a block, and embed the block into a page on your WordPress site.
WPForms comes with a free and paid tier, both that include drag and drop and templates with responsive design. The paid tier includes unlimited forms and form templates with integrations into Mailchimp, Constant Contact, and conversational forms.
Pros:
Drag and Drop
Simple Interface
Plenty of Third-Party Integrations
Cons:
Requires Paid Tier for Integrations and Additional Features
Doesn't Offer Advanced Design Elements
Is Having Responsive Design Important for WordPress?
You may have seen plenty of plugins in this article and elsewhere discussing their "responsive" capabilities. But what does responsive mean?
Think back to the initial days of web design. Web pages were meant to be viewed on larger computer monitors that people read while sitting at their desks. In the early days of the Internet, businesses and governments were its primary users. So, it's logical to think of the Internet as something that is suitable for using at professional workstations.
This fact didn't change much as computers and the Internet eventually shifted into consumer spaces. Tower computers were still the norm, and most people used a standard set of monitor resolutions that web designers could target.
Mobile Web Browsing
As mobile phones, and smartphones, began to dominate the Internet userspace, that all changed.
As of 2019, roughly 53% of all web traffic is from mobile devices. When half of your traffic could come from a mobile phone, you want to provide a web browsing experience that matches that.
However, designing for mobile devices presented a problem. You could theoretically serve the same kind of page to a phone as you could a desktop computer, with one of two results:
The browser would mangle the page to fit the smaller screen resolution, or
The browser would show the page normally, but so small and cramped that it would be unreadable.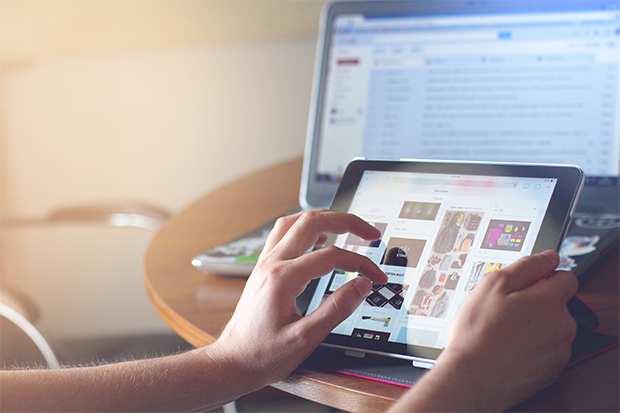 And that's just text and images! Dynamic web elements like embedded movies and social media posts just complicated things more.
Solutions to Mobile Web Browsing
The first solution that designers put into place was building separate sites. When the server received a request from a mobile user, it would serve a mobile page (usually with a subdomain "m," like "m.google.com"). This way, mobile and desktop users both got the right content for their device.
This presented several problems, especially with large sites with a lot of content. If you had to maintain two separate sites, that meant two copies of everything, two sets of updates, two sets of all video and image assets, and a ton of potential errors.
Later, through advances in HTML and CSS, web designers were able to use responsive design. This meant that the page in question was only a single page but could adjust dimensions and layout based on the size of the user's browser screen. With a responsive design, you could serve the same content in two different ways without duplicating it.
So, when a plugin says that it supports "responsive" design, it really means that it will format anything you make in that plugin for mobile users, too.
This kind of functionality is critical for, say, image galleries or forms. A responsive form can still look great and be easy to interact with on a mobile phone. Likewise, image galleries can utilize a mobile device's screen size to support proper image and video display.
Conclusion
These WordPress design plugins are only the tip of the iceberg. There are literally thousands of WordPress plugins available, many doing similar things. From image optimization and editing to site design, chances are there is a plugin to help you.
That doesn't mean, however, that all plugins are created equal. When you are looking for the right plugin, make sure that it does exactly what you want while providing three key things:
Responsiveness
Security
Integration
Don't use plugins that won't let you build a site like, say, a photography blog if you can't serve it to mobile users properly. Likewise, use plugins that play well with WordPress, other plugins, and third-party platforms that you use. And never, ever use a plugin with security issues.
When looking for a plugin, do your research. See the pros and cons of the software, and see what people are saying about it. Also, see what the developers are doing. Are they active online? Do they have good documentation and a clear process for reporting errors? If not, steer clear.
Most of all, don't download plugins you don't need. Try the ones you want. If you like them, buy their subscription tiers and delete the rest. Leaving old plugins can cause poor performance and open you up to security flaws.
But most importantly, have fun while designing your WordPress site.
Did this article answer your WordPress questions? Let us know what your favorite WordPress design plugins are in the comments below. Then, follow us on Facebook and Twitter for more content, and sign up for our email list so you don't miss our next post!
Using WordPress and want to get Envira Gallery free?
Envira Gallery helps photographers create beautiful photo and video galleries in just a few clicks so that they can showcase and sell their work.