17 Best WordPress Author Bio Box Plugins
by Waseem Abbas on May 4, 2016
Do you want to add an author bio box to your blog? Blog posts should have some details about the author, so the readers can connect personally with them and reach out to them through social media, their website, email, etc. In this article, we will share the 17 best WordPress author bio box plugins.
Best Author Bio Box Plugins
You may already know that WordPress has a great user profile management system. This can be used along with a good plugin to quickly and easily add author bio boxes to your blog.
To check or update your profile in WordPress, all you have to do is go to Users » Your Profile from the WordPress admin. (If you are not the administrator of the site, then you will see a Profile tab in the WordPress admin.)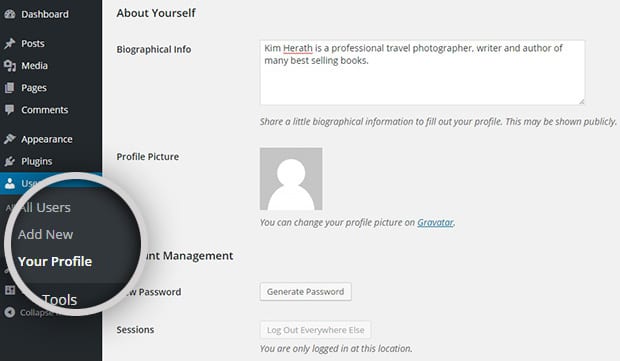 Then you can add or edit your name, email, website and biographical info. If you want even more options, you can use the author bio box plugins mentioned below to add information about your social media profiles, useful links, and more.
Lets take a look at the most awesome author bio box plugins for WordPress…
1. Simple Author Box

Simple Author Box is one of the simplest author bio plugins that allows you to link your social media profiles with your biography in a beautiful box.
Simple Author Box allows all your authors to add their information about work and social channels. You can choose your own fonts, color, style, and more. You can even add your avatar.
2. WP About Author

WP About Author is a simple WordPress author bio box plugin that adds your social media profiles with their respective icons.
It allows you to upload a profile photo, or you can connect it to the Simple Local Gravatars plugin.
This plugin can add bio boxes to all pages, including archives, RSS feed, and more.
3. Fancier Author Box

Fancier Author Box not only displays your biography, but also adds a tab with the latest posts from that author.
Fancier Author Box allows you to disable the author bio box from the posts of selected authors. For instance, you may want to display author bios for guest authors, but not on posts you've written yourself.
You can add social profiles with beautiful icons. Everything related to the appearance of the box can be managed from the plugin's settings page.
4. Sexy Author Bio

Sexy Author Bio adds a unique author bio box with large, flat-design social icons and a large font by default.
You can adjust the settings to change the font size, color, link color, background and more from the plugin's settings page.
5. Co-Author Plus

Sometimes an article is written by multiple authors, and you need to give equal credit to every contributor. Co-Author Plus is what you need in such a situation.
Co-Author Plus allows you to add multiple authors under one article. However, this plugin won't display the author bio information in a box. If you want to show the author info separately in bio boxes, then you'll need to edit your theme files and Co-Author Plus template tags.
(You should also check out this guide on how to create multiple authors in WordPress.)
6. Author Bio Box

Author Bio Box is a simple, straightforward solution for adding an author bio box under your articles. It also allows you to add a photo and your social profiles with icons.
Author Bio Box simplifies the process of adding an author bio box.
7. Author Box Ultimate

Author Box Ultimate is a feature-rich author bio box plugin with multiple pre-built themes with different background images. You can enable it for posts or pages.
With all of the theme options, Author Box Ultimate is sure to amaze your visitors.
8. CCR Author Bio WP Plugin

Author Bio WP Plugin is a premium WordPress plugin, and it worth the every penny you spend on it.
It includes unlimited color options to coordinate with your website theme. It is also fully responsive, so it looks great on all mobile and tablet devices.
CCR Author Bio comes with a flexible and powerful panel to edit your author bio box. You can add your bio information, avatar, latest posts, recent comments, and social media profiles with Font Awesome icons.
9. Custom About Author
Custom About Author allows you to create multiple different author bios for guest authors on your site, even if they do not each have their own user account.
Each custom profile is completely configurable, and can include links to social media or any HTML/text that you want to display.
This plugin is perfect for giving guest bloggers an incentive to write for your site.
10. Author Box After Posts

Author Box After Posts is a free, socially rich author bio box plugin with the ability to add more than 10 social media profiles to your author biography.
Author Box After Posts also allows you to add your custom avatar, so you don't need to have a Gravatar account.
11. Guerrilla's Author Box

Guerrilla's Author Box is an easy, install-and-go plugin to add a simple, yet beautiful, author bio box to your WordPress articles.
Guerrilla's Author Box allows you to add your name, profile photo, bio information, social profiles, and more.
12. Elite Members WordPress Author Listing and Box

Elite Members WordPress Author Listing and Box plugin is the most powerful premium plugin for creating author bio boxes.
With Elite Members, you can customize the look and feel of the author box with different styles and custom fields.
You can even list your authors according to the number of posts they've written. For example, you could have a "Last Week's Top Author" list, or a "Top Contributors this Year" list.
13. Author Box Reloaded

Author Box Reloaded is a free and easy plugin to use.
Authors can define links to external websites with this plugin.
Author Box Reloaded also allows developers to selectively include the bio box using a Template Tag or Content Shortcode or even a mix of all of these together.
14. WP Biographia

WP Biographia is a highly customizable author bio box plugin.
WP Biographia gives you the ability to change the background, border, font, style and more for your author bio box. You can hide/unhide the author bio information on select posts or pages, and you can even display the bio box on the sidebar of your blog.
15. Starbox

Starbox gives you an author box that is gorgeous to look at and makes your readers click all the way through to see more about the authors.
This plugin allows you to place your author bio box above or below the articles.
You can customize the appearance of the author bio box with their professionally built themes. The other really cool feature is the ability to set up Google Authorship and Facebook Authorship right within the plugin.
16. XPandable Author Tab

XPandable Author Tab is an advanced plugin that allows you to add an expanding author panel to posts, pages, and themes. You can also add the widget for sidebar display.
XPandable Author Tab allows you to display the biography, avatar, social profiles, website links and more.
17. WP Author Box Lite

WP Author Box Lite is a free and responsive plugin that gives you the ability to add your Facebook and Google+ authorship automatically in your author bio box.
WP Author Box Lite is highly customizable. You can edit your background, colors, fonts, and more, so your author bio box looks stunning with your blog theme.
We hope this article has helped you to find the 17 best WordPress author bio box plugins. You may also want to check out our guide on 21 best WordPress plugins for photographers.
If you like this article, then please follow us on Facebook and Twitter for more free WordPress tutorials.