12 Best WordPress Author Bio Box Plugins
by Waseem Abbas on Aug 29, 2018
Do you want to add an author bio box to your blog? Blog posts should have some details about the author, so the readers can connect personally with them and reach out to them through social media, their website, email, etc. In this article, we will share the 17 best WordPress author bio box plugins.
Where to Implement Your WordPress Bio Box Plugins
You may already know that WordPress has a great user profile management system. This can be used along with a good plugin to quickly and easily add author bio boxes to your blog.
To check or update your profile in WordPress, all you have to do is go to Users » Your Profile from the WordPress admin. (If you are not the administrator of the site, then you will see a Profile tab in the WordPress admin.)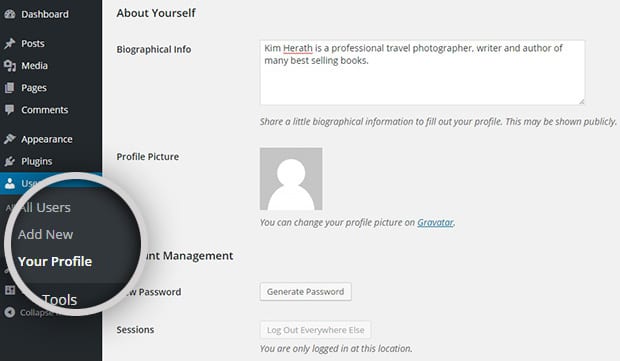 Then you can add or edit your name, email, website, and biographical info. If you want even more options, you can use the author bio box plugins mentioned below to add information about your social media profiles, useful links, and more.
Let's take a look at the most awesome author bio box plugins for WordPress…
1. Simple Author Box

Simple Author Box is one of the simplest author bio plugins that allows you to link your social media profiles with your biography in a beautiful box.
Simple Author Box allows all your authors to add their information about work and social channels. You can choose your own fonts, color, style, and more. You can even add your avatar.
Some of the most compelling features of the Simple Author Box include:
RTL and AMP support
Stunning appearance across all channels (phone and desktop)
Author gravatar display
Customize to match your theme
Option to open author website link in new tab
2. Sexy Author Bio

Sexy Author Bio adds a unique author bio box with large, flat-design social icons and a large font by default.
You can adjust the settings to change the font size, color, link color, background and more from the plugin's settings page.
You can even add multiple authors to the same post if you had people collaborating on a piece of content. Some of the most impressive features include:
Support for dozens of social networks
Various icons to choose from
Highly responsive design
3. Ultimate Author Box Lite

The Ultimate Author Box Lite is a highly popular option for people who need a clean and efficient bio at the end of their pages. Completely free to use and download, the Ultimate Author box is perfect for adding details about your post, page, and the person responsible for your content. Some of the most impressive features include:
5 templates to choose from
Custom color schemes
Support social media display images
Add unlimited tabs to author box
4. Co-Author Plus

Sometimes an article is written by multiple authors, and you need to give equal credit to every contributor. Co-Author Plus is what you need in such a situation.
Co-Author Plus allows you to add multiple authors under one article. However, this plugin won't display the author bio information in a box. If you want to show the author info separately in bio boxes, then you'll need to edit your theme files and Co-Author Plus template tags.
(You should also check out this guide on how to create multiple authors in WordPress.)
5. Author Bio Box

Author Bio Box is a simple, straightforward solution for adding an author bio box under your articles. It also allows you to add a photo and your social profiles with icons.
Author Bio Box simplifies the process of adding an author bio box.
6. Author by Weblizar

Author by Weblizar is a simple, straightforward solution for adding an author bio box under your articles. It also allows you to add a photo and your social profiles with icons.
Author Bio Box simplifies the process of adding an author bio box. You don't have to be comfortable with coding to add it to your social media website, and you can use multiple widgets to display your profiles in any footer or sidebar area. Features include:
Responsive design
Hundreds of font options
12 social media profile support buttons
10 Author templates
7. Molongui Authorship

Molongui Authorship offers a quick and simple approach to the WordPress bio box, where you can give multiple authors credit on the same post, add bylines without asking new users to create accounts and more. There is a range of flexible display options to choose from, and you can even link out to related posts from your bio! Other great features include:
Template tags
Author box customization
70 social networks to link to
Responsive design
8. Awesome Author Bio WP Plugin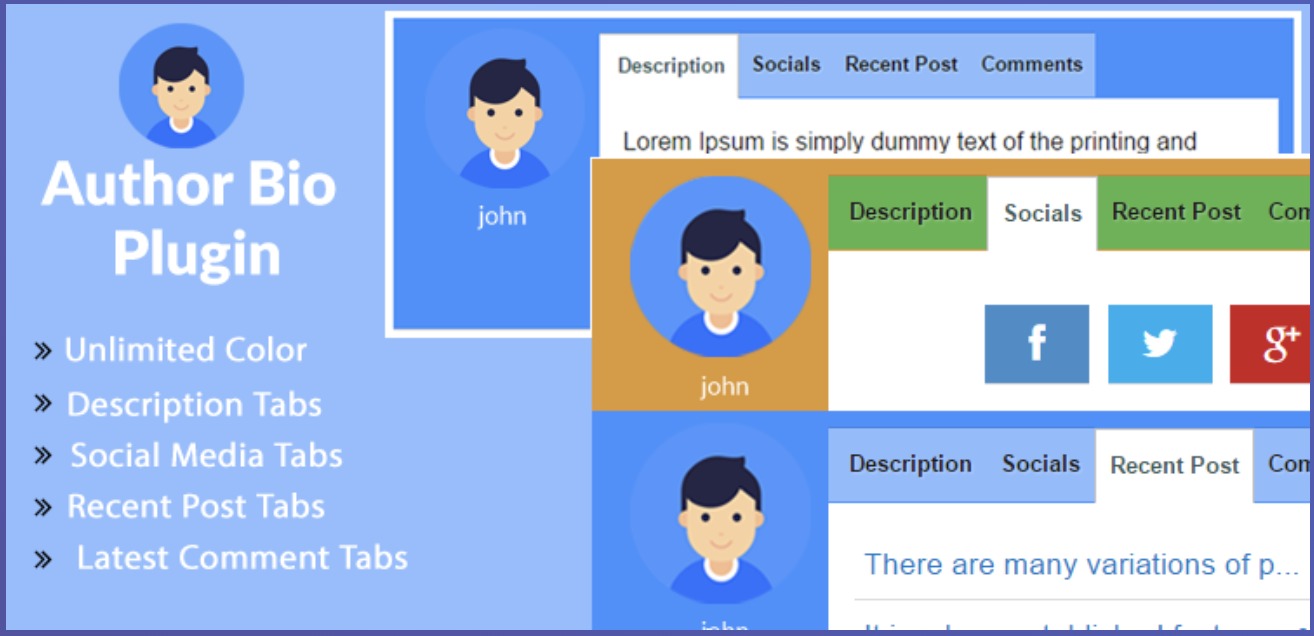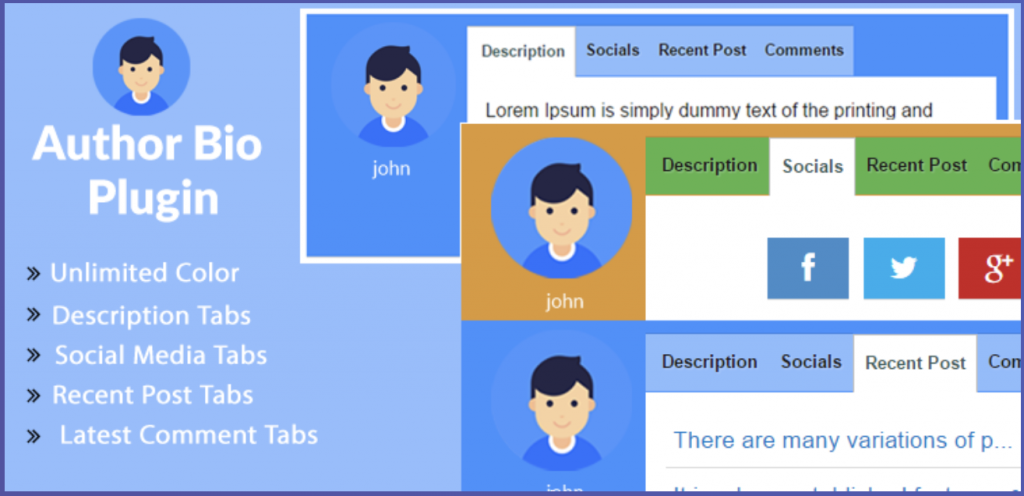 Awesome Author Bio WP Plugin is a premium WordPress plugin, and it worth the every penny you spend on it.
It includes unlimited color options to coordinate with your website theme. It is also fully responsive, so it looks great on all mobile and tablet devices.
Awesome Author Bio comes with a flexible and powerful panel to edit your author bio box. You can add your bio information, avatar, latest posts, recent comments, and social media profiles with Font Awesome icons.
9. Starbox

Advertised as the "Author box for humans," Starbox gives you an author box that is gorgeous to look at and makes your readers click all the way through to see more about the authors.
This plugin allows you to place your author bio box above or below the articles.
You can customize the appearance of the author bio box with their professionally built themes. The other really cool feature is the ability to set up Google Authorship and Facebook Authorship right within the plugin. Great features include:
Various themes to choose from
Easy customization
Google Microformats
Social media links to all the major channels
10. Fanciest Author Box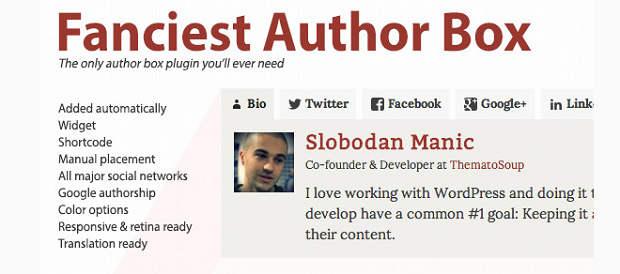 Fanciest Author Box is a free plugin for WordPress designed to help you form deeper connections with your customers through an immersive bio experience. Your author box will include all of the most important information your readers need to see, including your social network links, your company URL, and more. There's also a second tab where you can automatically display your latest posts. Other features include:
Highly responsive design
Great way to highlight content
Social widgets and connections
11. BuddyPress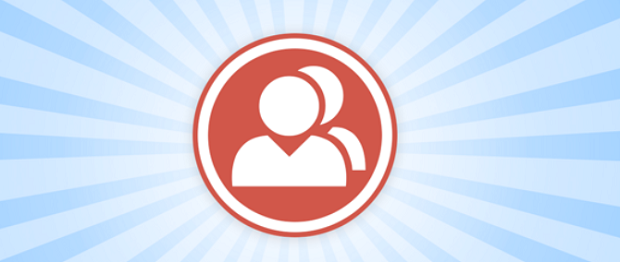 BuddyPress is more than just an author bio box, it's a useful way to add social information to the end of any post. Aimed at site developers and builders, BuddyPress allows you to add unique community features to your website, including guest posting bio boxes and author content. You can:
Show off User profiles
Host private conversations
Build communities on your website
12. Metro Author Widget

This simple author bio widget is a fantastic way for companies to display their site authors, complete with links to their social media pages, and avatars. Your Metro Author bio box can either appear in the sidebar of your pages, or on the footer depending on your preferred website style. Features that make this widget stand out include:
Template options to choose from
Hide/show social media icons options
Replacements for gravatar images
We hope this article has helped you to find the 17 best WordPress author bio box plugins. You may also want to check out our guide on 21 best WordPress plugins for photographers.
If you like this article, then please follow us on Facebook and Twitter for more free WordPress tutorials.
Using WordPress and want to get Envira Gallery free?
Envira Gallery helps photographers create beautiful photo and video galleries in just a few clicks so that they can showcase and sell their work.