7 Best Landing Page Plugins for WordPress Photography Websites that Convert
by Brenda Barron on Aug 2, 2018
Are you looking to create or update a WordPress photography website that converts visitors into purchasers? Digital marketing specialists are always talking about the importance of creating the right website to boost conversions. Every part of your website can help transform online traffic into paying customers, from blogs that generate loyalty, to galleries that show off your amazing photography skills.
A landing page is just another piece of the conversion puzzle. Essentially, it's a page that you direct your customers towards, asking them to sign up for your photography newsletter, or request a consultation. It's another way to get your clients to do what you want them to do.
For some photographers, the success of their website can rely heavily on the design of their landing page.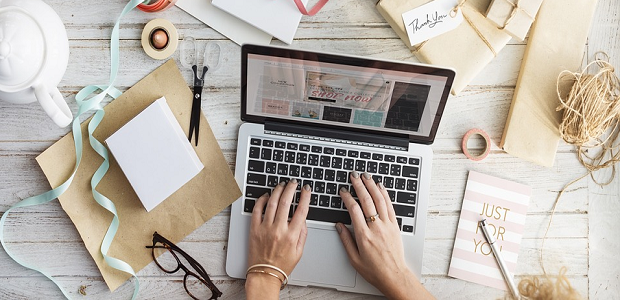 What Makes a Fantastic Photography Landing Page?
So, what makes a landing page so effective?
Well, the answer to that question party depends on what you're trying to achieve with your website. However, for all cases, a landing page needs to resonate with your audience, show off your skills, and help you to create conversions. If you're wondering how you can accomplish all that, the answer is simpler than you'd think. All you need is the best landing page plugins.
There are plenty of landing page plugins on the market today, but the top ones should include:
Plenty of robust features that help you to build your landing page
Versatility, so it works with your current WordPress themes
Ease of use, so you don't struggle to make the most of it
Mobile support, so you can connect with audiences on every device
Let's take a look at some of the best landing page plugins available right now.
1.     Thrive Architect
Though the Thrive Landing pages solution and "Thrive Architect" are often marketed as two separate things, they're often both connected to create one of the best landing page plugins for WordPress. If you purchase one, you automatically get the other.
Thrive Architect allows you to build your own pages from scratch with a drag and drop system, so you don't need any coding. Additionally, it gives you complete access to a range of layout and styling options. You can even design your entire website to ensure your visitors get a great experience all across your sales funnel, from your squeeze pages to your "thank you" pages.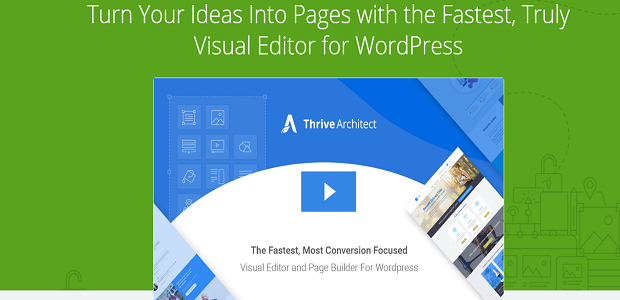 2.     OptimizePress
If you appreciate the comfort and convenience that drag and drop functionality has to offer, then you're sure to think that OptimizePress is one of the best landing page plugins on the market. With this solution, you can create responsive landing pages quickly and easily with a real-time visual editor.
There are various drag and drop options to choose from when creating landing pages, which means that you can adjust your design to suit your needs. Plenty of different templates are available too if you're worried about starting from scratch. The plugin can even help out with building email lists.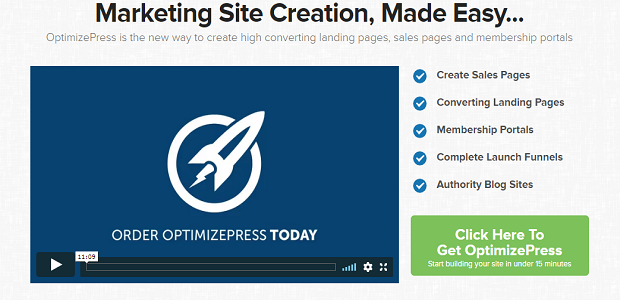 3.     Parallax Gravity
Using Parallax Gravity is a simple and quick way to design plenty of high-quality landing pages for your photography website. You could even make different ones for seasonal offers or discounts. With this highly-responsive plugin, it's easy to design fantastic looking pages that are optimized for tablet and mobile devices. What's more, Parallax Gravity is fantastic for SEO, with support for keyword customization.
On a landing page where the offer might expire before your user has a chance to make the most of it, Parallax Gravity also includes an option to redirect customers to a different custom URL. It can also create product showcases with Google analytics, and measure the performance of your campaigns.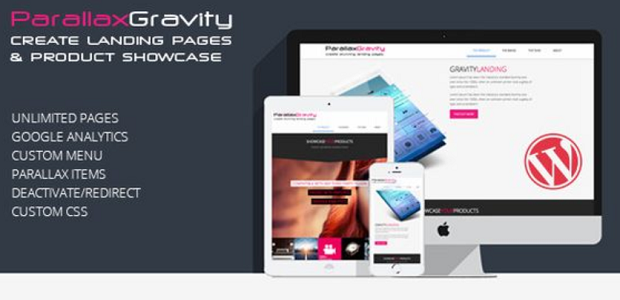 4.     WordPress Landing Pages
WP Landing pages is a fantastic plugin geared towards helping photographers and other professionals build their email list. What makes it one of the best landing page plugins is the fact that it comes with a useful visual editor that allows you to see how the changes you implement will impact your pages as you go.
Optimizing campaigns is easier than you can imagine, as the plugin supports A/B testing, which means that you can test numerous versions of a page at once to decide which one converts best for you. There are lots of pre-made templates too, or you can create your page from scratch depending on your needs.
If you want to achieve even more with the WordPress Landing Pages plugin, then you can always consider browsing through some of the free and paid add-ons available, such as WordPress Leads, and WordPress Calls to Action.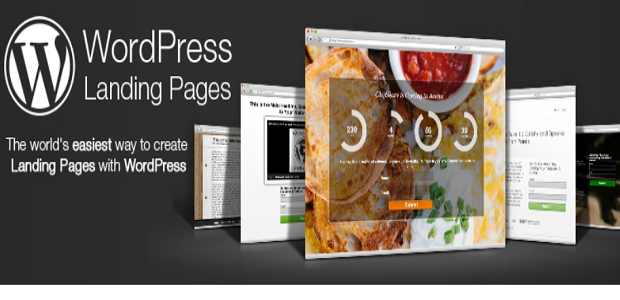 5.     Qards
This WordPress landing page plugin was designed by a team called "DesignModo" and it's an interesting take on simplifying the page-building process. Some of the best things about it are the fact that it works with most existing WordPress themes, and it's also incredibly easy to use. The card-based structure makes it quick and simple to add any of the content you need on your landing page.
With Qards, you'll have access to a selection of helpful content cards that you can organize on a canvas until you finish your complete landing page. Every card can be changed to suit your needs thanks to a great front-end editor. What's more, there are plenty of types of content available, and everything works with drag and drop functionality.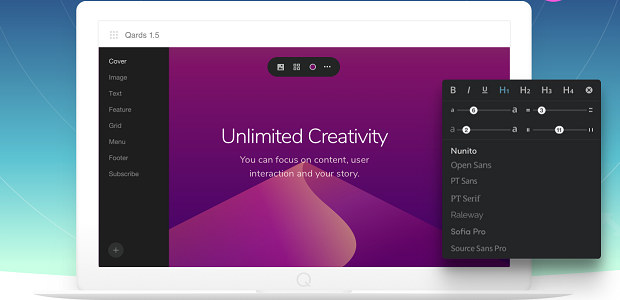 6.     LeadPages
LeadPages has been around for a while, but it's still one of the best landing page plugins for WordPress on the web. This solution comes with a streamlined editing function, and the ability to host your pages on the LeadPages server if you don't want to use WordPress. With this system, it's quick and simple to deploy a landing page. All you need to do is choose your template, hit a button, and customize until you're happy.
If you don't want to publish the landing page that you create straight to WordPress, or on the LeadPages platform, then you can also choose to download your HTML page with all the info you need to launch on another platform. The drag and drop builder that LeadPages recently added also makes it very easy for beginners to use.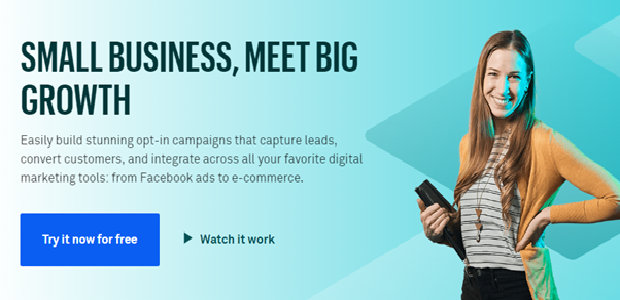 7.     Beaver Builder
Finally, Beaver Builder is another great drag and drop option for landing page creation. It can help website owners to design virtually any aspect of their website, including squeeze pages and more. The editor feels lightweight andBeaverBuilder smooth throughout, and there are 30 landing page templates included to get you started if you need a little help.
Though Beaver Builder does work with other themes, the one sticking point of this plugin is the fact that it's much easier to create the right landing pages for your customers if you use the Beaver Builder theme. Still, you can always save your own templates and load them up elsewhere if you prefer. There's also a free version of this plugin if you want to try before you buy.
When it comes to finding the best landing page plugins for your photography website, there's no one-size-fits-all strategy. However, there's a good chance that one of the options above will help you to enhance your website and improve your conversions photography website.
You may also find the following related guides useful:
Building a WordPress Photography Website? 3 Elements You Must Include
How NOT to Slow Down Your Site – Common Mistakes Photographers Make
Which plugins do you use for your landing pages? Let us know in the comments below or follow us on Facebook and Twitter for more useful WordPress content.
SaveSave
SaveSave
SaveSave
Using WordPress and want to get Envira Gallery free?
Envira Gallery helps photographers create beautiful photo and video galleries in just a few clicks so that they can showcase and sell their work.