16 Best Stock Photo and Video Sites
by chriscct7@awesomemotive.com on Feb 14, 2020
Do you want to make some money and gain exposure by posting your content on stock photo and video sites? Or, do you want to download high-quality stock photos or footage to use in your own design projects or blogs? We can help you find out which are the best stock photo and video sites for you to join!
Creating stock photography and video footage can help you make you money — but you have to know the best sites to sell your work on, and your work has to be good enough to get past the dreaded reviewer.
We've put together this guide to give you the lowdown on the best stock photography and video footage sites out there so that you can make the most of your time. After all, time is money!
If you're looking to download high-resolution stock images, vector images or video footage, we'll cover the best sites to get your stock footage from. You might be surprised, but sometimes the best sites aren't the most expensive! You'll also need to know what to avoid when it comes to downloading free video clips.
The topics we'll cover include:
Pros and cons of using stock photos and video clips
Difference between creative commons, royalty-free and rights-managed content
What you should look for in a stock photo and video site
Where you can get high-resolution stock photos and videos for free
The most affordable stock photo and video sites
A list of the best stock photo and video sites
Pros and Cons of Using Stock Photos and Videos
Stock image libraries have been around for a long time, but the explosion of the internet has made demand for high-quality photos, vector images and video content skyrocket.
What are the pros and cons of using these sites to sell or download images and footage?
Pros of Stock Photos and Videos
Time and energy savings — Using stock content can save you time and money. You don't have to create original content for your projects (or pay someone else to). Instead, you can find and download the photo or video that gets your message across within minutes, then spend your time integrating it seamlessly into your design.
Quality imagery — Most stock agencies' strict rules ensure that only the best stock images and video footage grace your screen. The content on stock sites is made to a high, professional standard, and usually has to pass a quality control test before being accepted onto the site.
Editing control — Once you download your stock imagery, you're generally free to change and manipulate it as you like. Of course, some restrictions may apply, depending on the image rights agreements your chosen stock site provides. This means you can adapt the content to best suit your needs and make it more unique to your project.
Cons of Stock Photos and Videos
Dual creative credits — Stock photo and video is, ultimately, someone else's work. If you use it in your project, your finished product will never be entirely your own creative vision.
Availability — If the stock imagery you require is very specialized, it may not be widely available on stock websites.
Usage restrictions — If you choose to use free stock content, you may be subject to usage rules, which can include accrediting the original artist in your project.
Image licenses — You need to know before you pay if you want to buy royalty-free images or rights-managed ones. They both have different benefits and draw-backs, which we'll discuss here.
Difference Between Popular Image Licenses
Three primary image licenses govern how sellers and buyers can sell and use stock content. Creators decide which license they want for their work before they sell images through a stock website or give them away for free.
Why are these image licenses important for you? Well, they often influence the price of stock imagery, because you essentially pay for the usage rights to copyrighted work when you download stock photos and videos.
How can you know what's the difference between royalty-free, rights-managed and creative commons stock content?
Royalty-Free (RF) Licenses
A royalty-free image license gives the buyer basic royalty-free usage rights to an image or video for as long as she wants to use it. The buyer pays the stock agency a one-time fee for a license to use a photo, vector image, or piece of footage. This means that they don't have to pay repeated royalties should they use that piece of content multiple times in different advertising, websites, presentations, blogs, commercials and other broadcasting.
Many creators like royalty-free image licenses, because they allow them to sell the same piece of content multiple times, to multiple buyers through multiple stock agencies. Successful stock content creators sell thousands of the same pieces of content on stock sites, but usually only for cents at a time. It's the volume of sales that make money for creators through royalty-free content.
Rights-Managed (RM) Licenses
Rights-managed image licenses allow for the temporary use of an image by one person only. Stock agencies tend to price these images on a per-use basis and calculate the price according to how the buyer wants to use the image. So, if you were looking for a rights-managed image, the price would differ based on how large you wanted to display the image, where the image would appear and for how long you'd use the image in your work.
Prospective rights-managed stock content buyers can pay for exclusive usage rights if they choose. That means that the content creator cannot sell that same piece of content to other buyers. This has its benefits, but obviously comes at a steeper price point.
The fee paid for rights-managed content tends to be a lot higher than for royalty-free (sometimes hundreds or thousands of dollars), but the drawback is that you can't sell the content to anyone else.
Creative Commons (CC) Licenses
When you put a creative commons license on your work, you give anyone the permission to share, use or modify your content as they wish. By default, you also give them permission to use your image or video in both commercial and non-commercial projects. You can, however, specify some creative commons preferences, including whether you consent to having your work appear in commercial projects.
Popular stock photo sites like Unsplash and Creative Commons operate this way. They encourage users to credit the creators when they use their work, but they don't enforce the rule. Instead, it's up to the buyer to decide to provide attribution.
As a creator, you essentially give your work away for free under a creative commons license. So, if you're looking to make money from stock creation, it's best to avoid CC licenses. However, creative commons does provide a great opportunity to gain exposure if you want to expand your brand recognition.
For those looking to find free stock content, these sites are brilliant and easy! But, be prepared to spend a long time looking for exactly the content you want. The quality of creative commons stock content also varies widely from site to site, so consider how you want to use the content before you download.
Highest Quality Stock Photo and Video Sites
If you want to sell stock photos and videos, you'll need to have developed a selection of high-quality photos and footage. To do that, you must have a camera capable of taking high-resolution photos and videos. This is especially important since most stock photo sites stipulate that images meet a minimum size requirement before the agency will list them for sale.
A size requirement is just the tip of the iceberg, though. Most stock image websites expect creators to follow content quality guidelines that ensure only the most well-composed, well-lit, sharp and relevant images end up in the stock library.
The review process differs with each stock site, but most employ reviewers to look at each image or piece of footage to see if it meets their standard and has good design elements. If it does, it gets approved for sale on the site. If it fails, reviewers typically let you know why they rejected the content so that you can learn from your mistakes.
Pros and Cons of Selling Stock Images and Videos
Photographers and videographers may disagree on the pros and cons of selling to stock image websites, especially now that it's more difficult to make a living from stock photo sales alone. Some of the biggest agencies in the stock industry drive down contributors' shares of the profit from each sale because they sell stock content so cheaply.
Most stock photo agencies — with one exception that we'll discuss later — split sales with the original creators. So, when you sell on stock photo sites and stock video sites, you don't get to keep all the revenue from that sale.
The only way to make serious money creating royalty-free stock is to sell huge amounts of it. That means only making images or video footage you know will sell while staying abreast of the current trends.
Even if you can't devote a ton of time to stock photography, it can still be a great avenue for generating passive income. And, it's an invaluable tool to other creators whose projects need photo and video!
Most Affordable Stock Photo and Video Sites
Prices do vary if you're looking to buy stock images and video. And, stock prices do depend on the type of content you're looking for.
Free stock sites should be your first stop if you're buying stock on a budget. But, if you can't find the high-quality images that you need with free agencies, then it pays to shop around on other stock photography sites.
Best Stock Photo and Video Sites
Here's the bit you've been waiting for! Whether you're a graphic designer or blogger buying stock, or you're creator looking for a place to sell your nature photography, this rundown of all the best stock photo and video footage websites can help.
We haven't arranged the sites on this list in any particular order. All of them are useful resources for photo and video and worth checking out!
The licensing fee for each site varies and depends on whether you want royalty-free or rights-managed imagery. We'll also look at creative commons stock photography sites here, too.
1. Shutterstock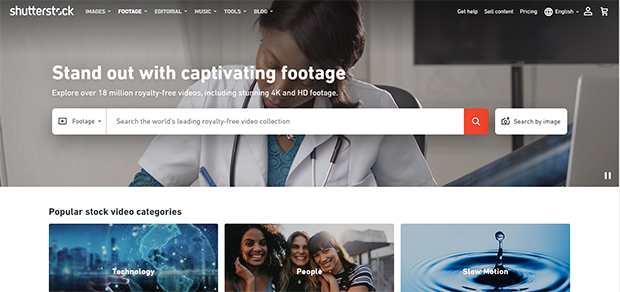 Shutterstock is one of the best microstock agencies, and they offer a variety of photos, vector images and video footage.
They claim to have the largest library of royalty-free images on the web. In fact, according to Shutterstock, they add 187,000 new images every day! Their platform gives customers a great selection to choose from, but it makes it difficult for creators to make money with so much competition.
That being said, I sell stock photos through Shutterstock and have had some success. Although I don't concentrate on uploading and selling as a major income stream, my stock photography brings in enough to make the endeavor worth it.
With Shutterstock, you'll receive around $0.25 per image, though you can earn more. I once sold an image for $90 on Shutterstock — but that was eight years ago!
They have some handy resources for their contributors, including a Shot List that tells you what type of images are in high demand. They also provide tutorials and other resources on their blog. With Shutterstock, you'll also have a fairly low payout threshold, so you'll receive your payment faster than with many other stock photo sites.
For those who want to buy photos and footage, Shutterstock offers prepaid image packs for a set price or access to their library through an annual plan. Their annual plans are a good idea for anyone who plans to use a lot of stock content. Those who only need a few photos or video clips, on the other hand, may be better off buying a prepaid image pack.
Shutterstock has quite a thorough review process, so don't be surprised if they reject your first few images. They turn down images with focus issues, sharpness, lighting or composition problems.
If you're looking for freebies, check out Rocketstock by Shutterstock Freebies. This site is owned by Shutterstock, but it offers premium video editing assets like video element packs for free.
Although Rocketstock's free assets are mostly After Effects templates, they come in themed packs that are easy to download on a royalty-free license. You can also sign up to get new freebies every month, which also gives you access to free overlays, motion graphics, music, sound effects and more.
2. Alamy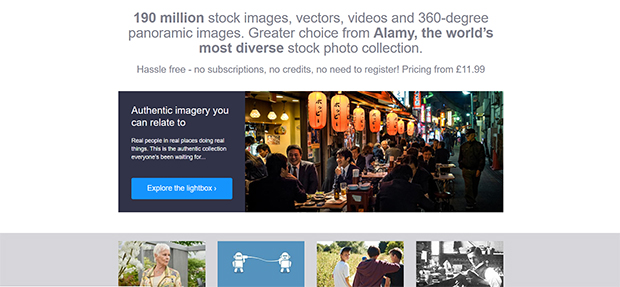 Alamy is definitely worth a look — especially if you're a student who wants to sell photos or videos.
It is one of the very few stock agencies that offer 100% commission for students. In other words, Alamy let's you keep every cent of each image sale.
Alamy offers both royalty-free and rights-managed images in their library. They also pride themselves in having the most diverse collection of stock content in the world. This includes video footage and 360 degree panoramas.
In part, Alamy's stock library is so large because they don't reject images that have a lesser demand. Other stock agencies won't accept, for example, photos of flowers or sunsets, because the stock photography market is already flooded with them. Alamy, on the other hand, will accept these images as long as they're high-quality, high-resolution photos.
You'll still have to pass quality control before Alamy will add your images to their library, but they tends to sell images for much more than microstock agencies. I sold an image on Alamy for $87 a couple of weeks ago, but I don't see a lot of sales on Alamy. In part, it's because I don't regularly add new photos, and because Alamy's library provides buyers so many different options.
If you're buying stock, Alamy is a good place to source those difficult-to-find or niche images or video, and they offer one-off pricing with no subscriptions.
3. iStock by Getty Images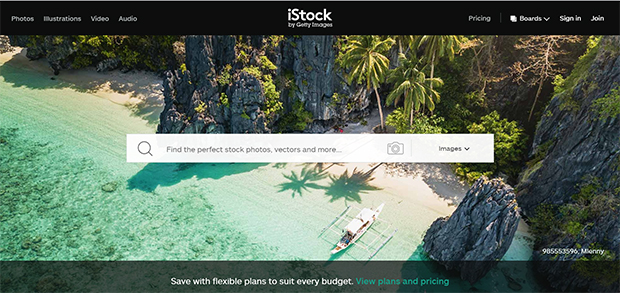 iStock sells photo, video, illustration and audio stock content. Now owned by Getty, this stock platform has provided high-quality images to buyers for many years.
Their pricing system offers either a subscription service or credits. If you choose their credits option, you can buy a certain amount of credits to use to download content on demand.
If you're considering buying from iStock, you should look at two of their biggest collections. Their Signature collection holds all their best quality imagery (and costs more to buy from), while their Essentials collection holds the lowest-priced content.
4. Pond5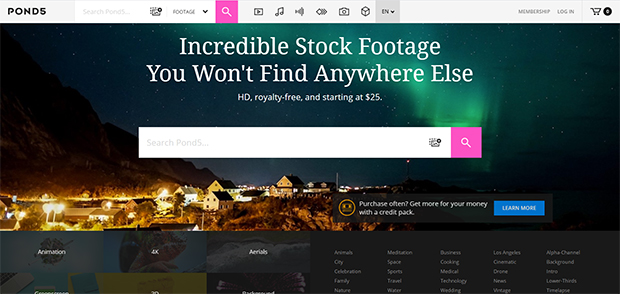 Pond5's library contains over 18 million stock footage clips, making them one of the world's biggest video marketplaces. It also makes them a great place to look for video content! At Pond5, you'll also find a selection of photos, music, sound effects, vectors & illustrations and 3D models.
Although they are perhaps not as well-known as bigger stock photography websites, they offer contributors the opportunity to set their own prices and take a bigger share of the royalty.
If you're looking to buy video footage, prices for HD royalty-free content start at $25.
5. Artgrid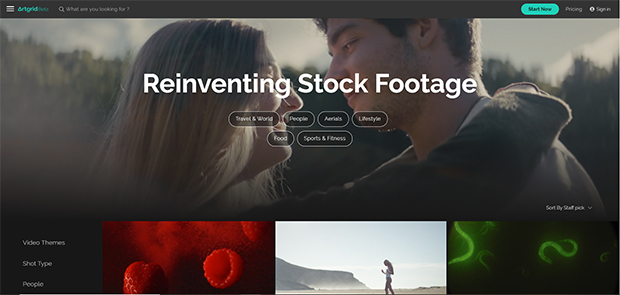 Artgrid only offers stock video footage, and their pricing plans start from $25 per month subscription for HD footage. If you want higher resolution footage including between 4-8K, then you'll pay $40 per month. If you rely heavily on stock footage, maybe their selection is worth the price!
What makes Artgrid unique is their organization system. Their filmmakers show a group of clips in a collection or "Story," which makes it easy to see all the stock footage by one creator.
You can still search and find individual clips if you know what you're looking for, but you can also find stock by your favorite trusted creator easily. The Stories contain between 3-100 clips, many of which pertain to a theme or location.
As a filmmaker, Artgrid offers a fair platform and plenty of opportunities to showcase your talents. To join, you must contact their catalog team with a link to your work and pass the vetting process.
6. Footage.Net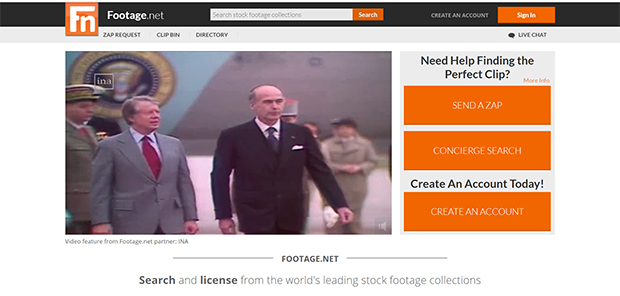 Footage.Net is another site that specializes solely in stock video. With this site's unique search feature, you're sure to find exactly the content you're looking for.
In addition to providing a typical search method, Footage.Net allows you to send a "Zap" email footage request to over 50 of the top footage providers. If they have footage matching your requirements, they then send that footage to you! Really, Footage.Net takes all of the work out of sifting through the stock footage library.
You can also pay for a ConciergeSearch, which employs Footage.Net's in-house researchers to find the content the perfect content for you.
This site is probably best for those who need niche or hard-to-find content.
7. MotionElements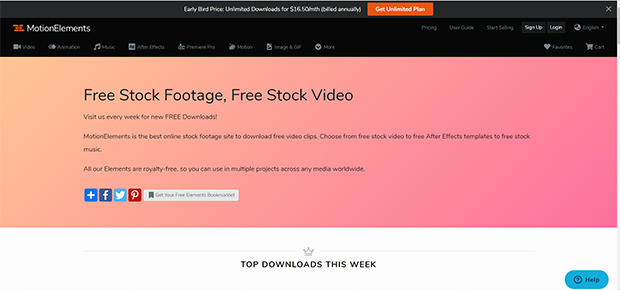 MotionElements is a video-based royalty-free stock marketplace that specializes in Asian content, but offers videos from all over the world. This site's library houses 2 million 4K video clips, HD clips and animated backgrounds for sale. It also offers a small selection of free downloads that are worth checking out.
MotionElements' animated backgrounds, video loops and particles offerings are perfect for those looking to source animations. The audio section is equally robust, with over 500,000 background music and sound effects.
This stock site also has templates for Adobe After Effects and Premiere Pro templates, video templates and motion graphics templates, too. These tools will all help you to create professional intros, text animations and slideshows for your project.
MotionElements even provides images for online media and sections for 3DModel, Lottie and sound effects! Chances are, if you need video-based stock content, you'll find it on MotionElements.
MotionElements bases its payment plans on either a subscription model or on-demand. The Unlimited subscription option costs $16.50 per month, or $198 annually. Their Credit package works similarly to iStock's — simply buy credits to redeem for content on the site.
It's worth noting though that, if you choose the Credit payment model, you won't gain access to photos, vectors, GIF or Lottie stock. These stock elements are for subscription customers only.
For contributors, joining MotionElements offers the benefit of reaching the Asian market as well as the rest of the world. The site allows you to sell your work at the price you choose, and let's you keep between 50-70% of the royalties.
8. Storyblocks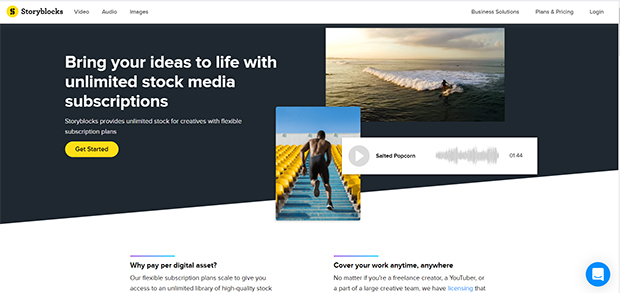 Storyblocks is popular with creators who use video heavily in their work. These creators need a fresh stream of video content, and Storyblocks provides just that.
They offer content ranging from stock footage and animated backgrounds to After Effects templates. You can easily browse their Collections to find just the right content for your project. These Collections include Social Media AE Templates, Intros & Outros, Drone Footage, Ultraviolet and more.
In term of still stock content, they provide photos, vectors and illustrations. And, they've also got music stock like sound effects and loops.
Storyblocks offers several different pricing plans. Their Basic Plan lets you download 5 videos for $19.99 per month. The Unlimited Monthly package gives you unlimited video downloads for $39.00 per month. Or, you can purchase the Unlimited All Access Monthly for unlimited access to video, audio and images for $65 per month.
If you want to join Storyblocks as a contributor on their Member Library Partner Program, check out their submission guidelines from the Contributor Portal.
9. Unsplash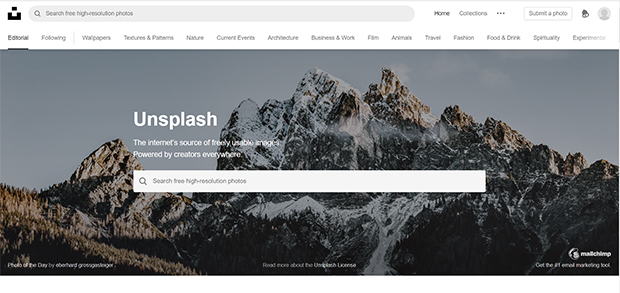 Unsplash provides high-quality, high-resolution stock images for free. One of the top free stock image sites, Unsplash only asks that you credit the contributor when you use his image.
Currently, Unsplash offers only stock images — no video as of yet. However, they have a vast range of free imagery to choose from. The New York Public Library has a collection on Unsplash, so if you're looking for historical images, their gallery may come in handy.
It's easy enough to become a contributor to Unsplash, but it depends on whether you're willing to give your work. There's an ongoing debate in the creator community about whether the promise of exposure is worth sacrificing a paycheck. You'll have to decide for yourself, but know that Unsplash is an option!
10. Adobe Stock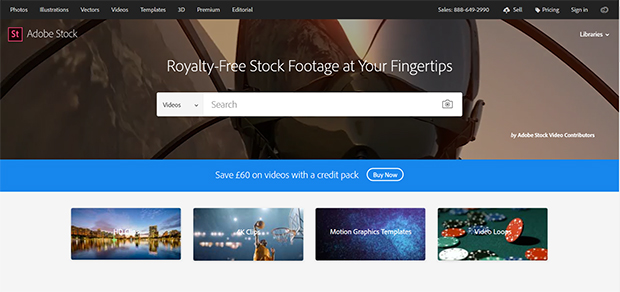 Adobe Stock is one of the most extensive stock libraries for video, and it's easy to navigate with a simple layout.
The site has stock content that includes photos, video, illustrations, vectors, templates, 3D and editorial. It also boasts the curated Premium Collection, which is made up of high-quality images and illustrations.
Adobe Stock prices its stock either through credits redeemable for video and Premium content or through a monthly subscription. Monthly subscriptions start at $29.99 for 10 standard images per month and go up to $199.99 a month for 750 images.
Video pricing works a bit differently. Buying 5 credits sets you back $49.95, while 16 credits costs $149.99. Adobe Stock is certainly not the cheapest stock option out there, but you get high quality content for your money.
Adobe Stock contributors receive a 33% commission on photos and vectors and 35% commision for video.
11. Dissolve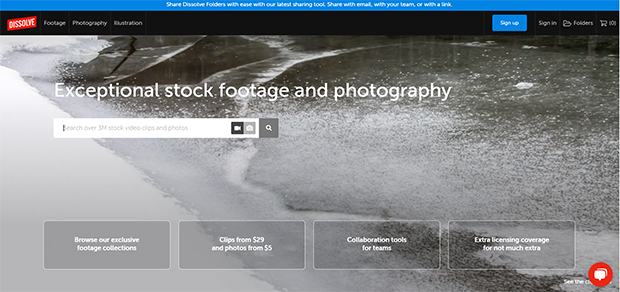 Dissolve takes a more artistic approach to video, illustration and photography stock. Their mission? To "transform stock footage from so-so to spectacular."
They curate their video and image collections are for "technical quality, aesthetic style, and cultural relevance." The images tend to organize around a lifestyle theme — people working, at home and, in general, living their lives.
Their footage collections contain work that ranges from bold and artistic to relatable and utilitarian. Their exclusive Liftoff collection, which they create in-house, covers narrative films, documentaries, experimental cinematography, commercial and travelogues.
Dissolve sells both royalty-free and rights-managed footage and images. Royalty-free footage pricing starts at $29, which buys you a 720 x 480px SD clip. Their largest packages — up to $549 — include large 4K footage files.
Photos and illustrations sell from $5-$499 on Dissolve, depending on their size and licensing. Single-user licenses, for instance, cost less than multiple-user licenses for the same image.
If you're on a budget, take a look at Dissolve Goodies. This portion of the site lets you download free high-quality footage and video elements. Dissolve Goodies also offers free photos, PDF's overlays, typefaces and more. The best part? These assets are available under a royalty-free licence.
Applying to become a contributor to Dissolve is fairly simple. Just fill out their application and wait to hear back from their team!
12. BBC Motion Gallery at Getty Images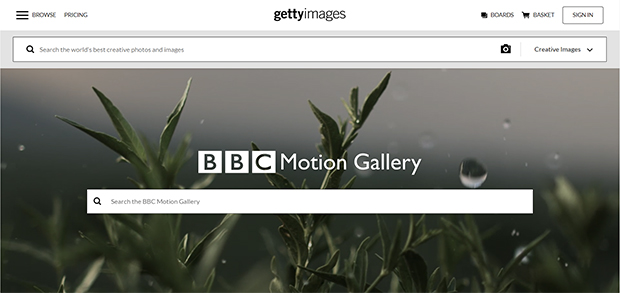 Getty is one of the biggest names in stock photography, and it's always a badge of honor to have your work accepted by and sold at Getty Images.
The BBC's partnership with Getty allows them to sell stock footage from their extensive Motion Gallery. This collection contains footage from 1922 when the BBC first began broadcasting, right up to the present day. Here, you'll find over a million hours of footage from the BBC archives, as well as over 125,000 license-ready clips.
The content in BBC's Motion Gallery meets the quality you'd expect from BBC professionals. The collection also includes content from CBS, CCTV (China), ABC (Australia) and many other broadcasters.
As you'd expect, Getty charges a high price for footage from the Motion Gallery. Price does depend on how you plan to use the content, though. Getty provides a range of options at different price points to help work with your budget.
13. Pexels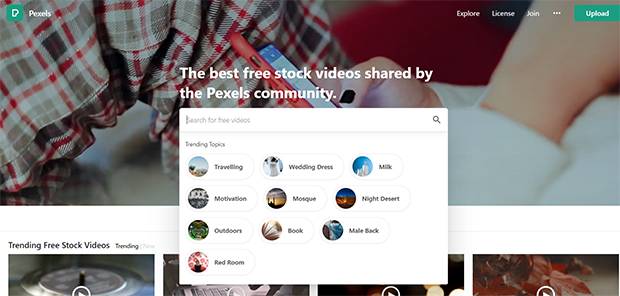 If you're looking for free video footage, then Pexels offers a good choice under a Creative Commons license. This means you're able to use the video clips for personal and commercial purposes without attribution.
Currently, Pexels allows video downloads primarily in HD format. That is, you'll find very few 4K files on the site. But, for a free stock site, that's to be expected. As with most free stock sites, the quality of the content varies. But, some patient searching can turn up hidden gems!
14. Free Video Footage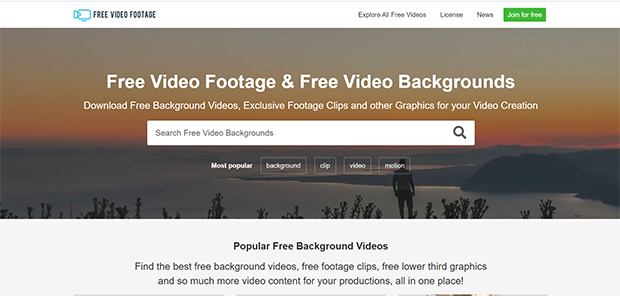 The name says it all, really! Free Video Footage provides free video content with the aim of giving back to the creative community. Free Video Footage allows customers to use the content on the site in commercial projects, free of charge.
They offer a wide range of footage (including free stock video loops) in many categories of video. And, these reliably-sourced clips are covered by a royalty-free license. That means you can use the footage commercially without worrying about the legalities.
15. Depositphotos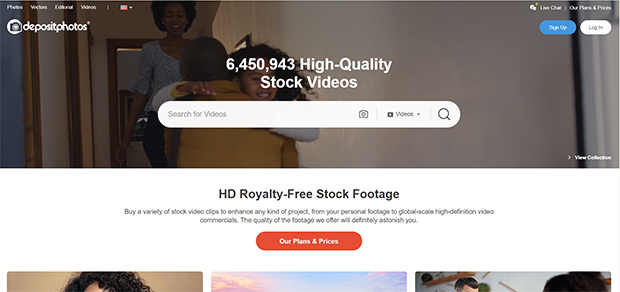 Founded in 2009, Depositphotos has established itself as a dependable image and video stock agency.
Creatives love Depositphotos because it has a more affordable pricing structure than a lot of other stock agencies, without sacrificing quality.
They have over 1.6 million stock video clips that vary in content and style, available in different resolutions. You can even purchase video packs on-demand, and Depositphotos offer discounts for bulk buying. 
If you're looking for stock images to go with your video, their well-stocked image library features a curated collection, free images, and work from spotlighted contributors.
Becoming a contributor to Depositphotos is easy. Just click the Sell Photos link at the bottom of the website page and read through the guidelines.
Their royalty and commission structure can be quite confusing (it was to me, anyway!), since it doesn't give a set price or percentage. Instead, they determine commission based how many images you sell.
Depositphotos also have a sizable collection of free stock content, including photos, videos, editorial and vectors. Click on the Free Pictures link at the bottom of the website to find them.
16. Videvo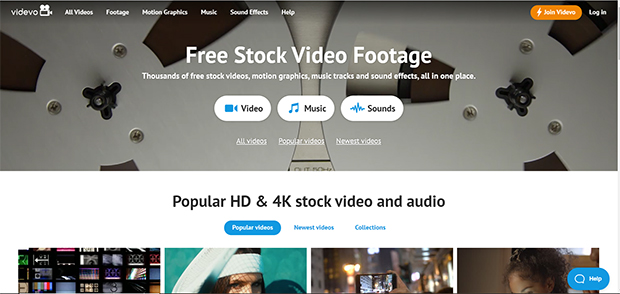 Videvo is another free video stock footage website. The videos are provided by Videvo community members who are videographers. 
There are two licensing options you can choose from for downloading. The Videvo License lets you use the video however you wish, provided you credit the author if you want to post the video online. The Creative Commons 3.0 license option requires you to credit the author of the video any time you use the clip. 
If you don't want to attribute the original creator, you can choose to upgrade a Premium Plan with royalty-free licenses.
There are two types of Premium Plans: Videvo Plus and Videvo Pro. Videvo Plus gives you access to the Premium collection of videos and 25 Premium downloads per month for $14.99.
Videvo Pro lets you download from the Premium collection, as well as from the 100,000 audio files on the site. You get 50 premium downloads per month with this package for $24.99.
Videvo also offers a huge library of motion graphics, including 4K animations, glitch & static, film leaders and looping animations.
These Best Stock Photo and Video Sites Can Help!
Who knew there were so many stock websites out there? And these are just a few of them! We've covered the best stock photo and video sites, but if you know of any great ones we didn't mention, let us know in the comments.
Hopefully, you've learned a little bit about:
Pros and cons of using stock
Different types of stock
Stock licensing options
Best and cheapest way to buy stock footage and imagery
We hope our roundup on the best stock websites has helped you to understand a bit more about the stock content business — whether you're a buyer or a contributor.
If you enjoyed this article, subscribe to our mailing list to be the first to get advice and tips on photography and image editing. Check us out on Twitter and Facebook, too.
Using WordPress and want to get Envira Gallery free?
Envira Gallery helps photographers create beautiful photo and video galleries in just a few clicks so that they can showcase and sell their work.