Your Guide to Using Layers in ON1 Photo Raw
by Brenda Barron on Mar 28, 2019
If you're an ON1 Photo Raw user, there's a good chance that you love the tool for many different reasons. ON1 comes with access to incredible editing features, unique effects, amazing color control, and of course – layers.
Layers are a fantastic feature of ON1 Photo Raw that allows you to make changes to your photos without harming the original image. In the 2019 Photo Raw update, a range of new layering features were added to the ON1 experience. These include a new workflow for Layers within the Develop and Effects tabs, new auto-align layers, and a new HDR workflow layer system.
Wondering how you can start using layers in ON1 Photo Raw? Here we're going to discuss the basics of:
The Layers workflow in ON1 Photo Raw
Focus stacking and auto layering
Accessing layers in ON1 Photo Raw
The Layers Workflow in ON1 Photo Raw
Designed as an alternative photo editing software to solutions like Lightroom and Photoshop, ON1 Photo Raw gives photographers excellent control over their images. This is important for images that are based on the HDR (High Dynamic Range) format. It's also crucial for focus stacking (something we'll address in a moment).
In Lightroom, there's no option to layer your content, so you're left with very few options if you want to experiment with your images without making any changes to the underlying photo. Most people need to use a combination of both Photoshop and Lightroom to achieve the same results they could get with a single program through ON1 Photo Raw.
In the past, Layers was in its own module:

Now, you can find your layer editing features within the Develop and Effects modules instead. This makes it easier to create multi-layered files with additional filters, and image changes in each layer. Remember, each new layer has its own non-destructive properties, so there's no need to worry about losing your initial images. Using layers in ON1 Photo Raw couldn't be easier!
ON1 Photo Raw Focus Stacking for Layers
One thing that makes ON1 Photo Raw layers so appealing is the frequent addition of new features and functions. ON1 layers is a fundamental part of the non-destructive workflow in the new Edit module for Photo Raw.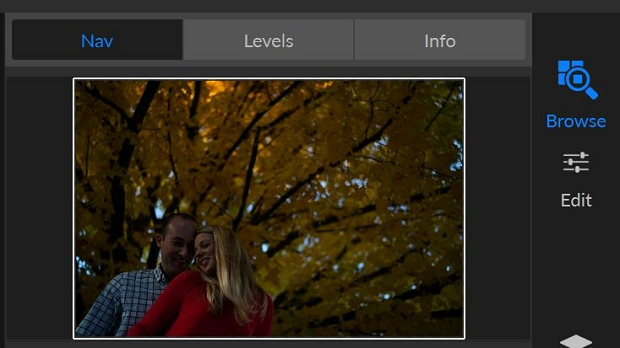 When you enter the Edit module, you'll see a range of features that you simply can't get in tools like Lightroom. For instance, using layers in ON1 Photo Raw also means that you can access the "Focus Stacking" feature. If you're a macro or product photographer, you've probably heard of this term. It's a technique for layering images with different focal points into the same file to achieve a narrower focal length.
Imagine you were photographing a butterfly very closely. You'd need a wide aperture lens to make the most of the light, but this would only place a small section of the butterfly in focus. Focus stacking combines multiple images into a single picture so that you can get a more complete image. Using layers in ON1 Photo Raw makes focus stacking easy with the addition of an "Auto align button."

Using the Auto-align layers feature, you can automatically collect all of the images with slightly different frames and bring them together so that they fit into a perfect image. Though you can do similar things in Photoshop, there's a very steep learning curve.
Accessing Layers on ON1 Photo Raw
Using layers in ON1 Photo Raw is a different process depending on what you want to do. For instance, to use your layers for effects like borders, blurring and antiquing without harming your initial image, simply go into your Effects page and click on the "Layers" panel. You'll see that you can change the opacity of each layer with a slider, and simply click the "+" button to add a new layer to your existing document.
Clicking on the "+" button will bring up a selection of all your photos saved with ON1 Photo Raw. You can then add that image into the mix, change the opacity of the layer, and even adjust the size of each layer depending on the kind of picture you want to create. Underneath the Layers section, there's also plenty of sliders for tones, colors, and saturation that you can adjust too.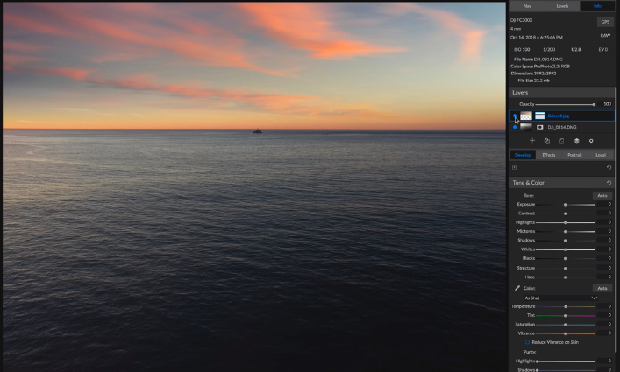 When you're ready to save your image simply click on the File tab to do so. Remember, because Layers are now tightly integrated into the Editing module, you can always click back into the system and make additional changes to any layer, at any time.
What are your thoughts on using Layers in ON1 Photo Raw? Let us know in the comments below, and remember to follow us on Facebook and Twitter for more guidance.
Using WordPress and want to get Envira Gallery free?
Envira Gallery helps photographers create beautiful photo and video galleries in just a few clicks so that they can showcase and sell their work.