Tips for Organizing Photos in ON1 Photo RAW
by Brenda Barron on Feb 18, 2019
Did you know that with the new Photo RAW photo editor, the ON1 brand has created a fantastic new tool for photographers?
No matter how great your images may be after you first take them, it's safe to say that there's always room for improvement. While many professionals turn to tools like Photoshop and Lightroom for assistance, Photo RAW has a lot to offer once you learn how to use it.
When you start using ON1 Photo Raw, you'll discover a tool that's specifically designed to prioritize image quality and streamline your workflow. After a small adjustment period, you'll be creating stunning albums in no time. So, how do you start organizing photos in Photo Raw?
Today's article will introduce you to:
How you can find your photos
Where to view your images
Options for importing pictures
Catalogs and folders
Finding your Photos on Photo Raw
Before you can begin organizing photos in ON1 Photo RAW, you'll need to figure out where you can see your images. Designed to make cleaning and culling your libraries simpler, Photo RAW comes with everything from smart albums to creatively catalog folders.
Most of the time, when you're getting used to editing images in Photo Raw, you'll start looking for pictures in the Browse Photo module. The Browse module comes with access to all the photos and downloaded images on your computer or laptop – so finding the right images is simple.
On a Mac, use Cmd+B to choose a folder you need or Ctrl+B on Windows.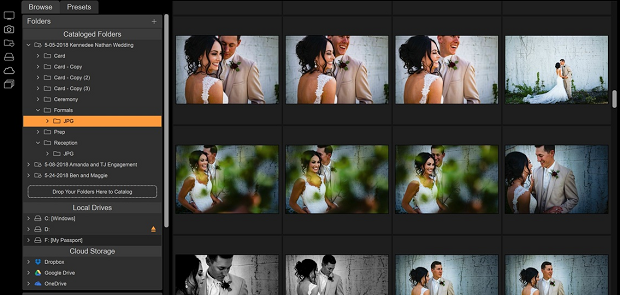 Viewing and Culling Images
Once you've found your images in ON1 Photo Raw, organizing them is simple. The ultra-fast browser mode makes it easy to cull pictures with speed and simplicity. You don't even have to sit around waiting for previews to load.
One of our best ON1 Photo RAW tips to remember is that there are 4 ways to view your pictures. The filmstrip mode is often a good choice when you need a detailed view during organization. Another point to note is that the rating system is similar to the Collections feature of Lightroom. You can add and delete photos from your folders or give them a score based on their value.
One particularly impressive addition added to Photo Raw in a recent version was "Auto Advance." This feature means that you move automatically to the next image after culling or editing an image. This way, you're less likely to wear down your arrow keys.
Importing Pictures to On1 Photo RAW
One thing that's particularly appealing about organizing photos in On1 Photo RAW is the importing solution. AI algorithms automatically transfer Lightroom edited photos into your browsing gallery so that you can access them in no time.
If you do happen to have images that you want to bring into your galleries from a memory card, then Photo RAW makes that simple too. When importing images from an external drive, you can adapt them with sequential numbering, keywords, and meta-data. There's also the option to add photo filter presets so you can ensure every image has the right look. On top of that, ON1 Photo Raw gives you an opportunity to adjust capture times, just in case you forgot to set them on your camera.
If you want to go back and cull later on, add the images to a new folder or catalog and return when you're ready.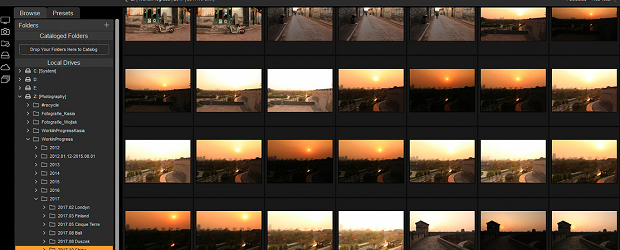 Using Catalogs and Folders
Finally, when it comes to organizing photos in ON1 Photo RAW, make sure you're making the most of catalogs and folders.
There are a number of different ways to store your images on Photo RAW. For instance, albums are essential collections of photos that you can add to and browse through quickly. Smart Albums are the selections that use specific criteria to search through your images and collect the right images intelligently. For instance, your Smart Albums might collect photos from a particular time of day.
When you create a Cataloged folder in On1 Photo RAW, it creates a cache of all the metadata information and preview files for your photos so that you can browse through a collection quickly.
Hopefully, this guide gave you a little bit of knowledge about the features available for organizing photos in ON1 Photo RAW. To find out more about the latest photo enhancement tools and features, remember to follow us on Facebook and Twitter.