How to Add a Photo Gallery to WordPress
by Gerald Jackson on Mar 1, 2020
You're browsing some photography websites, looking for inspiration for your own portfolio, and you notice how beautiful some of these pages are. Then, you wonder about how to add a photo gallery in WordPress. You don't have any coding experience, so how can you make your site look beautiful, too?
If this describes you, then don't worry! You don't need to know any coding or website design to create awesome photo galleries with your own work. WordPress's built-in gallery features and other third-party tools make it easy to get started in minutes.
In this article, we'll discuss the basics of adding a photo gallery to your WordPress site. If you just want to create a basic gallery to get started, you'll just need WordPress and a few minutes to spare! However, if you want to start building advanced galleries, we recommend you install the Envira Gallery plugin.
With that said, we'll cover the following in today's blog:
What a photo gallery is, exactly, in WordPress
The benefits of putting galleries in a WordPress site
How to set up a basic photo gallery in WordPress using both the classic content editor and the new Gutenberg block editor
What you should look for when shopping for WordPress photo gallery plugins
Some great tutorials to get you started working with more advanced gallery functions with the Envira Gallery plugin
What Is a Photo Gallery in WordPress?
Photo galleries are collections of images (and sometimes videos) organized in a display on your WordPress website. These galleries are designed to showcase your images to visitors — and wow them!
The traditional WordPress gallery comes in a "grid" layout. With developments in CSS/HTML and JavaScript, galleries are now more dynamic than they've been in the past, with different layouts, shapes and interactive capabilities.
Since photo galleries are a growing part of almost any website, it isn't surprising that WordPress has several options to help you build and customize a photo gallery for your site. The great thing about WordPress is that image gallery functionality is built right into the content editor. And, if built-in options don't give you enough customizability, you can download WordPress plugins to build even more advanced galleries.
The Benefits of Adding a Photo Gallery to WordPress
The truth is that an attractive, visually appealing website will attract and impress visitors. Marketing and design studies have shown that pages with images, movies and interactive elements perform better with visitors. Google itself even factors images and galleries in their SEO rankings!
Because images and image galleries are so important for readers and Google search results, many WordPress users make photo galleries to feature their product in photos or to showcase their portfolio pages.
Some of the major benefits of using an image gallery include:
Showcasing Your Products
Businesses that sell physical products want to show these products to customers in a way that makes sense. When customers can browse through product images easily, they are more likely to explore your offerings.
Maintaining a Portfolio
Whether you are a photographer, visual designer or filmmaker, you will want to show the world the quality of your work. An image gallery is the perfect way to do just that.
Support Search Engine Optimization
Google search results favor sites that use images properly. By "properly," we mean optimizing images with descriptive captions and alt text. Many gallery plugins give you the tools for optimization for SEO to maximize your site's position in search results.
Present a Professional Website
A properly formatted gallery can enhance your site by giving you a way to organize pictures in an attractive manner, and giving your readers a simple way to browse images. Likewise, an attractive product showcase will make your site appear more professional and inviting.
Increased Social Sharing Options
Images attract the attention of readers. If you don't believe me, look at Instagram. Having an image gallery from which you can link to your social media accounts will make it easier to attract viewer traffic and create an effective marketing funnel.
The expanded use of image galleries in WordPress sites means that there are quite a few plugins for WordPress that will help you create and customize image galleries to fit your site. These plugins typically allow you to insert image galleries directly into a WordPress post or top-level page with high-level functionality beyond WordPress' built-in functionality.
Steps to Adding a Photo Gallery to WordPress
WordPress includes photo gallery functionality right out of the box. For example, here's a photo gallery that you can create with WordPress: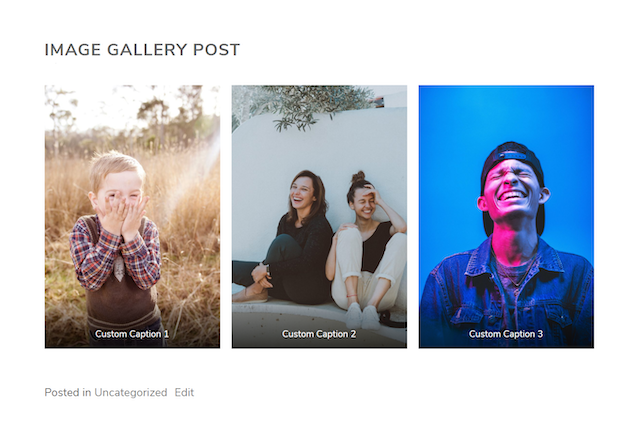 Getting started on your own WordPress gallery is as simple as creating a WordPress post or page. Let's get started.
How to Create a Gallery Using the Classic WordPress Content Editor
If you're using the classic content editor, you'll have to go through the Insert Media interface to create a gallery.
First, go to the WordPress Dashboard and Select Posts, then Add New. Here, we'll give this post the title "Image Gallery Post":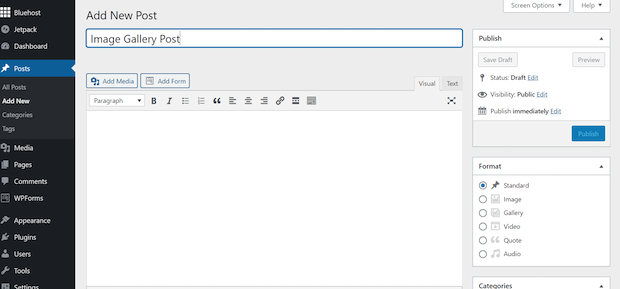 Then, insert an image into this post by clicking the Add Media button. This will bring up the Add Media window: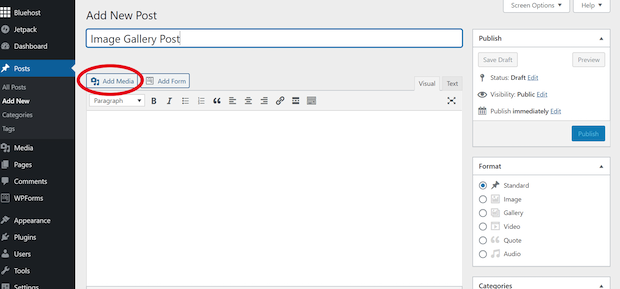 From Here, select Create Gallery to show the gallery window: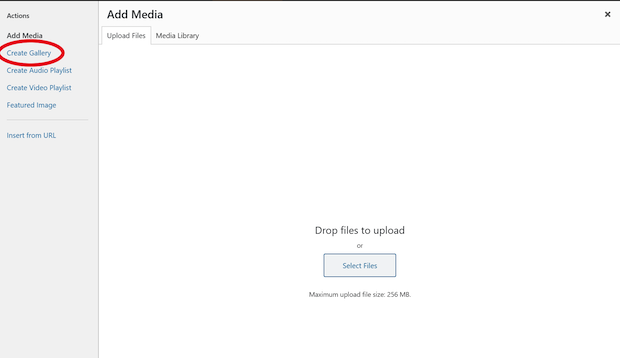 There are two options available at this point. By default, you can upload new images to your WordPress media library as part of your gallery. To do this, drag and drop your images on this window, or click the Select Files button to import images.
Alternatively, you can click the Media Library tab and select images that are already in your media library.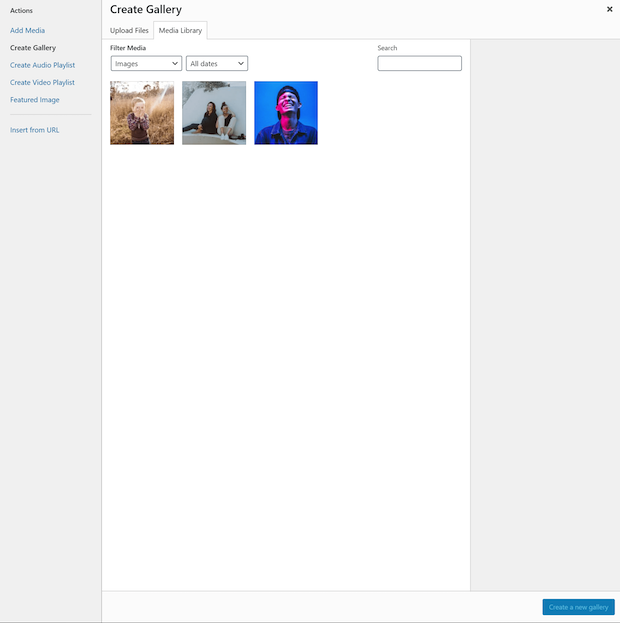 Once you have your images uploaded or selected, click the Create a new gallery button at the bottom of the window. The Edit Gallery window will appear to give you once last change to edit the gallery itself. From here, you can click and drag images to rearrange them, add captions or delete images individually from the gallery: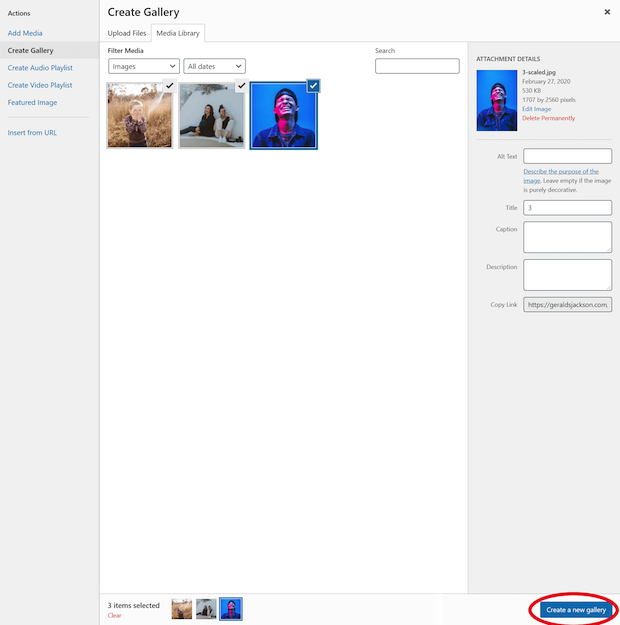 Once you've finished editing, click Insert Gallery to put the gallery on your page: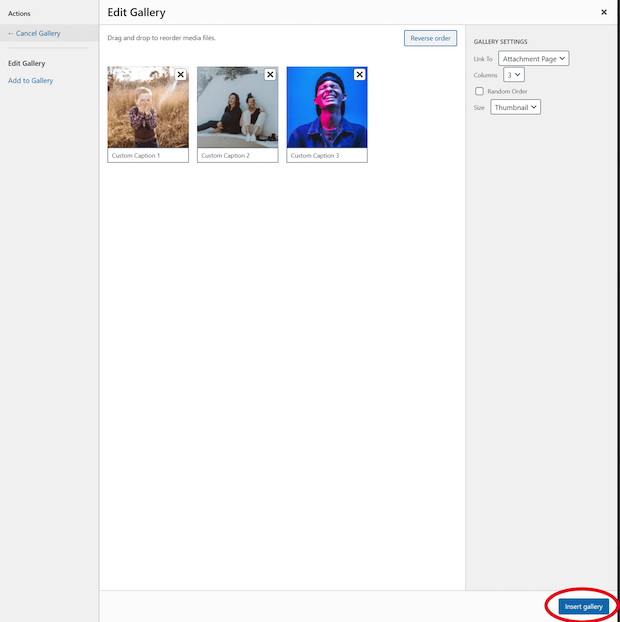 Note that once you insert the gallery, you can access the editing window again by clicking on an image in the gallery and then selecting the pencil icon that appears on top of the gallery.
How to Create a Gallery Using the Gutenberg Content Editor
The Gutenberg editor makes editing rich content easier in WordPress, and this is evident when creating galleries.
First, create a post the same way we did earlier: by choosing Posts >> Add New. You'll then see the Gutenberg block editor with a single block ready to customize: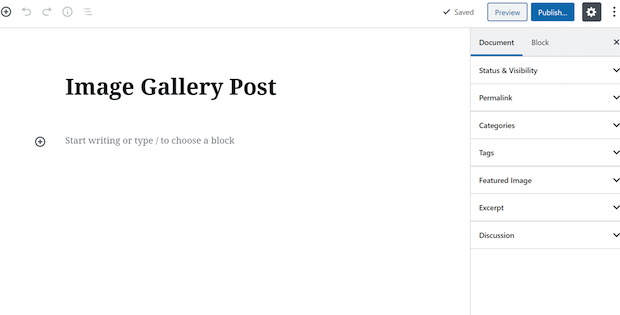 From here, simply click the Add Gallery icon located in this block:

Two buttons will appear here. Click Upload if you want to import images from your computer, or Media Library to use images from your existing media library. In either case, Gutenberg will insert the images directly into the post: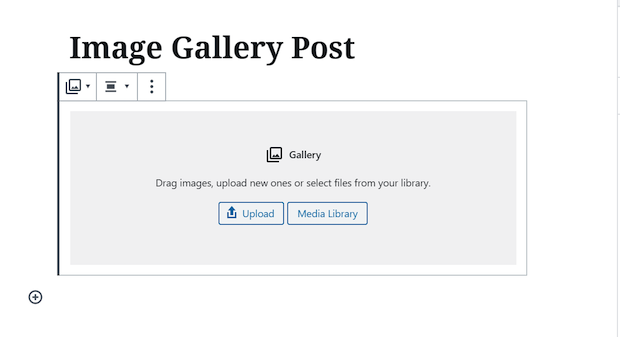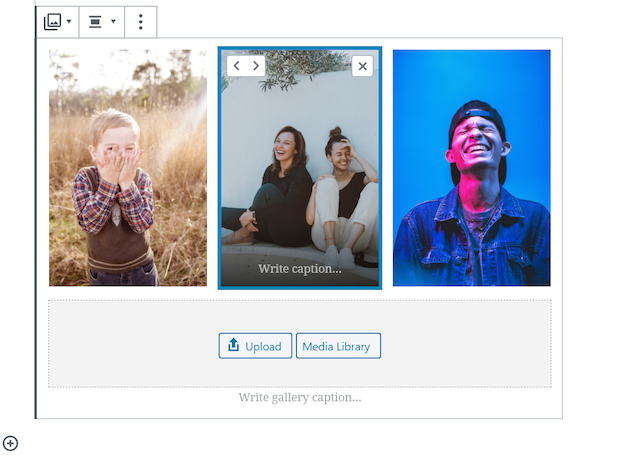 From here, you can adjust the order of the images by hovering your mouse over a picture and clicking either the left or right arrow that appears. These controls shift the image either left or right.
You can also add a caption by hovering your mouse over the image, clicking the Write Caption… section at the bottom of the image and typing in your caption.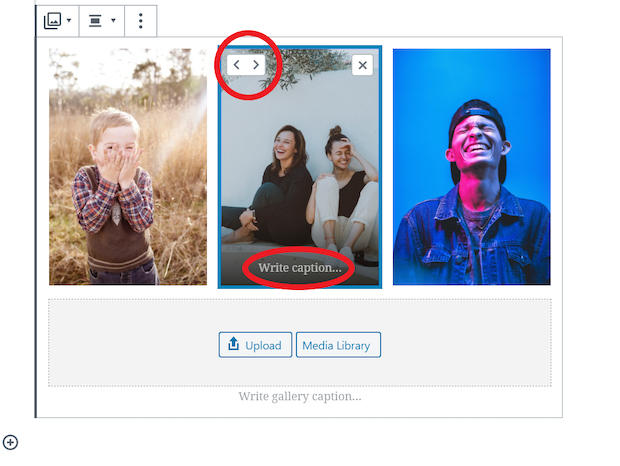 When you've finished adding images and editing the gallery, simply click anywhere outside the block and WordPress will save your changes.
Tools and Resources for Adding a Photo Gallery in WordPress
While WordPress gives you the power to create galleries from scratch, these are pretty basic in form and function. Serious users who want to provide high-quality photos can turn to more advanced WordPress photo gallery plugins. These plugins will allow you to create more specialized and attractive gallery pages.
For example, the Envira Gallery plugin is a freemium utility that provides great additional features for photographers and web designers without complicating the gallery creation process. Envira includes tools for special slideshows, gallery pagination, custom CSS and image watermarking. And, prices start at just $29 for the basic plugin.
When looking for a photo gallery plugin, here's what you should consider before purchasing:
1. Does the WordPress Plugin Provide Social Media Support?
Great plugins enable you to post images to social media directly from your gallery. This creates a seamless reader experience from your social media accounts to your web page.
2. Does the Plugin Offer Tools to Optimize Images?
At the very least, a good plugin will give you easy tools to create alt tags and captions for proper SEO. Some professional photographers or media designers want even more. Look for plugins that can help manage EXIF data, full-screen presentation, minimizing image load time and provide image proofing.
3. Does the Plugin Give You Data Security and Management Features?
Watermarking and password protection are great ways to protect your work, but not all gallery plugins include these tools. Pay attention to these features to save yourself from online image theft.
4. Does the Plugin Give You Control Over the Look, Feel and Theme of the Gallery?
If you just want to show a grid of images you can just use the default functions in WordPress. But plugins give you gallery themes, pagination and the ability to create a justified image grid for photos. Bonus points for a plugin that lets you embed videos in your gallery as well!
Best Tutorials for Adding a Photo Gallery in WordPress
With all these tools and resources available, you might feel intimidated to get started. Luckily, there are tons of tutorials available to help you with installing a gallery plugin and creating your gallery the way you want.
The Bottom Line on Photo Galleries in WordPress
If you work in a visual industry or for a company that utilizes high-resolution images, then working with galleries as part of a WordPress website is a critical skill to develop. Luckily, WordPress makes it easy to build galleries into any piece of content you create.
Customizing those galleries to your own needs might be a bit more challenging, though, and working with the new Gutenberg editor has altered how some gallery plugins work with WordPress more broadly.
We hope you found this article on adding image galleries to your WordPress website helpful. If you did, subscribe to our email list so you never miss another WordPress how-to or photo editing tutorial. Make sure to follow us on Facebook and Twitter, too!
Using WordPress and want to get Envira Gallery free?
Envira Gallery helps photographers create beautiful photo and video galleries in just a few clicks so that they can showcase and sell their work.