How to Add Breadcrumb Links in WordPress Galleries / Albums
by Waseem Abbas on Feb 15, 2018
Do you want to add breadcrumb navigation to your image galleries and albums? Navigation improves your user experience by making it easy for visitors to browse your galleries and find exactly what they need. In this tutorial, we will share how to add breadcrumb links in WordPress galleries / albums.
By default, WordPress doesn't have the option to add breadcrumbs to your image galleries. You need to use a plugin Envira Gallery that allows you to add navigation and levels to galleries on your site.
To add breadcrumb links in WordPress galleries/albums, you'll need to follow these 5 steps:
Step 1. Install and activate Envira Gallery WordPress plugin
Step 2. Install and activate Albums and Breadcrumbs addons
Step 3. Create a few galleries and make an album for them
Step 4. Enable breadcrumbs settings for your photo album
Step 5. Publish and display the photo album in WordPress
By the end of this tutorial, you'll be able to create breadcrumb navigation for your photo albums and galleries that will look like as shown in this image below: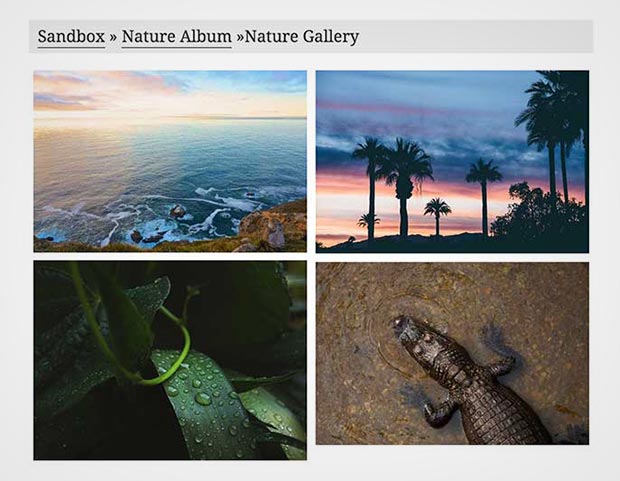 Step 1: Install and Activate Envira Gallery WordPress Plugin
The first thing you need to do is install and activate Envira Gallery plugin on your WordPress site.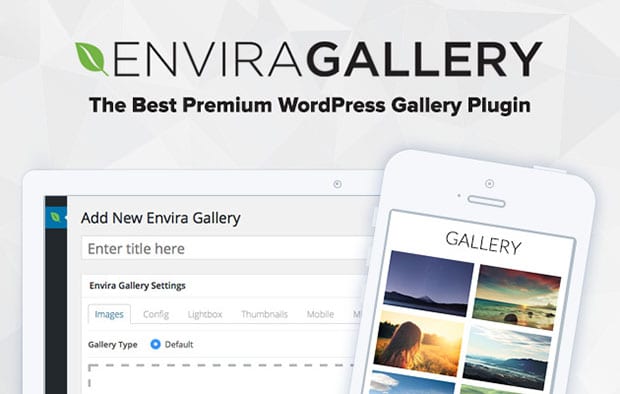 For assistance in installation, you should check out this complete guide on how to install Envira in WordPress.
Step 2: Install and Activate Albums and Breadcrumbs Addons
Upon activating the plugin, you need to go to Envira Gallery » Addons to install and activate: Albums and Breadcrumbs addons.
To access these addons, you must have Envira's Pro or higher license. Don't have the same? You should upgrade your license from here.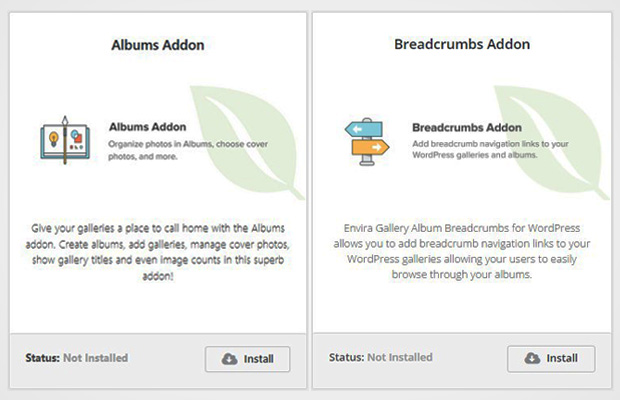 These two addons will help you in adding the breadcrumb navigation to your WordPress albums and galleries.
Step 3: Create a Few Galleries and Make an Album For Them
Next you need to create some galleries. Simply go to Envira Gallery » Add New from your WordPress admin backend. Add a title and drop the photos in Native Envira Gallery section.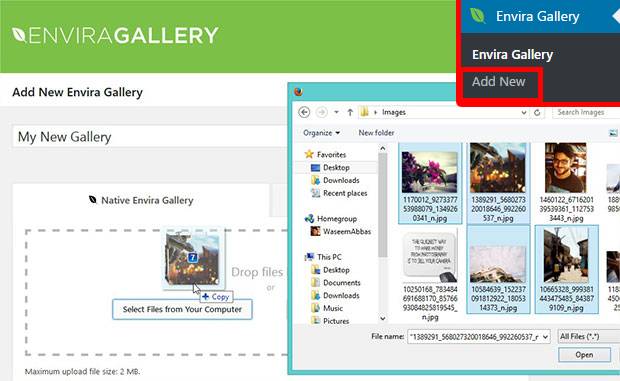 Hit the Publish button and repeat the process to create as many galleries as you need. To learn about the basic settings, you should check out this guide on how to create an image gallery in WordPress.
After creating the galleries, simply go to Envira Gallery » Albums and click on the Add New button.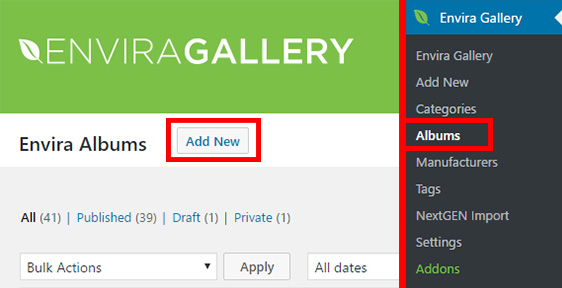 Add a title for this new album and scroll down to select your image galleries.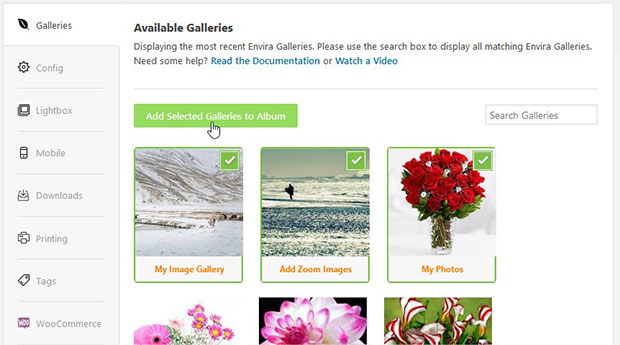 Now you have an album with image galleries to add the breadcrumb links.
Step 4: Enable Breadcrumbs Settings For Your Photo Album
Scroll down in your album to Breadcrumbs tab and check mark on Enable Envira Breadcrumbs.
Once enabled, you can add the breadcrumb separator for your gallery / albums navigation.
In case, you are using Yoast SEO plugin on your website, it allows you to enable the Yoast breadcrumbs instead of Envira's breadcrumb. You may know that breadcrumbs also helps you to rank your photos in the search engines.
Step 5: Publish and Display the Photo Album in WordPress
Now hit the Publish button on the photo album and copy the shortcode from Envira Album Code widget.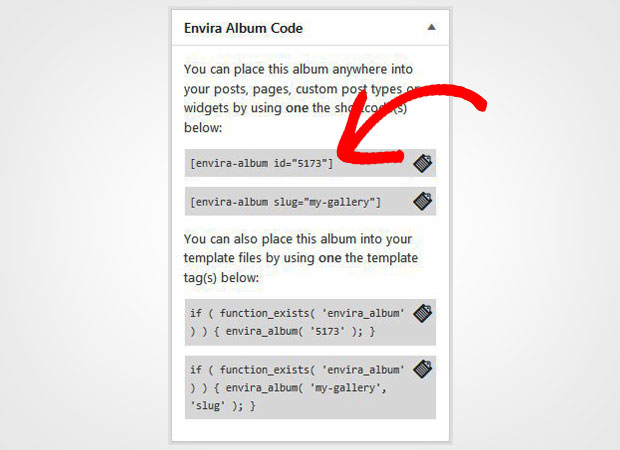 Go ahead to Pages/Posts » Add New or edit an existing page/post. In the visual editor, simply paste the shortcode of the breadcrumbs album.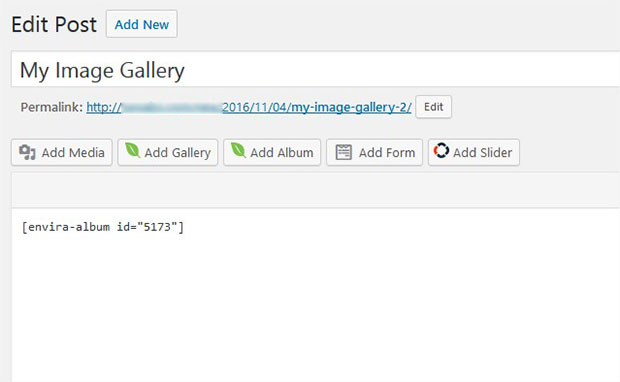 Make sure to click on the Publish/Update button. You can visit your website to see breadcrumbs navigation that will look like as shown in this image below: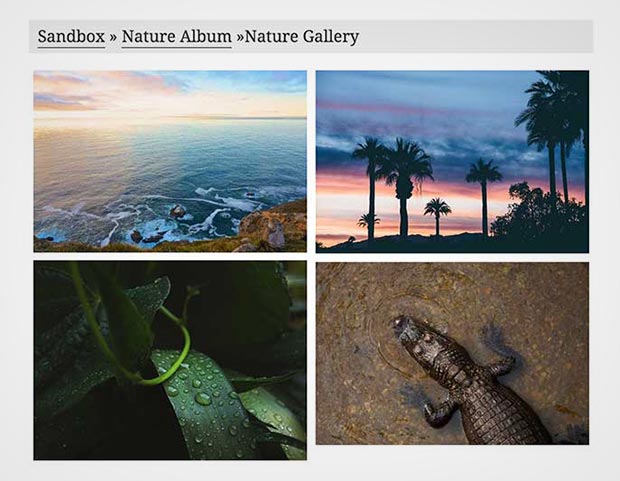 We hope this tutorial has helped you to learn how to add breadcrumb links in WordPress galleries / albums. You may also want to check out our guide on how to add multiple galleries in WordPress posts and pages. In case, your image gallery is not ranking in the search engines, we recommend you to check this guide on how to optimize your WordPress images for SEO.
If you like this tutorial, then please follow us on Facebook and Twitter for more free WordPress guides and resources.
Using WordPress and want to get Envira Gallery free?
Envira Gallery helps photographers create beautiful photo and video galleries in just a few clicks so that they can showcase and sell their work.