How to Showcase Your Products, Portfolio, or Services with Envira Gallery's Albums Addon
by [email protected] on Mar 30, 2021
Imagine waking up to a popular fashion celebrity one day and discovering that you own vast collections of clothes and accessories that wouldn't even fit in a room. As much as you'd be excited, it would be a nightmare to organize your newfound treasure.
You might find yourself in a similar situation if you are trying to showcase your products, portfolio, or services on your website. Envira Gallery's Albums Addon allows you to combine multiple galleries into individual albums in an easy and organized way. 
A wardrobe with multiple shelves and drawers can segregate and segment clothes and accessories into categories and subcategories based on type, color, pattern, and occasion.
Likewise, Envira Gallery's Albums Addon can effectively help you display your photo collections and product or service catalogs. It enables the users to see what they want on the same page.
In this guide, we'll show how you can showcase your products, portfolio, or services with Envira Gallery's Albums Addon in a few clicks. Before that, let's demonstrate how to install the Albums Addon if you haven't already done it.
Albums Addon Installation
To install Envira Gallery's Albums Addon, go to your WordPress dashboard, hover over the Envira Gallery button, and click Addons. In the Addons section, you can see several addons, including the Albums Addon towards the top.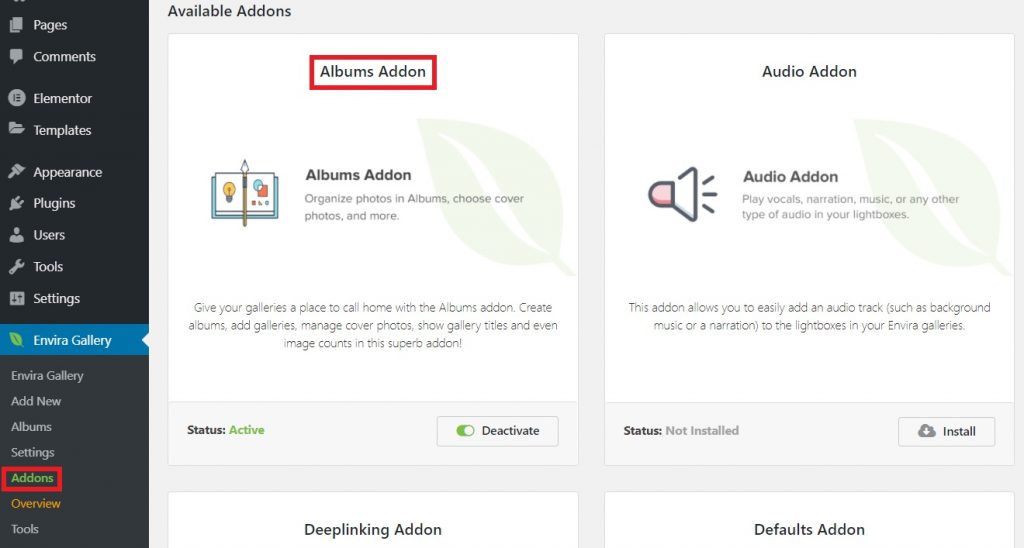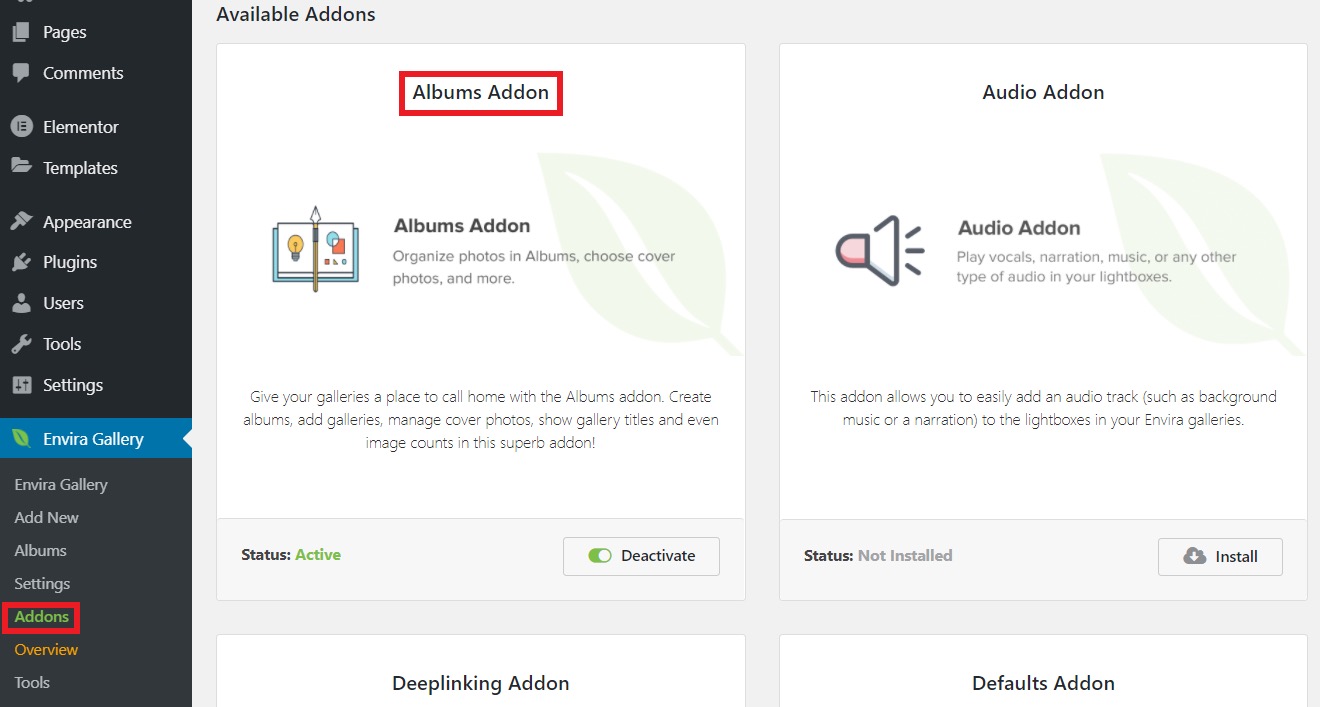 Click on Install and toggle the Activate button once the addon is installed. That's it – you're now all set up to transform your WordPress galleries using the Albums Addon.
Creating Your First Album
After you've installed the Albums Addon, it's time to put that to use to create your first album. Refresh your WordPress admin page, and you'll see an Albums tab appear under the Envira Gallery menu.
In this demo, we will be creating an album to showcase the portfolio of a professional photographer who shoots in multiple genres. The Albums Addon would help us gather their galleries on fashion, product, and wedding photography and display them under the portfolio.
Step 1
Go to the Albums tab under the Envira Gallery menu and click on Add New button.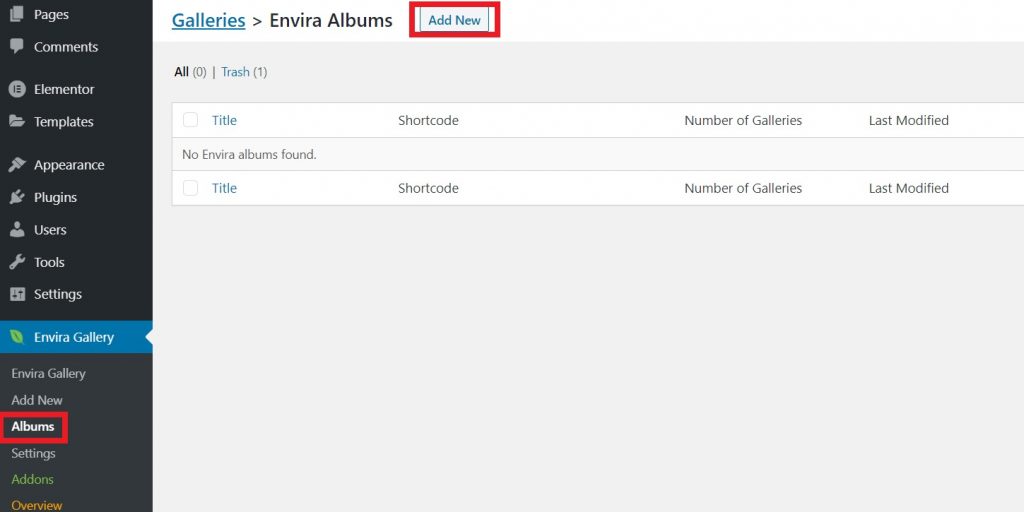 Step 2
Add a title to your album. Make sure to use a unique title that describes your album. Following this practice makes it easier to find and use a specific album in the future. In our case, we are using the title, "Photography Portfolio."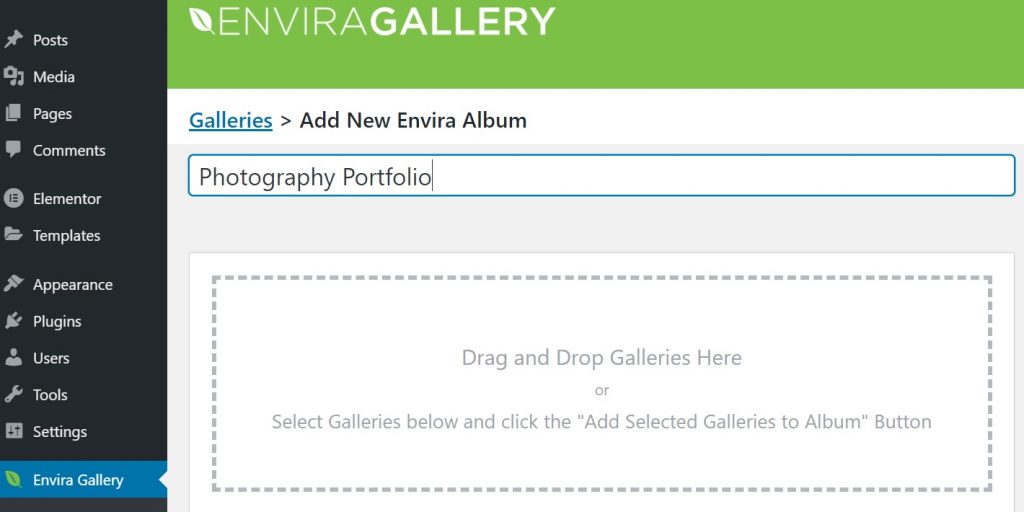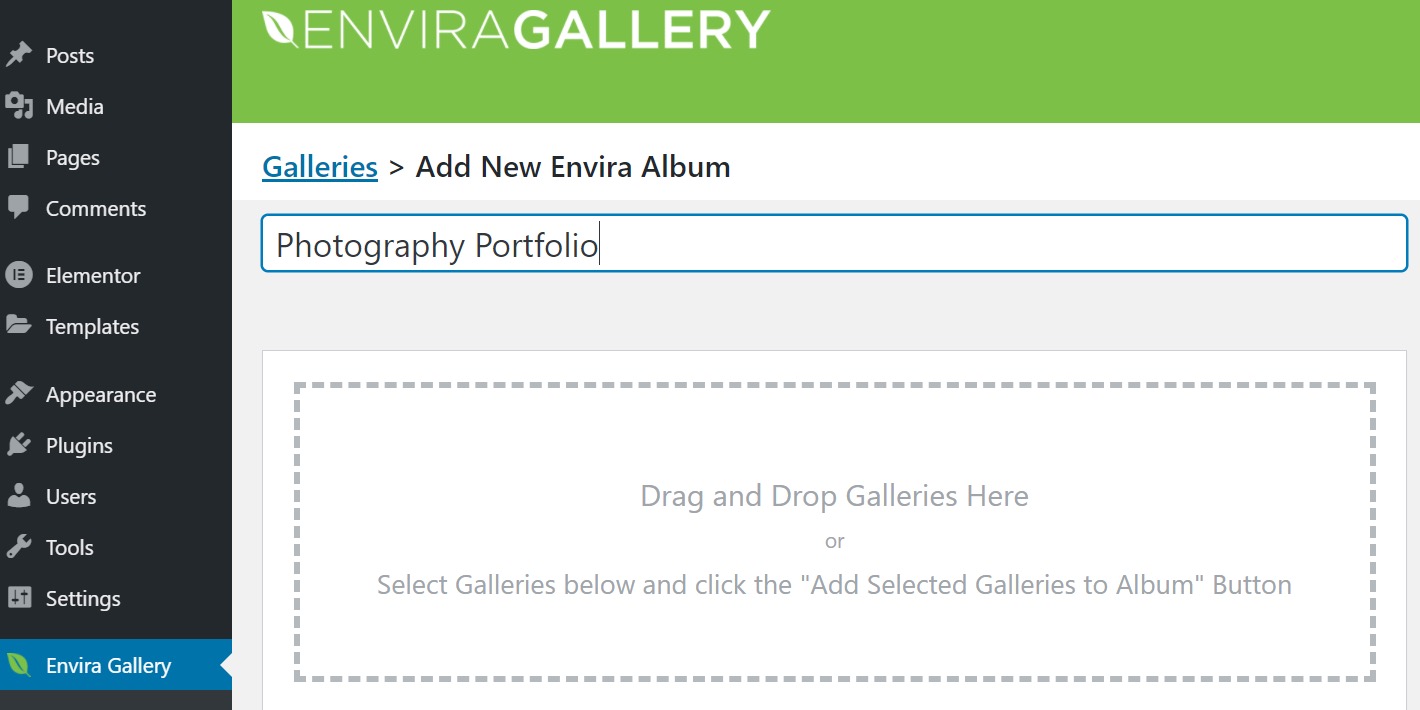 Step 3
To add galleries to your album, scroll down to the Available Galleries section.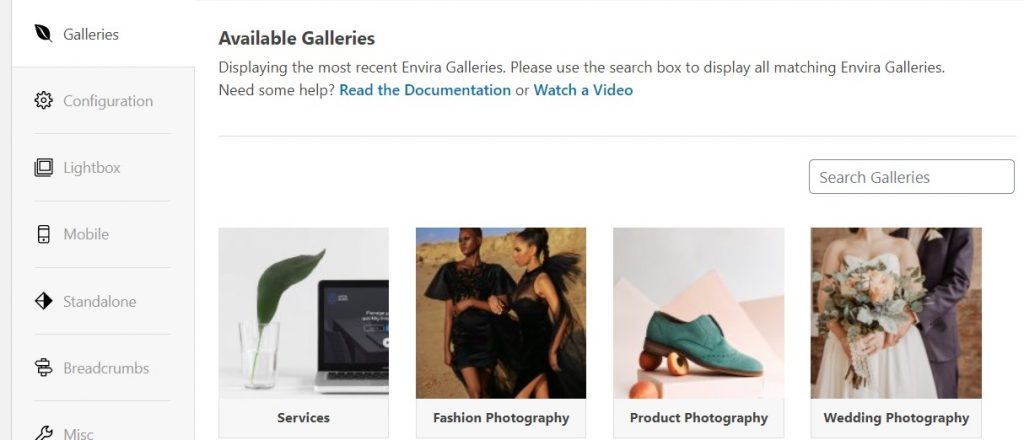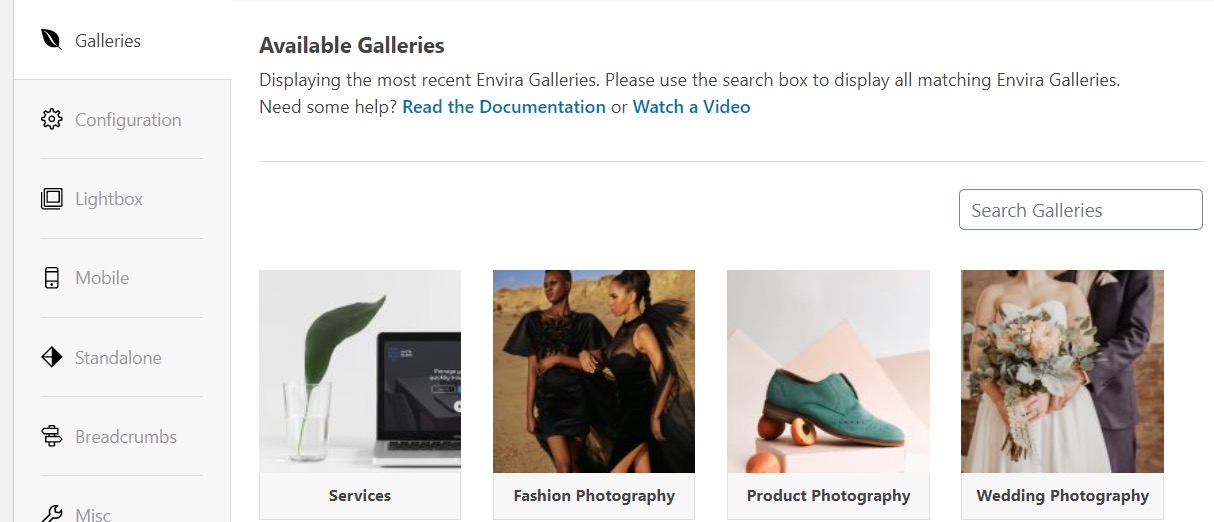 In case you don't see any galleries, you need to create some before you can add them to your album.
There are two methods to add galleries to the album – both are quick and easy. The first way is to simply drag and drop individual galleries from the Available Galleries section to the Drag and Drop Galleries area above. The second is to click on the galleries that you want to include. As you do so, a green checkbox would appear on the top right corner of the gallery cards as you do so.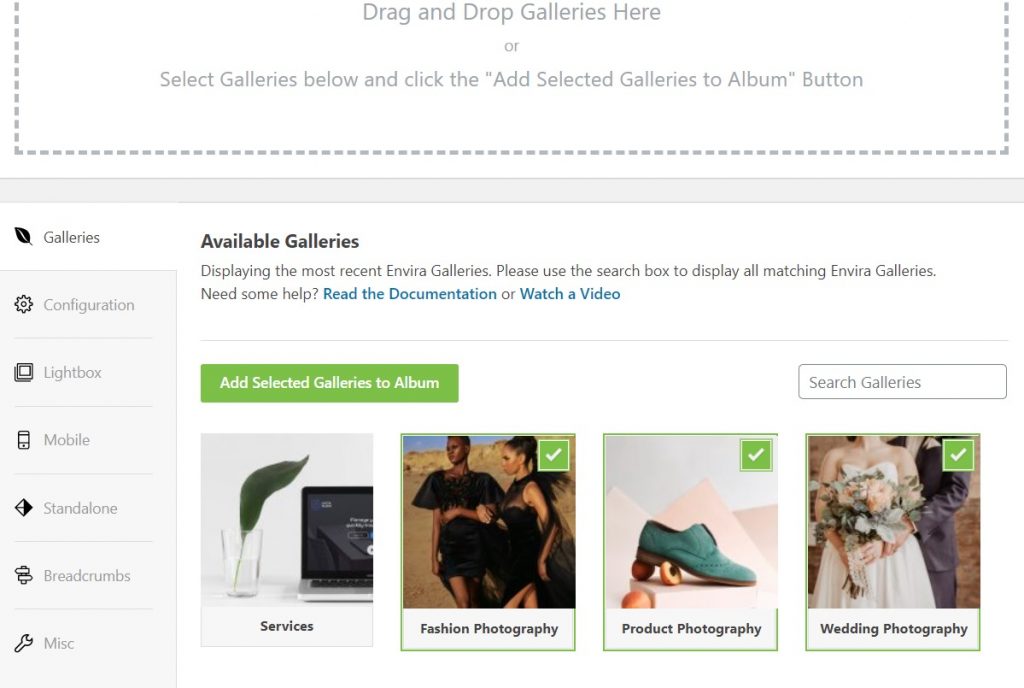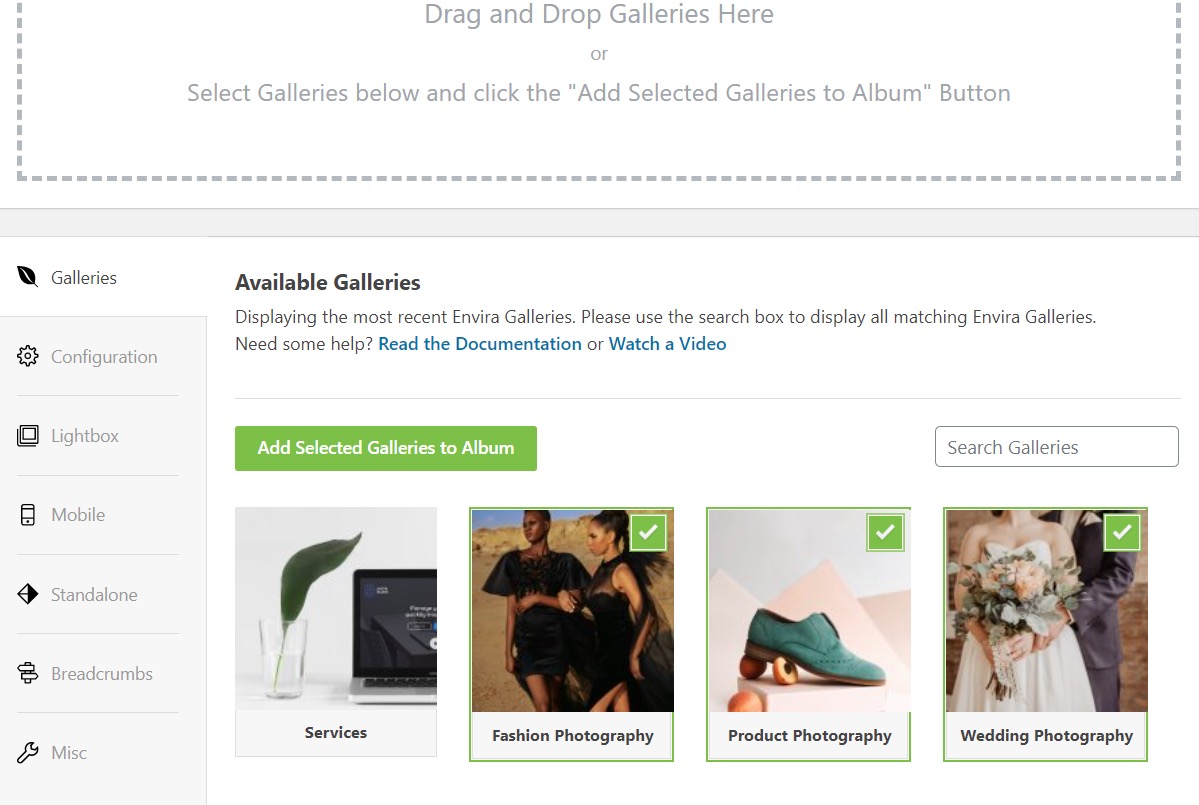 Once you have selected all the galleries you want to add to the album, click the Add Selected Galleries to Album button. The second method is particularly useful when you have many galleries to add, and you don't want to drag and drop each of them individually.
Step 4
Let's click on Preview to see how our album looks.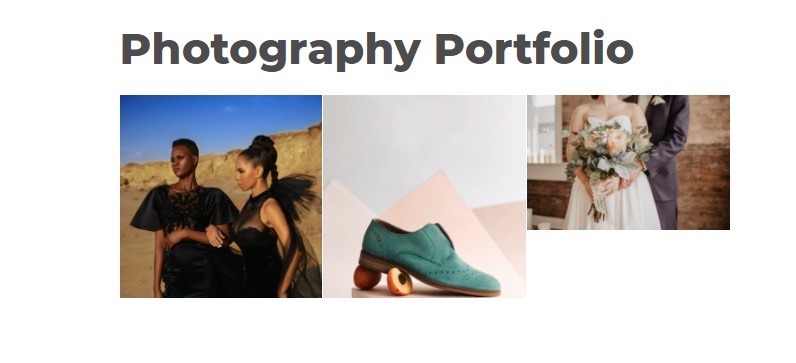 Not so appealing, right?
Our portfolio album would be aesthetically and practically better if we can change these:
Add gallery titles
Enlarge the thumbnails
Increase space between the thumbnails
Crop the thumbnails to make them equal in dimensions
Add an album description
Thankfully, it's easy to configure Envira Gallery albums. Go to the Configuration tab just below Available Galleries. Here you'll see several options to optimize your album. Let's go through each of them.
Album Layout determines how your galleries are arranged in your album. We'll change the layout to Grid for our album as we want our album uniform and symmetric. The Number of Album Columns allows you to specify the maximum number of columns that can fit in a row. We've three galleries, so we'll leave the default setting at three columns.
Checking the Display Back to Album Link lets you include a link in your galleries that directs the users back to the album. The link makes it easier for the users to switch between galleries. Note that it only works when the Lightbox is disabled (we'll discuss Lightbox later).
Enabling Lazy Loading loads only the thumbnails when someone visits your webpage. Enabling it reduces the page loading time and boosts your website's performance. Lazy loading is enabled by default.
You have the option to set a custom lazy loading delay to specify the time after which you want to load the images. By default, it is set to 500 milliseconds.
Align Album and Album Width allow you to choose your album's alignment and width by adding a CSS class to the 'envira-album-wrap' div.'
If you want to add text above or below the album, you can use the Display Album Description option. When you select the option to display description, a text editing box appears where you can change the size, shape, and alignment of your text. We wrote a couple of sentences that describe what our album is about.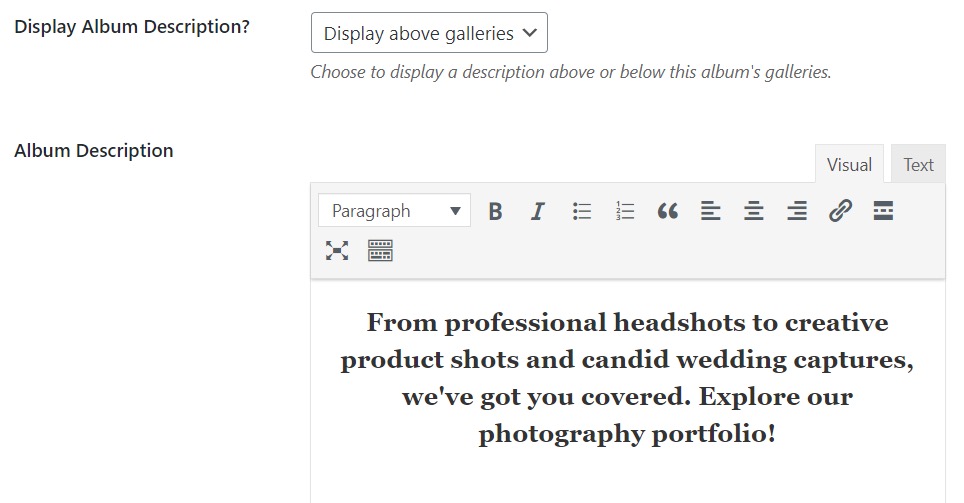 You also have the option to display gallery titles, captions, descriptions, and image count. These are disabled by default. We want the gallery titles (Fashion Photography, Product Photography, Wedding Photography) displayed below the respective galleries so the users can know what they want to browse.
Column Gutter Width and Margin Below Each Image give you the option to change the gap between images. Both are set to 10 px as default. We want a bit more space between our portfolio items – so we increase the Column Gutter Width to 50 px.
The Sorting option allows you to sort the galleries based on specific criteria, such as date, title, caption, or random. It comes in handy when you have a large selection of galleries in your album and you are constantly adding new galleries to your album.
Image Dimensions is an essential configuration option on Envira Gallery. Did you notice how small the featured gallery images in our album were? We can change that by increasing the image dimensions. For our album, we are setting it to 500 x 500 px.
Do you recall the last image in our album was shorter than the rest? The Crop Images option crops the images so that all gallery images are of equal proportion.
For additional options to modify your galleries, click on the small blue pencil icon on the gallery image's top left side to edit metadata. Here you can edit the gallery's featured image, caption, and alt text.


There are a few more optimization options with the Albums Addon.
The Lightbox tab allows you to display galleries in a Lightbox. This means that when a user clicks on a gallery, the images would enlarge and are displayed on the same tab. When the Lightbox is disabled, clicking on a gallery directs the user to the gallery page.
You'll find several options to configure the Lightbox, such as modifying the theme, image size, aspect ratio, effects, loop controls, and image counter.
With Mobile Gallery Settings, you can choose to create specific album images for mobile devices by entering mobile dimensions. Also, it gives you the option to enable or disable breadcrumbs and Lightbox for mobile devices.
Now that we have explored the configuration options and made necessary changes, we click on Save Draft and click Preview to see how our album looks.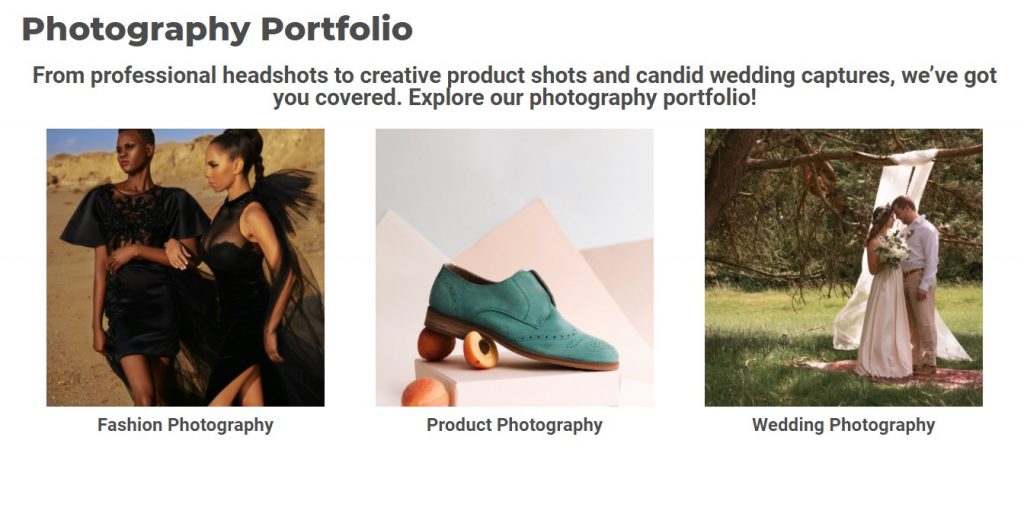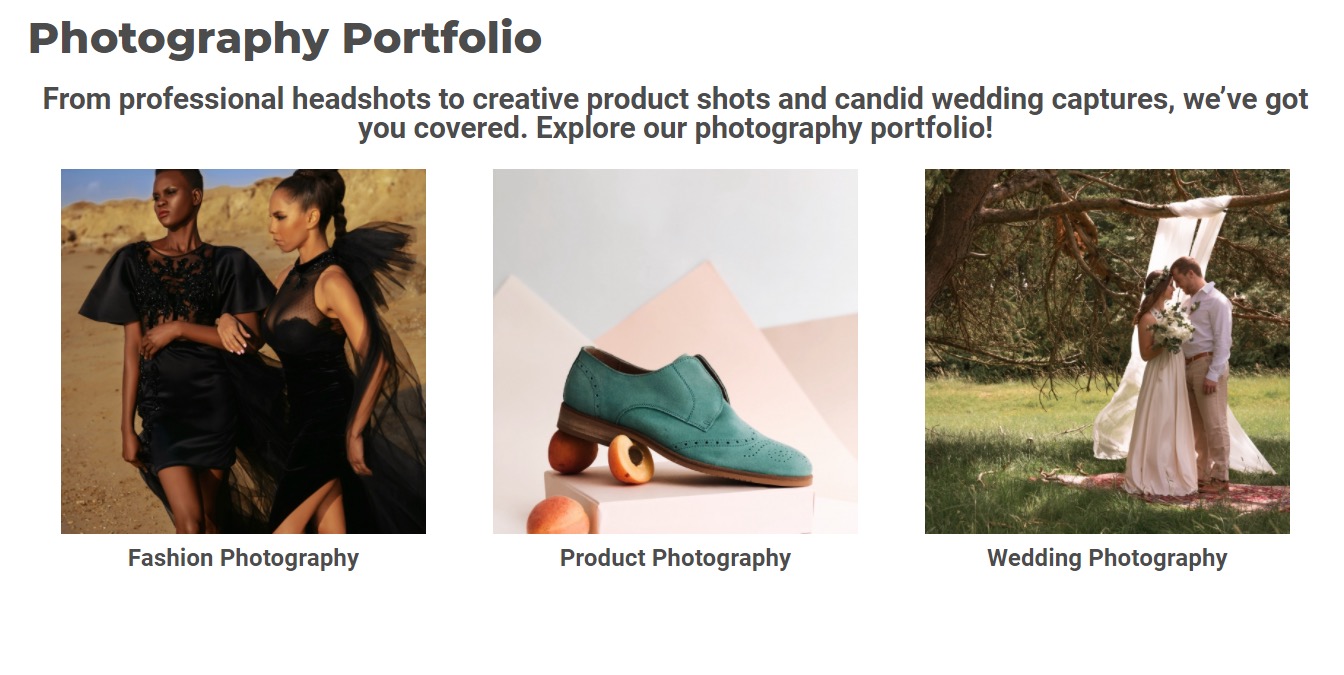 This looks significantly better than our initially published album – and it just took a few minutes to configure and make the album look exactly how we wanted!
Using WordPress and want to get Envira Gallery free?
Envira Gallery helps photographers create beautiful photo and video galleries in just a few clicks so that they can showcase and sell their work.