How to Create WordPress Gallery Slideshow with Thumbnails
by Brad Milligan on Feb 20, 2019
Do you want to add a slideshow on your website? While there are many WordPress slideshow plugins available, not many allow you to combine image galleries and slideshows. In this article, we will show you how to create a gallery slideshow with thumbnail navigation in WordPress.
Best WordPress Slideshow Plugin
As we mentioned earlier, there are dozens of WordPress photo slideshow plugins available.
However, creating a WordPress slideshow using a normal slideshow plugin can be a long process because you have to individually upload each image which is a dreadful task.
To help our users save time, we created a Slideshow Addon in Envira Gallery that allows you to create beautiful slideshows using your image galleries.
Adding Slideshow Using Envira Gallery
First thing you need to do is install and activate the Envira Gallery plugin.
Upon activation, you need to go to Envira Gallery » Settings. Next, you need to click on the Addons tab to install and activate the Slideshow Addon.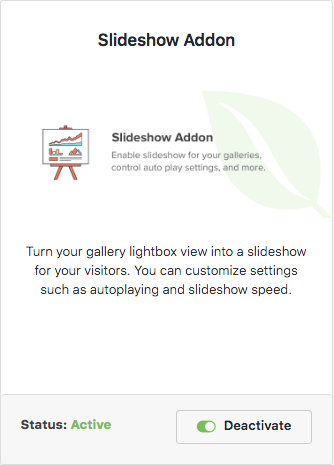 Once the slideshow addon is activated, you can use it in combination with your image galleries.
Let's start by creating an image gallery by going to Envira Gallery » Add New.
You should add a title to the image gallery, and drag / drop the images under the Images section. These images will be used as slides.
After adding the images, you need to go to the Slideshow tab and enable the slideshow.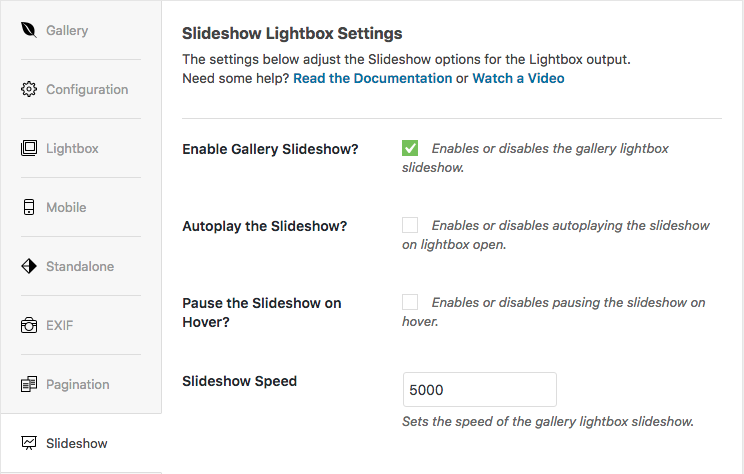 You can also enable autoplay option for your slideshow and customize the slideshow speed.
Once you are satisfied with the settings, go ahead and click on the Publish button.
On the right side of the screen, a dialog box will appear with the shortcode and some other information which you need to copy for the next step.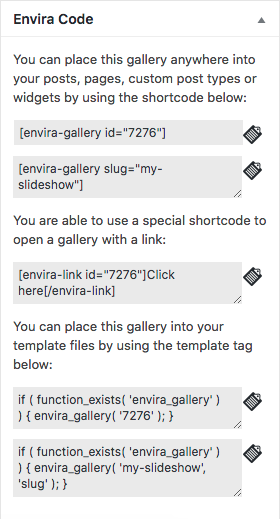 To add the slideshow, you can either create a new post or edit an existing one where you want to display the slideshow.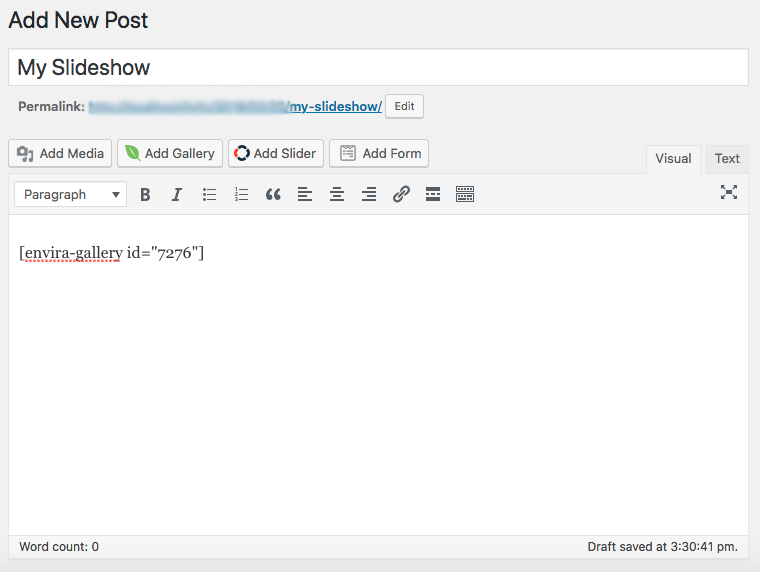 Inside the post content, you will need to paste the shortcode and press the Publish button.
Your WordPress slideshow is now ready to be viewed on your website.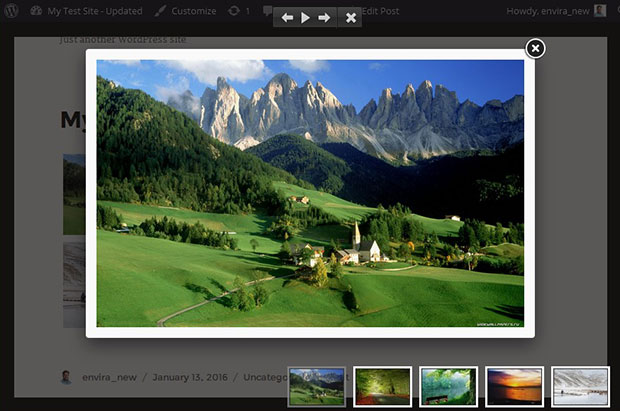 We hope this article has helped you create a photo gallery slideshow in WordPress. You may also want to check how to create an image slider for your WordPress galleries.
If you liked this article, then please follow us on Facebook and Twitter for more free WordPress tutorials.
Using WordPress and want to get Envira Gallery free?
Envira Gallery helps photographers create beautiful photo and video galleries in just a few clicks so that they can showcase and sell their work.