Discover WordPress' New Block Editor with Envira Gallery
by Alexandra Bateman on Aug 20, 2020
With its extensive themes and plugins libraries, free SEO support and open source design, it's no wonder that WordPress stands as today's most popular website building platform. In fact, WordPress powers almost 35% of all websites!
But, if you're a beginner to website creation, WordPress may seem like a challenging first foray into creating web pages. Though it provides a wide array of website, theme and plugin options, WordPress can be overwhelming. The sidebar menus have so many options, you may struggle to find what you're looking for.
Do you sometimes find WordPress confusing? If you do, we get it! New software and development platforms take time to learn. Thankfully, the WordPress team understands that, too.
That's why they've developed their new native block editor. This new WordPress feature lets you easily drag and drop elements, including text blocks and photo galleries, directly onto pages or posts.
Nicknamed "Gutenberg," the block editor is WordPress' answer to the drag-and-drop page builder trend sweeping the internet right now. And with it, building your perfect website has never been simpler.
If you've struggled in the past to create photo or video galleries in WordPress, you've come to the right place.
At Envira Gallery, we've seamlessly integrated with WordPress' new block editor to make creating photo and video galleries for your website even easier.
In this guide, we'll show you how to build perfect photo and video galleries with Envira Gallery and WordPress' Gutenberg editor. And it only takes a few clicks! Let's learn how.
How to Use Envira Gallery with the WordPress Block Editor
Built into the core plugin, Envira Gallery's new functionality with the WordPress block-editor was designed to make creating and placing your webpage galleries pain-free. And, every Envira Gallery user has access to these new tools! No matter what license you have, your Envira Gallery plugin will integrate seamlessly with WordPress' block editor.
Add a New Page
To get started using the block-editor, log into WordPress. From your dashboard, select Add New under Pages, located in the sidebar menu.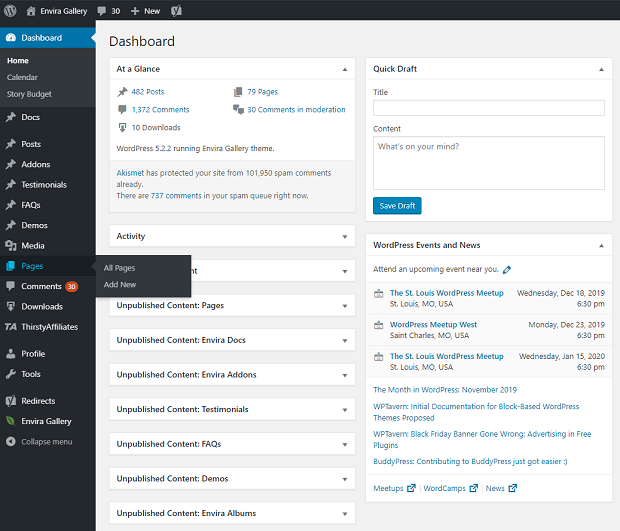 If you've never used WordPress' new Gutenberg feature, a message will appear. This tooltip bar automatically displays to welcome you to the new world of block editing!
Add a New Envira Gallery Block
Locate the plus icon in the upper left-hand corner of the screen above the welcome message. Click this icon, which signifies WordPress' Add block option. Then, select an element from the available choices to add to your page. These options include titles, paragraphs, lists and more.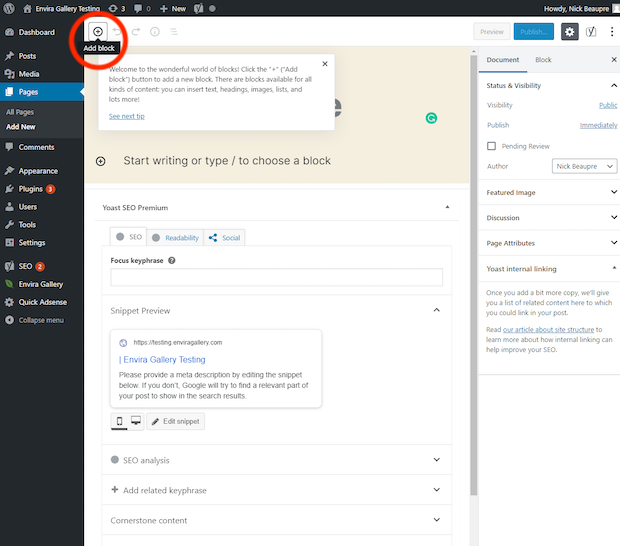 In this example, we'll select Envira Gallery from the list of block options. If you don't already have the Envira Gallery plugin, you can get it here, or download our free LITE version. You'll want it for the rest of this tutorial and for help making those beautiful photo galleries.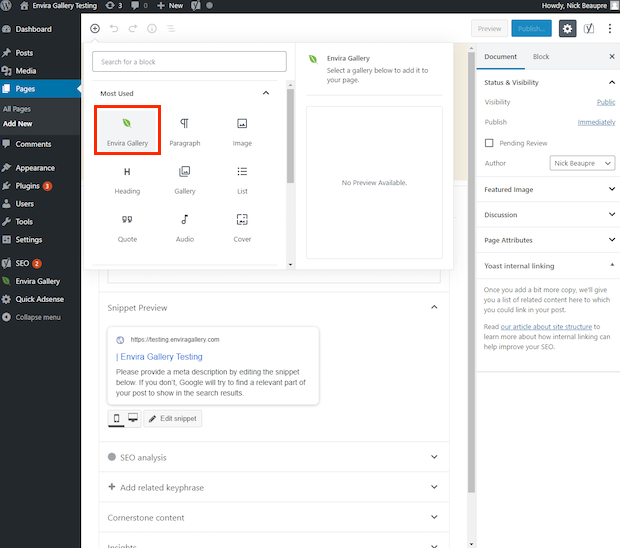 Add Your Images to the Envira Gallery Block
Now you're ready to set your images! Either drag and drop media from your computer into the Envira Gallery block, choose media from your WordPress Media Library or click the drop-down arrow to select one of your existing photo or video galleries.
The search bar next to the drop-down menu icon allows you to search your galleries by name, which is a particularly useful function if you have a large number of galleries.
You can also click on the image icon to add a single image to your page instead of a gallery.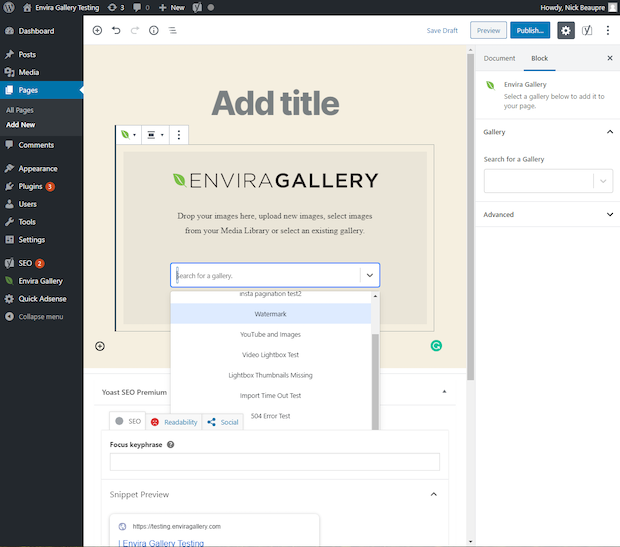 Once you've placed your gallery, you can make any changes to its design that you'd like. In fact, you can navigate to Envira's block editor directly from WordPress' Gutenberg editor. From there, you can change the gallery layout by specifying both number of columns and column margins, or enable isotope and lightbox and change lightbox themes.
The Envira Gallery block editor makes changing the appearance of your photo and video galleries a breeze. When you're happy with the design, you're ready to move to the next step.
Add a Page Title
Finally, add a title to your page, and you're finished!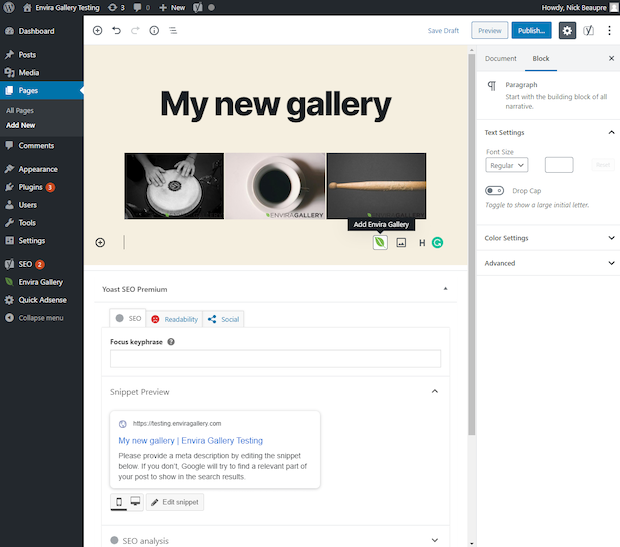 You're Done!
When your new photo or video gallery looks just how you want, it's time to save your page progress. Click Publish to make your gallery page live online, or select Preview. WordPress' Preview mode allows you to see a test of your page before you launch.
You can also always save your page as a draft using the Save Draft option. That way, you can continue your editing at a later time.
Here's what our new page — and our new photo gallery! — looks like: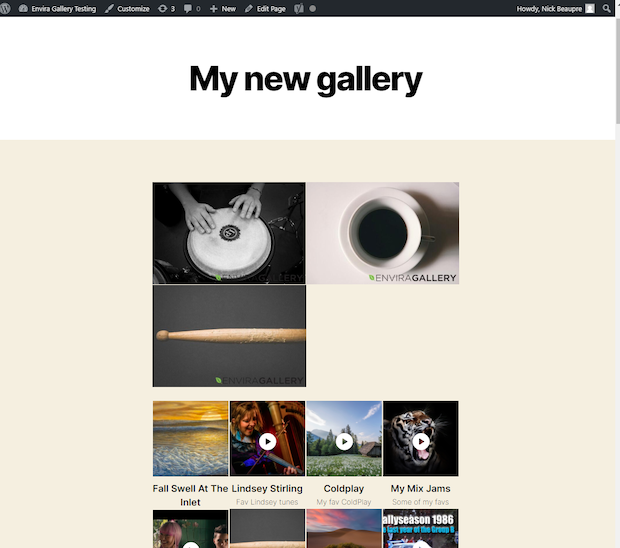 Volia! We've just created our first page using Envira Gallery with the new WordPress block editor. See? We told you it'd be easy enough.
But, don't take our word for it. Try it yourself today with the Envira Gallery plugin.
Envira Gallery and the WordPress Block Editor were Made for Each Other
Visual drag-and-drop editors take the confusion and frustration out of building your website. Your gallery plugin should do the same. That's why we've integrated Envira Gallery with WordPress' new block editor.
Creating, placing and publishing striking photo and video galleries doesn't get much easier than with Envira Gallery. If you're a freelance photographer with a photography business or e-commerce store, Envira is here to help you advertise your work online in a gallery that's just right for you.
Let us know in the comments below how much you love working with the WordPress block editor! And, make sure to follow Envira Gallery on Facebook and Twitter for more WordPress tips, photography how-to's and photo editing tutorials.
Using WordPress and want to get Envira Gallery free?
Envira Gallery helps photographers create beautiful photo and video galleries in just a few clicks so that they can showcase and sell their work.