Photographing Fall Foliage: Prediction Maps, Locations, & Tips
by Envira Gallery on Mar 16, 2022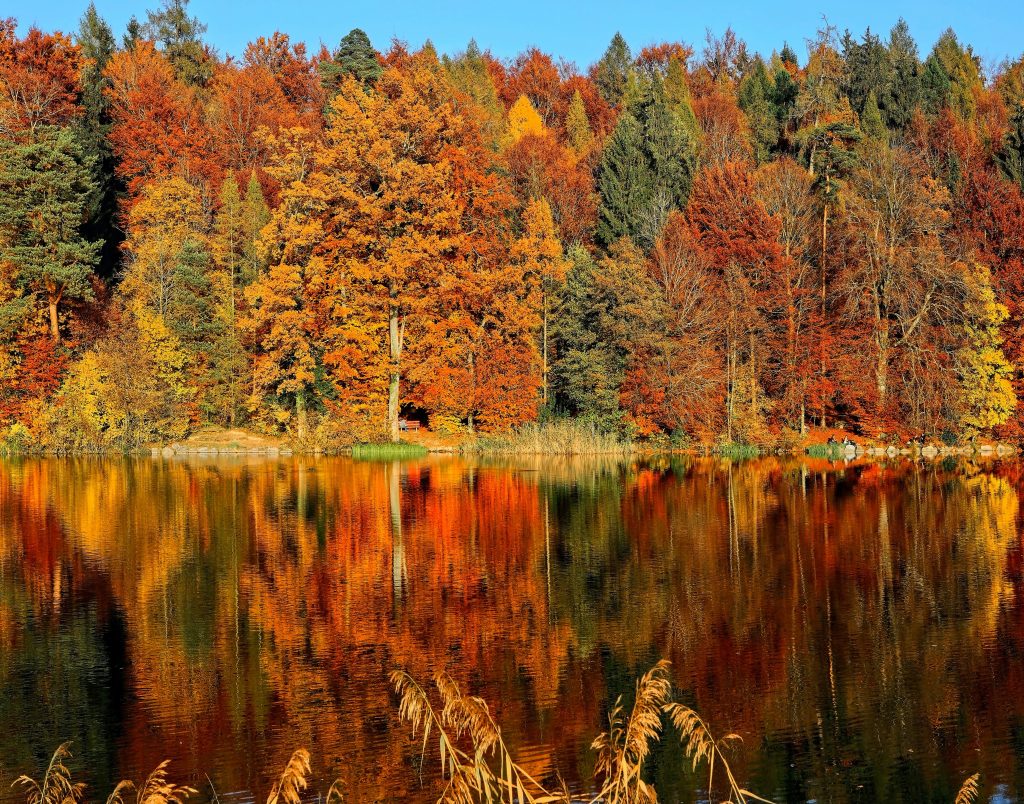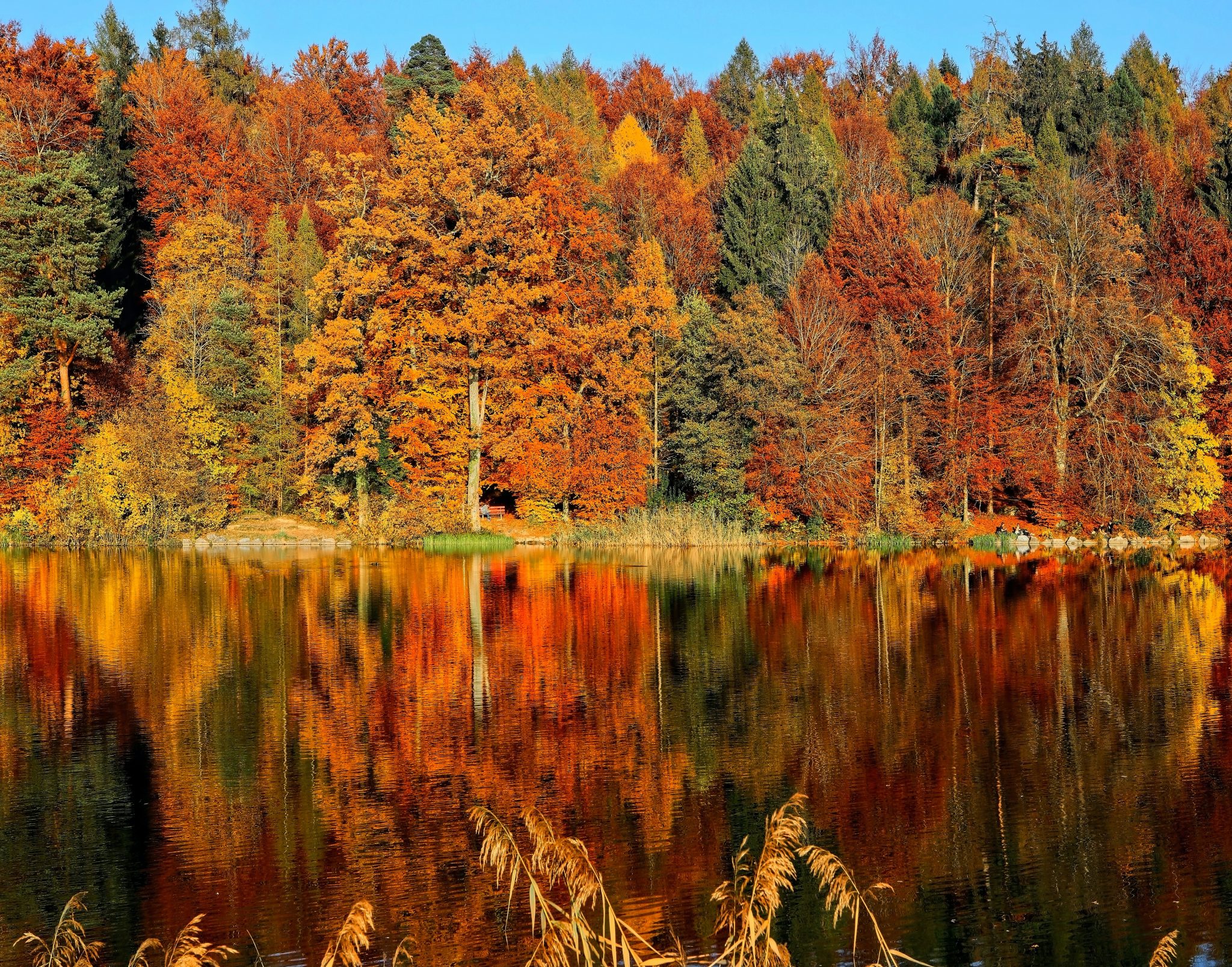 "Autumn is a second spring when every leaf is a flower." This line by noted author and philosopher Albert Camus perfectly sums up the beauty of fall! The golden yellow canopy of leaves on black maple trees, the bright scarlet hues of the red maple, and the shades of auburn oaks – the magic of fall comes in many shades. The riot of fall colors – with their mesmerizing charm and surreal, dreamlike quality – have for long attracted photographers from around the globe, who want to capture this last goodbye to the warm hues of summer before the blanket of white winter snow takes over parts of the earth. Because honestly, what better way to freeze these rich, vibrant hues of this magical season than to frame them in a picture-perfect fall foliage photograph!
The trick part? Predicting fall color changes! The fall foliage season varies from location to location. So if you are a landscape photographer planning to photograph fall foliage, your geography plays a crucial role here. The weather, elevation, and latitude – all these factors need to be taken into consideration when you get down to shooting this natural phenomenon as they determine when exactly autumn would set in at a particular region. And if you intend to get a glimpse of the peak foliage – when most of the trees of a particular area have changed their color – you ought to get your timing right. Because this natural marvel lasts for a brief while. Almost like you blink, and you miss!
Wondering how to predict the fall colors and make it all work so that you are in the right place at the right time to capture this gorgeous natural phenomenon in all its glory? This blog presents an extensive guide that could not only help you predict and plan better but also shares a list of places that are popular for their awe-inspiring fall landscapes. What's more? We also have some detailed tips in store on how you can ace your fall photography game. So let's explore the magic of fall – from planning to photography!
Interactive Fall Foliage Tracking Maps & Guides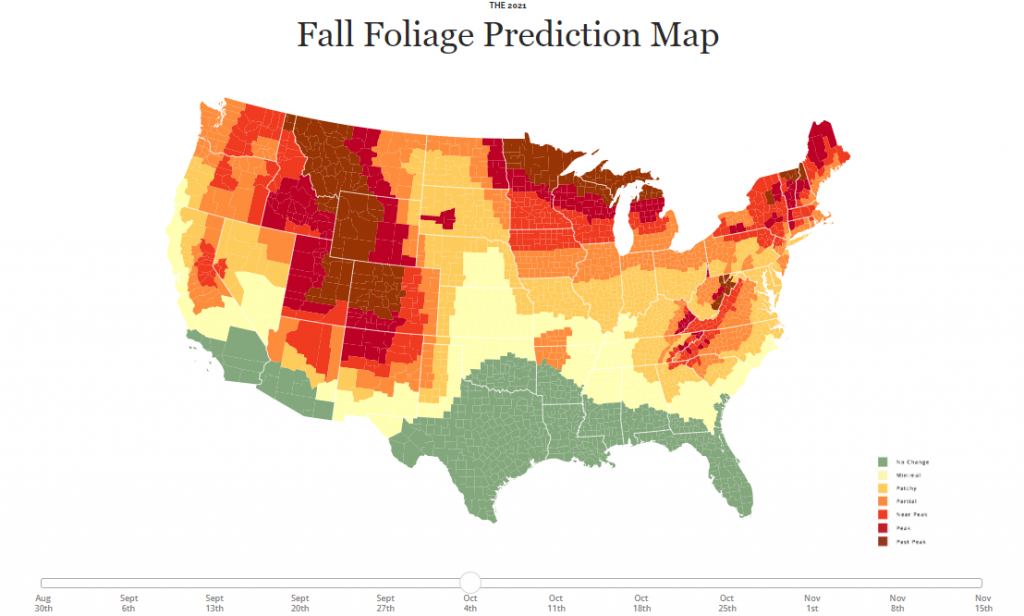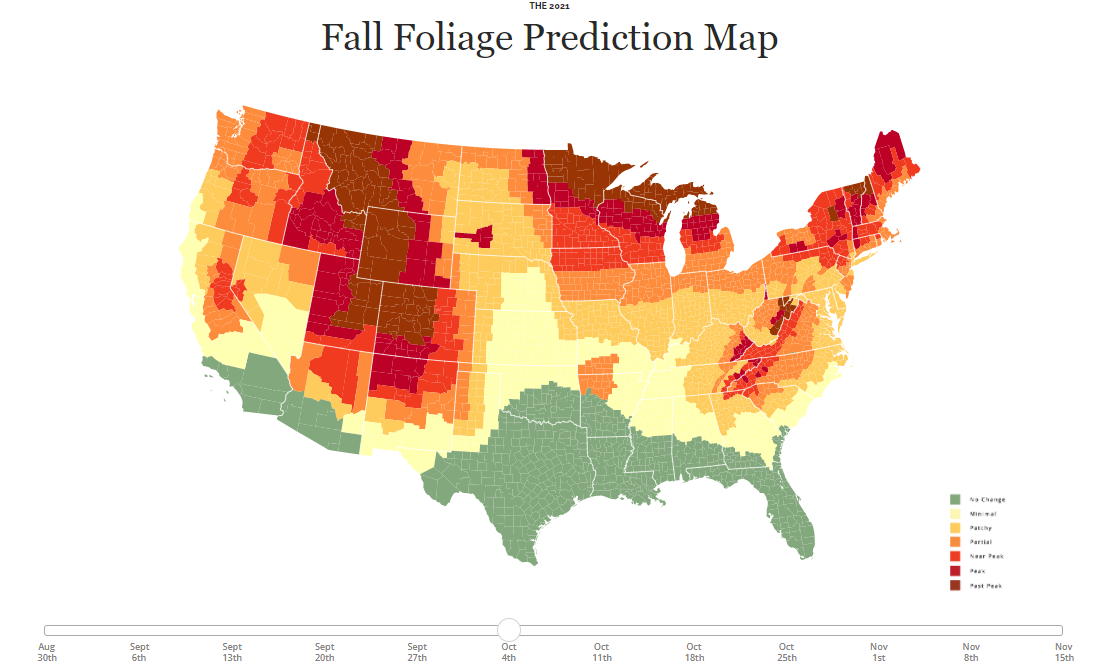 The most accurate way of tracking the various stages of fall foliage is often through in-person tracking. However, it can be exhausting and limiting to rely on one person to report on the color changes. But what if there is a team dedicated to monitoring the changes and a tool to report them? Voila! Here you go – a simple system to track fall foliage. Even though no tool can guarantee 100% accuracy, they can still offer a pretty close prediction. We have shed some light on some of these interactive tracking maps and guides below.
1. Fall Foliage Prediction Map
Fall Foliage Prediction Map is a yearly interactive map presented by the SmokyMountains website. Photographers can use this as a visual planning guide to better predict the color changes of the leaves throughout the United States during the fall season. The map depicts the different fall stages through color-coding. Brown indicates Past Peak, dark red denotes Peak, rust suggests Near Peak, orange is for Partial and Patchy, and green for No Change. You can use the map to get the prediction for every weekend. All you have to do is drag the slider to the date you want the prediction for, and the map will show the forecast.
2. Peak Fall Foliage Map
When photographing fall foliage in the US, you cannot skip New England. The New England website has prepared a Peak Fall Foliage Map that helps you track the fall foliage for the entire region. The map highlights approximate peak foliage dates for different regions through color-coding. Just push play on the calendar and you will see the color change on the map. This way you can simply select the date for a specific region that shows the peak foliage there.
3. Matcha Website
Matcha website presents a list of places where you can photograph fall foliage in Kyoto, Japan, alongside the best time to spot it in that region. Kyoto is another popular destination where the colors of fall cast their spell on the landscape and paint it in vibrant fall colors. So if you are planning to visit the city during the autumn season, you could check out this listicle to get better foliage predictions. Moreover, it also provides additional information about each of the listed locations.
4. Stormfax Guide
This is not a map but a very useful guide of relevant links and state hotlines that can help you get up-to-date information on the current status of fall foliage in different areas. The Stormfax Guide hosts a series of links for the Mid-Atlantic, New England, Midwest, West, and South regions. It also brings to your service The USDA Forest Service National Fall Color Hotline.
5. The Weather Map
The Weather Channel presents a fall foliage map for various locations throughout the US. It indicates the foliage stages, Patchy, Near Peak, Peak, and Past Peak, through different color codes. Between Northeast, Southeast, Midwest, and West, you can select the region for which you want the prediction from the drop-down menu.
6. Visit Indiana Website
Okay, this might not qualify as either a map or a guide, but it serves as a useful resource for anyone who is planning to visit Indiana during the fall season. The state is home to a number of hotspots noted for great fall foliage photography. And the Visit Indiana website gives you an insight into just that. From things to do, various fall festivals, and scenic road trip routes, it gives you detailed information when it comes to planning a fall photography expedition.
Popular Worldwide Locations To Photograph Fall Foliage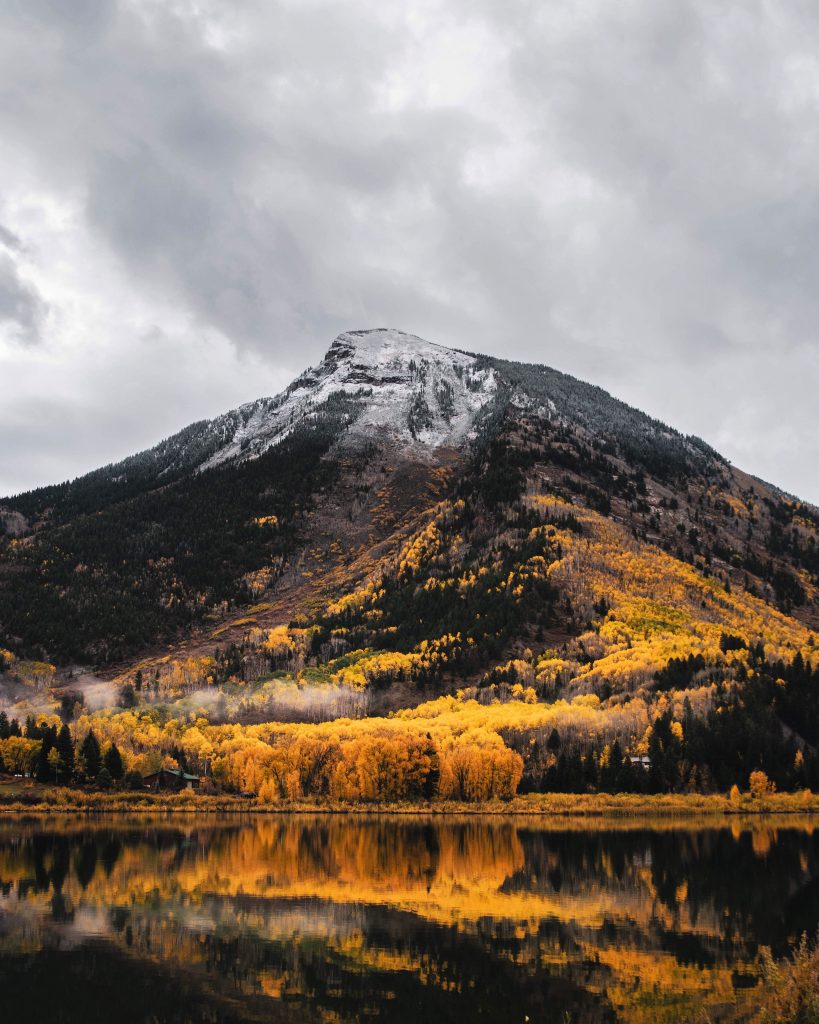 The interactive maps that we have listed above could help you with fall foliage prediction and tracking various locations that are best suited for fall color photography. However, if you are looking forward to a list of places that are popular to photograph fall foliage, we have compiled the following list for you:
The United States
Aspen, Colorado
The White Mountains in New Hampshire
Lake Tahoe, California
Bishop Creek Canyon, California
Napa Valley, California
Lake Superior, Michigan
Denali National Park, Alaska
Shenandoah Valley, Virginia
The Green Mountains, Vermont
Yellowstone National Park, Wyoming
Around The Globe
Nara, Japan
Tokyo, Japan
Kyoto, Japan
The Forest of Dean, England
Edinburgh, Scotland
Scottish Highlands, UK
Lapland, Finland
The Loire Valley, France
Hraunfossar Waterfalls, Iceland
Lake Louise, Canada
Prague, Czech Republic
Lombardy, Italy
Agawa Canyon, Canada
Huangshan, China
St. Petersburg, Russia
Dandenong Ranges, Australia
Pitlochry, Scotland
Bruges, Belgium
Also Read: Choosing the Best Camera Settings for Landscapes
Fall Foliage Photography Tips
Now that you have a better understanding of where to photograph fall foliage, let us just dive into understanding what really goes into making a great fall photo.
1. Location Scouting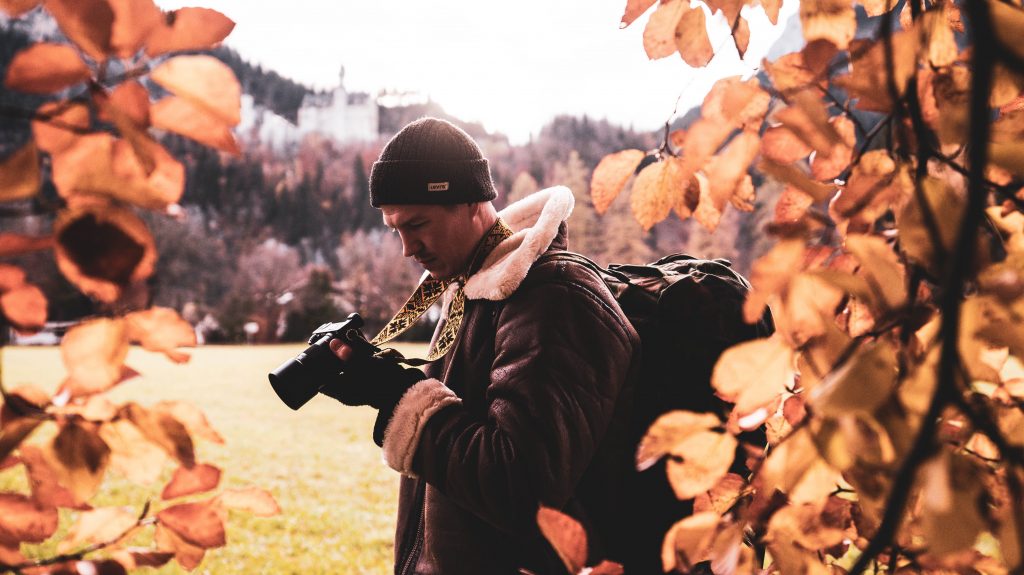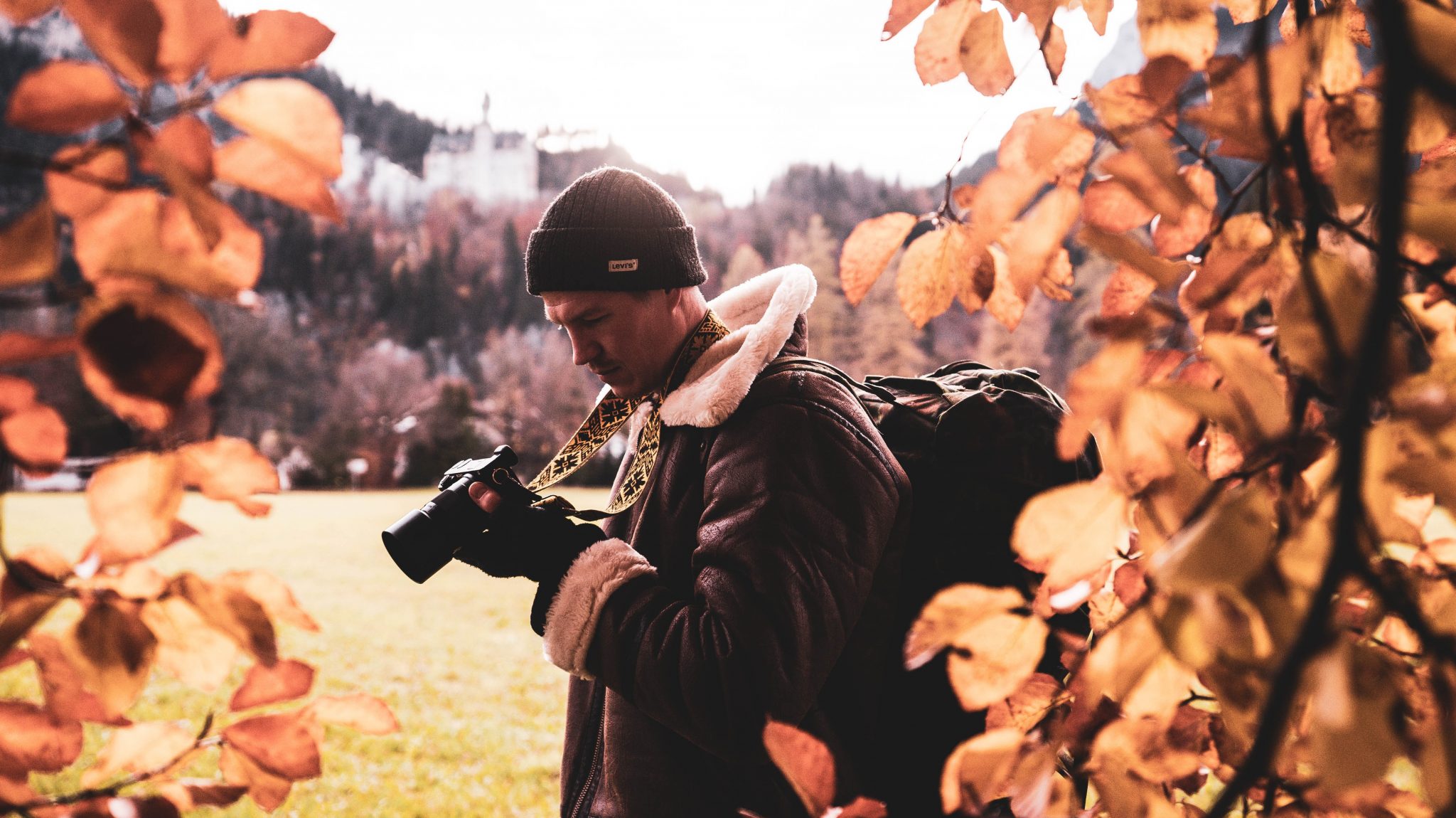 As we mentioned earlier, location plays a very integral role in this photography style. Therefore, one of the most important tips to photograph fall foliage is to carefully zero in on the location before you get on to capturing those amazing fall colors. Start with choosing a place. Taking help from any of the above-mentioned maps, you could consider looking for places near your area that are at their peak foliage stage when you are planning to travel to the destination. If you are planning to photograph fall from where you live, look up spots near your place too. This will give you a better idea of when to plan your shoot.
Once you have decided on the location and the timing, go location scouting. Scout out the location in advance and take out the time to make a note of the logistics behind photographing in that area. Learn more about the photography requirements, the timings, and other rules and regulations, especially if it is a park or a tourist attraction. Loaded with all the needed information, you will be able to better prepare and plan for the shoot day. And, don't forget to be on the lookout for spaces that have natural frames that you can use during your shoot.
2. Use a Polarizing Filter
Using a polarizing filter, especially a circular polarizing filter, is a no-brainer when it comes to fall photography. Mainly because these filters help you reduce unwanted reflections and glare by channeling the varied light rays at one polarized wavelength of light. Attaching this filter to your lens can yield many benefits such as cutting down on reflections and haze and improving the contrast in the scene, and making the sky appear darker. However, one important thing to keep in mind is trying not to face the filter directly toward the sun.
For best results, try to keep the lens at a 90-degree angle from the sun. Note that if all you want to achieve is a dark blue sky and rich contrast, you can do so by using the graduated neutral density filter in Lightroom. But remember, it is always better to get rid of the glare and haze in an image while creating it rather than fixing it during the post-production stage.
3. Shoot At Golden Hour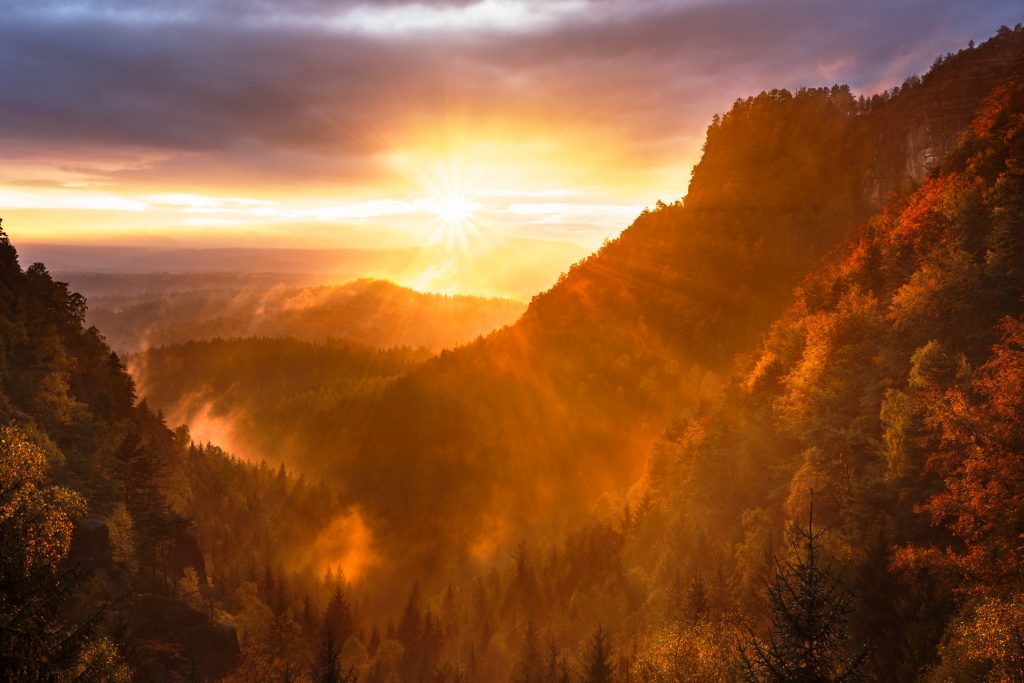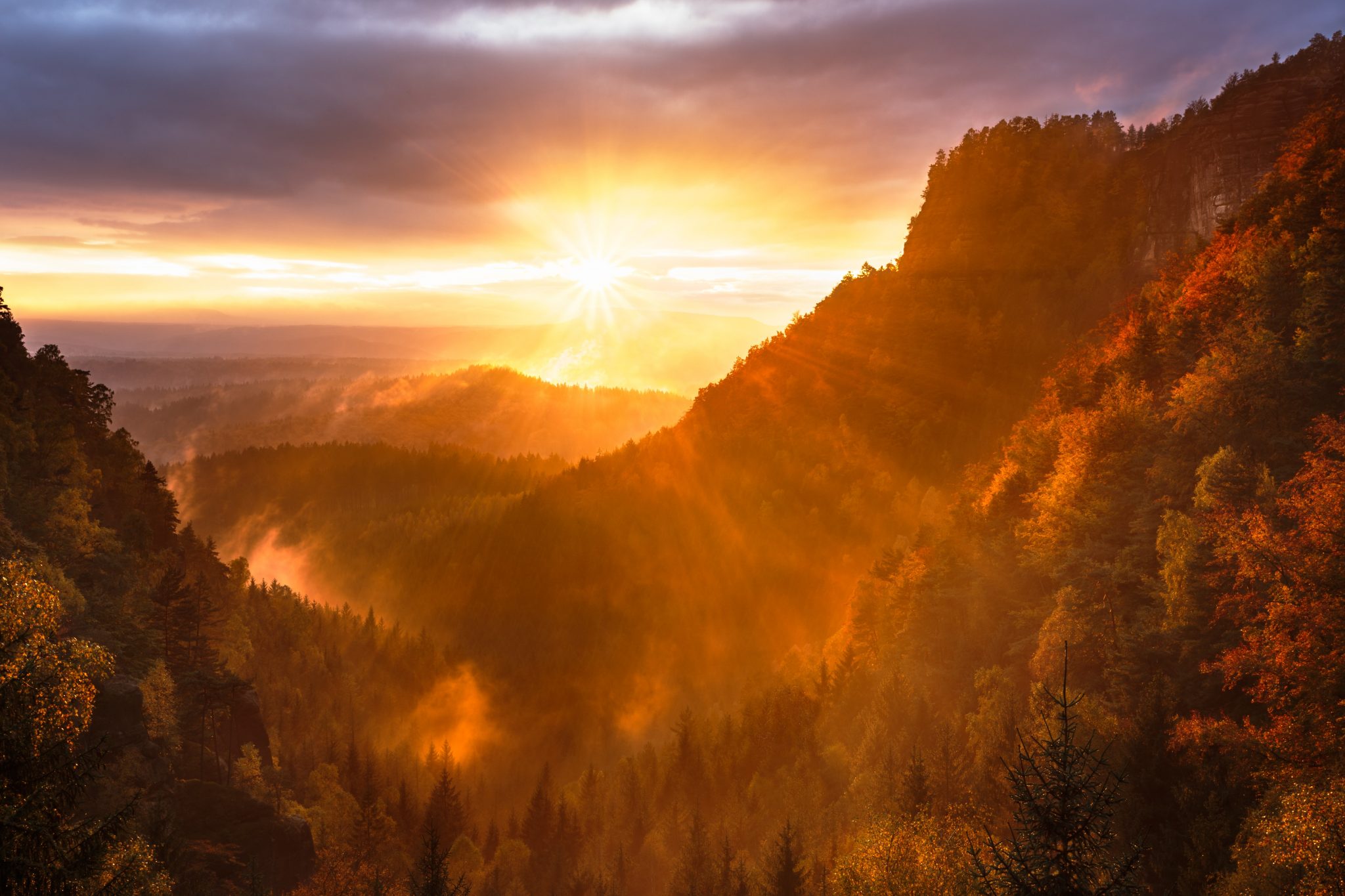 Light plays a crucial role in any kind of photography – all the more in fall photography. And what better light to capture the scenic vistas than at golden hour! Both sunrises and sunsets can create a perfect natural light setting and render a surreal backdrop to your subject. And when paired with the fall colors, a stellar landscape photograph is guaranteed! Moreover, during the sunrise, especially early mornings, when the light is faint and nearby water bodies appear hazy, somehow everything tends to blend in and give a unique perspective. This image sure stands as a remarkable example of the same.
Also Read: How to Photograph Misty Landscapes
4. Take Note Of The Blue Hour
Even though the golden hour seems to be the more preferred option for capturing the fall colors, the dramatic blue hues during the blue hour could also work their magic in enhancing the look and feel of your fall photographs. The contrasting hues could very well paint scenic imagery that presents a unique blend of colors. If you are looking to experiment further and striving for ways to make the visuals even more striking, you could consider timing your shot during the brief window when the warm shades just begin to appear in the sky while blue is still the dominant color.
5. Try Different Angles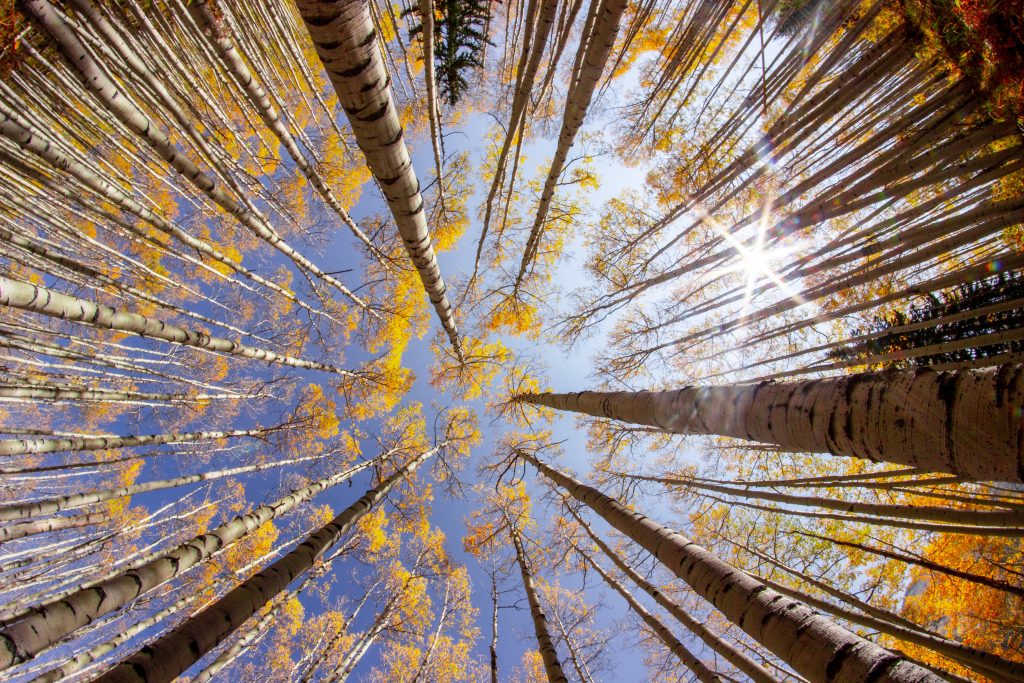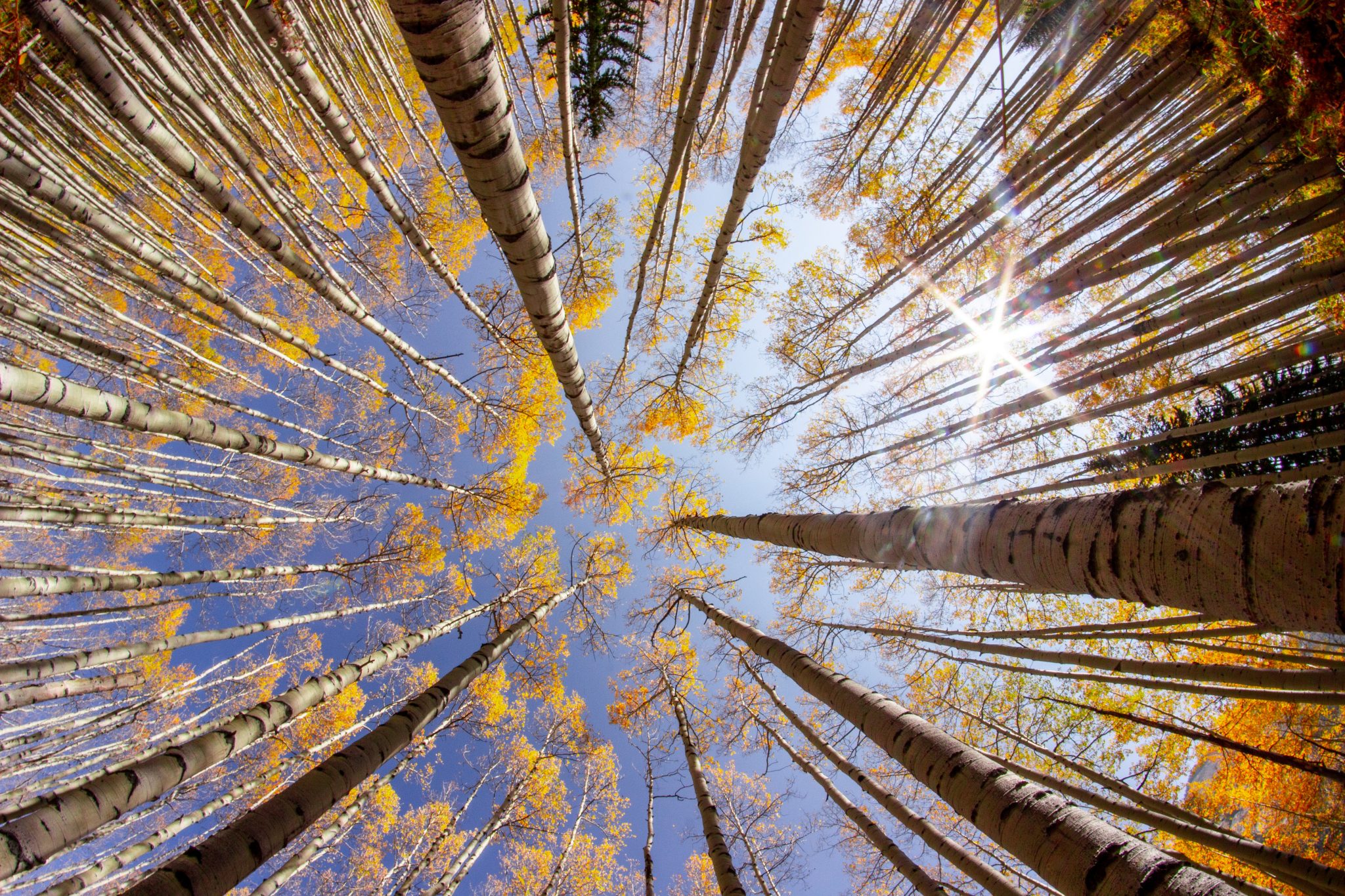 Want to add a different take to your fall photography? Try changing your camera angle. The trees sure are the highlight during the peak foliage; however, you can change your perspective of looking at them. For instance, a worm's-eye view can give you a totally different frame of the trees converging towards the center along with the sky as a background – still bringing focus to the beautiful fall colors but in a unique manner. On the other hand, a high angle or a bird's-eye view can help you take in the beauty of all the striking fall colors in one single frame.
6. Composition Is Key
The way you compose your shot could help you curate an image that stands out from the hundreds of others. If you don't think through your composition well, then your images might run the risk of looking similar after a few shots. And as a photographer, that's not something you probably want from your images! While fall colors can be strikingly intriguing, the best of fall photos, however, go beyond just accentuating the color palettes. Be on the lookout for interesting frames or compose your scene differently to create compelling fall photographs. And the best way to go about it is trying to look for elements that support your entire image or add to the scene.
7. Close Cropping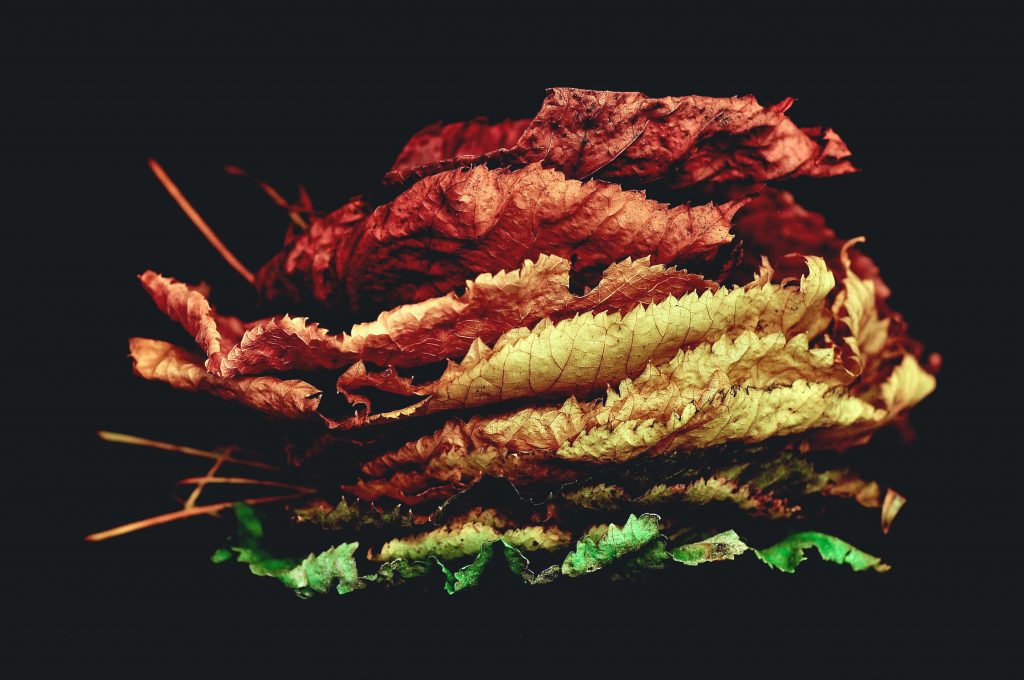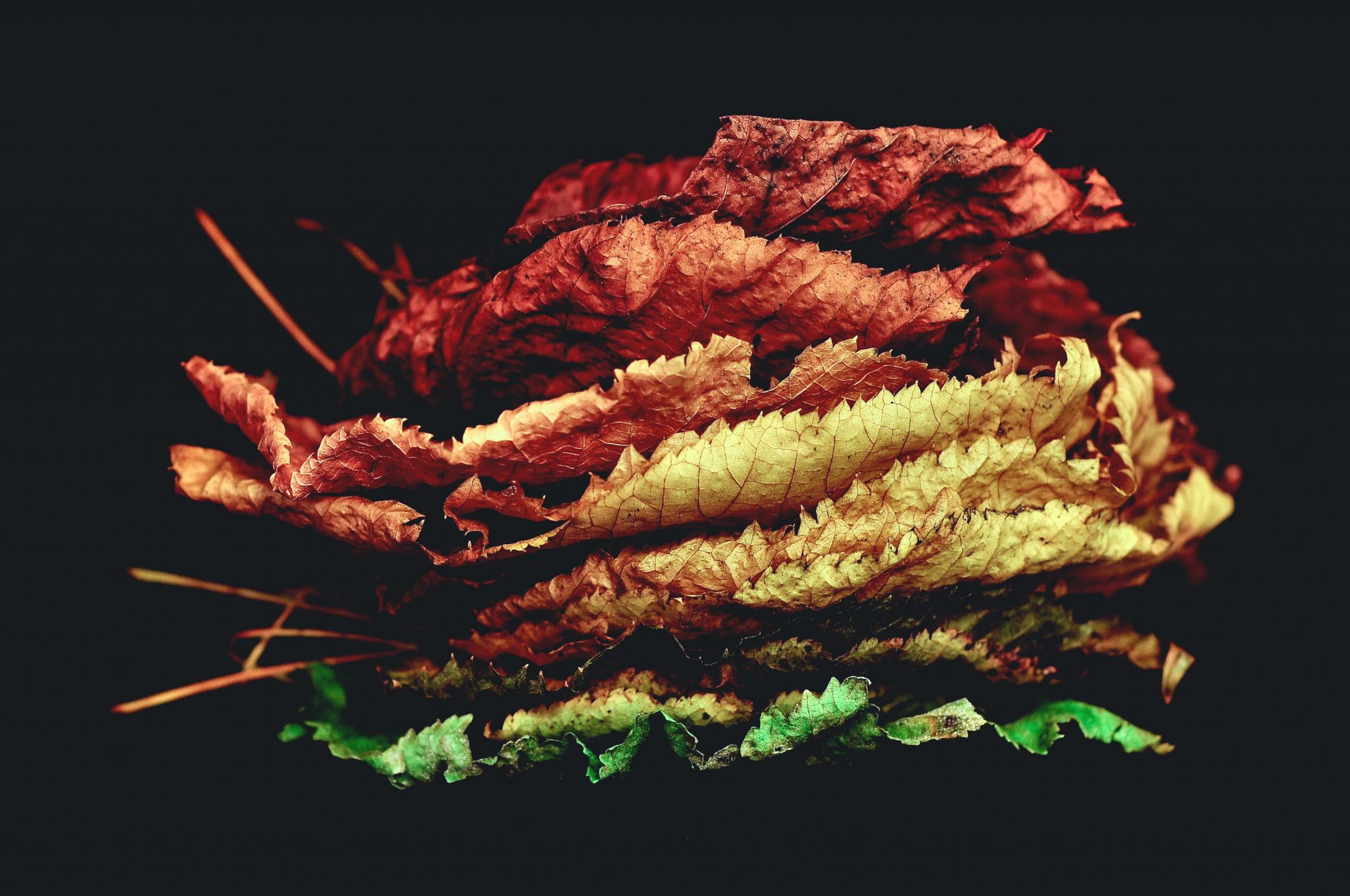 Sometimes the best of fall colors are brought to life in the tiniest of details. Landscapes painted in broad strokes of crimson sure add to the dreamy effect, but some detail or closely cropped shots could offer an entirely fresh perspective to your fall photographs. Look for interesting patterns, textures, and frames, and compose the scene in a way that highlights these elements. This could help you break free from the monotony of a classic fall photograph, get creative, and capture something that speaks to the artist in you – and to your audience!
Further Read: How to Sell Your Landscape Photography
The arresting colors of the fall could appeal to the creative senses of many photographers. And fall foliage scenes do make for spectacular photographs. Provided you are mindful of the timing, the location, and a few other things that we highlighted in this blog. Use the maps and guides to spot the peak foliage season and follow the tips to make it all work. We hope you found the information we shared here helpful. And if there are any particular fall photography spots that you know of, let us know about them in the comments section below!
Using WordPress and want to get Envira Gallery free?
Envira Gallery helps photographers create beautiful photo and video galleries in just a few clicks so that they can showcase and sell their work.