Proofing Addon Updates Streamline Selling from Your Envira Galleries
by Alexandra Bateman on Mar 16, 2021
Updates to the Proofing Addon for Envira Gallery give you even more control over your purchasing galleries. The Proofing Addon allows you to create galleries from which visitors to your site can purchase items like digital downloads and even photo prints. Now, the new and improved Proofing Addon makes it easier to track your purchases, as well as customize your order displays and settings.
Let's take a look at the updates to the Proofing Addon, including:
New Orders tab
Order statuses
Dedicated Orders pages
Global proofing settings
New Order Page and Statuses
These updates make tracking and viewing purchases made from your proofing galleries much easier. With the updated Proofing Addon, you'll now see an Orders tab, located below the Envira Gallery plugin tab in your left-hand WordPress toolbar.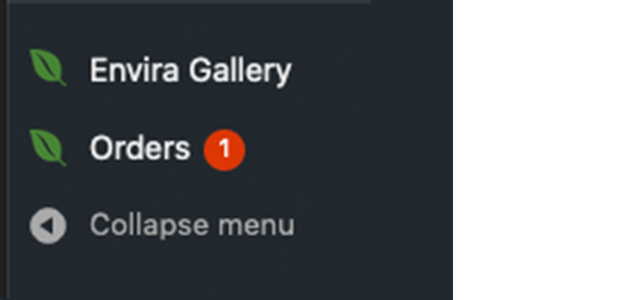 Inside this tab, you'll find all orders from all of your galleries, available in a single ordering screen. From there, you can browse, edit and delete orders all in one place. If you see a red badge next to the Orders tab, you'll know you have active orders.
You can now also find orders for each proofing gallery listed under that gallery under the Proofing tab.
Order Statuses
The page that opens from the Orders tab will show you all of your orders along with their Order Status. Your orders will show one of three order statuses.
Active — These orders are new and require some sort of action from you, the seller.
Pending — These orders are orders your customers have started to make, but that they have not completed.
Completed — Orders you mark as Completed in the WordPress backend denote that the order has been fulfilled.
Dedicated Orders Pages
From the Orders page inside the Orders tab, you can view detailed information for each order placed on your site. This information includes the customer's name and email (if supplied), order size and quantity, a thumbnail preview of the order, an order notes section, and a basic order history.
Accessing this order information means that you can easily amend orders, correct order details and even add your own order notes that might be useful in fulfilling the order.
Dedicated Settings for Proofing Addon
You can now customize global settings for your proofing galleries from the dedicated settings page. Here, you can change the messages sent to both you and your customers when an order is placed, as well as add a logo and mailing address to your email alerts.
These updates make for a more personalized purchasing experience for your customers, and they give more options for your customers to inquire about their outstanding orders.
Conclusion
If you sell photo prints, digital downloads, or any other items on your WordPress website, the Proofing Addon streamlines the process for both buyers and sellers. Give your customers the tailored shopping experience they want while keeping your orders organized with the help of our newest Proofing Addon updates.
Remember that, because the Proofing Addon uses email to communicate with your customers, you'll need to set up your WordPress site so that it's able to handle email traffic. Plugins like WP Mail SMTP and Easy WP SMTP can help.
Do you use the Proofing Addon to sell items from your Envira galleries? Give it a try today! You can read more about using the Proofing Addon for Envira Gallery in our documentation.
Using WordPress and want to get Envira Gallery free?
Envira Gallery helps photographers create beautiful photo and video galleries in just a few clicks so that they can showcase and sell their work.