How to Write Alt Tags for Your Gallery Images
by Brenda Barron on Mar 4, 2019
If you've ever spent time searching for the right keywords for your next photography blog or editing your meta descriptions for search engines, you may know something about SEO.
SEO is how companies and individuals alike improve their chances of ranking online for the right search terms. The higher you rank on the search engines, the easier it is for your customers to find you. Unfortunately, SEO can be complicated, and many people don't know how to use it properly. For instance, if you've optimized your SEO headers, sub-headings, and content, but you haven't touched your alt tags, you could be missing out.
Image alt text is a valuable part of your SEO strategy. So, how do you write alt tags for your gallery images?
Today, we're going to look at:
What Alt tags are
Where you can edit your Alt tags on WordPress
How you can improve your Alt tags
Going beyond SEO
What is Image Alt Tags?
To learn how to write alt tags for your gallery images, you first need to understand what these tags are. Essentially, they're the text that appears on your website when a picture can't load on a user's screen. Not only do these tags provide context when something goes wrong on your site, but they also help screen reading systems describe images to visually impaired users.
Regardless of whether you're worried about SEO, It's worth figuring out how to write alt tags so you can deliver a better user experience for your customers.
How to Write Alt Tags for Gallery Images in WordPress
If you want to add an alt tag to your gallery images, it's incredibly easy. Just go into your galleries in Envira to get started. Click on the gallery that you want to add your alt tags to and select the small symbol that looks like a pencil to edit your image.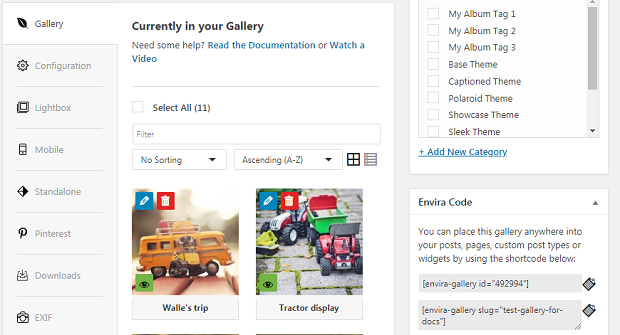 Once you've clicked on a picture, you'll see a number of boxes, including:
Status
Title
Caption
URL
Alt Text
Click in the Alt text box to enter a sentence or so of information describing the content that you're going to share. Remember, this alt tag should be both useful and descriptive. Imagine that you're describing your image to someone who can't see it.
How to Improve Your Alt Tag Descriptions
If you want to optimize both your SEO and deliver better user experiences, you can't just know how to write Alt tags; you'll need to know how to write tags that benefit your users.
For instance, alt tags need to be short, sweet and to the point. You'll only have about 125 characters to explain the details of the image and include your keywords where possible. Try not to concentrate too heavily on keywords here. The aim is to give value to your readers before you focus on the search engines.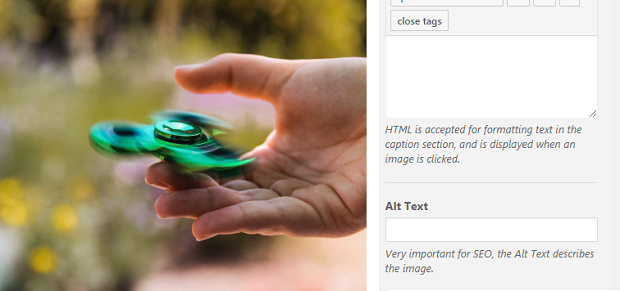 For the image above, the words "Fidget spinner" wouldn't be descriptive enough. However "Person using a green fidget spinner in a field with yellow flowers in the background" would be too complex. Try to be as concise as possible and focus on the major details. For instance: "Person using green fidget spinner."
Going Beyond SEO
Finally, remember that just because learning how to write alt tags is good for search engine optimization, doesn't mean you should focus exclusively on SEO. Tags stuffed with keywords won't help your business; they'll just make your site look spammy in Google's eyes.
Remember that alt text is there for your user first, and the search engines second. Every time you write a tag, think about how you can capture the context of the image in the information that you include. Every picture has a purpose on your website, or on your blog. Your alt tags are how you make sure that people can still fully understand your content, even if they can't see the images.
Bonus Best Practices
Although different strategies work for different people, there are a few golden rules to keep in mind when learning how to write alt tags for your images. Remember to:
Use keywords sparingly
Keep your text to 125 characters or less
Be specific when describing the image
Don't start with "image of" or "picture of"
Stick to those rules, and you should do well with your alt image text. Remember, you can follow us on Facebook and Twitter to learn more.
Using WordPress and want to get Envira Gallery free?
Envira Gallery helps photographers create beautiful photo and video galleries in just a few clicks so that they can showcase and sell their work.