Envira Gallery Documentation
Documentation, Reference Materials and Tutorials for Envira Gallery
Are you an avid user of Dropbox and want to connect Envira Gallery with your Dropbox images? The Dropbox Importer Addon for Envira Gallery connects to two perfectly. This doc details how you can import images from your Dropbox account, straight in to your Envira Galleries.
---
Requirements
Installation
Please follow our instructions on how to install and activate addons.
In this instance, you'll be activating the Envira Dropbox Importer Addon.
Setup
Once the Addon is activated, you'll need to authenticate Envira Gallery with Dropbox.
Navigate to the WordPress Admin » Envira Gallery » Settings page. Then select the Dropbox tab, followed by the Get Code button.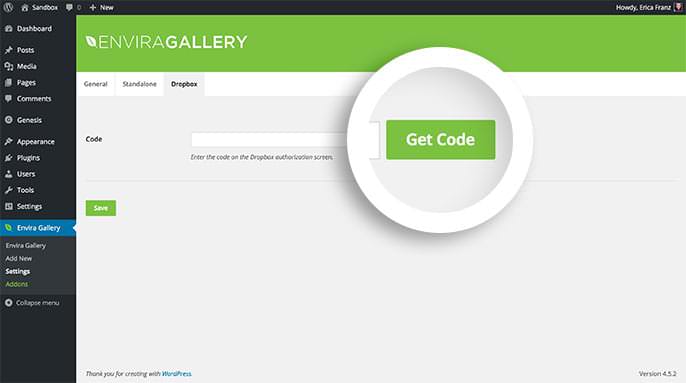 A Dropbox screen will open for you to login and then select the Allow button.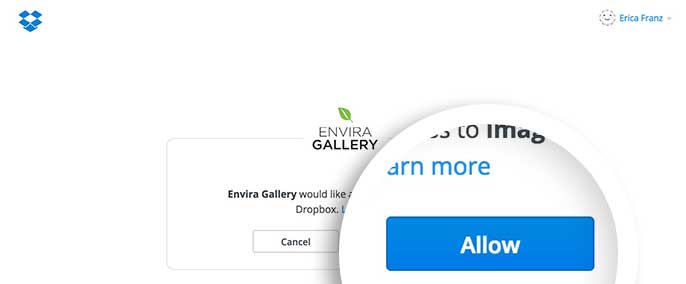 Next, copy the authorization code provided by Dropbox.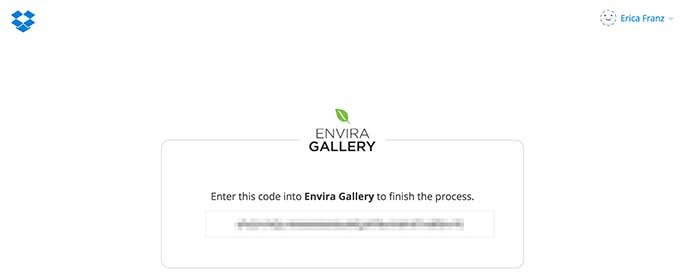 Finally, return to the WordPress Admin » Envira Gallery » Settings » Dropbox tab and paste the code into the provided field, then select the Save button.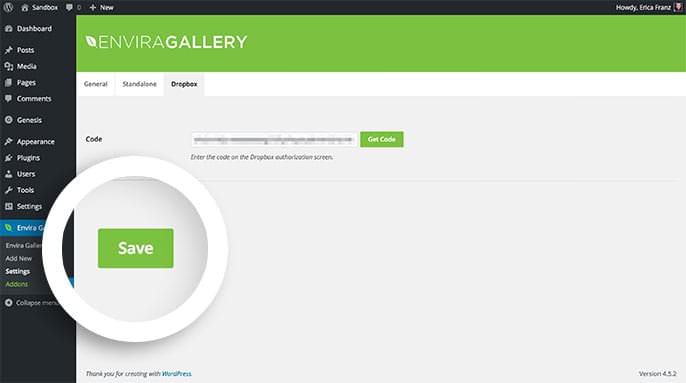 If successful, you'll see on screen confirmation of successful authentication with Dropbox.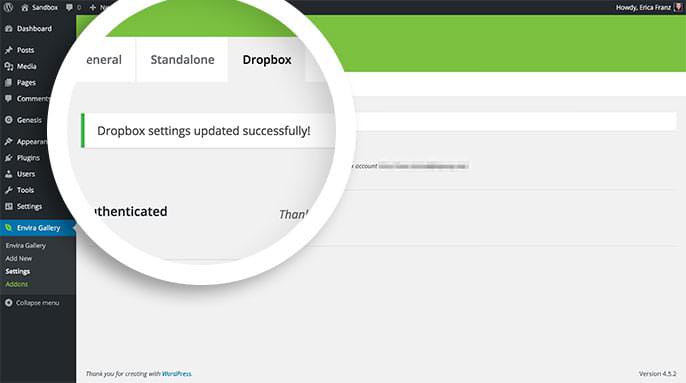 ---
Use
Add Dropbox Images to your Gallery
First, create a new or edit an existing Gallery.
Second, click the Select Files from Other Image Sources button.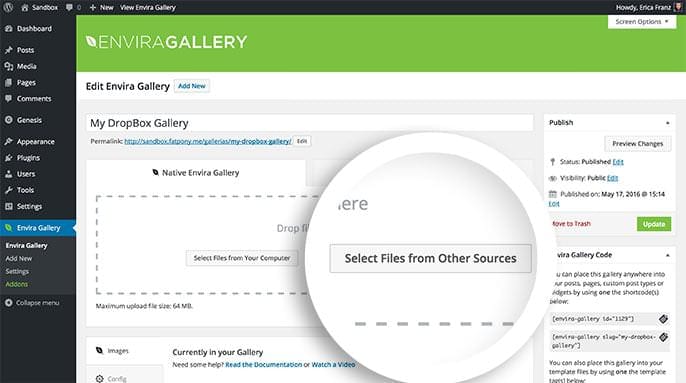 Third, select the Insert from Dropbox link in the left sidebar to view available files and directories.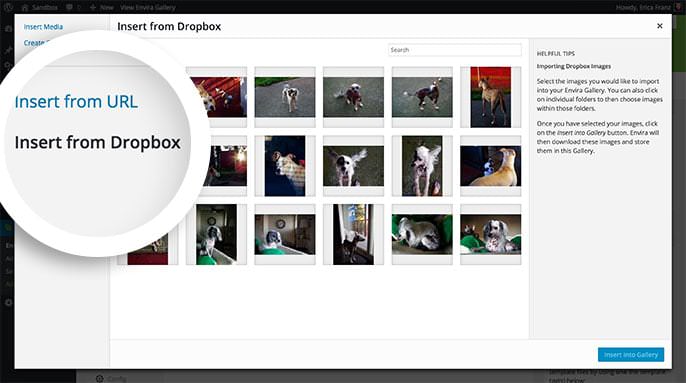 Then select the image(s) you would like to include in your Gallery. You can also click on folders to then select images within folders and sub folders.
Finally, once you have selected the image(s) you want to add, select the Insert into Gallery button.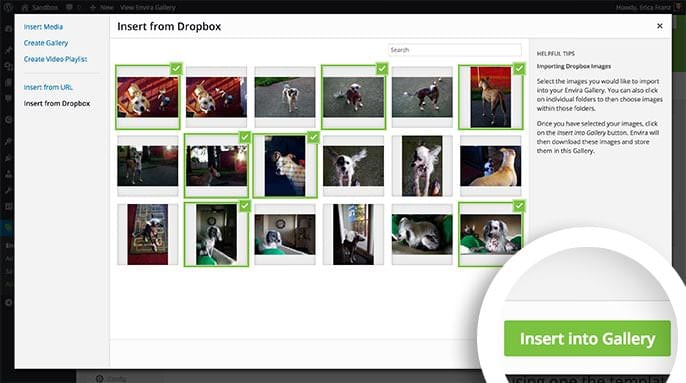 After your images have been successfully added to your gallery you'll see them in the Images tab while editing your gallery.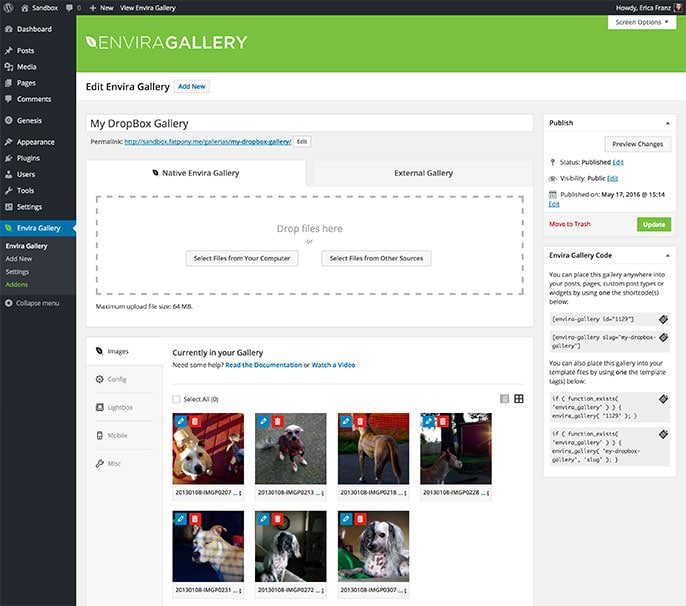 ---
FAQs
Q: What kind of permissions does Envira require when connecting with my Dropbox account?
A: Envira Dropbox Importer requires that you grant Envira read only access to all images in your Dropbox account.
---
Q: Can I auto-populate a gallery from a folder in my Dropbox account instead of manually adding images?
A: No, Envira Dropbox Importer only allows you to import images from Dropbox into WordPress Media Library.
---
Q: Why are my Dropbox directories taking so long to load or not loading at all?
A: There are several ways to improve the successful and quick browsing of your directories.
Navigate to the Dropbox tab at Envira » Settings and make sure that the option for showing thumbnails is unchecked. While it's nice to see a preview of the image, in large galleries, this can cause issues in performance.
If a directory has a large number of images, it will also significantly slow the process. You may want to consider reorganizing your images into separate folders in Dropbox. This will allow Envira Dropbox Addon to work more quickly for your convenience.
If the above doesn't resolve the issue, check to make sure that you do not have a large image file (100MB+) in the directory that you are viewing.
---
Q: Why can't I see some of the image thumbnails?
A: This is most likely a large image file. Dropbox doesn't allow thumbnails of images over 20MB in size.
---
Q: Can I download large image files?
A: There are some limitations. Files over 20MB may take longer or fail with the [object Object] error. In some cases, it may resolve the issue to add the following to your wp-config.php in the main WordPress installation directory:

define('WP_MEMORY_LIMIT', '500M');
define('WP_MAX_MEMORY_LIMIT', '500M');

Before adding this, check with your host about any memory restrictions that they may have.
---
Changelog
1.3.0 (04-10-2018)
Added: Fancybox3 support.
Fix: Minor bug fixes.
1.2.0 (10-18-2017)
1.1.8 (2017-06-27)
Updated: Uses new Dropbox v2 API. Note: must re-connect with Dropbox API.
Added: Option to turn on/off thumbnails.
1.1.7.1 (2016-11-03)
Fix: Cases where image titles with apostrophes break image
Fix: Various minor bug fixes
1.1.7 (2016-04-16)
Fix: Prevent success / error notices on Settings screen from jumping
1.1.6 (2016-03-17)
Refactored code for "Insert from Other Image Sources" for better performance
Added: Better error reporting on import routine
1.1.5 (2016-03-03)
Fix: HTML characters on authorisation notices wrongly encoded
1.1.4 (2016-02-25)
Updated: Spanish Translations
1.1.3 (2016-01-14)
Fix: Display error message if search fails
1.1.2 (2015-12-23)
Updated: Spanish translations
1.1.1 (2015-12-10)
Updated: Spanish Translation
Fix: Display errors when inserting instead of throwing JS error
1.1.0 (2015-12-03)
Added: Compat with Envira Gallery 1.4.0+ new media view / selection tool
Added: Spanish translation
1.0.2 (2015-11-19)
Fix: Compat with BackupBuddy backups
1.0.1 (2015-10-07)
Fix: Set URL as image when importing image from Dropbox, so that it works in Lightbox mode
1.0.0 (2015-10-29)
Initial release of the addon.