Envira Gallery Documentation
Documentation, Reference Materials and Tutorials for Envira Gallery
Would you like to create a video gallery for your site? With Envira Gallery Videos Addon you can easily create a beautiful video gallery. The Videos Addon will accept many different video services for your gallery. In this tutorial we'll show you how to create a video gallery using Envira's Videos Addon.
---
Requirements
Installation
Please follow our instructions on how to install and activate addons.
In this instance, you'll be activating the Envira Video Addon.
Supported Video Services
Currently Envira supports self hosted videos (mp4), YouTube videos (playlists from your account and specific start times), Vimeo videos, Instagram videos, Facebook videos, Twitch videos, VideoPress videos and Daily Motion videos.
YouTube API
If you're going to be using the YouTube playlist for your video galleries, you'll need to get a YouTube API and enter it in Envira Gallery » Settings » Video tab.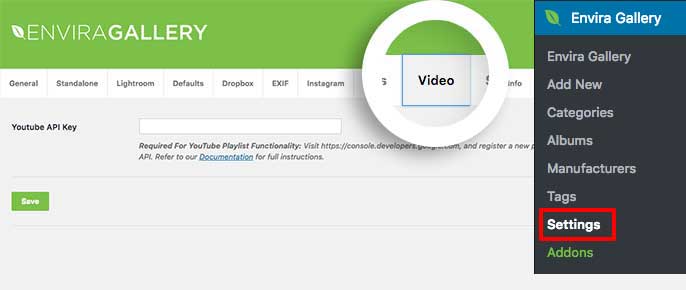 To do this, please follow our help guide on getting and saving a YouTube API.
If you're not going to use the playlist functionality, you can skip this step.
Setup
Once the Videos Addon is activated, you can begin adding videos to your gallery.
Step 1 – Create or edit your gallery
Your first step is to create a new gallery or edit an existing one. You can follow along with our documentation for creating your first gallery.
Step 2 – Insert your videos
You can add videos to your gallery in two different ways. Below we'll run through each possible way.
Insert video link directly
To add videos directly, click the Insert Files from Other Sources button and from the menu on the left of the pop up window, select Insert Videos.
You'll then see a button to Add Video, click this to being adding videos to your gallery.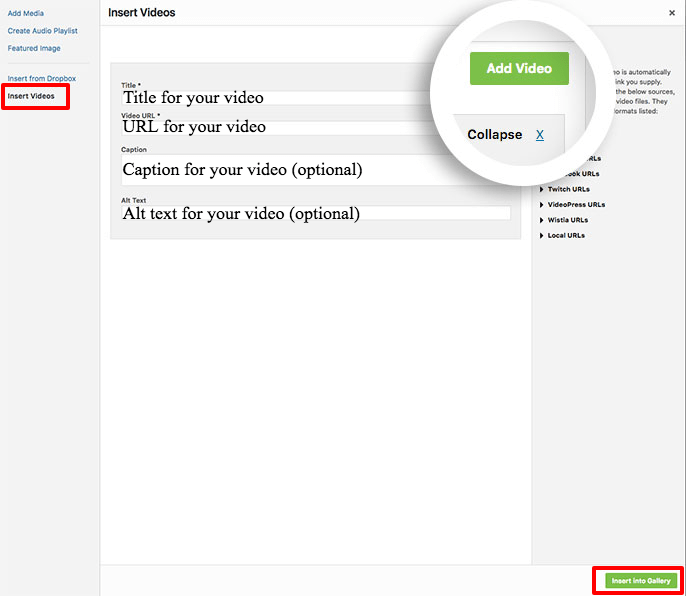 You can see from the examples on the left the accepted URL formats for your video links. Click the X icon to close this window when you've added all your videos to the gallery.
As you insert your videos, Envira will go out and get the poster image for each video and insert this into the gallery but also into your WordPress Media Library.
Once you've added the videos, you do also have the option of editing each of the videos to choose if you would like to show your video from the gallery view.
To do this, click the blue pencil icon to edit the first video. The Edit Metadata window will open and you can choose to display the video in the gallery view by clicking the box for Display Video in Gallery?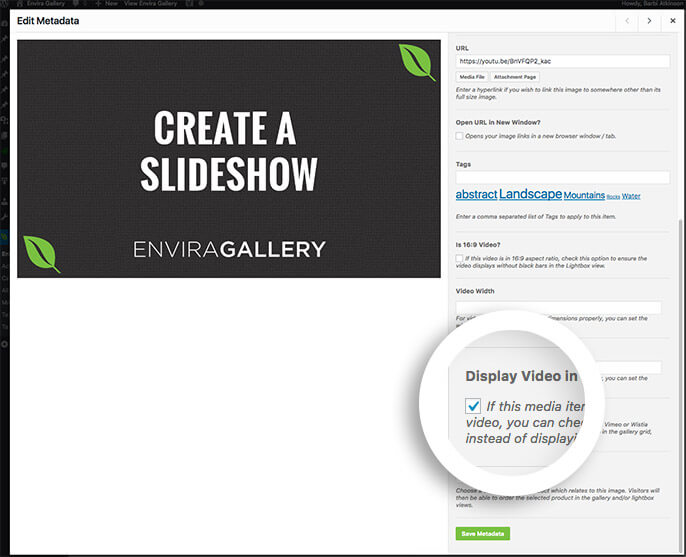 Specify video link on gallery image
Alternatively, you can just add images to your gallery as you would any other gallery.
Then clicking the blue pencil icon to edit the image, just change the URL field to point to the video URL.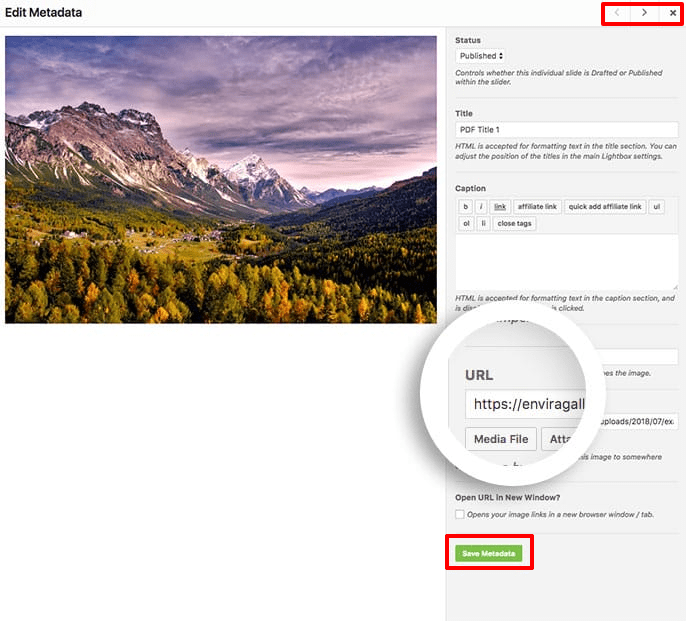 Click the Save Metadata button to save the changes and using the right and left arrows keys in the top right, navigate through the remaining gallery images to update any other URLs.
When you're all done, click the X icon to close the Edit Metadata window.
Step 2 – Setup your video options
Your next step is to set up your video options on the Video tab.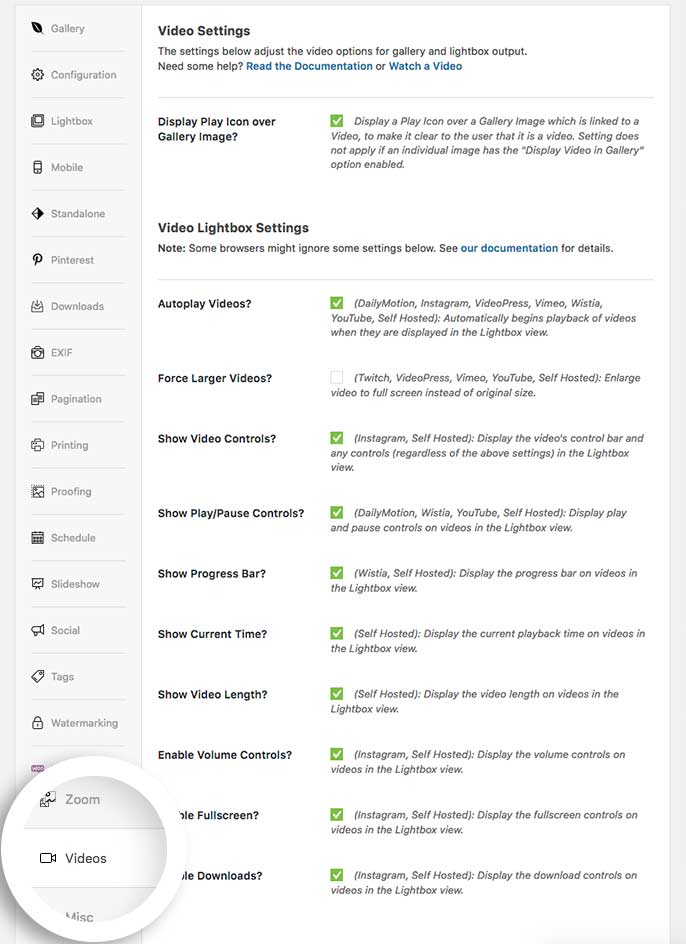 Step 3 – Publish or Update your gallery
Finally, click Publish or Update on your gallery to save the changes.
That's all! Now you're ready to create a fully-featured video gallery on your site. Interested in learning more about creating engaging content for your site? See our guide on how to create a cinemagraph from a video using Photoshop.
---
FAQs
Q: Can I remove the black bars above/below my 16:9 videos?
A: Yes! First, edit a gallery and select the pencil icon for the thumbnail image that links to any 16:9 ratio videos in your gallery.
This will open the Edit Metadata screen where you can enable the Is 16:9 Video? option. You can also set the width and height on the self hosted videos (only for self hosted videos)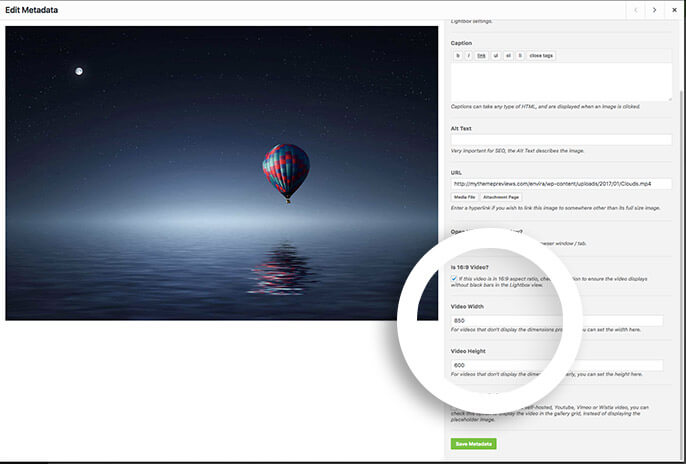 ---
Q: How can I make videos play in the gallery without the need of a lightbox?
A: First you'll need to edit your gallery. Select the pencil icon for the thumbnail image that links to any video URL in your gallery.
This will open the Edit Metadata screen where you can enable the Display Video in Gallery? option.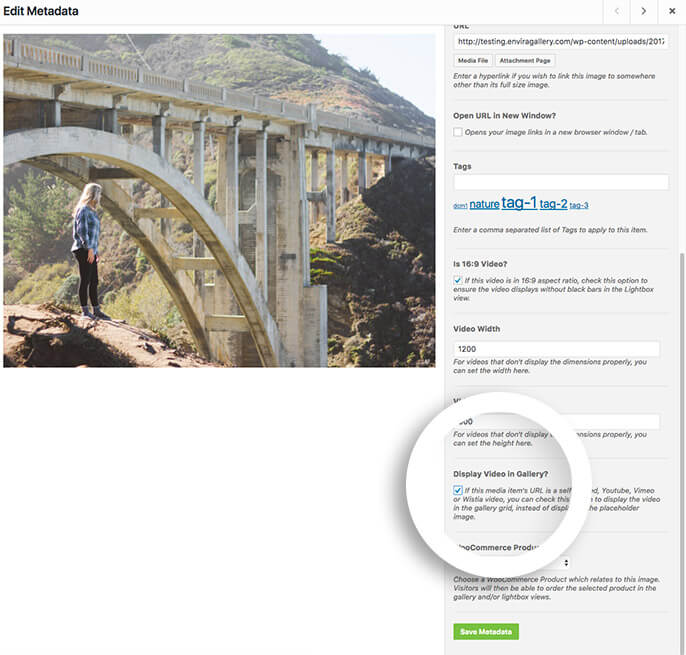 Save the changes and your video will now play in the gallery view instead of opening in lightbox.
---
Q: Can I use videos from Amazon S3 server?
A: You can currently use videos from Amazon S3 servers. In order for this type of gallery to be displayed correctly, you will need to make sure the Display Play Icon over Gallery Image? is unchecked.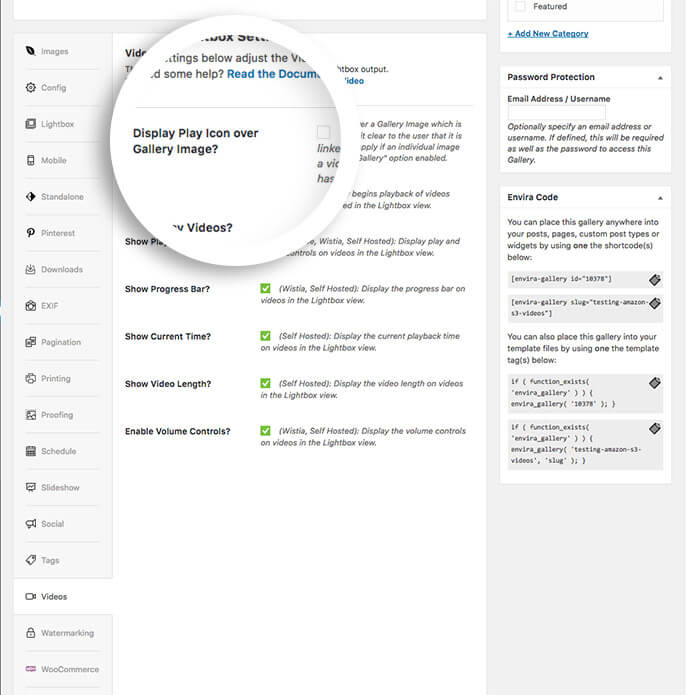 Also you'll need to make sure the permissions on the video for the Read access is World.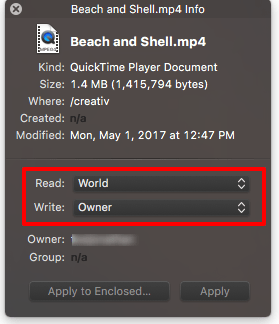 ---
Q: Why aren't my lightbox themes working on the video lightbox?
A: When using videos in your lightbox, Envira will remove borders from the video to give full impact to the videos and therefore you don't really see a difference from 1 lightbox theme to another when dealing with videos.
---
Q: Why is my video muted on autoplay?
A: Certain video service providers won't autoplay the video unless the video is muted. Unfortunately this is not in control of Envira.
---
How can I stop the related videos from showing?
A: Unfortunately we don't currently have the permissions in the API to stop the related videos from showing at this time.
---
Changelog
1.5.2 (01-16-2019)
Fix: Issues with some videos not loaded resolved.
Fix: Minor bug fixes.
1.5.1 (10-16-2018)
Added: Add play icon to thumbnails in Lightbox
Fix: Stop slideshow w/ YouTube/Vimeo/Self Hosted videos on autoplay start, resume when they end
Fix: Resolve conflict with several third-party plugins
Fix: Lightbox CSS adjustments for Internet Explorer 11 and self-hosted / Instagram videos
Fix: Adjust Lightbox border for Base and Subtle LightBox themes
Fix: Reduce flash of some videos in Lightbox when forced larger
Fix: Various bug fixes, minor code tweaks, and PHP compatability adjustments
1.5.0 (08-22-2018)
Enhancement: Updated video admin UI w/ additional settings.
Enhancement: Ability to add YouTube video with timestamp.
Enhancement: French translations updated.
Added: YouTube Playlist support (requires api key).
Added: Instagram Feed support.
Added: Instagram IGTV support.
Added: Facebook Video support.
Added: TwitchTV Video support
Added: VideoPress Video support.
Added: DailyMotion video support.
Fix: Wistia support in Lightbox.
Fix: Better support for autoplay for certain videos types.
Fix: Replaced Froogaloop and updated API for Vimeo.
Fix: Better compataiblity with XTheme.
Fix: Minor bug fixes.
1.4.0 (04-10-2018)
Added: Fancybox3 support.
Fix: Minor bug fixes.
1.3.1 (11-07-2017)
1.3.0 (10-18-2017)
Fix: Issue where self-hosted doesn't display
Fix: Minor bug fixes
1.2.9.2 (06-27-2017)
Added: You can now use the format as urls: youtube.com/embed/XXXX.
Fix: Self hosted videos no longer show horizontal and vertical scroll bars.
1.2.9 (05-16-2017)
1.2.8 (02-01-2017)
1.2.7 (01-19-2017)
1.2.6 (2016-12-08)
Fix css with captioned theme
Fix: Cases where youtube and vimeo videos display white screen
Fix: CSS loading when videos aren't used
1.2.5 (2016-11-07)
Fix: Wistia Options not properly setting.
Fix: Output not filling lightbox.
1.2.4 (2016-11-03)
Fix: Pagination addon ( load all in lightbox ).
Fix: Various minor bugs.
1.2.3 (2016-10-04)
Fix: Conflict causing social buttons outside of lightbox with video addon resolved.
1.2.2 (2016-08-25)
Updated: Spanish translations
Fix: Conflict causing social buttons outside of lightbox with video addon resolved.
1.2.1 (2016-05-05)
Added: Is 16:9 Video option to Edit Metadata when editing an image; allows video to be displayed in 16:9 format without black bars in the Lightbox view.
Updated: Standardised edit screen titles and descriptions
1.2.0 (2016-04-21)
Updated: Spanish translation
1.1.9 (2016-03-31)
Added: Documentation and Video Help Links
Updated: Moved image editing modal descriptions inline with fields
1.1.8 (2016-03-10)
Updated: Spanish Translations
1.1.7 (2016-02-25)
Added: Option to display play icon over image in gallery
Updated: Spanish Translations
1.1.6 (2016-02-18)
Added: Attempt to get self-hosted video width and height to ensure Lightbox maximum dimensions are accurate, and do not cause black banding / scrollbars to display
Added: Option to Display Videos in Gallery (videos can be played in line within the Gallery)
1.1.5 (2016-02-04)
Fix: Prevent undefined index on image thumbnail
Fix: Generate Lightbox thumbnail, if enabled, when inserting a new video to a gallery. Improves performance ensuring the thumbnail does not need to be generated when viewing the front-end gallery for the first time
1.1.4 (2016-01-28)
Fix: Supersize self-hosted videos displaying scroll bars
1.1.3 (2015-12-23)
Fix: Remove query parameters from Vimeo placeholder images so WordPress can import them correctly
Updated: Spanish translations
1.1.2 (2015-12-17)
Added: Standardised return errors as WP_Error for better error reporting
1.1.1 (2015-12-10)
Added: Spanish Translation
Added: Inserting self hosted videos now asks for an image placeholder
Added: Validatin on inserting videos to prevent errors
Fix: Display errors when inserting videos instead of throwing JS error
1.1.0 (2015-12-03)
Added: Compat with Envira Gallery 1.4.0+ new media view / selection tool
Fix: Incorrect text domain for some strings
1.0.4 (2015-11-26)
Added: Album Video settings
Fix: Gallery in Album Lightbox with Video works
1.0.3 (2015-07-23)
Fix: getimagesizefromstring() compat for PHP 5.3-
1.0.2
Fix: Supersize Addon compatibility
1.0.1
Fix: Updated Helpful Tips in Metabox to reflect local video support
1.0.0
Initial release of the addon.