Envira Gallery Documentation
Documentation, Reference Materials and Tutorials for Envira Gallery
The Gallery Themes Addon for Envira will give you the ability to set unique preset design styles on your gallery and lightbox images! We'll walk you through how to set up and use the Gallery Themes Addon.
---
Requirements
Installation
Before we begin, please follow our instructions on how to install and activate addons.
In this instance, you'll be activating the Envira Gallery Themes Addon.
Setup
Step 1 – Create or edit your gallery
Your first step is to create a new gallery or edit an existing one. You can follow along with our documentation for creating your first gallery.
Step 2 – Set up your gallery settings
Navigate to the Configuration tab and in the Number of Gallery Columns selection, choose any column count.
Scroll down on the Configuration tab to find the selection for the Gallery Theme dropdown. Here you can select which gallery theme you'd like for your gallery.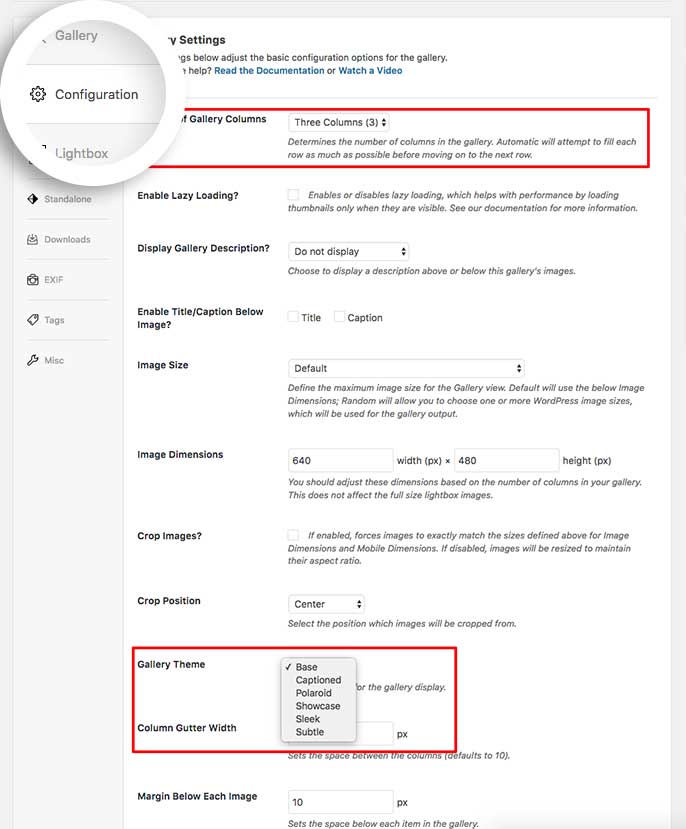 Step 3 – Choose your lightbox settings
Next, navigate to the Lightbox tab. Here you can also select your Gallery Lightbox Theme from the dropdown.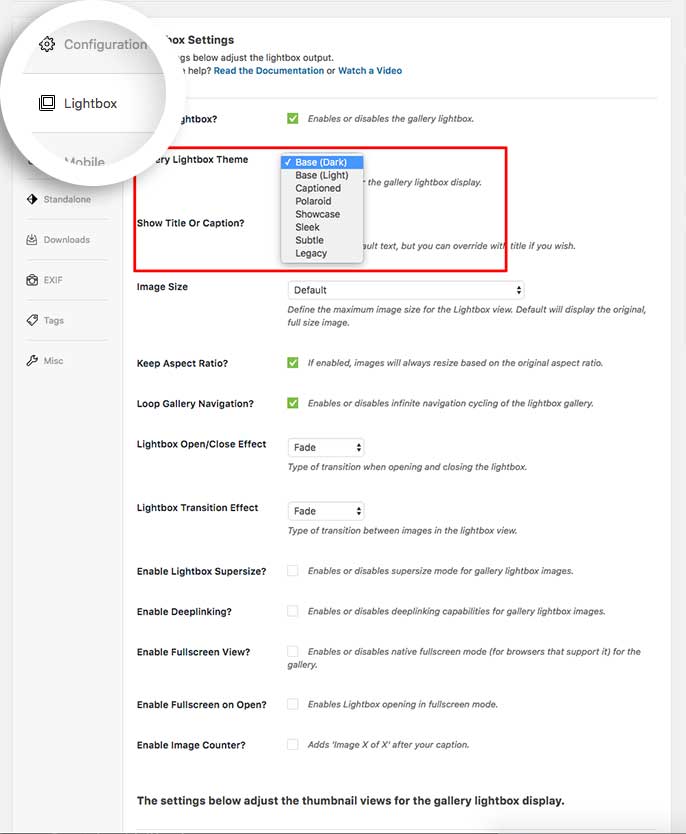 Step 4 – Publish or Update your gallery
Finally, click Publish or Update on your gallery to save the changes.
You don't have to use one of our pre-determined themes. Feel free to try out some of our Styling articles to see how using CSS can also change the look and feel for your gallery images.
---
Lightbox Themes
You'll also find new themes to choose from for the lightbox view of your gallery in the Lightbox tab's Gallery Lightbox Theme dropdown. Simply navigate to the Lightbox tab to choose the lightbox theme you want to use for your lightbox display.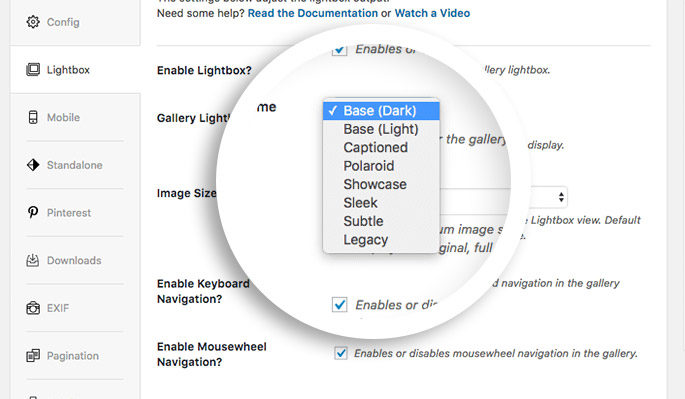 ---
FAQs
Q: How can I further customize the appearance of my gallery?
A: After you select the theme you want, you can apply any tweaks you want using Envira's Custom CSS Addon.
---
Q: Why can't I see any themes in my dropdown?
A: Please make sure that you have selected a column count from the Configuration tab on the Number of Gallery Columns.
Automatic galleries don't have any themes to select at this time.
---
Changelog
2.0.1 (11-19-2020)
Fix: Stacked thumbnail issue in certain themes.
2.0.0 (11-05-2020)
Added: 4 new lightbox themes.
1.4.9 (02-05-2020)
Fix: Z-Index adjustment with lightbox w/ Sleek theme.
1.4.8 (08-20-2019)
Fix: Resolved issue involving thumbnails in Lightbox Appearing over Title/Caption for Supersized Images.
1.4.7 (01-23-2019)
Fix: CSS update to resolve thumbnails not clickable in certain themes.
1.4.6 (02-20-2019)
Fix: Remove empty buttons when pagination "No Numbers" option is selected for Caption and Poloroid themes (galleries and albums).
Fix: Improved mobile swiping for some themes.
Fix: Z-index issue involving lightbox navigation and close buttons resolved.
1.4.5 (01-23-2019)
Fix: CSS update to resolve thumbnails not clickable in certain themes.
1.4.4 (12-19-2018)
Fix: Captioned Lightbox theme and the image doesnt have a caption or title, the space for the caption now longer displays.
1.4.3 (11-07-2018)
Fix: Lightbox thumbnails no longer cutoff.
1.4.2 (08-22-2018)
Enhancement: French translations updated.
Fix: Minor bug fixes and CSS updates.
1.4.1 (05-30-2018)
1.4.0 (04-10-2018)
Added: Fancybox3 support.
Fix: Minor bug fixes.
1.3.1 (11-07-2017)
1.3.0 (10-18-2017)
1.2.8 (06-27-2017)
Fix: Light Theme caption now limited.
1.2.7 (05-16-2017)
1.2.6 (04-13-2017)
1.2.5 (02-01-2017)
1.2.4 (01-19-2017)
1.2.3.2 (2016-12-08)
Fix: Lightbox icons now are prefixed.
1.2.3.1 (2016-11-07)
Added: Various minor bug fixes.
1.2.3 (2016-11-03)
Added: New Theme Base Light!
1.2.2 (2016-09-01)
Added: Line breaks in image captions will now reflect in gallery captions for certain themes.
1.2.1 (2016-08-26)
Updated: Minor text and descriptions.
1.2 (2016-08-25)
Added: Four new themes for automatic themes only: Desaturate, Blur, Threshold, Vintage.
1.1.0 (2016-04-28)
Fix: Captioned theme text would sometimes honour theme's setting, and therefore not be visible
1.0.9 (2016-02-25)
Updated: Spanish Translations
1.0.8 (2016-02-18)
Added: Polaroid Gallery Theme
1.0.7 (2015-12-10)
Updated: Spanish Translation
1.0.6 (2015-11-26)
Added: Spanish translation.
1.0.5
Added: Captioned, Showcase, Sleek and Subtle Lightbox Themes
1.0.4
Added: Pagination Addon CSS for each Theme
Added: Support for Envira Gallery 1.3.0
1.0.3
Full localization support with .pot files.
1.0.2
Fixed bug with HTML displaying in titles and caption output.
1.0.1
Added two new themes - Captioned and Showcase!
1.0.0
Initial release of the addon.