Envira Gallery Documentation
Documentation, Reference Materials and Tutorials for Envira Gallery
How to Enable RTL Support
Are you wanting your gallery or album in a language that requires Right-to-left or RTL support? Envira Gallery makes enabling RTL support a breeze. Even better, all paid license holders of Envira Gallery can access this feature!
Requirements
Ultimate, Agency, Pro, Plus or Basic Envira license. Learn how to purchase or upgrade to one of these licenses.
WordPress 4.4+
Albums Addon (optional)
---
---
How to Enable RTL Support for Your Envira Gallery or Album
We've made it as easy as the check of a box to enable RTL support.
Step 1: Edit your Envira Gallery or Album
Choose the gallery or album you want to edit from the Gallery or Albums list screen.
Step 2: Navigate to the Misc Tab
Once you're in the edit screen for your gallery or album, navigate to the Misc tab.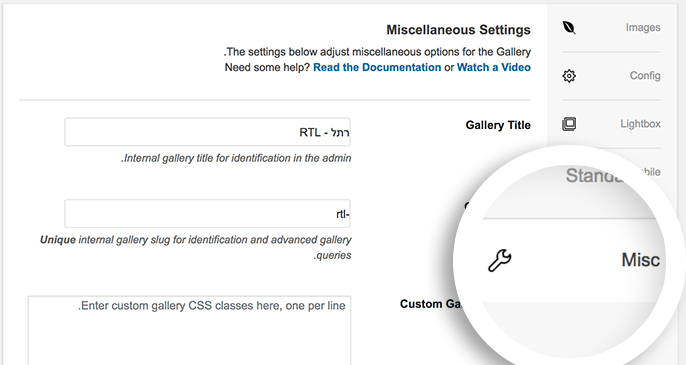 Step 3: Enable RTL Support
In the Misc tab, scroll down until you see the Enable RTL Support? option and check the option to enable.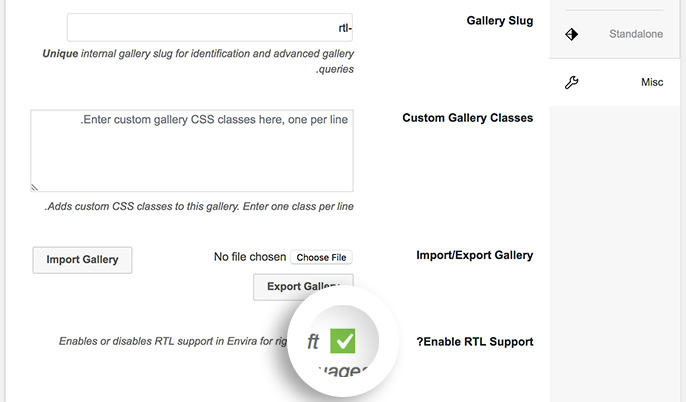 That's it! Your gallery or album will now support RTL languages.
Now that you've enabled RTL support for your gallery or album, check out how to import and export your galleries.