Envira Gallery Documentation
Documentation, Reference Materials and Tutorials for Envira Gallery
How to Enable RTL Support
Are you wanting your gallery or album in a language that requires Right-to-left or RTL support? Envira Gallery makes enabling this a breeze with just the click of a button. We'll show you how to enable the right-to-left support for your Envira galleries and albums!
---
Requirements
Ultimate, Agency, Pro, Plus or Basic Envira license. Learn how to purchase or upgrade to one of these licenses.
WordPress 4.9+
Albums Addon(optional)
Setup
Step 1 – Create or Edit a Gallery
First you'll need to either create a new gallery or edit an existing gallery. If you need any help creating your first gallery, please review our documentation here.
Step 2 – Enable the Right-to-left Option
Your next step is to navigate to the Misc tab and check the box for Enable RTL Support?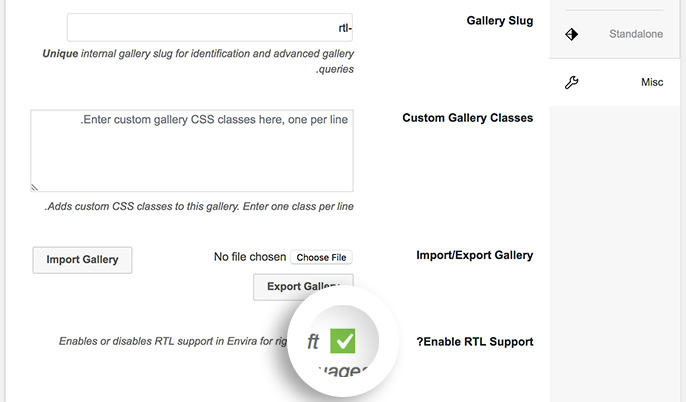 Step 3 – Publish or Update Your Gallery
Finally you'll just need to click Publish or Update on your gallery to save the changes.
And it's that simple! You've now enabled the Right-to-left support for your Envira gallery! Why not check out How to Import and Export Galleries.
---
FAQs
Will this work the same for albums?
A: Absolutely! The Album's Misc tab has the same option to Enable RTL Support?
Will this work for images, as well?
A: No. Currently, Envira's RTL support is applicable only to text.