Envira Gallery Documentation
Documentation, Reference Materials and Tutorials for Envira Gallery
How to Use the Envira Gallery Random Images Widget
Would you like to add a gallery containing random images to any widget area on your site? Envira Galleries containing random images can be added to any widgetized section of your site using the Envira Gallery Random Images widget. You can also limit the number of images to show from that gallery inside the widget. This tutorial will show you how to set this up.
Requirements
Installation
Please follow our instructions on how to install and activate addons.
In this instance, you'll just need to make sure the Envira Gallery 1.8.4+ is installed and activated on the site.
Configuration
First you'll need to create a new gallery. If you need any help creating your first gallery, please review our documentation here.
Step 1 – Navigate to the Widgets Screen
From the WordPress dashboard, hover over the Appearance menu item in the left sidebar menu, then click the Widgets sub-menu item.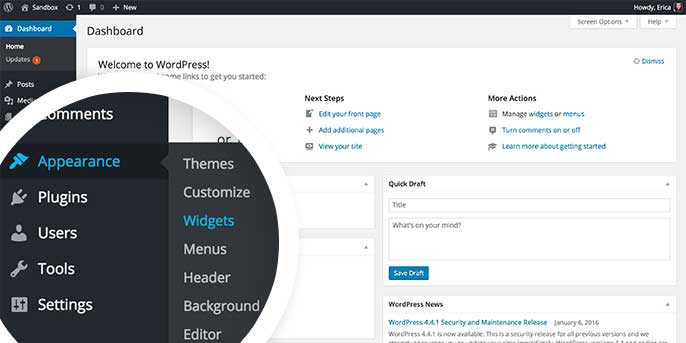 Step 2 – Add Your Envira Gallery Random Images Widget
Locate your Envira Random Images Widget in your Widget Menu from the available widgets on the left.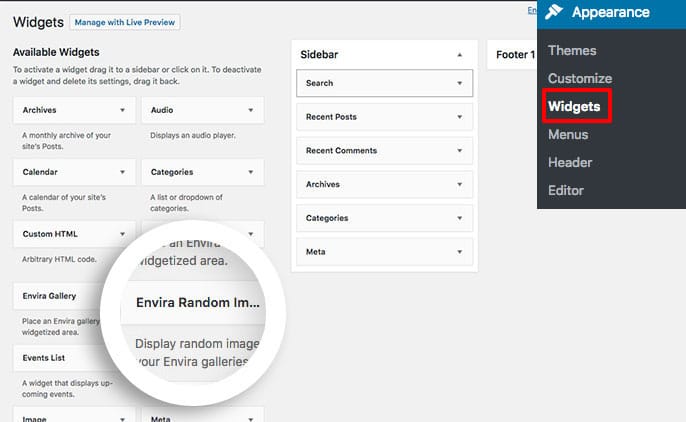 Select your Widget Location, and click Add Widget as shown below.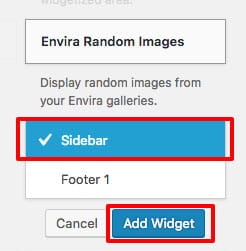 Step 3 – Configure Your Envira Gallery Random Images Widget
Next, you'll want to select which gallery you want to display in your widget.
For the purpose of this documentation, we'll be selecting the My Image Gallery gallery to show in the widget.
I've also told the widget to only show 10 images from this gallery.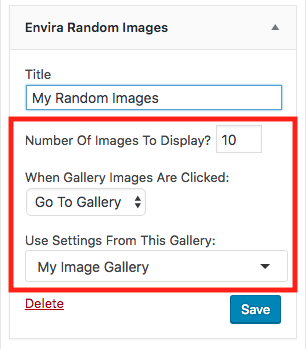 Just give your widget a title, select your gallery, choose the action for when the images are clicked, and choose how many images you wish to show for this particular widget.
You're final steps is to click Save.
Congratulations, you've added an Envira Gallery to a widget!
If you'd like to have some more fun with Envira, check out our tutorial on How to Load Your Gallery Lightbox from a Text Link.
---
FAQ
Q: Why don't I see all the images in the lightbox from the gallery?
A: If you've selected to limit the number of images to show on your widget, only those images would show in the gallery view and in the lightbox view.
Q: Why are my image titles/captions incorrect?
A: For this widget, the titles and captions are pulled directly from what is entered inside of the image metadata screen inside the WordPress Media Library. The titles and captions entered in the WordPress Media Library will override any titles and captions entered directly inside of Envira Gallery.
---