Envira Gallery Documentation
Documentation, Reference Materials and Tutorials for Envira Gallery
Do you want to allow visitors to order and choose the photos they like? That's exactly what Proofing Addon for Envira Gallery allows you to do. This doc shows you how to let visitors choose gallery images or image options as part of a workflow or ordering process.
---
Requirements
Installation
Please follow our instructions on how to install and activate addons.
In this instance, you'll need to activate the Envira Proofing Addon.
Setup
Create or edit a Gallery, select the Proofing tab then enable and configure the Proofing options for your gallery.

If you want to enable proofing options to appear in lightbox view for your gallery images, this can be enabled in the Lightbox tab when editing your gallery. Once configured, publish or update your gallery and view the proofing in action on the front-end of your site.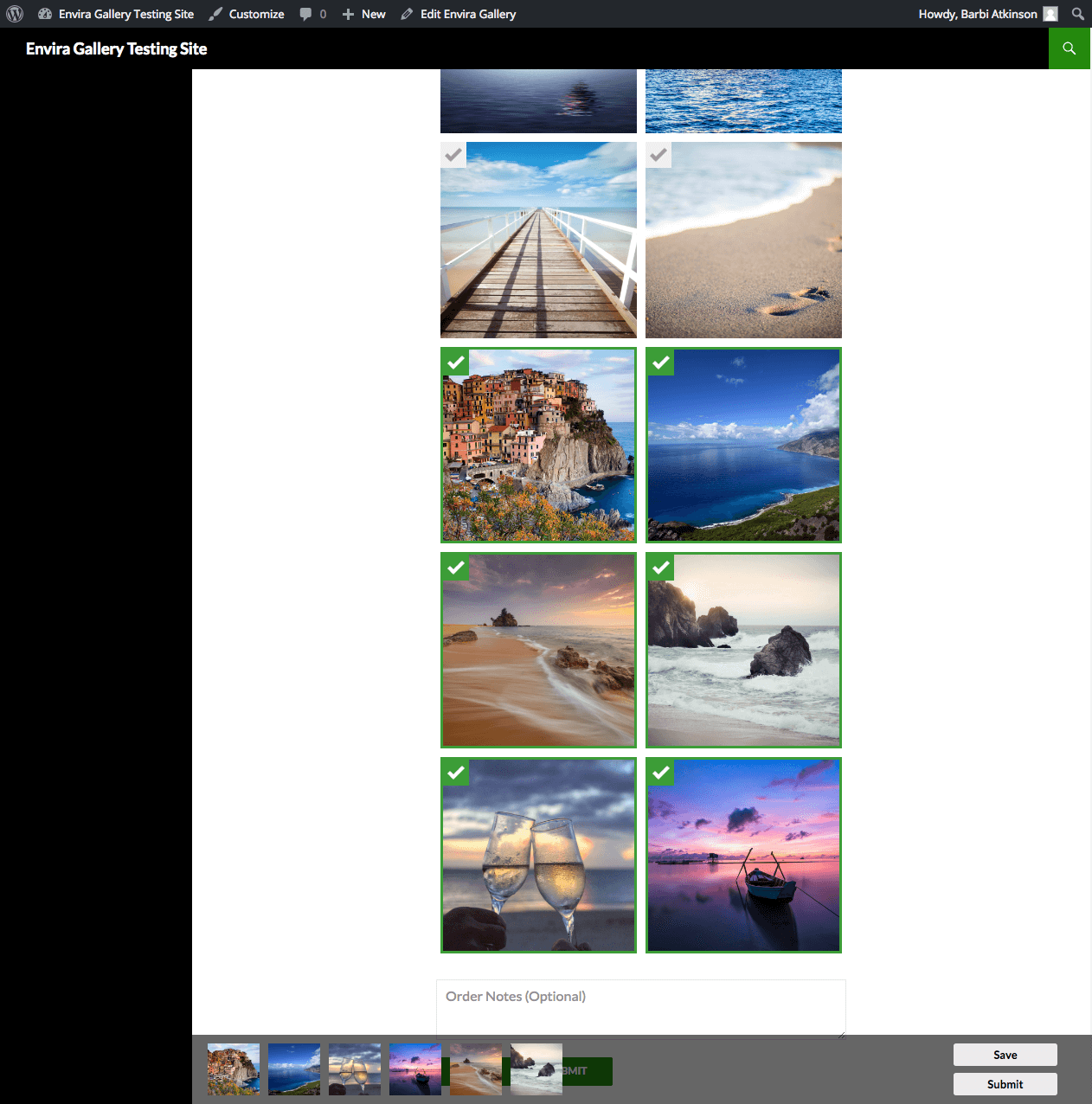 Once a user has submitted their order, the order details will be displayed below the configuration options of the Proofing tab:
---
FAQs
Q: Can I paginate my proofing gallery?
A: No, Envira Gallery's Proofing Addon is currently incompatible with the Pagination Addon.
---
Q: Does GDPR apply to my proofing gallery?
A:The only way the GDPR compliance rules may apply to you is if you're requiring the user to enter their email address when submitting an order. This stores the email address on the Orders section on the Proofing Tab of your gallery. If you're collecting email addresses for your proofing orders, we highly recommend you research the GDPR compliance regulations and make the necessary changes to your terms and conditions.
---
Configuration Options
This table describes the available configuration options for your Envira Galleries when using this Addon.
The Programmatic Name and Programmatic Values columns are used when configuring the Dynamic Addon's shortcode or template tag, or when overriding the default settings for creating a new Gallery.
Proofing Tab
You will see the following new options in the Proofing tab for Galleries.
Config Item
Description
Options
Programmatic Name
Programmatic Values
Enabled?
Enables or disables the Proofing selection process.
Enabled/Disabled
proofing
0,1
Require Email Address?

If enabled, each visitor will need to supply their email address to make an order. This is useful if you have more than one person submitting orders and/or if the gallery is public. Orders will also be displayed by each individual email address below.

Enabled/Disabled
proofing_multiple_enabled
0,1
Enable Name Field?
If enabled, each visitor will be asked for their name as well as their email address.
Enabled/Disabled
proofing_name_enabled
0,1
Enable Quantity Field?
Enables or disables the option for the user to specify a quantity to order for each image.
Enabled/Disabled
proofing_quantity_enabled
0,1
Enable Size Options?
Enables or disables the option for the user to order different size(s) for each image.
Enabled/Disabled
proofing_size_enabled
0,1
Sizes
Add, edit, delete or reorder any number of options (sizes / prints) for all images, which the user can choose.
proofing_sizes
Array of arrays, each with the following keys:
slug
name
Add To Order Label
The text to display on the Add to Order label in the Lightbox view.
Text
proofing_add_to_order_label
String
Save Button Label
The text to display on the save button, which allows the user to save the order.
Text
proofing_save_button_label
String
Submit Button Label
The text to display on the submit button, which allows the user to submit/finalise the order.
Text
proofing_submit_button_label
String
Save Notes Button Label
The text to display on the save button, which is displayed once an order has been submitted.
Text
proofing_save_notes_button_label
String
Submitted Message
The text to display once the user has submitted their order
WYSIWYG Text
proofing_submitted_message
HTML
Email Order Notifications To
Enter an email address to receive notifications when a new order is submitted. Leave blank if you do not want to receive email notifications.
Email Address
proofing_email
String
Email Message
The email message sent once the user has submitted their order.
WYSIWYG Text
proofing_email_message
HTML
Lightbox Tab
You will also see the following new options in the Lightbox tab:
| Config Item | Description | Options | Programmatic Name | Programmatic Values |
| --- | --- | --- | --- | --- |
| Enabled? | Enables or disables the Proofing selection process within the Lightbox. | Enabled/Disabled | proofing_lightbox | 0,1 |
---