Envira Gallery Documentation
Documentation, Reference Materials and Tutorials for Envira Gallery
How to Use the Standalone Feature in Envira Gallery
The Standalone feature in Envira allows you to provide direct access to every Envira gallery or album, meaning you don't need to always embed your gallery or album into an existing WordPress Page or Post. Each gallery and album will have it's own unique URL that can be used to directly view it.
IMPORTANT: With the release of Envira Gallery v1.5.8 the Standalone feature no longer requires a separate Addon.
---
Enabling and Disabling the Standalone Feature
You'll be able to configure the Standalone feature by navigating to the WordPress Admin » Envira » Settings page and selecting the Standalone tab.
In the Standalone view you can enable or disable the Standalone feature by toggling the first option.
If you're using the Albums Addon you will need to enable the Standalone feature.
---
Configuring the Standalone Slugs for Galleries and Albums
You can customize the slug that appears in the gallery and album permalinks to better fit your needs.
To configure the Standalone slugs navigate to the WordPress Admin » Envira » Settings page and select the Standalone tab. Then edit the Gallery Slug and Album Slug (optional, displayed only if the Albums Addon is installed and activated) fields as desired.
IMPORTANT: The slugs for Galleries and Albums must be unique! Assigning a slug for either of these fields that is already used on your site, for example as a category or page slug, will break functionality.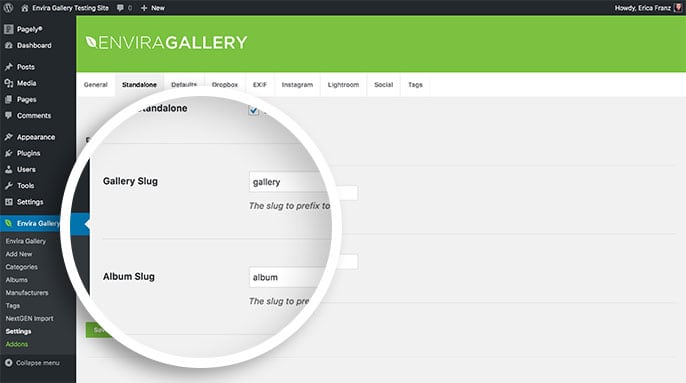 Save the changes and you'll see the slugs automatically reflect the change when viewing your gallery and album permalinks.

---
Editing the Standalone Permalink for Individual Galleries or Albums
Create a new or edit an existing Envira gallery or album. Just below the Title field in the edit screen you'll now be able to edit the Permalink.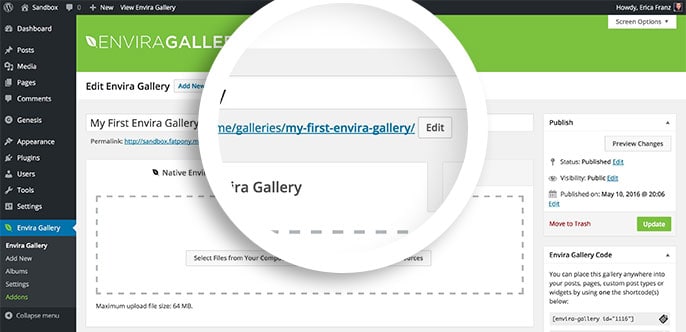 ---
Assigning a Specific Theme Template to Individual Galleries
When the Standalone feature is enabled you'll see a Standalone tab when editing your galleries.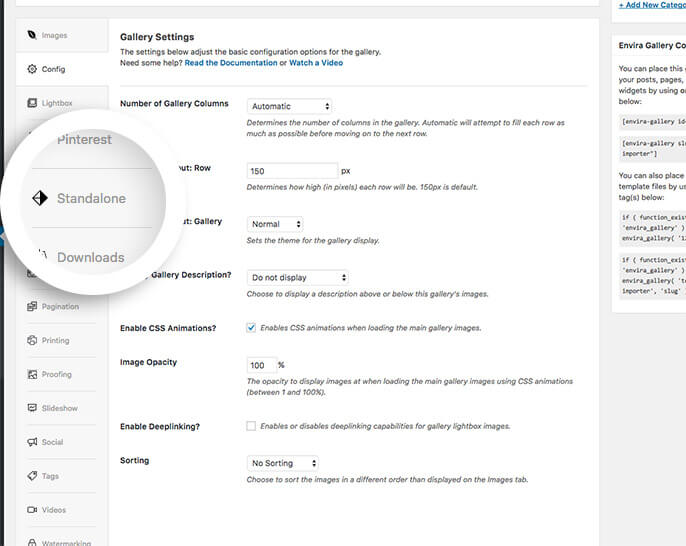 If your site's active theme has provided you with any custom templates, they will show up in the dropdown option.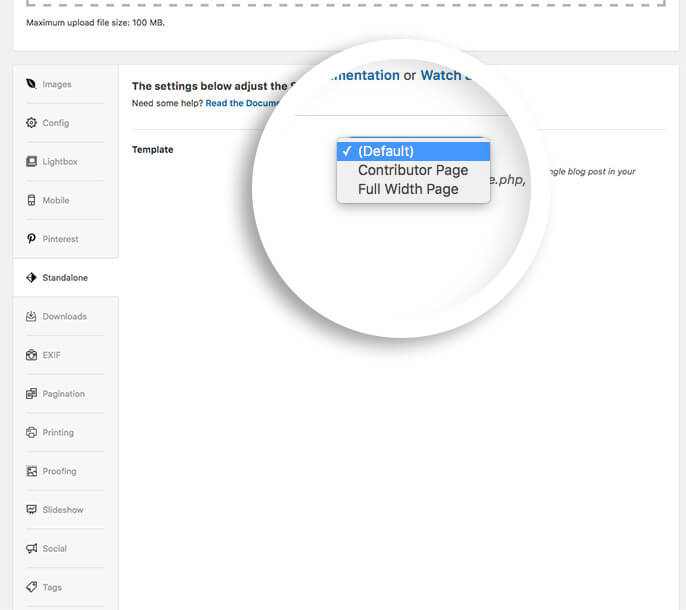 Select the template you wish to use for your gallery when viewing from the Standalone URL, then publish or update your gallery to see the selected template in use.
IMPORTANT: At this time custom templates cannot be set for Albums.