How To Create A Certificate Of Authenticity For Your Photography
by Waseem Abbas on Oct 19, 2020
Are you planning to create a certificate of authenticity for your photos? You may need one, especially when selling your photos online.
It's no secret that online image theft runs rampant, but that shouldn't stop you from selling your photos to your customers. It just means that, when you do sell, you should consider sending along a certificate of authenticity. That way, buyers know the photo they purchased is genuine!
In this guide, we will share how to create a certificate of authenticity for your photography.
You might see copies of your original work reproduced without your permission. In that case, there's nothin much you can do about it. But, you can keep your customers happy by providing authenticated photos.
Creating a certificate of authenticity for your photography will give peace of mind to your clients that they have invested in the right photographer.
What Does a Certificate of Authenticity Include?
From the number of editions, number of prints, grouping of photos, and other information, there's a lot that you'll need to keep in mind when designing your certificate of authenticity.
Here are a few important things that should definitely be a part the certificate of authenticity for your photography:
The name of your company
Title (certificate of authenticity)
Name of the photographer (credits)
Number of the photo
Number of the edition
Size of the print
Here are the few templates for photography authenticity certificates:
1. First Example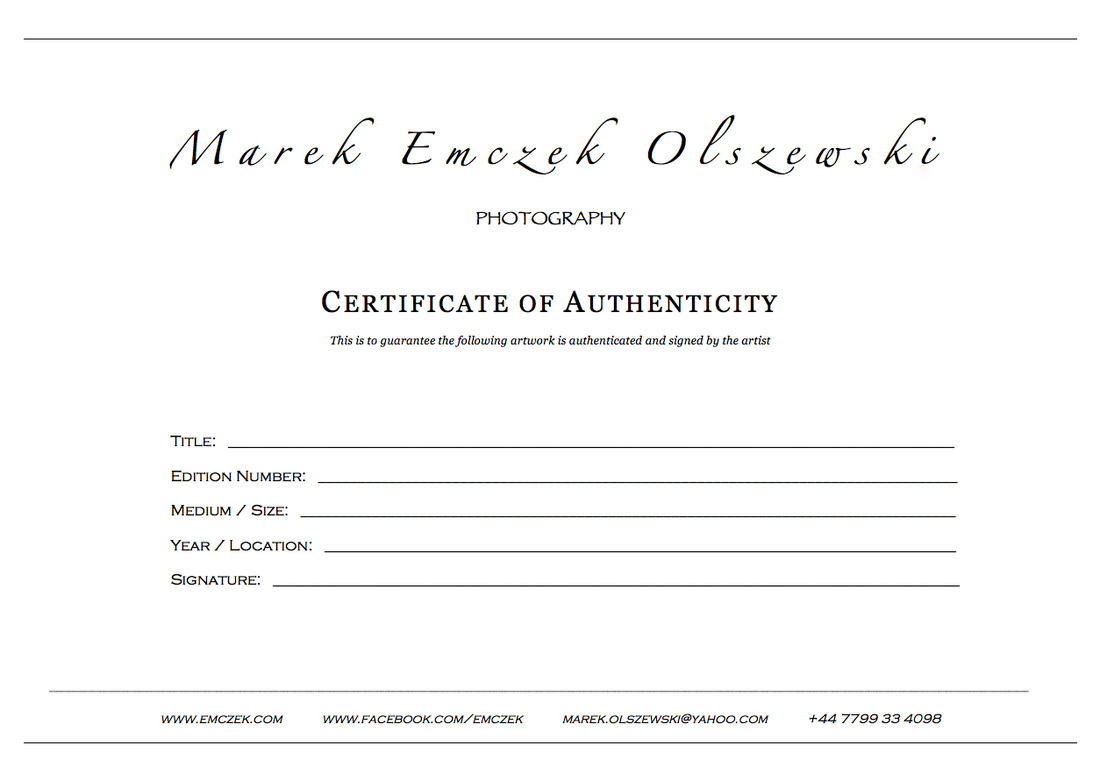 In this certificate template, you can see the name of the photographer or their company entitled with the title to the certificate. There are limited options that cover all the important factors of authentication.
The title is the name of the photograph or album, edition number is what edition you are selling, size of the prints, date and location of the sale and signature of the photographer. This information can help the photographer to keep a record for later.
They also added the email, website, number and Facebook details in the certificate. It will work as a call-to-action for the photographer.
2. Second Example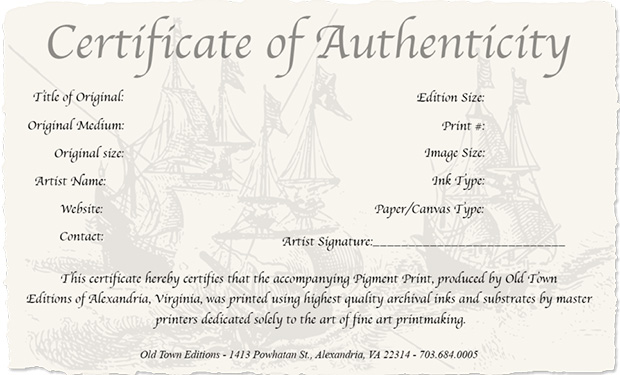 This photographer doesn't include the company name in the header of the certificate. However, it is given as an artist name with the other fields. If you plan to sell photos from other photographers, then this certificate is for you.
The other information is similar to the previous authenticity certificate template.
3. Third Example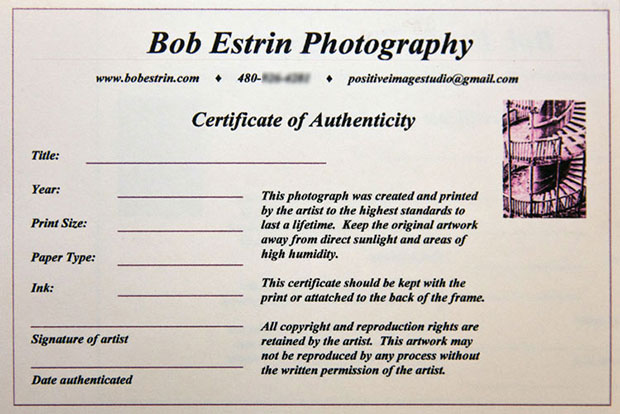 In this certificate template, the photographer added a thumbnail of the main photograph. It has some information about the safety of the photo and copyrights.
This certificate also includes the date of authentication which can help in tracking the record of the prints sold by the photographer.
That's all! We hope this guide has helped you to learn how to create a certificate of authenticity for your photography. You may also want to check out our guide on 5 best free photography contract templates.
If you like this guide, then please follow us on Facebook and Twitter for more free photography tips and resources.
Using WordPress and want to get Envira Gallery free?
Envira Gallery helps photographers create beautiful photo and video galleries in just a few clicks so that they can showcase and sell their work.