8 Best Premium Stock Photo Sites
by [email protected] on Feb 25, 2020
Premium stock photo sites offer paid stock photography of the highest quality. Typically these sites pay their photographers a small portion of the image fee so that you can use the images on your website, in your publications and for other commercial purposes. These images can really transform your project, if you know which are the best premium stock photo sites to buy from.
Premium stock photography sites differ from free stock photography websites because they afford you easy access to pre-filtered content. While free stock photography websites make it more difficult to sort the wheat from the chaff, premium stock websites make it easy for users to find high quality images.
Furthermore, premium stock photography may not lean on creative commons licensing as heavily as other stock websites. Still, you may be required to attribute your images in commercial settings.
And, premium stock photography sites offer photos that other sites just don't. You may find the same images across multiple free stock photography sites, because that increases the creators' opportunities for revenue. Premium sites, on the other hand, tend to offer unique higher-quality images you can't find elsewhere.
If you need photography for your blog posts, you may benefit from premium stock photography — especially if you're not a visual artist yourself. Blog writers who are well-versed in their subject may know what stock works best, so having access to higher quality images will make life easier for you and your editors.
In this article, we'll cover the basics of what stock sites include and why you should consider investing in premium stock photos. Then, we'll look at a list of the best premium stock photography sites.
We'll also discuss:
Benefits of a premium stock photo site
How to choose a premium stock photo site for you
Let's jump right in to find out if paying for premium stock photography is something that you should consider!
What a Premium Stock Photo Site Includes
Premium stock photography sites include more than just basic images. They generally offer higher end photography created by vetted professional photographers. Premium stock sites don't accept photos from just anyone. They take the time to find photos by people who know how to photograph.
Stock photo websites also usually offer some sort of insurance or protection against fraudulent images. While these stock photography websites often vet their contributors, some photo thieves may attempt to profit from images they did not take themselves.
In these cases, the original photographer can sue or request payment for the usage of their images. Of course, even though you didn't know the image you purchased was stolen, that means you may owe the creator money.
Premium stock photography websites generally suffer a lot less from this issue because they vet their photographers. But, most also offer some insurance or safety net that protects you from owing penalties on stolen photos.
What Is a Premium Stock Photo Website?
A premium stock photo website offers high-quality and high-resolution photos for a subscription or per-image fee. If you need images for a commercial project, these sites can help you score the perfect photo!
Premium stock photo sites give you access to premium images without the hassle of licensing and attribution. When you purchase a stock photo from one of these premium sites, you'll likely have full use of the image for your project. That means you won't have to attribute the original creator or navigate a complicated image license.
What Are Royalty-Free Images?
You'll find that a majority of premium stock photo websites sell their images with royalty-free licenses. It sounds great, but what does it mean?
Royalty-free images come with a royalty-free license that gives you access to the image for a certain amount of time to use in a certain number of projects. For the duration of the time you use that image — according to the royalty-free license — you won't have to make royalty payments on the photo. This saves you money in the long run!
Benefits of a Premium Stock Photo Site
Here are some of the most compelling reasons to invest in premium stock photography:
High-quality images
High-resolution photos
Skilled photography, from technical execution to post processing
Rare subjects such as models, exotic animals, celebrities, athletes, and/or government officials
Range of artistic levels from editorial to creative
Handpicked and curated images by professional photographers who understand the culling process
Images that require specialized equipment or skills to create
Why Should You Consider Using a Premium Stock Photography Site?
If you need access to images that are hard to find, premium stock photography sites afford you easier access to those photos. Additionally, if your website depends on timely content, the higher end and larger premium stock photography websites will often have images faster than other sources.
Stock photo sites can also help you connect with talented photographers, too. In finding photographers through premium stock photography websites, you'll already know that you like the photographers' style, which is half the battle! Some stock photo sites make it easy to reach out to their contributing photographers for private commissions, which also saves you time and effort.
How Can Using Stock Images Save You Time and Money?
While basic stock photos save you time and money, premium stock photo sites can save you even more of both. When you don't have to take your own images for your online publications or website, it frees up time to hire and manage freelance writers and editors. And, because you know your premium stock photos will be high-quality, professional images, you won't have to spend extra money reshooting poor photos.
Drawbacks of Using Stock Images
Image licenses can make using stock photography images tricky. Some stock sites allow you to download free images, provided you attribute the original photographer. Others don't require attribution, but instead restrict how you can use the stock photos. Navigating different image licenses can be confusing, especially if you're not familiar with them.
It's also possible to download stolen photographs from stock photo sites. While most premium stock photo sites have limitations to safeguard against hosting fraudulent images, they aren't perfect. Using a stolen photo — even one that you purchased — can land you in trouble down the road.
You may also find that stock photography for your niche is oversaturated. That means that, given the dearth of photos available, you and your competitors might be using the same imagery. If that's the case for you, consider hiring a photographer from a stock photography site. Then, you'll have unique photos for your site or project, which will make you stand out from the crowd.
How to Choose a Premium Stock Photo Site for You
There are several different things you are going to want to think about before delving into the usage of one stock photography site over another. The first consideration is going to be whether or not you truly need a premium stock photography website. If throughout this article you have not felt that any of these features would be better than just a basic free stock website, then go ahead and stick with a free website.
Once you have made that decision, figure out what types of photograph best suit your commercial use case and branding. Some websites are going to be more tailored towards editorial and journalistic photographs, while other websites offer images with an emphasis on photographers taking images with more creative inspiration.
What Should You Look for in a Premium Stock Photography Website?
The first thing to look for is diversity of content and amount of content. This is especially if you are paying for access, rather than on a per image basis. If you are paying on a per image basis, look for general quality.
If you are not sure what images are better than others, look at what images others in your space typically use. Look at industry leaders, especially those that are international and may be hiring consultants or doing everything in house. You can borrow inspiration from the to make your website look as great as possible.
Are Subscription Rates Worth it for Stock Photography Websites?
There are some stock photography websites that operate based on a subscription for either personal or commercial use. This is a choice you have to make, as the more stock you may be using, the better of a deal a subscription may be for you.
What Should You Avoid When Choosing a Premium Stock Photography Website?
Avoid images you've seen used before, and avoid relying on current trends too heavily. You want to find timeless images to use in your marketing, especially if you intend to make your content accessible long-term. Look for premium stock photography sites that employ professional photographers who you can trust to create great images.
Best Premium Stock Photography Sites
Now, let's cover the best premium stock photography websites. The following list offers stock photography at all payment levels, so you can find the best premium stock photography website for your needs.
Let's look at:
Best premium stock photography websites for general usage
Premium stock photography websites for high-resolution images
Best premium stock photography websites for designers
Most affordable stock photography websites
What Are the Best Premium Stock Photography Websites for General Usage?
These sites will help you gain access to good photos at the most basic level. Do you need quality images? These sites can provide. If you need simple images with common subjects for your website, check out these premium stock photography sites' catalogs.
1. Photocase Premium Stock Photography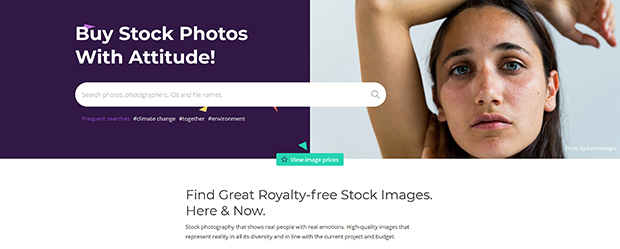 Photocase is a great stock photo site option if you need simple stock images. They sell high-quality stock photos in a variety of sizes that you can use in any of your web or print marketing. Compared to some other premium sites, their prices are expensive. But, you pay for quality!
Photocase employees hand-select and upload new images daily. And, because real people sort these images, you can rest assured that only the best quality images make it into their online collection.
You'll also love Photocase's dedication to customer service. This premium stock photography website offers direct customer service that's easy to access and simple to use. They're readily available, which means you'll never have to purchase a photo with unanswered questions.
Lastly, Photocase also offers you legal protection when you purchase the image rights to one of their photos. With Photocase's protection, you can post and publish your new photos on social media and other websites without worrying about royalty fees. The make the entire process pain-free!
2. Shutterstock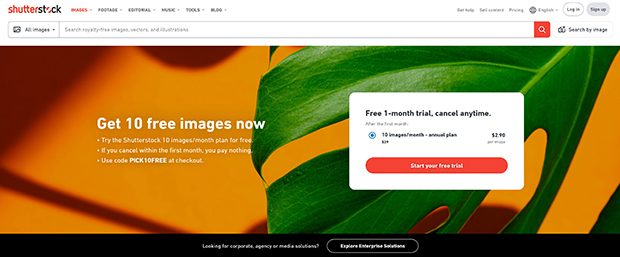 If you're looking for subscription-based stock photography, you can't beat Shutterstock. Subscription stock photography sites are perfect for people who need a regular supply of stock content. Shutterstock understands that everyone has a budget, so they offer plans at various price points depending on your photo needs.
Shutterstock also offers pay-as-you-go plans, which give you a set number of images for a flat fee.
Because Shutterstock is one of the largest stock photography sites, you'll have access to the largest and most diverse stock image library you can find. Of course, there's a downside to Shutterstock's size. The site offers more images to sort through, and its galleries feel less curated than those of some other premium stock sites'.
But, if you're willing to do a bit more digging, you're sure to find exactly what you're looking for on Shutterstock.
3. Adobe Stock

Your favorite photo editing application creators have their own premium stock photography website! That's right. Adobe Stock, run by Adobe, provides curated stock images that work great in both digital and print projects.
Although their images run at a higher price than images on some alternative sites, Adobe Stock includes modified royalty-free agreements with their photos. This image license makes purchasing images for additional usage rights even easier.
And, while great for general usage, Adobe Stock also offers the option to pay for higher resolution image files. High resolution images open up a world of possibilities, since you can use them in any project. If you need higher resolution photos, start by looking at Adobe Stock's unique offerings.
4. Getty Images

Getty Images is a massive stock photography company that runs several other stock photo divisions. Because Getty Images often has photos of recent events, they're a perfect first stop for images for your current events blog or publication.
Getty Images' incredible photography team provides great editorial coverage at a competitive price. Not many other premium stock photography sites offer editorial images, so Getty is the place to go for these types of photos.
5. iStock by Getty Images

A division of Getty Images, iStock is one of the best premium stock photography websites for high-resolution images. Their photo collection leans toward creative imagery, which you can use in general commercial and noncommercial settings.
Compared to some other sites, iStock offers their photos at a relatively cheaper rate. So, if services like Adobe Stock are out of your current budget, consider choosing iStock instead. You won't have to sacrifice image quality, which means you'll still be able to develop beautiful social media and blog images.
iStock is also a great resource for designers looking for premium stock photography. The site's image gallery includes everything from generic photos to videos, illustrations, music and more. With the help of iStock's raw materials, designers can create impressive works that draw attention and generate a buzz!
6. Flickr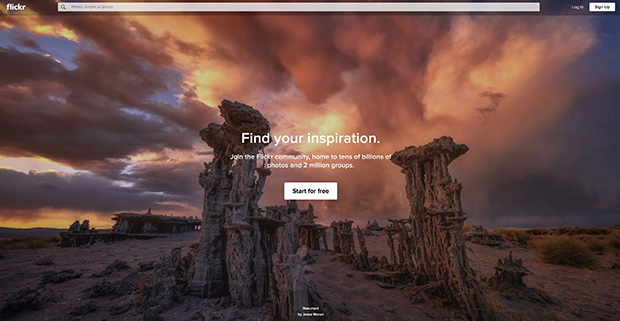 Using Flickr to source stock photos can be time consuming, but it's worth it to curate your photos to your exact needs. If you and your design team have time to sift through Flickr's extensive library, you may find exactly the images you're looking for!
Which Premium Stock Photography Websites Offer the Most Affordable Packages?
If affordability is your primary concern, free stock photo websites provide a great resource. Of course, as with anything free, these sites do have some caveats to consider.
As you may expect, the quality of images on free stock photography sites can be lower quality than those on paid stock sites. Much of the time, photographers who host their photos on free stock sites trade their images simply for exposure. With no money at stake, there's no real incentive to upload the highest quality images.
These sites also curate at a minimum. Websites offering free stock rely on algorithms and data collection from users to curate images, rather than hand-picking photos. This means that, unlike premium websites, the time you'll spend more time searching for the right image.
But, it's not all doom and gloom. There are some great free stock photography websites out there! If you need a free stock photo website, these are the two I recommend:
7. Unsplash

Unsplash is a great starting point for free photography. The images on Unsplash come with a license that allows you to use them in both commercial and noncommercial works. They've also got a wide selection of images in a variety of sizes.
The downside to using Unsplash is its popularity in the free stock photography field. You may find that you've already seen many of Unsplash's images in other print and web advertisements, especially if you need photos in a specific niche field.
Other than that, Unsplash is a great place to start sourcing your images. Save up to use better websites for stock imagery in the future, and spend your time now using these free images to the best of their capabilities. 
8. Stocksnap.io

Stocksnap.io releases all images under creative commons licenses, so you can use their beautiful images for free. But, images from this website suffer for the same reasons as Unsplash. All stock photography sites have this problem, but it's especially prevalent in free sites like Stocksnap.io and Unsplash.
Conclusion
Stock photography is a great resource for fellow photographers, designers and entrepreneurs. By investing in stock images from premium stock photography websites, you can make your print and digital images stand out from the competition without hiring a dedicated designer and photographer.
If you're ready to learn more about stock photography, check out these other articles:
We hope this article has helped you find the best premium stock photography website for you. Follow us on Facebook and Twitter, or sign up for our email newsletter, so you don't miss another informative article from Envira Gallery!
Using WordPress and want to get Envira Gallery free?
Envira Gallery helps photographers create beautiful photo and video galleries in just a few clicks so that they can showcase and sell their work.