Envira Gallery Documentation
Documentation, Reference Materials and Tutorials for Envira Gallery
Would you like to create a breadcrumb trail for your Envira Album? This is easy to do using the Envira Breadcrumbs Addon. We'll walk you through how to set up your album to use breadcrumbs.
---
Requirements
Installation
The Breadcrumbs Addon is no longer a standalone addon. This is now part of the Albums Addon so please make sure you've installed the Albums Addon in order to proceed with the documentation below.
Setup
Step 1 – Create or edit your album
Your first step will be to create or edit an Envira Album.
If you need any assistance in creating an album, please review our documentation on How to create Albums using Envira Albums Addon.
Step 2 – Configure the Breadcrumb Settings
It's now time to navigate to the Breadcrumbs tab.
Here you can Enable Envira Breadcrumbs? for your albums and specify the Breadcrumb Separator you wish to use.
You can also Enable Yoast Breadcrumbs? if you're using the Yoast SEO plugin.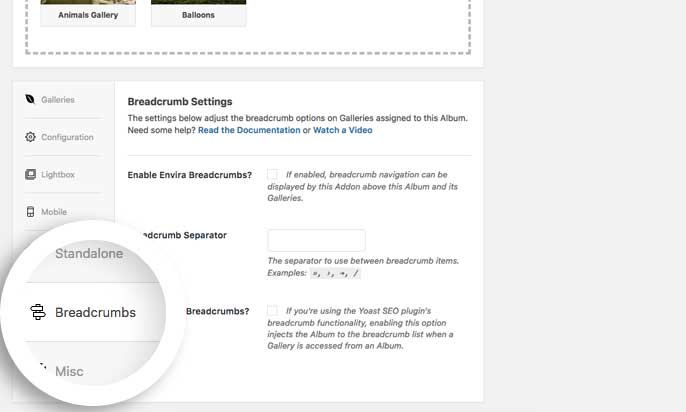 Step 3 – Publish or Update your Album
Once you've setup your breadcrumb settings, simply click Publish or Update on your album to save the changes.
Finally, open your album's standalone URL and you'll see breadcrumbs appear above the gallery cover images.
Then when a visitor clicks a gallery image to open the gallery's standalone page, they'll see breadcrumb links displayed above the gallery images too.
---
FAQs
Q: Can I change the look of the breadcrumbs?
A: Absolutely! You can use these classes for targeting any CSS styling:
.envira-breadcrumbs a, .envira-breadcrumbs a:hover, .envira-breadcrumbs span.breadcrumb_last.
---
Q: Why aren't my breadcrumbs showing?
A: Please check the link you're viewing. The breadcrumb won't show correctly if you're not viewing the album from the standalone link.
---
Changelog
1.2.2 (06-05-2019)
Fix: Code clean up, minor bug fixes, enhanced security.
1.2.1 (10-26-2018)
Added: envira_breadcrumbs_data and envira_breadcrumbs_html WordPress filters, allowing the "Home" URL to be filtered.
1.2.0 (04-10-2018)
Added: Fancybox3 support.
Fix: Minor bug fixes.
1.1 (10-18-2017)
1.0.4 (02-15-2017)
Fix: Gallery Title displaying Twice
1.0.3 (2016-11-03)
1.0.2 (2016-10-04)
Fix: Minor CSS update to keep tags and breadcrumbs on seperate lines.
1.0.1 (2016-08-25)
Fix: Minor spacing issue for last breadcrumb displayed.
1.0.0 (2016-05-19)