Envira Gallery Documentation
Documentation, Reference Materials and Tutorials for Envira Gallery
The Deeplinking Addon for Envira Gallery allows you directly link to any lightbox image with a unique URL.  These URLs can not only be indexed for SEO but can also directly display the chosen image in the lightbox view. This tutorial will walk you through the steps on how to create a Deeplinking gallery for Envira.
---
Requirements
Installation
Please follow our instructions on how to install and activate addons.
In this instance, you'll be activating the Envira Deeplinking Addon.
Setup
Step 1 – Create or edit your gallery
Your first step is to create a new gallery or edit an existing one. You can follow along with our documentation for creating your first gallery.
Step 2 – Enable Deeplinking on your gallery
Navigate to the Lightbox tab and scroll towards the bottom. Select the checkbox to Enable Deeplinking.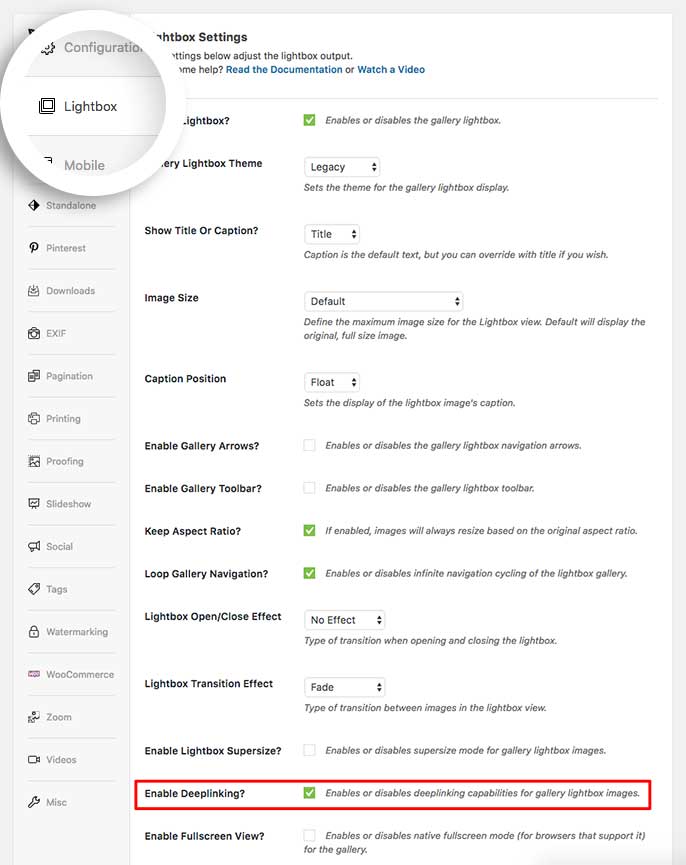 Step 3 – Publish or Update your gallery
Finally, click Publish or Update on your gallery to save the changes.
You can now view your new gallery and select any image to open the lightbox. You'll then see the URL in the address bar changes with each image.
If you copy your unique URL then paste it into a new browser window, you'll see the same image immediately load in the lightbox view.
Would you like to use the Supersize option for Envira Gallery images? Take a look at our documentation on How to Supersize Lightbox Images.
---
FAQs
Q: Can I set up the URL format for the link?
A: We added a WordPress filter envira_whitelabel_envira_deeplinking_slug that should override the default enviragallery slug and make possible custom URLs. A document devoted to this is coming soon.
---
Q: Will this work for albums too?
A: Currently deeplinking will only work with Envira galleries.
Changelog
1.4.6 (02-05-2020)
Fix: Plugin updater revised.
1.4.5 (12-17-2019)
1.4.4 (06-04-2019)
Added: Whitelabeling for deeplink slug.
1.4.3 (10-16-2018)
Fix: Better compatability w/ videos displayed with the Video Addon
1.4.2 (08-22-2018)
Enhancement: French translations updated.
Fix: Minor bug fixes.
1.4.1 (05-01-2018)
1.4.0 (04-10-2018)
Added: Fancybox3 support.
Fix: Minor bug fixes.
1.3.0 (10-18-2017)
1.2.4 (08-22-2017)
Fixed: Conflict with Pagination
1.2.3 (05-16-2017)
1.2.2 (03-08-2017)
Fix: Remove the url when lightbox is closed
1.2.1 (01-19-2017)
1.2.0 (2017-01-10)
Fix: Minor bug fixes
Update: Compatibility with Social
1.1.3 (2016-12-08)
Fix: Moved Option to lightbox tab in admin
Fix: Compatibility with Social
1.1.2 (2016-11-07)
1.1.1 (2016-11-03)
1.1 (2016-09-08)
Fix: Deeplinking now available for justified layout.
1.0.9 (2016-09-01)
Fix: Resolved a conflict between Deeplinking and Pagination addons.
1.0.8 (2016-02-25)
Updated: Spanish Translations
1.0.7 (2016-01-28)
Fix: Lightbox would continuously loop when an image had no link for Lightbox to function.
1.0.6 (2015-12-10)
Updated: Spanish Translation
1.0.5 (2015-10-01)
Fix: Multiple galleries with the same image ID would result in infinite loading loop
Fix: Only load deeplinking scripts once for better performance
Fix: Made envira_deeplinking Javascript function for third party scripts to directly call / initialise
1.0.4 (2015-08-06)
Added: Support for image ID as well as zero based index on deeplinking URLs (resolves issue with Tags Addon compat)
1.0.3 (2015-07-30)
Fix: URLs and deplaning working when HTML5 Output option enabled on a Gallery.
1.0.2
Full localization support with .pot files.
1.0.1
Updated addon to reflect new namespacing.
1.0.0
Initial release of the addon.