Envira Gallery Documentation
Documentation, Reference Materials and Tutorials for Envira Gallery
How to Filter by Envira Tags in WordPress
Would you like to filter by Envira Tags for you Media Library images? Now Envira makes that incredibly easy to do. We'll walk you through the steps on how to filter by Envira Tags for your Media Library images.
This tutorial will assume you've already installed
Envira Tags Addon
and have tagged some images in your Media Library.
---
Requirements
Look for Image Count
Once images have had Envira tags added from the Media Library, you can see the total number of images for each Envira Tag by clicking on Media » Envira Tags.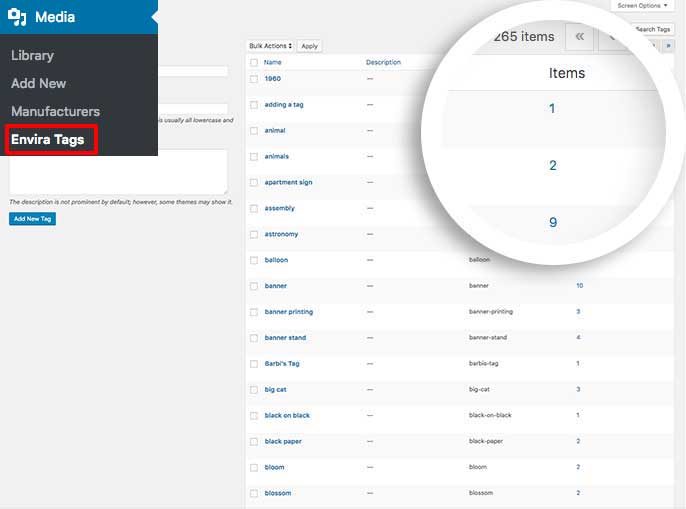 This screen will show you a list of all your Envira tags and also show you the total count in the Items column for each image in your Media Library assigned that particular Envira tag.
View Images with Your Envira Tag
If you'd like to see those images, click the number next to the Envira tag from the Items column and you'll see all of the images with that tag.
The URL will filter and display those specific images using ?envira-tag=fun&post_type=attachment.

---
FAQs
Q: Why isn't it showing all the tagged images?
A: Images must be tagged from the Media Library view and not inside an Envira Gallery in order for the count to be accurate.